Some online rating/review platforms are a mirror to the particularly polarized world we currently live in and emphasize how divided culturally we are as a nation. Film review site Rotten Tomatoes provides visitors with information and reviews of thousands of films and TV shows. The user is able to access multiple viewpoints on a film or show through the option of a critic's score and then a general audience score.
The disparity between critics and audience ratings is usually not too large, but there are cases where the gap is noticeable. In fact, the comic book film Venom had a notable gap, with a whopping 51% divide: Audiences loved and critics hated it ("10 No table Divides Between Audience and Critic Scores on Rotten Tomatoes," Feb. 26, 2022; collider.com/notable-divides-between-audience-critic-scores-on-rotten-tomatoes). These divides can be due to many reasons: critics' general aversion to certain types of films like comic book movies or audience's unrealistic expectations of a beloved popular franchise.
A notable gap that was rife with political polarization in recent years was Dave Chapelle's 2019 Netflix special Sticks and Stones. The problematic special is controversial for its treatment of LGBTQ issues as well as its comments on overall cancel culture. Three years later, it remains unpopular with critics yet favorable with general audiences. As a result of the controversy surrounding the special, Chapelle himself emerged as a particularly polarizing entertainer for the entire country, sparking national debates online, in person, and on various media outlets. The special initially had a 0% rating when it debuted on Rotten Tomatoes based on only five critics ratings, as the site did not display audience reviews at all ("Dave Chappelle's Netflix Special 'Sticks & Stones' Rated Low on Rotten Tomatoes." Sept. 3, 2019; newsweek.com/dave-chappelles-netflix-special-sticks-stones-rated-zero-percent-rotten-tomatoes-1457458). While it had a zero on Rotten Tomatoes, another film review site, IMDB, provided an eight out of 10 stars rating for its debut, driving home the divisive nature of this special. Even as of June 2022, the special had a 35% critics vs. 99% audience score on Rotten Tomatoes.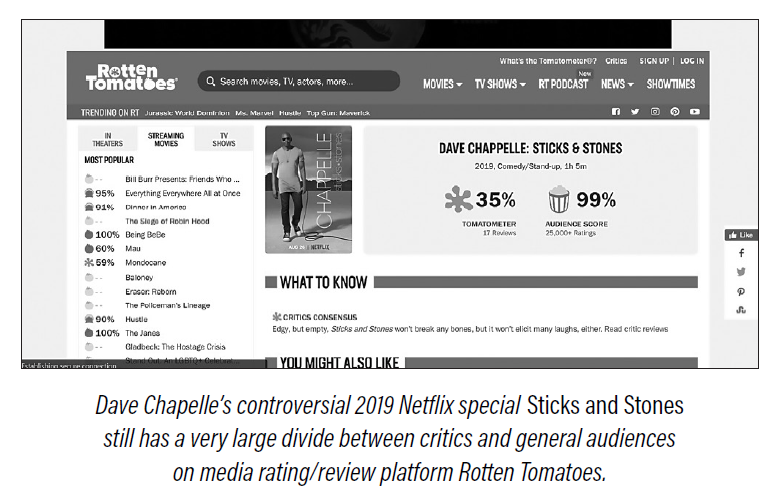 While we cannot determine how objective the process of reviewing this special was for critics and viewers alike, it displays a growing and troubling disconnect between cultural institutions and general society when it comes to political issues. Looking at how this special was treated from one online platform to another, it is clear something is not working. Online rating/review systems are missing the mark on objectivity, instead tapping into our growing division as a nation.
As we continue to lean into these systems more and more, we can expect these types of problems to grow. Consumers are asked to rate every customer interaction—from app satisfaction to picking up their lunch. As consumers are solicited for more and more information in the form of ratings, there is a question of the quality of reviews being produced. In a recent 2022 survey, it was discovered that online reviews are up 50% since the pandemic; however, it is also noted that the length of the ratings/reviews are getting shorter. The average length of a review in 2010 was 600 words; in 2022, the average length is 200 ("Online Reviews Statistics and Trends: A 2022 Report by ReviewTrackers" Dec. 1, 2021; reviewtrackers.com/reports/online-reviews-survey). Shortening a review by this much leaves out specifics and nuances of services and interactions. Perhaps this is an example of review/feedback fatigue, which is concerning, considering their growing importance to businesses and consumers.
In recent years, there have been steps to fix these flaws in the rating system. Increasing the ability to filter reviews and search in several different ways empowers users to find a balance of information on a product or business. Trip Advisor (tripadvisor.com) offers sophisticated filter facets such as star rating filters, making all information for a business available on a page, even the one-star reviews. This freedom of choice encourages users to make informed consumer decisions.
While Yelp's default settings are based on an algorithm designed by Yelp to provide the best information to the user, they also offer a filter to find highest or lowest ratings and ratings in chronological order. Rideshare services like Lyft and Uber operate on a system where not only does the driver get a rating, but the passenger gets a rating as well. This levels the playing field for opportunities to manipulate or try to engineer customer service experiences ("How star ratings work," uber.com/us/en/drive/basics/how-ratings-work; "Driver and passenger ratings," help.lyft.com/hc/en-us/all/articles/115013079948-Driver-and-passenger-ratings).
Using the comment section is not exactly the same as providing feedback in the form of a rating and review; however, it is a place where there is rampant circulation of inaccurate information and, in extreme cases, it can become a breeding ground for hate speech. The New York Times' system of comment filtering is a breath of fresh air for locating useful commentary on articles. Readers have the option of reading the Comments feed in chronological order, filtering through the highest-ranked reader comments, or reading The New York Times Picks, which are comments selected by New York Times' moderators for their "range of views [which] may highlight a particular region, or readers with first- hand knowledge of an issue" ("The Comments Section"; help. nytimes.com/hc/en-us/articles/115014792387-The-Comments-Section). Although these steps are not perfect, and there still is opportunity to inject bias into these systems, the major theme in these improvements is choice. There are also more options for the individual to locate and interact with the data in ratings and reviews.
Online rating systems have become an integral part of how consumers shop and ingest information, as well as how businesses structure their operation models. Despite the flaws within the system, it is comforting to know that additional solutions are being explored beyond those based on algorithms, which can create more problems than they solve. In a world where algorithms are contributing to individuals falling into the echo chambers of information bubbles and the spread of disinformation, we need to empower technology users to find accurate in formation. Online rating/reviewers need to be taught the skills to responsibly navigate and recognize how these ratings systems work in order to tap into a system's true potential as a business and consumer tool.