In May 2022, Coinbase introduced Dot Collector to its employees. Dot Collector is a real-time employee feedback system that allows employees to rate other employees' performance throughout the day. Users download the program onto their work devices and provide feedback rankings from meetings and other workplace environments/interactions ("Coinbase Is Testing a Real-Time Employee Feedback System. It Sounds Rough," May 28, 2022; techcrunch.com/2022/05/28/coinbase-real-time-feedback-dot-collector-ray-dalio).
Workers must utilize the tool at all times of the day in both in-person or remote work environments. The idea behind it is to harvest data to be used in an "emotion free and objective" performance evaluation for employees. However, it is naive to believe that this tool is completely objective for its human users. It also leaves out the human side of work: personal issues that leak into a bad workday or uncontrollable technology issues in a work-from-home office.
While this sounds like something straight out of a science-fiction novel or TV show, careful consideration will remind readers that much of our technology and day-to-day services rely heavily on rating/review systems. We as consumers rate/review services and products without hesitation multiple times through a normal 24-hour period. Online rating/review tools are intended to be a reliable way for consumers and businesses to collect and contribute valuable information regarding marketing or product choices. They are also intended to improve products and websites, especially new services and online stores ("Designing Better Online Review Systems," Nov./Dec. 2019; hbr.org/2019/11/designing-better-online-review-systems).
There is a lot of trust and emphasis placed on ratings and user feedback. As these tools become more commonplace within our everyday lives, a pattern of manipulation within these system is slowly emerging, where objectivity and reliable feedback seem to diminish in the shadow of greed and personal agendas. While these tools have been built with the best of intentions, there are major flaws that need correction in order for ranking tools to continue being used in a responsible way.
Yelp (yelp.com) is the perfect online rating/review system for seeing all sides of this issue at work. The platform boasts 92 million users a month, all generating rating/review data on various small businesses around the world. Used primarily for its restaurant reviews, Yelp also hosts profiles for other businesses such as salons, mechanics, and gyms. Yelp users give a one- to five-star rating as well as the ability to write a specific review for a business. For many small businesses, their survival is built upon Yelp reviews. There is evidence that for every star increase on Yelp, a business's revenue can increase up to 9% ("25+ Groundbreaking Yelp Statistics to Make 2022 Count," May 24, 2022; review42.com/resources/yelp-statistics).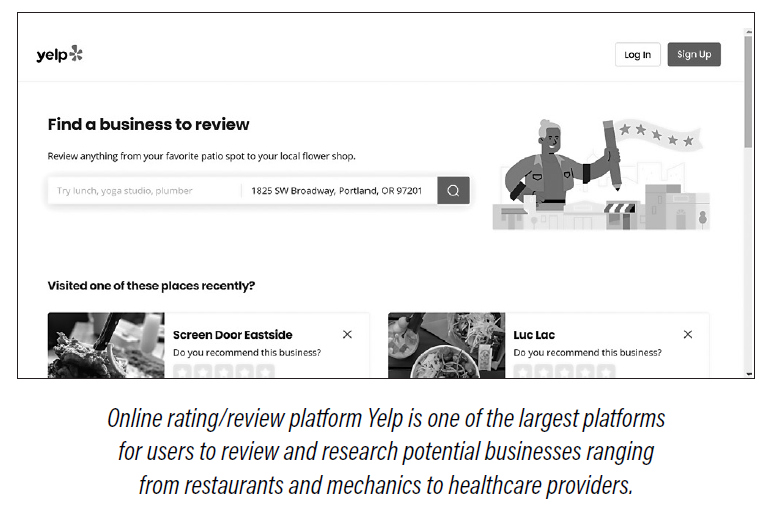 In a climate in which a business's success is tied closely with its Yelp presence, it is disturbing to see blatant demonstrations of consumers manipulating these ratings based on one "bad" customer service experience. Disgruntled users will flood a business page with negative reviews and "review-bomb" its Yelp page just because of personal vendettas. Review-bombing cases multiplied drastically during the pandemic. Yelp implemented regulations to ensure that users cannot negatively review a business for following pandemic health guidelines, yet there was still an influx of negative reviews for businesses on the platform during 2021. It can be inferred that these negative reviews were from customers upset with businesses following pandemic-related protocols. In another in stance, after the Jan 6 insurrection at the U.S. Capitol, businesses owned by identified participants were flooded with negative customer reviews at extremely unprecedented levels ("Yelp Was the Place We All Went to Vent in 2021," Feb. 2, 2022; cnet.com/culture/internet/yelp-was-the-place-we-all-went-to-vent-in-2021).
While Yelp houses honest reviews for businesses and is a useful promotional tool, there is clearly a growing problem with user manipulation as well. It is hard to feel 100% confident in such systems when they are easily influenced by their users.
It is not just users that are manipulating information on these platforms. There are countless instances of businesses attempting to control data to hide or remove negative ratings and reviews. In the online rating/review world, "astroturfing" is a term for reviews that appear consumer-generated, but in reality are actually manipulated/generated under the influence of the company that is the subject of the review ("What Is Astroturfing, and Why Your Business Should Avoid It"; bigcommerce.com/ecommerce-answers/what-is-astroturfing).
Companies that brand themselves as "reputation managers" counteract bad reviews for businesses on sites like Yelp and TripAdvisor by flooding the platform with positive reviews to cover over the negative ones. In some instances, astroturfing occurs when businesses pay individuals to give positive reviews. This type of action is illegal and can result in fines of up to $350,000 ("Got Bad Reviews Online? Don't Even Think About Astroturfing," Oct. 29, 2013; tinyurl.com/53r5s89h). Despite astroturfing's prevalence, there have been efforts to educate consumers about how to spot these reviews and how to filter them when utilizing rating/review platforms ("Fake Yelp Reviews: Anatomy of an 'Astroturfing' Post," Sept. 25, 2013; theguardian.com/technology/2013/sep/25/fake-yelp-reviews-guide). Giving businesses and sometimes corporations the power to manipulate information—even on a site like Yelp—has disastrous consequences and contributes to the increasing polarization occurring in the United States today.