Meme-Rable
In addition to humor and entertainment, internet memes reflect what is going on culturally in our society. The internet meme's cultural impact on our society is demonstrated in the popular Old Economy Steven meme created a few years after the Great Recession of 2008 (knowyourmeme.com/memes/old-economy-steven). Old Economy Steven points out the frustration younger Americans feel about some of the generalizations Baby Boomers preach while being out of touch with a very different world than the world they came of age in during the 1970s. For many Millennials, Old Economy Steven is a comfort when much of the increasingly questionable future haunts them every day. These serious concerns and frustrations, which include an unstable job market, crippling student loan debt, and many of their elders not understanding their unique plight with a fading American dream, are manifested in the internet meme and shared via social media.
#relatablememes are one kind of internet meme impacting the world around us. From the stresses of college, self-image issues, or the mundane aspects of office jobs, relatable memes give readers an outlet to laugh at and bond with others about universal life experiences and emotions. Starter pack memes, also known as starter kits, are yet another popular #relatablememe. These memes will group stock images of a certain subject, for example, the stereotypical college student (knowyourmeme.com/memes/starter-packs). Another relatable meme example is the highly popular My Face When, which pairs a common human emotion with a stock photo, usually of a person expressing the emotion that the text describes ("My Face When Meme [MFW]/That Face When [TFW]"; knowyourmeme.com/memes/my-face-when-mfw-that-face-when-tfw). #relatablememes are social currency in many different online situations. A person who is up-to-date on memes is seen as someone who is trendy and popular and can even share a laugh with a stranger. Just like its name, relatable memes help us relate to one another on common ground.
Political Memes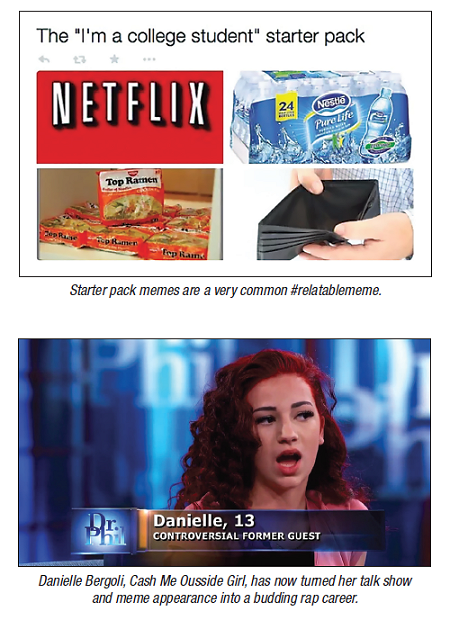 Internet memes expressed different opinions and feelings surrounding the 2016 election. Each major presidential candidate was the subject of thousands of memes that pointed out candidates' flaws as well as their strengths. Particularly popular among younger voters, Democratic presidential candidate Bernie Sanders was the subject of several viral memes. Due to Sanders' limited media coverage, a lot of his campaign was extremely visible via social media. A viral Twitter hashtag named #WhitePeopleInvitedtotheCookout, that highlights various white celebrities and political figures who are welcomed into the African American community due to being conscious of social justice issues, trended for Sanders at numerous points during his campaign ("These White People Are Invited to the Cookout," March 1, 2016; twitter.com/i/moments/704475514141016064?lang=en).
As Sander's 2016 opponent who would go on to win the Democratic presidential nomination, Hillary Rodham Clinton is no stranger to being a viral meme. Texts from Hillary was one of the highly reblogged and shared memes of the year in 2012 (textsfromhillaryclinton.tumblr.com). Texts from Hillary went viral and she, as well as her husband, former President Bill Clinton, staged several gag photos referencing the meme. However, the biggest impact or display of the power of the viral meme lies with the 2016 election winner Donald J. Trump.
Internet memes played a role in the Republican presidential primary and the 2016 presidential election. Donald Trump built his entire campaign on his Twitter newsfeed communicating his presidential platform via social media. In addition, Trump garnered the support of the alt right movement (a loosely tied fringe group of far-right activists who champion themselves as supporters of the free speech movement and war against anything politically correct). The alt-right movement has a very strong online presence and, as a result, has produced many viral memes in support of the president in addition to painting opponents in a negative light ("Online Antagonism of the Alt-Right in the 2016 Election," Niko Heikkilä, European Journal of American Studies, 12(2), Summer 2017; journals.openedition.org/ejas/12140). Trump's heavy online presence is one of the ways his supporters learned of his message and kept up with his campaign and election win.
Now as president, Twitter is the No. 1 form of communication Trump uses to relate to the public. He often breaks news stories on the social media platform before any other major news outlet. He already spawned several memes of his own a year and half into his term; one of the more memorable has been the #covfefe hashtag. Trump sent out the confusing and incomplete original late night tweet, "Despite constant negative press covfefe," in May of 2017 (knowyourmeme.com/memes/covfefe). Since then, "covefefe" has sparked thousands of internet meme responses. Trump's reliance on Twitter and viral memes to relay his campaign and ad ministration message reflects just how much memes have become a part of our day-to-day lives.