The other day while my boyfriend and I were talking about the latest internet meme to go viral, I noted that the meme went viral so quickly, I had to look up the news story the image originally appeared in before the meme version. The internet meme in question stemmed from a woman named Becky who called the police on an African American family because she was convinced they were not allowed to barbeque at an Oakland, Calif., park. Once viral, the meme was officially named BBQ Becky. After discussing BBQ Becky, my boyfriend and I took a walk down memeory lane and reminisced about the earliest memories we could think of surrounding internet culture. Some highlights included the early YouTube videos "Shoes" and "Keyboard Cat," GeoCities websites we made in high school in the early 2000s, AIM Instant Messenger, and the long-forgotten Myspace profile of the distant past.
Meme-Oires
According to Webster's Dictionary , an internet meme is an image, video, piece of text, etc., typically humorous in nature, that is copied and spread rapidly by internet users, often with slight variations. Internet memes dominate our social media platforms, ranging from funny animals such as Grumpy Cat to more recent cultural icons like Beyoncé. Some examples of memorable internet memes since the year 2000 include Rick Rolling (2008), I Can Haz Cheeseburger? Cat (2007), and the infamous Chuck Norris Facts (2005). These have led to our present day viral memes like Side Eyeing Chloe, Salt Bae, and the most recent, BBQ Becky. These pieces of media are extremely humorous and rely heavily on irony to convey their message. They are the ultimate inside joke in digital form for the users who share them.
At first impression, internet memes are mindless entertainment. In actuality, they are complex cultural objects. Plenty of academic articles discuss different cultural aspects of the internet meme, from origins and definitions, to digitally pre serving and curating their history. On its About page, the website Know Your Meme (knowyourmeme.com) curates the history of this internet phenomenon and houses thousands of memes along with their explanations and history.
In fact, internet memes carry great cultural significance in our modern world. They play a role in understanding con temporary society and are an important reflection for a generation who has come of age with the internet in an unstable world with an even more uncertain future. Memes also are changing the way we relate and communicate with each other and increasing the influence of social media on our lives. In order to understand the cultural impact of internet memes on our modern society, we must trace their origins from the beginning to their current version. So let us begin our internet meme history tour in the 1970s with Richard Dawkins' book The Selfish Gene .
Dawkins, an evolutionary biologist, created and is the first to use the term "meme" in scholarly discussion. Deriving from the ancient Greek word "mimema," Dawkins defines a meme as an "idea, behavior, or style that spreads from person to person within a culture." Dawkins goes on to define memes as cultural transmissions that, like genes, replicate and mutate with each transmission between people and over generations (The Selfish Gene , University Press, 1976, pp. 249–250). Naturally, a definition this broad denotes that many things within our culture can be memes, and, in fact, many have been spread and transformed across generations of humans. The "Where's the Beef?" lady from the 1984 Wendy's campaign is a meme, as is the "Have a Nice Day" smiley face. As society grows and changes, the memes grow and change alongside it, with the latest incarnation or evolution of Dawkins' definition taking the form of the internet meme.
Re-Meme-Ber When
The internet meme is a subset of Dawkins' concept. Un like the original definition, the internet meme is deliberately altered to increase reach instead of randomly leaving it up to humans to pass it along in their behavior. Internet memes are traced and analyzed through their digital footprint in media—a characteristic unique from previous generations of memes. In addition, internet memes are much more recent than the earlier meme that Dawkins discussed in his book. Dawkin's concept can be traced throughout history, whereas the internet meme can only be traced back to its inception in the late 20th century.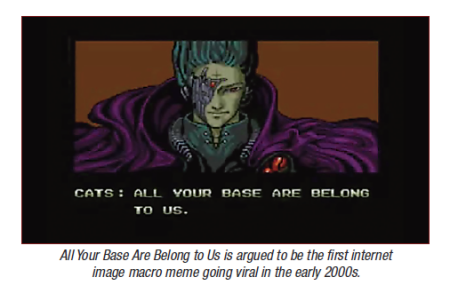 There are multiple candidates for the world's first internet meme. These hypotheses usually fluctuate depending on how strict the definition is for what can be called an internet meme. For the more traditionalist, the image macro meme All Your Base Are Belong to Us is hailed as the first internet meme ("We Get Signal: 'All Your Base Are Belong to Us' Is 15 Years Old," Jay Hathaway, Feb 16, 2016; nymag.com/selectall/2016/02/all-your-base-are-belong-to-us-turns-15.html). According to Know Your Meme, image macro memes are digital media featuring a picture or artwork superimposed with some form of text (knowyourmeme.com/memes/image-macros). The image is important because it never changes; the text is where people get creative and modify it to be funnier, more clever, or, in some cases, crueler. But what about memes that are not in the traditional image macro format? Their reach stretches further back than the year 2000.
According to popular internet meme historians writing in a Thrillist article, the first internet meme was Baby Cha Cha ("I Found the World's First Meme With the Help of Meme Historians," Wil Fulton, Aug. 22, 2017; thrillist.com/entertainment/nation/first-meme-ever). Back in 1996, graphic designer Michael Girard designed Baby Cha Cha—a GIF of an animated baby dancing. The GIF circulated heavily around the internet. Eventually, Baby Cha Cha made it onto the popular TV show Ally McBeal , where it became known as the Dancing Baby, and was a huge cultural phenomenon for that year. In addition to the Dancing Baby, looser definitions make the simple happy face made from keyboard symbols, or what is known now as the emoji, the first internet meme. The looser the definition gets, the earlier in time and wider area the first meme reaches. As we struggle to keep up with the digital preservation of such internet history, we may never pinpoint that exact first internet meme.