In one example of the thorny issues involved, IEEE sponsored "a one-of-a-kind independent research study to examine the State of Blockchain Adoption on the Pharmaceutical Supply Chain." The final report (blockchain.ieee.org/standards/2017-sba-psc) is sobering, as it "offers detailed insights on unresolved financial, regulator, policy, and protocol issues, expectations and commitment of partners when participating on a blockchain-based pharmaceutical supply chain." This is hardly a strong endorsement of the technology, and with good reason. Technology consultant Jason Bloomberg, in a May 31, 2017, Forbes article, notes that "aside from Bitcoin itself, real-world implementations of blockchain are few and far between" (forbes.com/sites/jasonbloomberg/2017/05/31/eight-reasons-to-be-skeptical-about-blockchain/#6b7a57715eb1). The reasons for this cautious approach are many.
PRIVACY AND SECURITY ISSUES YET UNSOLVED
Researchers at the Open Data Institute remain cautious:
[W]e have seen continued excitement about the possible uses of blockchains, but too little consideration about the risks, or whether blockchain technology even brings any benefits in such cases.

New technologies go through a hype cycle. The challenge near the beginning of that cycle is to identify the uses and applications that will stand the test of time. Like most new technologies, blockchains could cause significant damage if used indiscriminately.

– theodi.org/article/comment-blockchain-technology-is-useful-but-not-for-everything
Information professionals rarely consider themselves technology experts; however, there are many computer experts who have studied blockchain as it currently exists in light of the increasing problems of privacy and security.
Jason Griffey, founder of Evenly Distributed and an Affiliate Fellow at Harvard's Berkman Klein Center for Internet & Society, answered this question, posed by ZBW MediaTalk, "Could libraries and open science benefit from this technology?" by explaining the basics of blockchain (zbw-mediatalk.eu/2018/02/blockchain-profitieren-bibliotheken-und-open-science-von-der-technologie).
As a storage media for information, or as a programmatic platform, blockchain has potential to be used in place of existing technologies where decentralization might be advantageous. … There is still a considerable technical hurdle in developing new technology on the blockchain, and it isn't clear that libraries have the in-house talent to do this technological development.
Griffey believes, "at the core," blockchain is really "just an information storage system. It's an information storage system with some very unusual properties (multiple untrusted authors, provable authorship, automated consensus, decentralization of content), and it's in those properties that its use is found."
Jessica Berger, research study coordinator at Northwestern University's Feinberg School of Medicine, posted to the San Jose State iSchool blog about medical data privacy (ischoolblogs.sjsu.edu/blockchains/blockchain-chock-full-of-problems-for-medical-data-privacy-by-jessica-berger-mlis-cipm) that is must-reading for any information professional.
She explains:
Where information is stored on a blockchain, the disposition of that information becomes impossible even when the information contained in those re cords is erroneous. Since blockchains can be hacked, and since they are widely distributed, personal information that should have been destroyed (but which could not be destroyed because of the very nature of a blockchain) becomes linked to numerous entities, exposing that information to breaches and the person to whom it is connected.

The lack of boundaries within this schema is also reason for concern with regards to confidential information. Despite robust encryption and other security measures, we have witnessed the proliferation of data breaches that would never occur if the information was simply collected by the one entity that needs it and stored in one locked cabinet, or on an offline hard drive. The notion that your personal information exists to be exploited has been widely adopted as a foundational credo of modern marketing, but its popularity does not render it ethical or right.
Berger summarizes her concerns by saying this:
Just because a technology exists does not mean we should use it.
The nuclear bomb exists, but we should not use it.
The blockchain exists, but we should not use it to store any sensitive information, especially medical information.
This is not an isolated concern—researchers at MIT's Media Lab and other locations are working to find ways to build privacy-preserving functions into these highly decentralized networks (ieeexplore.ieee.org/document/7163223).
Old Dominion University's Sachin Shetty, head of the Virginia Modeling Analysis and Simulation Center, believes the challenges can be met. He emailed me that "one of the challenges with Internet services is the lack of trusted platforms in a distributed environment." Shetty believes blockchain has the potential to provide the trusted platform in a decentralized fashion and is resilient to adversaries, acknowledging that the current security solutions in the internet are vulnerable to attacks due to centralization and lack of immutable properties. "If blockchain can provide a 'truly' decentralized trusted platform that takes away the need for a trusted arbitrator, we would be able to overcome several attack surfaces. Blockchain cannot stop attacks from taking place.
"The future technologies need to make sure the Internet is resilient to attacks and can survive impact of attacks and provide service at an acceptable level," Shetty continues. "Most folks think blockchain is a panacea for all security problems. Its advantages are in providing strong integrity checks, it is not good for confidentiality and availability." However, as he sees it, "Privacy needs to be tackled from multiple perspectives (technological), organizational (economic and legal policies), societal (human behavior). Most privacy solutions have come from computer science which only proposes a technology solution. We need to engage psychologists, sociologists, anthropologists, attorneys, economists, etc., to tackle this problem from several perspectives." In his option, "privacy is a 'human problem' and technology is just a vessel." Shetty concludes, "If we only focus on addressing technology risks and ignore the other aspects I mentioned, we will always play a reactive game and not stay ahead."
SOME VERY INTERESTING PROTOTYPES
Some interesting applications or prototypes of blockchains are taking place internationally. The National Agency of Public Registry in the Republic of Georgia has implemented the Blockchain Land Registry, intended to "provide its citizens with a digital certificate of their assets," and "develop the most se cure solution to provide citizens and governments with data safety, auditable processes and transparency" (exonum.com/napr). Dubai plans to issue its government documents using blockchain technology. Estonia is building a "digital society" (e-estonia.com). Several U.S. government agencies, from the Department of Homeland Security to the Food & Drug Administration, have evinced interest in blockchain. Other countries' projects are underway today as well.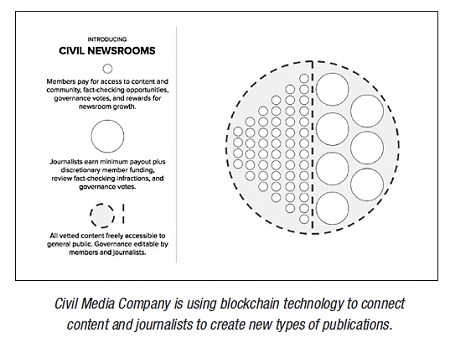 It's not just governments experimenting with blockchain. A New York startup, Civil Media Co. (civil.co), is using the technology to connect content and journalists to create new types of publications. To date, it has started nearly 1,000 new publications. In one case, with the demise of the Denver Post, a group of editors and journalists for the paper decided to start their own paper, the Colorado Sun. As reported by The New York Times, "The new publication will have a conventional website whose data will be written permanently into the secure digital ledger known as the blockchain" (nytimes.com/2018/06/17/business/media/denver-post-blockchain-colorado-sun.html).
Civil Media's goal is to provide a new model and support structure for print journalism. According to its About page, "The ad-driven revenue model that traditionally funded quality journalism has not translated to the digital economy. Journalists around the world are facing an existential threat like never before. We're committed to introducing a new funding model—and a supporting ecosystem—that enables journalists to focus on serving their readers above all else." It is partnering with various nonprofits, including four major journalism schools.
The problem for the Denver paper began with the purchase of the paper by a hedge fund and the resulting layoffs and cutbacks. In order to maintain the mission of the paper and provide a future for their staffs, some editors decided to give this model a try, beginning with a Kickstarter campaign. Once it begins publication, it will be interesting to see what the reaction is to this new "paper." Might it be possible to create a truly global news source that can rely on ads or other income streams to connect the world while providing adequate support to reporters, editors, and other professionals involved?