The cultural side of the web initially evolved in a straightforward way. First, educational and artistic institutions got websites. Then they got better websites. Then they started putting information about their collections online. Then they started putting their collections online. What are they doing now? In the case of art museums, that's an interesting question that has a set of fascinating answers.
Actually, scratch that bit about art museums—the effort to get art online is more wide-reaching than that, as with the Civic Art Collection of San Diego. And it's not just putting the art online; it's presenting pieces in ways you might not see even if you were physically in the building. Other initiatives are taking art from web collections and putting it into a format that seems positively vintage these days— a paper book.
The last 6 months have provided several examples of art collections going online, growing online, or expanding to other places on the web. These projects literally coast to coast in the United States—from The Metropolitan Museum of Art in New York to the Los Angeles County Museum of Art—and around the world.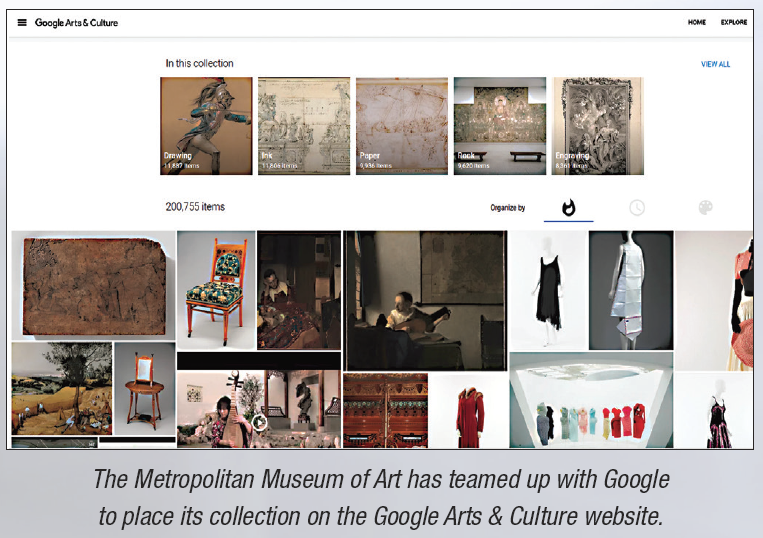 The Met Gets an API
The Metropolitan Museum of Art (aka The Met) has 17 curatorial departments, with the American Wing alone containing about 20,000 items of art. With collections that size, any efforts to make The Met's collections more visible and accessible are going to be a big deal. The Met took a big step forward on Feb. 7, 2017, with its announcement of a Creative Commons Zero (CC0) license for all photos of public domain images in its collection ("Making The Met's Collection More Accessible"; metmuseum.org/blogs/now-at-the-met/2017/open-access). A CC0 license is much like a public domain notation except that the copyright holder is overtly relinquishing rights to the CC0-
licensed content, whereas public domain content is already legally available to everyone without concerns for copyright claims. (You can learn more about the CC0 license at creativecommons.org/share-your-work/public-domain/cc0.)
The CC0 licensing by The Met has made more than 375,000 images available for free. People can download them, display them on their websites, create lesson plans from them, integrate them into Etsy designs, or use them for other creative purposes. What was missing from this initial release was a more automated method for sharing these images online.
The Met rectified that in October with the launch of The Met Collection API ("Scaling the Mission"; metmuseum.org/blogs/now-at-the-met/2018/met-collection-api). The new tool has made JSON data available via a REST API without license or registration required. The Met, as you might imagine, has a page on GitHub (metmuseum.github.io) for the new API. The museum has teamed up with Google to place its collection on the Google Arts & Culture website.
More than 200,000 images are available for viewing and sharing, with a link back to The Met collection website, where visitors can download high-quality images of artworks.
The new API has also been used for research as well as engagement. In October 2018, Parsons School of Design collaborated with its students to use The Met API for research. Students designed projects exploring where collection items came from, gender representation, and even shapes in fashions.