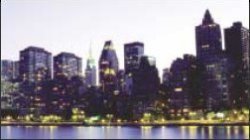 Way Beyond Cool:
Information for
the Real World

Dick Kaser
Vice President, Content
Information Today, Inc.
The Right Stuff
Our program planners have focused this year's conference on the good stuff...
Stuff that puts technology to work...
Stuff that helps you meet your current goals and objectives...
Stuff you can take back to the office and apply right now...
Forget the lofty visions. In times like these, what you do can't just be cool. It's got to be practical.
If there's only one conference you can attend this spring, make it the one that relates to the real world. Make it to this one.

The Global Conference and Exhibition on Electronic Information & Knowledge Management
InfoToday 2003
Conference Program
---
Keynote Speakers
Conference Overview and Special Events
See how the three core conferences relate to your individual needs.
Conferences at a Glance [PDF]
A quick look at the full InfoToday 2003 conference program, with three concurrent conferences and over 65 sessions.
Presentation Links

National Online 2003
• Tuesday, May 6
• Wednesday, May 7
• Thursday, May 8
KnowledgeNets 2003
• Tuesday, May 6
• Wednesday, May 7
• Thursday, May 8
E-Libraries 2003
• Tuesday, May 6
• Wednesday, May 7
• Thursday, May 8
Special COUNTER Briefings - Tuesday, May 6
Content Management Symposium – Thursday, May 8
Free Cyberclinics (Exhibit Hall)

Tuesday
, May 6 - Thursday, May 8
Preconference Workshops – Monday, May 5
Postconference Workshops – Friday, May 9
Download Conference Program [PDF]
Registration