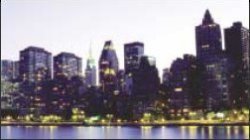 General
Information
InfoToday 2003 offers information
professionals and knowledge managers an unparalleled opportunity to expand their horizons and extend their professional expertise. The three co-located conferences, National Online, KnowledgeNets, and E-Libraries, feature a powerful, comprehensive agenda that is guaranteed to stimulate your thinking and energize your professional development.

Each of the conferences is a unique, focused event, but programs are planned to encourage attendees to leverage interrelationships and learn from others with related interests.

New for 2003 is a special Content Management Symposium offered on Thursday afternoon as part of all three conferences. Recognizing the growing importance that organizations are placing on content management initiatives and the opportunities in this arena for information professionals, this cross-conference forum provides an in depth, intensive briefing on CM software, tools, technology, and strategies. The keynote and breakout sessions feature well-known experts as speakers and will equip information with the necessary to become players in content management projects.

InfoToday 2003 is unique. You will find in-depth coverage of topics that are crucial to today's information professionals, a carefully planned and focused trio of conferences, dozens of speakers who are experts in their fields, and an emphasis on effective, yet innovative ideas and practices that you can immediately put to work in your own organization.

Organizing Committee
Richard T. Kaser
Information Today, Inc.
Nancy Garman
Information Today, Inc.
Pamela Cibbarelli
Cibbarelli's
Dan Duncan
Consultant
Jane Dysart
Dysart & Jones Associates
Marydee Ojala
Editor, ONLINE Magazine
Deborah Lynne Wiley
Next Wave Consulting, Inc.


Conference Chair
Marydee Ojala
Editor, ONLINE Magazine

Advisory Committee
Stephen E. Arnold, AIT

Dan Duncan, Consultant

Suzanne Sabroski,
Sabroski & Associates

Conference Chair
Jane Dysart
Dysart & Jones Associates

Advisory Committee
Patti Anklam,
Hutchinson Associates

Hugh McKellar,
KMWorld Magazine

Deb Wallace,
Clarica

Conference Chair
Pamela Cibbarelli
Cibbarelli's

Advisory Committee
Deborah Lynne Wiley
Next Wave Consulting, Inc.

Richard Boss
Information Systems Consultant, Inc.

Marshall Breeding
Vanderbilt University





The Global Conference and Exhibition on Electronic Information & Knowledge Management
InfoToday 2003
Conference Overview
Speakers & Press Room
A room has been set aside Tuesday through Thursday for the use of speakers and members of the press. The designated speakers and press room is the Morgan Suite on the second floor.

Cassettes & CDs
Sessions are being recorded and are for sale during the conference in the registration area. After the conference, please contact The Digital Record at 703-683-8273.

E-Mail Stations
E-mail stations will be open in the Exhibit Hall during regular exhibit hours for attendees to check their mail.

CyberClinics
Click here for more details.

Coffee & Danish Hour
Coffee and danish are provided for conference attendees on each of the three days of the conference. Tuesday morning will be from 8:00 a.m. to 9:00 a.m. in the foyer of the West Ballroom, and Thursday morning is in the Trianon Ballroom from 8:00 a.m. to 9:00 a.m. Wednesday's food service in the Trianon Ballroom will begin at 7:30 a.m. before the Breakfast with the Brass at 7:45 a.m.

Coffee & Tea
Complimentary coffee and tea are available in the Exhibit Hall at 10:00 a.m. on Tuesday, Wednesday, and Thursday.

Free Reception
Information Today, Inc. invites all attendees and exhibitors to a complimentary wine and cheese reception in the exhibit hall on Tuesday from 5:00 – 6:00 PM. InfoToday 2003 Exhibit Hall visitors. Everyone is welcome
to come and renew old acquaintances and meet new colleagues while discovering the newest electronic
information and knowledge-based products and services.

Presentation Links
Get access to many of the PowerPoint presentations and Web sites used in conjunction with the InfoToday 2003 general sessions! Links will be posted on the InfoToday 2003 Web site (click here) three to four weeks after the conference.

Special Events

COUNTER Briefings on Electronic Journal Use Statistics
Tuesday, May 6
Click here for details; click here to register.

IDC Briefings: The Electronic Content Market: Technologies & Strategies
Wednesday, May 7
Click here for details; click here to register.

Breakfast with the Brass
Wednesday, May 7 — 7:45 a.m. - 8:45 a.m.

Join Roy Martin, President & CEO, Dialog, Kate Noerr, CEO MuseGlobal, and Pat Summers, CEO, SIRSI for breakfast and a lively, interactive question-and-answer session. Moderated by Marydee Ojala, Editor of ONLINE Magazine and industry watcher, this breakfast panel session offers you a chance to find out what the top brass are thinking, what their plans are for the future, and where the industry is headed. Roving microphones will encourage InfoToday 2003 attendees to speak up, ask questions, and be heard in this unique forum. (Questions for the panelists may also be submitted in advance, on Tuesday, May 6, at the Information Today, Inc. booth in the exhibit hall.) Open to InfoToday 2003 conference attendees.

Content Management Symposium
Thursday, May 8
Click here for program details.

Special Workshop: Evaluating Library Space
Thursday, May 8
Click here for details; click here to register.


---
National Online
National Online, historically the flagship conference of Information Today, focuses on issues relevant to information professionals using Internet and traditional research avenues. Presentations on research techniques, subject resources, technological innovations, organizational tools, and management tips concentrate on the practical searching environment. National Online is the largest conference on electronic information in North America and is where information professionals come together to share ideas, learn about new industry developments, and update their skills.

Keep up with the latest trends and enhancements on the Web and on the traditional services, gain insights into how to put new online strategies into practice, and get current with enhancements, withdrawals, and new products/services by hearing expert searchers, industry observers, information managers, and Internet gurus share their expertise and experience. National Online delivers practical answers about how to maximize research efforts and get results—answers you can put to work in the real world.

Topics Covered Include:


• Strategic Searching
• The Art & Science of Research
• Achieving Web Search Excellence
• Information Quality
• Alternative Search Engines
• Web Search Strategies
• Information Security & Policy Issues

---
KnowledgeNets
Networks are at the core of all productive and successful organizations, both people networks and technology networks.

KnowledgeNets 2003 focuses on strategic knowledge communities and social networks, as well as the tools and technology that support organizational networks and technological infrastructures. The conference provides a wide range of sessions focused on practical solutions, case studies, and thought-provoking concepts. Expert speakers address topics including knowledge and collaboration strategies for building and supporting strategic communities, measuring impact and value and providing return on investment for KM programs, concepts and applications of social network analysis in knowledge management, and innovation and best practices of KM in driving innovation, and much, much more. The conference also takes an in-depth look at managing content generated by people networks within organizations.

Topics Covered Include:
• Knowledge Communities
• KM Tools
• KM & Innovation
• Knowledge Metrics & ROI
• Knowledge Strategies & Tools
• Retaining Knowledge



---
E-Libraries
E-Libraries features the most recent trends and practices in library and information centers, including digital collections management, e-journals, virtual reference services, library automation, and digitizing libraries. Sessions on the emerging role of library systems and automation in distributing and managing information, both internal and external, and the latest developments in library patron services and internal systems address the challenges facing many attendees.

E-Libraries offers a unique forum for discussing today's state of the art delivery of library services and the rapidly changing "digital" library world. Two concurrent, three-day tracks provide in-depth coverage of issues, practical expertise, case studies, and best practices of interest to digital library professionals.

Topics Covered Include:
• Building Digital Libraries
• Virtual Reference
• Library Portals
• Views of the Future
• Library Systems & Automation
• Digital Rights Issues
• Design & Usability