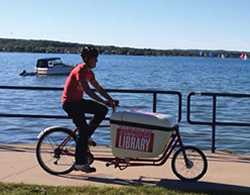 Norte! co-founder Ty Schmidt cruises the Community Library along West Grand Traverse Bay.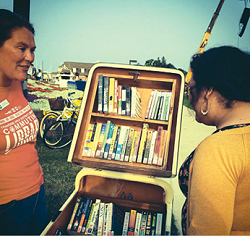 Custom cargo shelving system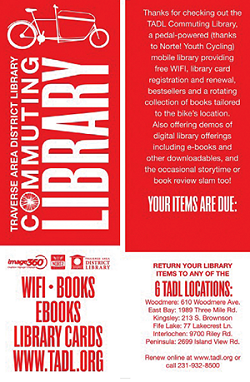 This promotional bookmark doubles as a return receipt. (click for larger image)

For the last couple of years, book bikes have seemed to be all the rage in library land. I'm talking about super cool, custom, two- and three-wheel bikes with attached trailers that are stocked with many items you'd find within the physical walls of your public library. There are a few book bike pioneers, mostly found in larger, metro markets. (See, for instance, Pima County Public Library; www.library.pima.gov/blogs/category/bookbike or Seattle Public Library; http://tinyurl.com/le8x4al.) However, I don't think there has been a book bike quite like the Commuting Library, which we launched at the Traverse Area District Library (TADL) in Traverse City, Mich., in June 2014. Our first pedal-powered library was a true community effort, as it was literally and figuratively driven by our residents. It has cost us next to nothing and has garnered our library some incredible media coverage and admirers along the way.
It Began With Super Patrons
It all started in early spring 2014 when my neighbors Ty and Johanna Schmidt, who are big library fans, approached me. The couple had recently founded Norte! Youth Cycling (www.elgruponorte.org), a bike-centric, youth-focused nonprofit advocacy organization dedicated to building a more bike-friendly Traverse City. They told me that some of their friends and fellow library users wanted to offer Norte! access to their 200-pound-capacity cargo bike. The Schmidts wanted to team up with TADL so we could create our own grassroots version of a book bike.
Of course my colleagues and I were on board, especially since we had been trying to actively identify and develop more outreach opportunities to engage with our community residents. Since these custom bikes can cost anywhere from $1,000 to $5,000 or more, we realized that having access to a cargo bike was a huge opportunity. Our reality is the same as that of many public libraries: We have limited resources in staff and budget. So the fact that the idea for a bicycle library and the bulk of the necessary resources (the bike itself and the pedal power) would be developed and provided by our own patrons and members of our community was extra special to say the least. It's this community-inspired component that sets the TADL initiative apart from any other public library book bike. This was really and truly community driven.
Setting the Wheels in Motion
To the general public, the logistics of a book bike probably seem easy: Get the bike, fill it with books, and hit the streets. But those of us in the public library industry realize this type of project has the makings for a logistical nightmare, so we needed a plan.
First, I needed a launch date. It was mid-April, and I set June 4 as the date to debut the book bike for two reasons. First, it gave us a few weeks to get organized, and second, that date fell during the 20th Traverse Area Recreation Transportation (TART) Trails Annual Smart Commute Week. This event challenges and encourages employees to participate in ride-sharing, take public transit, and travel by foot or bike. Launching during Smart Commute Week gave us the opportunity to further tie our project into community happenings and celebrations while proving that TADL supports our local trail system. (The system includes a direct in-city bike lane and a non-motorized connection to our main library in Traverse City.)
Next, we needed a name for the bike. I worked with fellow administrative staffers to generate some possible names: TADL Book Peddler, TADL Traveler, Bibliotreka, Commuting Library, and Roaming Reads. Then, to help districtwide staffers get excited and involved, I introduced the project to them at our April staff in-service meeting. I handed out ballots with the name ideas, plus a space to write in alternatives, and asked my colleagues to vote. Commuting Library was the winner (with Roaming Reads as a close second). The name ties into the spirit of our city's annual Smart Commute Week, but it also describes the activity of the bike, roving between the library and various places around town, reaching and connecting to people while they are in between their home and the library, perhaps even while en route to work or doing errands.
During this time, I was also thinking about retrofitting the cargo carrier, which is basically a square box, to hold and display our collection. Having access to the cargo bike for free is a great benefit and gives us a major resource, but the cargo construction was not ideal for displaying books. We had to find a way to optimize it for our specific needs. The solution had to be cost-effective while also delivering a streamlined and easy-to-maneuver system. Ideally, I wanted to be able to park the bike, flip the lid, and be open for business. I was originally thinking about some sort of pop-up shelving system, but our TADL facilities manager, Bruce Bennett, who is quite handy (and crafty), had a better idea. Using some salvaged wood from his workshop, he built a two-shelf system that consisted of a box base shelf and a shelf that would easily slide into the top lid of the cargo box. This would hold and display around 75 paperbacks total.
Once we knew how many books the cargo box could hold, TADL's coordinator of adult services, Brice Bush, started to develop a special Commuting Library collection featuring new, popular, and frequently reserved titles. She spent around $400 on titles that we could add to our regular circulating collection after biking season. She also worked with our processing department to catalog and tag this special collection both physically and in our ILS to ensure efficient return and sorting through our districtwide circulation system.
In addition to our specially purchased Commuting Library book collection, we decided that we'd pull titles from our shelves that fit each outing and event we were going to. For example, we pulled cookbooks and gardening and composting titles when we attended the Farmer's Market and offered past film festival DVDs and Hollywood biographies when we attended an outdoor movie night at the park.
By this time, our assistant director for technology, Scott Morey, had secured an iPad with our Evergreen ILS app installed on it, and he was working to set up a mobile Wi-Fi device so we could have a roaming signal. We wanted to be able to demo our digital offerings while out in the community and also to have access to our ILS so we could register new cardholders and check out items. miSpot, a 4G LTE wireless broadband provider that was serving parts of the Grand Traverse region in Michigan at the time, offered two devices for us to borrow at no charge. We included miSpot in bike signage when out in the community and mentioned the vendor in all of our publicity.
I developed a list of eight to 10 local events, including the weekly Farmer's Market and the Traverse City Film Festival (TCFF), that would occur in June, July, and August. I planned for the bike to be at each event for at least 2 hours. We scheduled one staff member who was trained in our ILS to ride his or her own bicycle along with the Commuting Library. The cargo bike was heavy with the shelving and books and a little awkward for an inexperienced cargo biker to ride, so we decided to leave that task to the Norte! professionals.
Publicity and Planning Pay Off
We created a bookmark that would promote the Commuting Library and would double as a receipt to remind patrons to return their items to any of the six TADL locations. We spent about $110 to print 500 of them. We also purchased 35 Commuting Library T-shirts for $300 for staffers and Norte! volunteers to wear when they were out with the Commuting Library. We also sold the T-shirts at a discount to staff and sold some to the general public.
Image 360, a local media company, printed and donated removable Commuting Library bike signage. We also recognized that vendor on the signage as a media sponsor and mentioned it in all of our publicity.
I knew the Commuting Library would make a visual impact, so I decided to tease it via social media using the TADL Facebook (www.facebook.com/TraverseAreaDistrictLibrary) and Twitter accounts (www.twitter.com/notjustbooks), and I pitched the story to one of our local TV news stations.
After all of the preparation, it was time to debut the bike during Smart Commute Week. The launch timing offered an opportunity to get in on the local hype and celebration of the annual event. As a bonus, I planned for the Commuting Library to make its street debut during the weekly Norte! TC Rides, a 4-mile, chit-chatty, ring-your-bell kind of cruise through the streets of Traverse City that ends at The Little Fleet, a local family-friendly bar and food-truck establishment. Around 60 fellow bikers attended Norte! TC Rides this week to ride their bikes alongside the Commuting Library during its street debut (http://ow.ly/KNq7B).
Hitting the Streets
Our very first outing with the Commuting Library was a great rush of excitement! The initial response was awesome. We watched people's surprise as we cruised by, and once we reached our destination, we welcomed them to the bike with intrigue in their eyes and smiles on their faces. This was so fun and the goal of the project, really. We wanted to create more awareness for our library, connecting, and in many cases reconnecting, with our library patrons and community residents.
On June 4, the day of our first ride, UpNorthLive TV 7&4 followed our cruise through the city and interviewed Brice at The Little Fleet once we "opened for business." In the following days, other media outlets picked up on the story from seeing various posts on social media and from word of mouth from those who had encountered and experienced the Commuting Library. The rest of the media outlets came to me, and the interest and momentum lasted all summer long. I don't feel like we could even assign a value to the publicity we garnered. Everyone ate it up!
I continued to promote our outings via social media, primarily on Facebook, Twitter, and Instagram. I found that our residents were also taking care of a large portion of the promotion as well. People were taking pictures of our Commuting Library at various events and wanted their picture taken with the bike and the librarians. These people then shared the photos through their own personal social media accounts. A candidate for Michigan's 104th District representative even included a photo of herself with the Commuting Library in her campaign materials.
Reminding and Surprising Our Neighbors
The Commuting Library served so many purposes when we were out and about in our neighborhoods. Not only were people signing up for library cards, registering for the Summer Reading Club, and checking out books, but they were also making a connection with their library.
We measured the success of the Commuting Library by anecdotal experiences, such as the smiles we saw and the conversations we had. The effort reintroduced many folks to their local libraries. The quality publicity we received was also incredibly valuable in creating even more awareness of our outreach project and of TADL in general.
Social media numbers don't tell the whole story, but our June 4 TADL Facebook post about the Commuting Library's street debut (http://ow.ly/KNmTQ) generated a total reach of 1,346 people, 569 of whom engaged with content. An additional Facebook post of a photo of our Commuting Library taken during its street debut, which was then shared by an outside organization (http://ow.ly/KNngY) that had more than 172,000 followers, generated 363 Likes and 60 Shares. This type of viral social media activity proves that the publicity value of this outreach effort went beyond those we engaged with in person at our outings. The Commuting Library initiative served to remind and even surprise residents about their library system and the value it brings to their communities.
Plans are now underway for the Commuting Library to hit the streets of Traverse City again during summer 2015. We'll follow a similar schedule and will definitely be changing up the collection to feature the most current and popular titles. We look forward to more social successes this summer.