FEATURE
Direction, Alignment, and Commitment—Partnering to Close the Divide
by Paula Brehm-Heeger

---
Note: This article appears in the June 2021 print edition of Computers in Libraries under the title "Direction, Alignment, and Commitment—Partnering to Close the Divide in Cincinnati."
---
The model emphasizes finding common ground, setting expectations, and establishing expected outcomes.

The need for individuals to access technology has never been more pronounced than during the pandemic. This includes all elements of access, such as Wi-Fi infrastructure at the community level, help in utilizing collaboration and meeting technologies such as Zoom and Teams, and government resources that offer unemployment, eviction-assistance, and COVID-19 testing and vaccination information. Public libraries are an essential link in the chain for connecting community members with the technology they want and need. Doing so always requires innovation, creativity, persistence, and—perhaps above all else—partnerships. Building effective partnerships to achieve success demands a thoughtful and clear approach. This is true during a crisis too, although rapid planning and accelerated action are then added to the partnership equation.

This article will review a leadership model we have been using at the Cincinnati & Hamilton County Public Library (CHPL) for building internal and external partnerships. The model emphasizes finding common ground, setting expectations, and establishing expected outcomes early in the partnership discussion. This clarity has enabled us to successfully partner for results with a variety of organizations and entities during these challenging times to help close the digital divide in our community. I will also discuss and review three projects that have been facilitated by collaboration and partnership.
The DAC Model
The Urban Library Council hosted an annual forum in 2018, featuring guest speaker Darryl Spivey from the Center for Creative Leadership (CCL). An element of Spivey's session was about the direction, alignment, and commitment (DAC) framework for "making leadership happen." For me, this framework has been invaluable in working internally and externally to build community around decisions and projects. More information is available from the CCL, but to paraphrase, direction is centered on agreement about what we are trying to achieve; alignment is coordinating the various aspects of work so that services have a shared direction; and commitment is about those involved making collective success, not just individual success, a priority.
Utilizing these three elements of leadership for partnership development during the past year has provided a pathway for shared understanding and success. DAC makes it possible for individuals and those who lead organizations to work together in effectively identifying common-ground expectations and realizing achievements, even under stressful circumstances. The following projects can all be viewed and assessed within the DAC context.
CHPL/Cincinnati Museum Center Partnership
CHPL serves a population of approximately 800,000 (including the city of Cincinnati) in Ohio through a system of 41 locations that offer approximately 1 million square feet of public space. We have been cultivating curiosity from the moment we first opened our doors in 1853, expanding our services to incorporate the newest technologies as they have emerged. This has included a heavily utilized makerspace and a virtual presence that offers access to a robust digital library.
The Cincinnati Museum Center (CMC) at Union Terminal is a nationally recognized institution and national historic landmark. Organizations within CMC include the Cincinnati History Museum, Duke Energy Children's Museum, Museum of Natural History & Science, Robert D. Lindner Family OMNIMAX Theater, and Cincinnati History Library and Archives. CMC welcomes more than 1.8 million visits annually.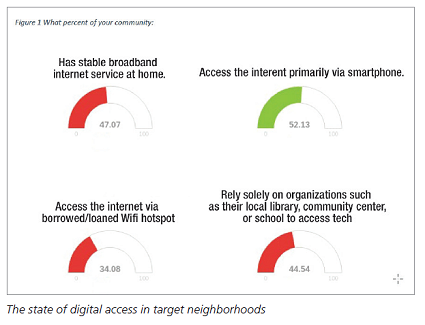 In response to COVID-19, our two organizations quickly came together in fall 2020 to develop a sustainable digital learning model for the greater Cincinnati area. With minimal time to craft a proposal, we were able to align around a shared direction for our project. The proposal was awarded an IMLS grant of $496,707 and was one of only 68 selected nationally from a highly competitive field of 1,700 applications. With a focus on five neighborhoods in our shared service area where digital access is most challenging—the West End, Price Hill, Westwood, St. Bernard, and Avondale—CMC and CHPL are committed to working together to address inequities in education, access, and delivery that have become even more glaring during COVID-19.
As partners, we were able to quickly agree on the following shared project goals:
Increase digital access/proficiency
Increase digital learning engagement for pre-K–5 students who are schooling all or partially at home
Increase seniors' engagement to lessen social isolation
Strengthen connections among CMC, CHPL, and school/community organizations
Develop equity-centered synchronous and asynchronous virtual experience (SAVE) practices to scale and share. (Synchronous virtual learning happens in real time; prerecorded, asynchronous learning is accessible anytime.)
Based on these shared goals, we identified key activities, which included the following:
Developing a community-centered advisory board to shape the project
Deploying Wi-Fi hotspots, several hundred iPads, and tech training in the identified neighborhoods
Adapting, creating, and implementing SAVE curricula for pre-K–5 students and seniors. SAVEs will be offered free in focus neighborhoods and for a fee to those who can pay.
It is important to note that during the determination of the key activity areas, the partners had to rely on an established direction to reach alignment and commitment around several issues, including the idea of a fee. Since CMC charges admission to satisfy its fiscal needs, we had to recognize that a totally free model (the public library model) would not be an ideal fit for both partners. That aspect had to be carefully considered and plans adjusted to fit the MVP (minimum viable product) for this grant-funded project.
Ultimately, the project will increase tech training by 50% and reach 8,000 pre-K–5 children and 2,500 seniors in the five target neighborhoods. It will engage 25–35 community partners, offering 550–650 SAVE programs for pre-K–5 children and 100–200 for seniors. Additional project deliverables include tech infrastructure improvements, the development of robust and equity-centered programs that can be scaled to different group sizes and learning levels, and a strengthening of the connections among CMC, CHPL, and school/community organizations working in concert to bridge digital divides that can hold learners back. For the library, one particularly noteworthy long-term benefit of this project is the creation of our first community technology liaison.
Community Technology Liaison
As is often the case with a quality partnership, benefits beyond the immediate project are sometimes achieved. This has certainly been the case with our library's partnership with the CMC. As the pandemic progressed in 2020, many of the institutions that routinely served the community in providing technology access—particularly to school-age children—were disrupted or closed for in-building services. Our library began to receive more and more contacts from organizations needing to fill this gap. Many of these organizations are not robustly funded and not equipped with a system for technology support, such as IT staffers who are able to set up and maintain basic computer hardware and software, let alone the skill sets needed to develop and maintain a stable, secure network.
We knew we had to provide more than hardware, such as laptops and hotspots, to these organizations in need. The idea of creating a staff position dedicated to supporting and assisting organizations with more long-term and sustained technology was floated and explored. However, funding it during the uncertainty of the pandemic was a challenge.
Enter the IMLS grant. We are using both our own dollars and dollars from this grant to fund a new community technology liaison (CTL) position. The grant's expansive goal of developing content that is easily accessed, particularly by neighborhoods that are deeply impacted by the digital divide, will allow the CTL to serve as an invaluable member of our team. This is especially relevant as our community transitions to more ubiquitous technology provided at locations that had not offered this resource previously, such as recreation centers and boys and girls clubs.
The staff member serving as the CTL, Emma Willig, has already made an impact. She is a liaison to library staffers and community groups, aligning with the collaborative work associated with technology access and engagement projects, such as the work with the CMC. Additionally, she supports a member of our tech center/makerspace team, with a heavy emphasis on strategy, training, and outreach, researching the latest developments and monitoring trends in community-based technology. The CTL focuses on technology such as Wi-Fi/data access, app use, and preschool and elementary educational technology. And the job description includes a particular focus on the five communities that are the subject of the IMLS grant-funded partnership with the CMC.
West End Courtyard
Another partnership resulted in the successful completion of a tech-focused project of high value at our West End library branch. While some limited improvements had been made since the opening of that facility in 1961, it had not seen a major update since it was built. The 4,500-square-foot branch had challenges with the lack of available space and no reservable rooms for the community to use. However, the building does have two small enclosed courtyards (approximately 900 square feet each). One courtyard is occupied with mechanical equipment on which the building relies; the other had been unused and in need of improvements for years.
When the pandemic struck, the relatively new manager of the West End branch, Keloni Parks, began to think of ways to extend computer and technology access in a safe, socially distanced manner. That is no small task for a facility this small. Ideas began to surface for reimagining the enclosed outdoor space that was available to determine if it was possible to utilize the area differently. Enter the library's development office and the charitable arm of Cincinnati's Major League Soccer team, the FC Cincinnati Foundation.
The West End neighborhood is undergoing great changes, including the construction of a soccer stadium that will soon serve as the new home for the FC Cincinnati club. As West End staffers began to think of opportunities for expanding technology access, they realized that during the COVID-19 pandemic, spending time outdoors was becoming more vital to our well-being. Thanks to quick work and partnership, as well as a generous donation from the FC Cincinnati Foundation, the West End branch received an upgrade to its courtyard so that community members can use the revived space to access technology tools.
Concrete was poured, and the renovations were completed in the walled-in courtyard outdoor area just off the adult space in the branch. The courtyard is open and accessible, with shade and space for individuals and families to enjoy. Funding from the FC Cincinnati Foundation has underwritten new technology solutions for customer use in the courtyard. A new laptop cart enables customers to check out a laptop for a 60-minute session.
This courtyard, along with access to laptops, gives customers more space at the library to physically distance themselves while using the resources. Although many community members utilize the West End branch, one of the primary service groups frequenting the location is younger teenagers. This group is especially helped by the new courtyard area as it allows several teenagers to gather in an outdoor space and use laptops in a more social manner than was possible inside the branch, particularly during the pandemic.
At the heart of all three of these successful projects is partnership-building on the basis of shared DAC. The result of these collaborations has been the swift development of unique and innovative services that have provided immediate positive impact for our community during one of, if not the, most defining moments in a generation.