Today's librarians face two futures and two questions. Will we live in an all-digital environment? Can we succeed in a digital future, whether all digital or hybrid?
What If Print Is Dead?
There is one group out there who sees the demise of the print book and periodical as imminent. They point to the rapid adoption of ebooks, the fact that most scholarly journals have already been converted to electronic format, and the efforts of Google and others to digitize the world's print collections. And they conclude that the day will not be long in coming when we can call up almost anything we want-from Goodnight Moon to the Gutenberg Bible-just by pressing a button on our tablet or e-reader. Such a future would have a radical effect on libraries, which have been charged with collecting, preserving, organizing, and providing access to books ever since people first thought to put words on paper. But what happens to us, and to the functions we serve, if people no longer put words on paper, but key them onto an electronic screen and store them in the ether for readers to call up at will? What's our role in that world? What do we do then?
First, we could get rid of all of our books. Google and Amazon already offer far larger collections than all but a few of our very biggest libraries. And we all know that if Google is able to finish its book scanning project, it will truly become "earth's largest library" by a very wide margin. On the academic side, many of the core journals and texts have already been aggregated by a few major commercial publishers, such as Elsevier, Springer, and Wiley-a trend that is only likely to continue as more and more academic and professional content goes electronic.
Of course, some of these ebooks, periodicals, and journals will cost money, so libraries may continue to have a financial role to play in helping to subsidize access to these large digital collections. This will clearly be the case for academic and professional content, in which the high costs of journals and texts would quickly bankrupt any scholars who tried to finance research on their own, to say nothing of the millions of students who would max out mommy and daddy's credit cards in nothing flat if forced to buy every article and book they had to read. It is possible that the open access movement could moderate academic prices somewhat. However, the small market and high commercial value for some of this material is likely to keep prices well above what even the most affluent professors and students could afford. So universities and colleges will continue to pay for the content their faculty and students use. The only difference is that those payments would likely go to a small number of major aggregators of electronic content. Google Books and the major journal publishers could offer institutions a much broader selection of electronic content than their current physical libraries. A major aggregator such as Google or Elsevier, or even a large, entrepreneurial ARL library, could offer a complete academic library in a "box," operating 24/7/365.
And what of those 3,700 "local" academic libraries now sitting in the middle of every campus in the United States? Well, their budgets will clearly help pay for the content that Google and others will provide, but if academic information truly does become all-electronic, there would be no more need for a local facility than for a local Google or a local Amazon.
The situation differs somewhat for public libraries. Here Amazon, Barnes & Noble, and Google already provide a large percentage of ebooks and other content directly to the general reading public. This content would only grow if everything goes electronic. While academic libraries-or at least their budgets-may continue to subsidize the high cost of academic literature, most consumer ebooks are available now at a very low cost-many for no cost at all. The average price of a consumer ebook was just a little more than $7 per title in 2011, so even a voracious reader going through around 50 titles per year is unlikely to spend more than about $350. And don't forget the millions of titles these avid book lovers could read for free. In addition, a number of major commercial suppliers, including Netflix, Audible, and Amazon Prime (free streaming movies plus the Kindle Owners Lending Library), already offer borrowing programs for a cost near or even below the average taxes people currently pay for their libraries (Amazon Prime at $79 per household and Netflix at $95.88 per household versus $101.03 in taxes for an average household of 2.59 persons). So will public libraries really have a role to play in helping to subsidize access to information and entertainment in an electronic world? Or could these libraries even justify the use of scarce public funds to underwrite the cost of a $3 romance or a $9.99 best-seller?
Secondly, we could get rid of our buildings. Clearly, in a world without printed books, we would no longer need massive structures to house and protect hundreds of thousands or even millions of physical volumes. Some have suggested we convert the buildings into community centers, but many communities already have such places. Others suggest turning them into "tech centers," replacing the books with computers and other high-tech equipment, plus lounges and cafes, as recently proposed for the flagship Research Library at NYPL. But the library computer may be on its way out too as people take to tablets and smartphones. Or maybe we could just sell them for conversion into massive dining and entertainment complexes, which has been done with the majestic old train depots in Washington, D.C.; Kansas City, Mo.; and Chattanooga, Tenn.
On campus, academic library buildings often occupy prime real estate, so a lot of departments would vie for them. These buildings might be converted into a student union or a museum or performing arts center or just classroom space-and many are large enough to accommodate all four functions and then some. But fundamentally, it really shouldn't matter how these buildings are used. The important point is, if all content is electronic, they won't be needed as libraries.
Thirdly, we could get rid of much of our staff. We will still need somebody to take care of content and help people with it-even if it is electronic. But without a physical collection, we wouldn't need circulation staff, shelvers, pages, custodians, security guards, etc. On average, these paraprofessional and clerical employees account for about 70% of the staff at both public and academic libraries and eat up a lot of operating budgets. If everything goes electronic, they would all need to look for new positions.
Fourthly, we could save a lot of money. Even now, libraries really don't spend most of their money on books. IMLS data from 2009 shows the average public library in the U.S. spent just 12 cents of every dollar on books and materials of any sort. And that number has steadily declined for years (down from 25 cents in 1950 and 15.9 cents in 1990), even in the midst of an explosion in the number of book titles published each year. According to the most recent NCES data, an average of 39% of academic library budgets were spent on books, journals, and other materials in 2010. Still the great bulk of all library budgets is spent on staff costs (66% for public libraries and 50% for academic libraries) and other operating expenses (21% for public libraries and 11% for academics), expenses generally associated with keeping the physical facility operations going. If physical collections and the buildings went away, many of these expenses would too, as would about 70% of the paraprofessional staff. Without physical reference desks to staff and thousands of buildings to manage and supervise, professional staff also could be significantly reduced. A 30%-40% savings on overall operating budgets for academic libraries could be realized-a figure that would go well above 50% for the average public library, even touching professional staff. That's money to buy lots more ebooks and econtent or money for the taxpayers or parent institution.
OK, so what happens to us? This question goes to the heart of the profession and its value in a digital world. Much discussion can be found on this issue in books, articles, blog posts, tweets, and even a few YouTube videos. A common thread runs through much of this discussion, namely conjecture that librarians will be able to parlay past roles and functions into valuable services for our communities. For example, because we have helped people work with computers and other electronic gadgets, maybe we could become like those guys at the Apple Genius Bar. But those positions in the Apple Store are already filled, and they pay a lot less than we make. Some suggest we become "community conveners" and bring people together. Some-particularly those frustrated by our inability to get ebooks from major publishers-suggest that librarians could turn the tables and become publishers, since most of us have worked with books forever and have helped authors conduct their research.
David Lankes wrote in the Atlas of New Librarianship (The MIT Press, 2011, ISBN 978-0262015097, p. 65) that in the future, "the mission of librarians is to improve society by facilitating knowledge creation in their communities." Let's give Lankes his vision. Perhaps our mission always should have been to "facilitate knowledge creation," no matter what we might have done in the past. But there's one problem with Lankes' new mission and the visions of all the others taking functions we have performed in libraries and transforming them into grandiose new roles out in the community. While we were in our libraries, we were the only game in town. If somebody needed help using a library computer or gadget, of course we were the ones to help. If an author needed help researching a topic, of course they turned to us. We knew our collections and how to cajole facts out of them. And certainly, we "convened" our communities every time we put on a program. And, we facilitated knowledge creation by bringing a lot of books and content together in one place and helping people use them.
However, roles unique to us as long as we worked inside our libraries are offered by hundreds of different institutions, companies, and professions in society at large. What value do we bring to the table that the others do not already provide?
In publishing, the case is even clearer. Besides the six major, and thousands of minor, publishers, we have literally hundreds of self-publishing services, ranging from Amazon and Google to Smashwords to Lulu to tiny companies operating out of garages. Add all the "so you want to publish a book" classes offered by adult education, community colleges, university extension units, and other educational institutions, and the competition is savage. On top of that, you have all the ancillary professions attached to publishing, including agents, editors, book designers, illustrators, proofreaders, printers, ebook "makers," and dozens of others, many available to aspiring authors on a freelance basis. So what would librarians bring to this robust publishing "ecosystem"? Can you think of something not provided by others that would justify the use of public funds?
In short, futures that predict grandiose new roles for librarians in a world without libraries are pipe dreams, because they would put us in direct competition with lots of other people already performing those tasks, people often more experienced and better equipped. It would be difficult to convince our funders to spend scarce public resources to duplicate services better provided by others.
Wait! We're Not Dead Yet
There are, however, several basic library functions that will probably continue to be needed, even in a world where all content is electronic. And those roles are aggregation, curation, and reference. We can get rid of our books and our buildings, but the basic functions of the library do not go away. In fact, in some respects, these functions are more critical than ever. More books and articles are being published today than at any time in history. The latest Bowker report projected 347,178 titles would be published in the U.S. alone in 2011, up from just 11,022 in 1950. Add nontraditional and self-published works for another 1.1 million titles. Somebody needs to keep track of all this stuff and pull it together so people can find it. Traditionally, that has been the role of libraries and librarians. Likewise, somebody needs to sort through all that output, separate the wheat from the chaff, and determine which of those titles might actually be worth anyone's time or interest. That's curation, and that has also been a traditional library function-one performed with help from our friends the reviewers. Finally, helping people find facts, figures, and other information in that huge pile of material, to say nothing of all the webpages, blogs, tweets, etc., and clarify it to suit specific users with specific needs is, of course, reference, yet another very traditional library function.
So there you have three classic library roles still very much needed in an electronic world. However, when the content goes electronic, we suddenly have all kinds of competition in each of these areas. Some of them are pretty powerful. Google is an obvious example. Besides its search engine aggregating most of the web and Google Books scanning and aggregating most of the 124-million-plus books in the world's libraries, now Google Play offers more than 4 million books and thousands of movies, songs, and apps-significantly outdistancing the collections of most libraries. On the academic side, the aggregation function is being taken over by the major academic publishers and the databases they produce, along with Google Scholar and Google Books.
Curation is being done by aggregators themselves, to the extent that the aggregators exercise some discretion over the content they include, by scholars reviewing and citing titles in their research, and by thousands of industrious readers writing reviews and building lists.
For reference, we can complain as much as we want, but the Google search engine and Wikipedia have been out there cannibalizing library reference services. And dozens of "answering services" now vie with us.
So, do we just throw in the towel and cede the field? I don't think it has to end this way. Just because we have competition for roles that used to be ours alone doesn't mean we can't be one of the competitors. There's a lot we can bring to the table. First, we work on behalf of the patron. While most of our would-be competitors work to make a profit, our professional obligation first and foremost is to meet the information and reading needs of our patrons. People think of us as a kind of Consumer Reports of the information world-reliable, thorough, unbiased, and unlikely to be corrupted by commercial concerns. Second, we offer years of knowledge and experience. We know the sources, how to evaluate them. We know when someone is trying to pick our pocket for free information. And thanks to years of reference interviews, we know how to figure out what a person wants even when they don't know it themselves. In short, we know what we are doing-or the best of us do anyway-and that is a big advantage. Finally, we've got the reputation. Although some of us have been trying to shake it for years, the word librarian and the image associated with it are inextricably bound up with books, reading, the pursuit of knowledge, and the life of the mind. We're also known for protecting people's rights to read whatever they want and to have the privacy to do so. A little nerdy perhaps, but an image of exactly the kind of person you'd like to have helping you navigate the vast electronic sea of information. These are strong, competitive advantages librarians can bring to the information marketplace.
But we also have some significant liabilities. We are not "web scale." According to the ALA, there are more than 70,000 librarians working in public and academic libraries in the U.S. alone. That's more than twice the number of people who work at Google. But we don't work for a single employer. Our work is directed and our salaries paid by thousands of funding institutions. That's not the way the web works. Neither Google nor Amazon has 20,000 offices the way we have 20,000 libraries. These companies might tweak their offerings to fit the resources, languages, and legal requirements of various countries and geo-locate their users, but by and large, all are about consolidation and efficiency and taking advantage of the web as an incredibly cheap distribution network to all who want their services. If we want to compete in this world, we must do the same. That means fewer librarians and an organizational structure similar to other enterprises doing business on the web.
Furthermore, we cost too much. Librarians must remember it is not about us. We are part of a distribution network whose ultimate object is to get books, articles, music, movies-and information-into the hands of the people we serve in so they can use it. Even in the heyday of our reference services, only 20% of the people walking through our doors bothered to ask us a question. But the current cost structure of libraries might give you an entirely different impression. Remember the 12 cents public libraries spend on books and materials or academic libraries' 34 cents. Judging from our spending priorities, we are in the business of collecting staff, not content. Get away from thousands of physical structures and move to a fully electronic library, and we could take advantage of the tools and capabilities of the web to rationalize and streamline the way we provide our services.
In reference, for example, the web would allow us to develop a worldwide network of librarians and subject experts, routing questions to the people best suited to handle them. And rather than being "in your face," which was the original plan for the virtual reference services we designed, our services would operate a little farther behind the scenes. We'd encourage people to first take advantage on their own of Google and all of the other wonderful tools developed on the web. Only when these didn't work would our services come into play.
In short, I believe there is still opportunity for librarians in a post-print world. And we won't have to stray far from our traditional roles to find it. Aggregation, curation, and reference become even more important in a digital world, where millions of books and terabytes of other content are produced every year. However, with all content becoming electronic, others can also perform the aggregation, curation, and reference, giving us some pretty formidable competition. But no current service yet adds up to everything you could get from an honest-to-God librarian who is an expert in handling information and completely dedicated professionally to the user's interest.
That's where we could still have a role to play. Somebody needs to aggregate the work of the aggregators-directing people to the best source for the information they want, no matter where it is. Somebody needs to curate the work of the curators, and somebody needs to handle reference when the Google search engine-or at least its user-fails. Those somebodies could be us. But if we are going to play in this game and be equal to the task, we have a lot of work to do.
We must scale our services to match the web. It is difficult to predict exactly how we might provide these services at this point. Maybe one of the major aggregators might want to employ a select few of us and offer a complete library service to colleges, universities, and others. Or maybe one or more major university libraries will get entrepreneurial and start offering services to others, as many already have begun to do with distance-learning options. Maybe a band of intrepid libraries will get together and offer library service independently. Who knows? But one thing is for sure: Our current organizational structure is not tenable in an all-digital world. Neither is a cost structure that siphons off library budgets for staffing and buildings and leaves only a pittance for content. In a digital world, we must rationalize and streamline services, even if that means there are fewer of us. We need to take full advantage of all the tools and capabilities of the web to leverage our knowledge and experience. The bill for librarians and library services should be considerably less, so there is considerably more money for content. Such a restructuring is a tall order, and pulling it off is by no means certain. However, if priced competitively, our services will still be needed. Libraries and librarianship could look quite different in a world without print. For all its advantages, it is difficult to shake the feeling that the world will be a lesser place-and librarianship a lesser thing-if physical books and the libraries that house them really do go away. But, people who used to ride old Dobbin to work may have felt the same about their first Model T.
But What if Print Is Not Dead?
As some sage once said, the best thing about the future is that it hasn't happened yet. What we just detailed here is not the only possible future for books and libraries. It is also possible that print books won't go away, or won't go away anytime soon.
Evidence now mounts that ebook sales rates in the U.S. - which had been doubling every year for the past few years-have begun to slow down significantly. In his Aug. 12, 2012, Publishers Lunch piece, Michael Carder reports data from the Association of American Publishers which shows that September 2011 was the last month in which sales doubled compared to the previous year. Its most recent report in April 2012 showed ebook sales growing by only 37% compared to the same period in 2011. Carder also quotes specific publishers citing similar numbers, with both Simon & Schuster and Penguin affirming that ebook sales percentages have increases in the low 30s for 2012-well off growth rates from previous years. Not only that, with the growth of total trade print sales, the ebook percentage of the overall trade publishing market remains at right around where it was last year, at about 20% ("Charting the Slowdown in eBook Growth," Michael Carder, Publishers Lunch, Aug. 9, 2012; (http://lunch.publishersmarketplace.com/2012/08/charting-the-slowdown-in-ebook-growth).
The Book Industry Study Group has also issued a study that shows a similar drop-off in electronic adoption rates, along with research showing that people who have had their e-readers for more than a year start to buy more print and fewer ebooks after the first 12 months of ownership (Len Vlahos, "The Changing Face of eBook Reading," presentation at BookExpo America, June 5, 2012; www.slideshare.net/bisg/len-vlahos-the-changing-face-of-ebook-reading). The effect is not huge; readers who have had their devices just a year purchase 69% of their books as "e" and only 24% in print, but for readers who have held on to their e-reader for 2 years or more, their ebook purchases decline to 62% of book purchases, while print increases to 30%. It suggests that once a person has had an e-reader a while, some of the bloom comes off the rose.
Perhaps the most convincing evidence comes from Amazon's Jeff Bezos himself, who told the BBC, "What we find is that when people buy a Kindle they read four times as much as they did before they bought the Kindle. But they don't stop buying paper books. Kindle owners read four times as much, but they continue to buy both types of books" (Jeff Bezos interview by the BBC: "Kindle Fire HD and Paperwhite Sales Make Amazon No Profit," Oct. 11, 2012; www.bbc.co.uk/news/technology-19907546).
Could it be that those busy writing the obituary for the print book might be a bit premature? Readers, and with them the publishing industry and libraries, may be working in a hybrid marketplace, blending both print and ebooks for some time to come.
So what could that mean for libraries and librarians? Do we just keep on doing business as usual? Perhaps not quite. Clearly, a hybrid environment where print books still have a major role to play has some distinct advantages for libraries. First, we get to keep our buildings to house and display our books. And all of the library programming and ancillary functions would also continue. Children would crowd around children's librarians for story times, people would gather in our meeting rooms to discuss books or the burning issues of the day.
Secondly, a hybrid environment with both print and ebooks could present some significant new opportunities for libraries. We already know for sure that online sales of books, "e" or print, are having a devastating effect on traditional brick-and-mortar bookstores. The U.S. lost more than 1,000 independent bookstores between 2000 and 2007, and this does not take into account the loss of the Borders chain and its more than 600 stores, nor the recent closing of such venerable institutions as Davis-Kidd in Nashville and Memphis, Tenn., and Cody's in Berkeley, Calif. Many of those that remain, including Barnes & Noble, are devoting less space to books and more to games, toys, cards, and other sidelines. Bookstores-whether chain or independent-operate on slim margins. Even the loss of a small percentage of their traffic to Amazon, Google, or any other online retailer is enough to jeopardize their business.
Unfortunately, a recent Codex Group study found that "browsing in a bookstore was by far and away the most common way people discovered books (28%). By comparison, browsing internet booksellers was 6%, and the much vaunted 'digital mega-media' (search engines, social networks, Twitter, video book trailers, etc.) was a lowly 1.9%" ("Fill the Showroom, Sales Will Follow: The Bookstore as Filter," Chris Morrow, Publishers Weekly, May 9, 2011; http://www.publishersweekly.com/pw/by-topic/columns-and-blogs/soapbox/article/47115-fill-the-showroom-sales-will-follow-the-bookstore-as-filter.html). The Codex Group goes on to document that many people who first discover a book in a brick-and-mortar bookstore later purchase it online, turning the local bookstore into little more than a free showroom for the online retailers. And those kinds of sales can run the bookstore right out of business. Ironically, bookstores are disappearing just as people are beginning to realize their value in the book discovery process.
Of course, people can also see books displayed nicely on shelves is the library. Unlike bookstores, we have a relatively stable tax or institutional funding base, so we won't be forced to close because some patrons decide to buy ebooks and read them on their Kindles. In fact, if the physical bookstores really do largely dry up and blow away, libraries could get into book sales as well as lending-perhaps in partnership with those "retired" bookstore owners looking for something to do. After all, many of us already operate relatively successful used bookstores and book sales. It would just mean adding some new titles and figuring out effective ways to merchandize books and manage sales in our buildings. In the massive Public Library Inquiry of 1950-a seminal and exhaustive study of the role of the public library in the United States conducted by some of the top sociologists and economists of the day and commissioned and paid for by the ALA-this suggestion is made:
[I]n small towns and villages where there is no bookstore, the public library might serve as a general community book center or be physically united with a commercial agency to form a general book center. In such an institution, books new or second hand could be bought from stock, purchased on order, borrowed for a rental fee, or loaned free for limited periods, depending on the customers preference, the volume of demand for single titles, and the nature and quality of the books themselves. The argument made for this proposal is that enlarging the library's function in this way would serve a primary objective for which libraries were created: to make books available to people. It might enable people in small communities to have more access to more books and to provide access to books under the guidance of persons skilled in book knowledge.
-Robert Leigh,
The Public Library in the United States, Columbia University Press, 1950, p. 165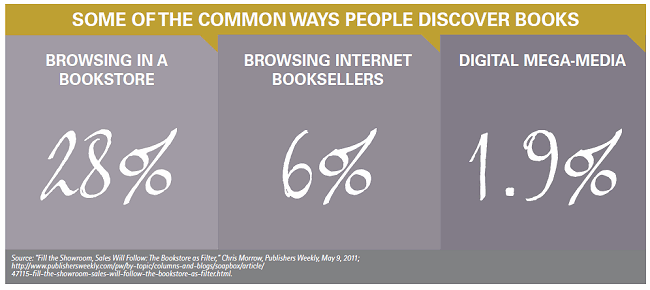 Source: "Fill the Showroom, Sales Will Follow: The Bookstore as Filter," Chris Morrow, Publishers Weekly, May 9, 2011; http://www.publishersweekly.com/pw/by-topic/columns-and-blogs/soapbox/article/47115-fill-the-showroom-sales-will-follow-the-bookstore-as-filter.html.
In the future, all of us may become like small communities when it comes to the availability of bookstores, so perhaps it is time to revive this idea. Finally, libraries could take full advantage of the "showrooming" practices that have bookstore owners so worked up. If people discover a title they like on our shelves, why couldn't we make it as easy as possible for them to get a copy for themselves? Of course, they could borrow it from us, but if they want a copy they can keep, all they should have to do is scan the bar code on the back of our copy to link to any available ebook or print version. If the material was in the public domain (or free for some other reason), they could simply download it on the spot. If the title cost, the patron could simply scan our bar code and order and pay for the title without leaving the stacks. Maybe the library gets a referral fee on these sales, maybe it doesn't. The point is, in a commercial bookstore, every one of those transactions eats into whatever little profit is being made; in a library, these transactions are a central part of our mission to put books into patrons' hands.
So a hybrid print-ebook market could present libraries with significant opportunities to play an even larger role in the world of books and information. If we work this right, libraries everywhere could have the potential to become general book centers: places where people could come and browse carefully curated collections, find out about books and authors they might not know existed, and explore subject areas they want to know more about. When they find something they want, a variety of options would exist, including borrowing it, purchasing it in print, or downloading it to an e-reader.
Libraries already have many elements in place to pull this off. We already have more than 20,000 buildings designed to showcase books, at least one in almost every community of any size and every college campus. We already have a lot of books-more than 2 billion, to be precise. And not just any books, but books carefully selected and preserved by librarians. Finally, we have more than 1.6 billion people coming through our doors each year-most hoping to find a book. And, of course, we have the love and support of many in our communities. These are not inconsiderable assets. Many very successful businesses have been built with far less.
However, we also have significant challenges we would need to overcome. First, we would need to do something about a woefully inefficient distribution system. Here comes that 12-cent book budget again, 34 cents for academic libraries. All librarians need to closely scrutinize their budgets and find ways of driving down operating costs.
Many cost-saving ideas discussed for the all-electric library could also apply to a scenario in which we still have our brick-and-mortar facilities. For example, we could take advantage of the networked reference service models developed for virtual reference to build a high-quality, highly efficient reference service to which libraries could subscribe rather than paying to keep a reference librarian (or two) sitting behind a desk. Likewise, some collection development support could be provided centrally, rather than duplicating the function at each library. Libraries could still have local control over collections. The ability to tailor a collection to fit the community and bring some quirkiness and individuality to our selections are important assets, helping to distinguish us from the local Walmart or chain bookstore. However, libraries buy a lot of the same material, and many of those selection decisions might be made more effectively and more efficiently with centralized support.
We also need to take full advantage of innovations made possible by the web. Why are we still paying lots of money to buy skimpy little MARC records and book cover images from library suppliers when publishers freely exchange much richer data with Amazon and other retailers? Why are we paying vendors an average of $3 to $5 per book for processing when bookstores can put those same titles on their shelves for pennies? And why do we tolerate ILL costs of anywhere between $30 to more than $100 per transaction, when many of the titles requested are available on the web for what amounts to pocket change and can be shipped directly to patrons without having to send them back? And even if we don't choose to become an active bookstore, we should at least get standard Amazon royalties for introducing a patron as purchaser. Those are just some ideas to get you started. The point is, if we really want to take advantage of new opportunities the marketplace may open to us, we must carefully examine every element of our operating costs.
Finally, and perhaps, most importantly, if libraries are going to be "about" books, then we must focus our time, attention, and resources tightly on that objective and stop trying to be "about" almost everything else. In our efforts to make ourselves relevant and beloved to all, libraries have adopted all kinds of strange and extraneous projects during the past few years that have little or nothing to do with books and reading. A quick litany of such attempts by libraries would include the current Makerspace and Hackerspace movements, video game competitions, daytime homeless shelters and social service agencies, employment centers, and I'm sure you can fill in others on your own. They all seem to be efforts to prove to ourselves and our communities that libraries are "more than just books." Do we really believe that helping to manage, preserve, and provide access to the world's published literature is somehow not enough? Even if we had all the time, money, and people these misguided attempts would require in order to succeed, these extras would still harm us by diluting the library brand and confusing our patrons as to what we are really about. The truth is, it's hard to really be about anything in particular if you keep trying to be everything to everybody. To hope to succeed in what is becoming an increasingly competitive environment, we must narrowly focus our limited resources on being the best library we can be.
What does that mean? First, stop chasing every technical fad that comes along-the current Makerspace hoopla is a classic example-and concentrate on serving the vast majority of people who come to us because they want a book. It means spending lots more on collections and focusing on material our patrons want and need while thinking long and hard before squandering limited resources on expensive databases and other nonbook resources that get little use. It also means providing readers with carefully curated collections. With due respect to the "give 'em what they want" crowd, if people come to us to discover books they don't already know about, they need to see a lot more than huge stacks of current bestsellers. They need to rely on us to select the best things from the hundreds of thousands of titles pouring out of printing presses every year.
Second, it means hiring readers-staffing your library with people who know and love books and training them to provide great reader services such as "hand-selling" titles readers may not be familiar with, tracking down titles not in your collection, and easily recommending new titles and authors based on a reader's interests. The readers advisory inside a library should be at least as good as what you would expect to receive in a fine bookstore, maybe even better.
Third, it means taking advantage of whatever new technologies can help improve the reader experience. Why can't we have NetFlix-style holds queues, for example, and allow readers to enter hundreds of titles they'd like to read and then rearrange and reprioritize them on their own? Why can't we turn our catalogs into a rich source of information on books and authors-rather than forcing our patrons to turn to Amazon or GoodReads? Why can't we take advantage of massive databases of digitized books and the new, inexpensive, print-on demand technologies to provide patrons with print copies while they wait? These are only a few ideas, and I'm sure we could all easily come up with many more. The point is that being a library and focusing on providing access to books and information does not mean eschewing technology or returning to the Dark Ages. But it does mean narrowly focusing our attention on being a library and providing our readers with access to published information that is worth their while. To do that effectively, we need to choose the technologies, staff, collections, programs, and services which further this objective and ignore all those which do not.
So Now What?
For the past thousand years or so, libraries and librarians have filled a stable niche in the world of books and publishing. We collected books and periodicals as they were published so people could find them all in one place. We curated those collections, selecting titles we thought valuable and ignoring those that were not. We organized our collections, building catalogs and reference services to help people find what they sought. We preserved the books and information we collected so readers could still find them many years later, after most had gone out-of-print. Finally, since books were too expensive for any student, scholar, or reader to buy all they wanted, we made them affordable by buying one copy and sharing with all who wanted to read such development. All of these are critical functions-and there is absolutely no doubt that we would never have seen the development of science and technology nor the flourishing of the arts, which have transformed society during the past millennium, if libraries and librarians had not been there to support it. Libraries and librarians can accept that credit, because in the course of the past 1,000 years, we were the ones who filled those roles.
Now the digital revolution is shaking the long-stable world of books and publishing to its very core. The dust has not settled yet, so we can't be sure how things will turn out. We don't know whether people will be truly happy reading everything electronically, or whether print will somehow endure and for how long. What we do know is that the basic functions the library performs-aggregating and preserving content, curating collections, helping people find what they want in those collections, and making books and knowledge affordable-all of those remain critical, whether that content appears digitally or in print. What does change is who can provide those services.
As long as print remains important, the library will likely remain the only institution capable of buying, housing, and maintaining large collections of print books and material for people to use. A hybrid world where people read both print and digital, might offer the library an opportunity to expand its role beyond traditional functions and serve as a bridge between print and electronic formats. With the decline of brick-and-mortar bookstores, the library may become one of the few places where people could come to see books displayed together on shelves. Once they discovered a book on our shelves, readers could elect to get it in any way that suits their fancy, borrowing it off the shelf, downloading a free copy if the title were out of copyright or available for electronic lending, or purchasing a print or electronic copy for their own library. A real attraction of this scenario is that it allows us and our patrons to continue to take advantage of those assets we've built up over the years-billions (literally) of books, thousands of buildings, millions of people walking through our doors each year, and a trained, experienced, and knowledgeable staff waiting to help them.
When books go digital, however, it allows others to enter our domain and assume traditional library roles. Google, Amazon, and Apple have already built larger electronic collections than any of us. Digital curation is handled through customer and publisher reviews, "likes," ranking systems, and word of mouth on social networking sites. Sophis­ticated catalogs (far better than anything we have at this point) and search engines help people find things in these massive commercial libraries. Market competition has already driven the average price of an ebook below the cost of a six-pack of beer, and if it needs to go lower, commercial lending operations such as the Kindle Owners Lending Library and Netflix are prepared to enter the fray. As for preservation, the commercial value of the long tail will assure that no ebook ever goes out of "print."
In the academic market, scientific and technical publishers and professional societies are already collecting and providing the bulk of journal literature. If monograph collections go digital, it would not be much of a step for them to provide those as well. As with consumer ebooks, catalogs, databases, and search engines serve as finding aids, and the economic value of the long tail should assure preservation. The cost of academic literature will likely remain high, so the traditional library role of providing affordable access would remain important, but there should be plenty of money to pay for it, since ditching the traditional academic library would liberate 65% of the costs of the traditional academic library which now go to staffing and operating buildings. It might even fund a comprehensive open access world for scholarship.
Just because we have new competition in roles once exclusively our own does not mean we should cede the field to commercial providers. Nor does it mean that it is time to eschew books and start casting around for new things to do. No, we are librarians, by God. Our skills, training, knowledge, and experience are inseparably tied up with the book and published literature. The services we perform are still needed in a digital age, whether everything goes electronic or we continue to operate in a hybrid environment We've been doing what we do for more than a 1,000 years now. We have a lot to offer. And we should not let a little competition get in our way.
But we do need to take advantage of the tools and technologies now available to us to find better and more effective ways of connecting people with books and information. If we are equal to the task, librarians and librarianship have a long, bright future. If not, others now stand ready to take over for us.
---
Disclaimer: The ideas expressed in this article are Steve Coffman's alone and do not necessarily reflect the views of LSSI or the libraries it supports.
---
Supplemental Content
To read Steve's views about "The Doomsday Scenario," go to www.infotoday.com/onlinesearcher/extras/Coffman--The-Doomsday-Scenario.pdf . There, you can also find a URL for Steve's April 2012 Searcher article, "The Decline and Fall of the Library Empire."