WHAT TRENDS MAY COME IN 2014
The OA Movement Will Continue to Gain Momentum
by Roy Kaufman

Managing Director of New Ventures, Copyright Clearance Center
---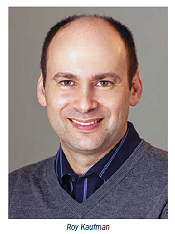 The philosophy of open access (OA) is relatively simple—published information should be freely available. In its most basic form, OA refers to the publishing of peer-reviewed articles in such a way that allows internet users to access the material without having to go through a paywall. The two most common forms of OA are the gold road or author-pays model, in which the final article is typically made available on publication after the payment of a fee, and the so-called green road, where a version of an article is made available at some point but (often) is not the final version, and (maybe) is made available after a waiting period, and (frequently) is not available on the publisher's website. The green road does not usually have a separate fee attached but is financially supported by underlying journal subscriptions.

Over the past few years, publisher support of the OA movement in scientific and scholarly publishing has grown rapidly, especially for the author-pays model. Just 7 years ago, only a small number of publishers allowed authors to post final articles in a fully OA manner. Now, the largest journal on the planet (PLOS ONE) is fully OA, publishing more than 20,000 articles a year. Moreover, virtually all subscription journals now offer a hybrid OA option, in which an author can pay to make an article OA within the traditional subscription journal. By another measure, the number of OA articles indexed by the bibliographic database Scopus increased by almost 100,000 titles (39%) between 2008 and 2011. That number continues to grow.

The push for publishers and authors to embrace either or both the green and gold forms of OA will continue unabated in 2014. The White House Office of Science and Technology Policy has directed that all large federal agencies granting research funds must develop OA policies, and some U.S. states are also developing mandates. In the U.K., the privately funded Wellcome Trust and the publically funded Research Councils UK have mandated that researchers receiving funding publish OA, with the gold road preferred. Other organizations in the U.K. and EU are looking at developing their own policies. Over the next year, funding organizations, publishers, academic institutions, and researchers will need to work together. OA mandates continue to grow, but maturity and success will only come with standardization, especially around metadata. In 2014, we will see a number of multiparty efforts advance, including the publishing community's Clearinghouse for the Open Research of the U.S. (CHORUS), the U.S.-library supported SHared Access Research System (SHARE), and the broad-based U.K. Gold Road Open Access Implementation Group. As organizations continue to collaborate to keep OA momentum going on a global scale, we also expect to see innovative delivery models, revenue opportunities, funding schemes, and other platforms for (hopefully) sustained growth, in 2014 and beyond.


---
Related Articles: