WHAT TRENDS MAY COME IN 2014
Cloud Computing on the Horizon
by John Blossom
President, Shore Communications, Inc.
---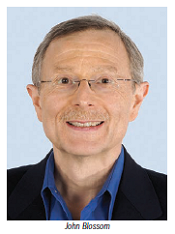 It's a cloud-eat-cloud world in content technologies, with major providers serving enterprise and consumer markets positioning their offerings to help people become more productive on whatever computing and networking platform is at hand. While there are many hardware technologies pushing these trends, the key technology is the ability of cloud computing services to absorb huge amounts of data and to infer patterns that benefit people in both strategic and personal ways. Personal computers and mobile computing devices are still important, but the "brains" of those devices in 2014 are shifting rapidly toward connecting sensors in them with cloud services more than with locally installed software and services.

New phones from Google's Motorola Mobility unit and Apple underscore the importance of mobile devices as "always on" signal gatherers for online services. The Moto X phone, for example, has a processor specifically devoted to responding to voice commands and other sensor inputs whenever the phone is on, tied in with Google's voice command services to deliver specific information or actions. So now the ability of content technologies to respond to human inputs at any time, hands-free, is going to become a given in the eyes of many consumers. Google's expected launch of Google Glass as a consumer product in 2014 will highlight this trend, with other new and innovative device form factors underscoring that anything can deliver us great content experiences on any number of devices, with easy shifting and sharing of content among multiple screens more of a norm.

The effects of Microsoft's many product and platform missteps in 2013 will linger into 2014, widening opportunities for both Google and Apple. HP is building market share via Google's Chromebook offerings, which offer both cloud-based enterprise productivity tools and services for small businesses and consumers, but Apple is countering with more robust collaborative services for its iWork offerings, making for a three-way race between Office 365, iWork, and Google Drive for capturing personal content in the cloud on PCs and mobile devices. The money is in services now, as the web has commoditized most of the decades-old play for PC software.

In enterprise content services, stagnating budgets for subscription services are forcing publishers and aggregators to extract more actionable insights more rapidly from a wider variety of content sources. Semantic technologies are "in" for 2014, moving beyond traditional applications such as building categorization and taxonomies for content and toward extracting full-formed insights and recommended actions based on Big Data analysis. Expect these trends to emerge most prominently in business information and publishing services for innovation professionals, who are most in need of jump-starting potential market advantages. Emerging web-connected markets are becoming more of a focus for novel intelligence for analyzing both high risks and potential high yields, as investors and governments try to make sense of a rapidly shifting global marketplace.

Which plays emerge from the cloud on top in 2014? In my book, it will be the ones that focus most on services value and less on presumed intellectual property value. IP is only as good as what it's done for us lately, after all.
---
Related Articles: