Online Immigrant Resources in English
Elena Falcone and the Westchester Library System deserve kudos for developing web pathfinders for their vulnerable populations. Still, not every library has the resources or freedom to develop comprehensive web guides. For example, when I asked how the Anaheim Public Library was preparing for the influx of Syrian refugees to Little Arabia, the official answer was that it was waiting for direction from the Community Services Department, the library's managing agency in the city.
Still, there is some basic help that any library can offer Syrian refugees. For example, if our new patrons want to learn English, we can point them to the USA Learns website (usalearns.org) and its free ESL classes developed by the Sacramento County Office of Education. The lessons are also available as no-cost apps for the Android or i-Phone. This is important because Syrian refugees rely on smartphones to help them navigate their new homes and for real-time translation. "Refugees now will tell you: 'I need a phone before a car,'" Nahla Kayali, executive director of Access California Services who manages refugee services in Anaheim, relays to Erika Aguilar in her interview titled "Nonprofits Say Cellphones Key to Helping Syrian Refugees" (Southern California Public Radio, Nov. 26, 2015; scpr.org/news/2015/11/26/55879/as-nonprofits-prepare-for-syrian-refugees-cellphon).
Although the Anaheim Public Library may not yet be able to officially prepare for an influx of Syrian refugees, part-time librarian Julianna Robbins is anxious to get started with a voice translation app that she has on her personal iPhone. "As an individual, I highly recommend iTranslate Voice [itranslatevoice.com] for on-the-fly, voice command, highly accurate translation services. And, three versions of Arabic to boot!" The app is free to download for Android with in-app purchases. It costs $6.99 in the iTunes store.
The free Google Translate app for the Android and iPhone can also translate speech on-the-fly between English and Arabic. However, it focuses on individual words over grammar and so can sometimes garble translations.
Back on the web, Charles Kelly published "Activities for ESL Students" (a4esl.org) in 2003. It boasts tests, exercises, and even jokes to help with learning English as a second language. Kelly has a page especially devoted to quizzes between English and Arabic (iteslj.org/v/a).
Finally, for those wanting to practice English, Voice of America offers current news articles written in three levels of English proficiency: learningenglish.voanews.com.
Arabic Language Resources
Perhaps your local library carries no books in Arabic. No matter! Arabic readers can download ebooks. For example, Jordan's EKtab (ektab.com) sells a wide variety of ebooks. Its e-reader is available in the Apple app store or on Google Play. Yaqut is another Jordanian-based Arabic e-reader for Android devices available via Google Play (play.google.com/store/apps/developer?id=Yaqut&hl=en). It offers free ebooks to Android users.
MSN Worldwide (msn.com/en-us/msn-worldwide) features news and information in Arabic from Egypt, Saudi Arabia, and the United Arab Emirates.
Looking for apps in Arabic? Visit App Mahal, a search engine for Arabic apps, available in the Google Play store and on the web (appmahal.com).
Welcome, Weary Travelers
"Send these, the homeless, tempest-tossed to me," proclaims the Emma Lazarus poem "The New Colossus," engraved at the base of the Statue of Liberty. This sentiment captures the spirit that built our country and continues to be a main mission of our public libraries. Let us American librarians welcome and instruct these refugees who, with our support, will soon be our compatriots.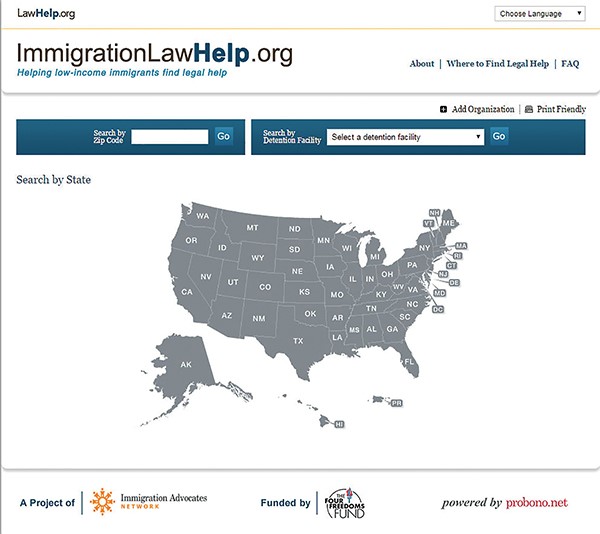 Immigration Law Help offers legal referrals which can be sorted by locality and by languages served, including Arabic.