Early Payoffs From Being a More Social Organization
Those early social pioneers who listened and/or blogged hoped to gain several benefits through their engagement with customers and others on social media. Among them, they tried to take advantage of new and powerful capabilities such as the following:
Responding to and fixing any immediate crises that were brewing or already underway
Listening for weak signals that could indicate emerging industry trends or problems for the firm
Identifying unexpressed product needs and desires of current and potential customers. By listening to what people were saying online, companies heard unprompted authentic concerns and desires that might not have been obtained via traditional top-down research surveys or from focus groups.
Responding to and immediately addressing individual customer complaints and concerns
Another benefit for larger companies with CEOs or other executives who were blogging was the ability to put a more human face on the organization.
As Facebook became more popular, and with the launch of Twitter in 2006, the importance of paying attention to comments on social media and having an active presence became more widespread among companies. But it was still not common and fell under the radar at most businesses.
The outward-facing focus by marketing, PR, and customer service represented mainly the low-hanging 2.0 fruit. Soon, the most forward-looking companies began realizing that social media could also be used inside the organization as well and could offer several additional benefits, such as the following:
Smoother and more effective project collaboration, particularly among employees located in different offices around the country and the world
The elimination of existing information silos in the enterprise
The ability to crowdsource employees for new and innovative solutions to problems
Improvement in employee morale as employees could share their opinions and concerns with others throughout the company, including those higher up in the organization's chain of command
Connecting to suppliers to make supply-chain processes more efficient
In 2006, Andrew McAfee coined the term "Enterprise 2.0," which means "the use of emergent social software platforms within companies or between companies and their partners or customers" (andrewmcafee.org/2006/05/enterprise_20_version_20). Certain companies experimented and found additional innovative ways to leverage the power of social media internally. Some, for instance, used it to enhance human resources' recruitment efforts (by doing things such as announcing interesting findings on a Twitter feed to attract prospective employees) or to generate previously hidden online customer buying data and web activities, look for patterns, and make business decisions based on that data.
Gerald Kane, associate professor of information systems at Boston College and guest editor for social business at the MIT Sloan Management Review (sloanreview.mit.edu/big-ideas/social-business), told me in an interview that capturing socially generated data is one of the most important ways in which businesses use social media. He said his research showed, in fact, that the degree to which companies use data that's generated by social media to make decisions is the key distinguishing factor of more advanced or "socially mature" companies.
The Status of the Social Enterprise
So where does the social enterprise stand today? How prevalent is the use of social tools, platforms, and strategies in organizations? A couple of recent research studies shed light on these questions. In a 2012 Forrester Research survey of 1,332 executives and IT decision makers, 49% said that they expected to have investments in social networking solutions for that year (blogs.forrester.com/rob_koplowitz/12-04-03-delivering_
the_social_business_imperative).
In fall 2013, an MIT Sloan Management Review and Deloitte research project surveyed 4,803 business executives, managers, and analysts in 109 countries and 26 industries. It found that 73% considered "social business" (the term used by MIT Sloan Management Review and Deloitte) "important" or "somewhat important," with 89% saying that they see it as important looking out on a 3-year horizon.
The survey also found that the technology, media, and telecommunications industries were on the forefront of social business, with recent growing activity by the energy and utility industries and increasing interest by consumer finance and banking. According to survey respondents, the biggest barriers that prevented their own organizations in becoming more fully social organizations were too many competing priorities (33%), no strong business case or proven value proposition (29%), lack of an overall strategy (28%), and lack of management understanding social business (27%). (The report is available at sloanreview.mit.edu/projects/moving-beyond-marketing.)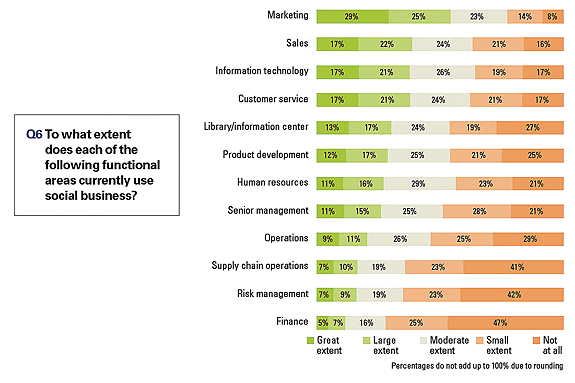 Source: "Social Business: Shifting Out of First Gear," MIT Sloan Management Review and Deloitte, 2013

The Info Pro's Role in the Social Enterprise
Clearly, there is a great deal of interest, as well as continuing activity, in creating more social enterprises. So this leads now to our key question: Where do you as an information pro come into play? And—importantly—how are information professionals playing a role right now?
There is actually some data to answer that latter question. In "SocialBusiness: Shifting Out of First Gear," an MIT Sloan Management Review and Deloitte project conducted during 2012 and published in summer 2013, (sloanreview.mit.edu/reports/shifting-social-business), survey respondents were asked to identify which functions in their organizations used social media. The library/information center was cited by 30% of the respondents as using social media either to a "great" or "large" extent. (See Figure 1 above.) [Note: The author served as a contributing editor for this 2013 report.]
Compared to other functions in the organization, a decent percentage of libraries and information centers are in fact engaged in social media, as that 30% rate represents the fifth highest function out of the 12 functions identified. But that probably comes as no surprise to readers. For several years, professional literature and conference speakers have offered a variety of case studies and examples on how information professionals can use Facebook, Twitter, blogs, and other social media forms such as Pinterest for promoting services, showing value, extending reference, enhancing visibility, and more. For example, Tracy Z.Maleeff, library resources manager at the law firm Duane Morris in Philadelphia (and blogger at Library Sherpa), told me how she has used Twitter to increase awareness of her library and to connect with other libraries. (Maleeff gave a talk in September at the SLA NY 2014 Conference and Expo on her experience with Twitter; newyork.sla.org/events-2/expo.)
But while it is vital to use social media to promote and extend your information center, it is just as important, if not more important, to play a role in any organization-wide efforts your firm may take to become a more social enterprise. In other words, whether it's capturing customer data, crowdsourcing for innovation, facilitating project collaboration, using social media to break down functional and geographic information silos, or other uses, you need to be involved in the external and internally facing applications of social media that impact the entire business.
And no doubt about it, there are relevant and meaningful opportunities for the information professional here. Some of the low-hanging fruit includes the following:
Conduct information audits to identify how and where social content is currently being used in the enterprise, where blocks exist, and current needs and new opportunities. Information audits certainly are familiar territory for the information professional, but social content presents a fresh and more up-to-date chance
to show off your skills. If you need a head start to get going, I recommend taking a look at "How to Conduct a Social Business Assessment," a free guide published by AIIM and written by Jesse Wilkins, its director of research and development (info.aiim.org/how-to-conduct-a-social-business-assessment).
Help your organization avoid "content chaos," which is what Forbes called unmanaged social content in its April 2012 article "Delivering the Social Business Imperative" (forbes.com/sites/forrester/2012/04/03/delivering-the-social-business-imperative). Avoiding content chaos traditionally meant engaging in tasks such as classification, tagging, and creating taxonomies. But in an email interview, Wilkins said that within the context of managing social content, it also means taking on the role of governance. That job, he said, would include "drafting a policy that addresses social media usage, ownership of content, and how to capture relevant social content." All of these are areas, he said, "where librarians and Information Professionals can absolutely shine."
Ensure that the right information—valuable and credible information—is available to the right person in the right function at the right time. Gerald Kane says that this kind of oversight is "tailor made" for librarians and information professionals.