Whether your library has one brave soul managing the marketing duties or an entire team, creating awareness of your library's events and services is a tough task. One thing that makes the challenge even bigger is the inability to consistently target and reach those people who are not currently using your services and attending your events. Ideally, you want to find a way to reach these nonusers with a specific message, at the right place and time, and convince them to take whatever action your message suggests.

Generating conversions is the primary goal of all of our marketing efforts. Conversions include signing up for a library card, checking out an ebook, attending a program, or voting in favor of a funding millage. Regardless of the desired result, the marketing behind it should be as cost-effective and laser-focused as possible. This is key, since our library resources are limited and spread thin. While the term "geofencing" may sound a little intimidating, it's actually an AdTech tool that can save you time, reduce wasteful spending, and help your library deliver the right message to the right audience.
What Is Geofencing?
Geofencing makes use of location data to set up virtual boundaries around a specified point, then tracks whenever someone with a mobile device enters the designated area. For example, if you want to target specific households, you will only reach those who enter the household, not the people driving by on the street. Often, this technology uses GPS as well as other data signals, including cellular and Wi-Fi.
When a mobile device is broadcasting its location near the established area, the geofence can identify whether it is inside or outside of the coordinates, and, if it's inside, it will trigger the delivery of an ad. These ads do not automatically pop up on an individual's mobile device when they enter the virtual boundaries. Rather, an individual must be in an app on their device that allows advertisements, such as weather apps; games like solitaire; or websites that displays ads, such as Yahoo News. Even if a device's location tracking is turned off, a geofence can still establish its general location through its unique IP address.
Here's one example of how geofencing is being used. After enjoying a wonderful dinner with your family at a local restaurant, you might look at a website on your phone and see an ad from the same establishment inviting you back with a special offer. Here is a personal example. Recently, I was in the market for a new car, so I visited a local dealership to browse the lot. Since my visit was after hours, there was nobody there for me to speak with. However, an ad still appeared on my mobile device encouraging me to make an appointment with one of the salespeople.
Benefits of Geofencing
Geofencing technology enables advertisers to reach people in ways they never could before. Here are some of its many benefits:
Geofencing allows you to precisely target the right audience at the right time, which results in a better use of your marketing budget. Traditional media such as television, radio, and print don't offer the same guarantee.
Geofencing is cost-effective and just as affordable as running a Facebook ad campaign. Typically, the rate can be as low as $10 CPM (cost per thousand) impressions.
Studies suggest that geofencing is compatible with 92% of smartphones. Plus, a survey by Provision Living says Americans spend an average of 5.4 hours on their mobile phones daily.
Geofencing allows you to collect data about how the target audience is interacting with your brand, e.g., using the library's website, visiting the library buildings, engaging with social media, etc. Geofencing also provides insights into target segments, traffic patterns, and how effective your messaging is in producing conversions. If you are trying to target a potential library user, you can establish geofencing parameters to match shopping patterns of services similar to yours. For example, Capital Area District Libraries (CADL), where I work, offers a Library of Things that includes home energy meters and laser levels, which can be checked out for free. Using geofencing, we can target home improvement stores and customers who enter them. Once customers leave the store, they receive an ad from the library showing the home improvement items they can borrow from us.
Getting Started
When it comes to implementing a successful geofencing campaign, there is a specific process you will want to follow. The steps below are a good outline.
1. Find a trusted digital marketing vendor that understands your goals.
2. Identify your target audience. This can often be multiple audiences, depending on your goals. For example, you might have a database full of addresses of lapsed users you want to re-market to. Or maybe you want to reach consumers who visit local bookstores or other, competing libraries. Perhaps there are specific neighborhoods where you want to market with different messaging.
3. Once you identify your target audience, you need to determine a tangible and trackable goal for your campaigns. For example, you might want people to take a specific action on your website, like signing up for a membership, filling out a form, or creating an account to use your digital assets. Or, these days, you might be concentrating on bringing foot traffic back into your library building. One of geofencing's most valuable qualities is the ability to track the audience you have targeted back into a "conversion zone," which is most often your library. You can set multiple conversion zones for a geofencing campaign. Here's an example: There is a bookstore in your area, and you want to reach its visitors to market your library's free services. With geofencing, you can target anyone who walks into the bookstore with their mobile device turned on. After they leave the bookstore, they are served ads for your library. After receiving the ads, they decide to visit your building. Once they do, that would count as a conversion.
4. After you have identified your target audience and decided how you will track the campaign, the next step is collaborating with your team and/or marketing vendor to produce creative assets that support your marketing goals. Obviously, different targets and goals call for different messaging.
5. The last step is to work with your digital marketing vendor to set expectations for reporting, optimizations, and creative changes for the campaign. No successful digital campaign comes without the need for improvements, so it is important to find a vendor that will be able to analyze the results and put your library in the best position to be successful.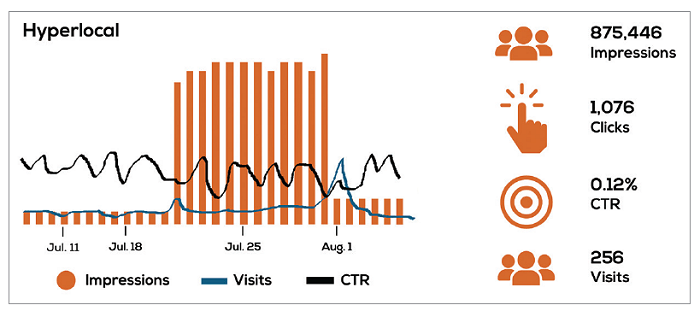 This dashboard for the product Hyperlocal shows a campaign for a library that was tracking conversions back into its library location. It illustrates that the campaign served 875,446 impressions, which led to 1,076 ads being clicked on, taking visitors to the website. The click-through rate was 0.12%, which is very strong. In addition, the graph shows that 256 visits were tracked to the library from consumers who were served ads. This is also called 256 "conversions" or visits to the "conversion zone."
My History of Using Geofencing
I began using geofencing for my library in 2014. It was a digital product offered by our local newspaper, the Lansing State Journal . CADL's first campaign focused on creating awareness of our in-branch movie collection. This campaign included geofencing the NCG Cinema, a popular movie theater in town. During the theater's high-traffic period in the fall, we targeted its moviegoers. The geofencing we were using at the time also allowed us to track conversions. (In this case, a conversion consisted of a person clicking on our ad and then visiting one of our branches.) Over a 2-week period, the campaign generated a noticeable increase in traffic to our branches, especially those within a 5-mile radius of the theater.
Another successful campaign focused on the Common Ground Music Festival. This (now-defunct) weeklong event featured national music acts and drew 50,000 people each year. To tap into the excitement surrounding the festival, my library promoted the hoopla music collection, including the albums by the musical acts performing at the event that year. We also geofenced the performance venue so ads for our music service would appear on the concertgoers' digital devices. The ad asked recipients to click through to our normal hoopla landing page, so we were able to track those conversions through Google Analytics. During the festival, our geofencing campaign increased digital music checkouts by 10%.
The Near Future
My library is now in the process of switching over to a more advanced geofencing product. Through the help of Jordan Henika, digital sales manager for a television station in the Detroit market, we will begin using Scripps Targeted Network's Hyperlocal geofencing product during the first quarter of 2023. Hyperlocal is a display and video advertising tool that offers location-based advertising and provides attribution and conversion-tracking to ad campaigns. Through this service, we will be able to target and retarget people based on these attributes:
Behavioral Audience: Leverage more than 128 segmented audiences and overlay real-world visitation behavior with demographic data. Available audiences include Millennials, Hispanics, and luxury retail shoppers.
Brand Targeting: Reach people who have visited a brand-specific or category-specific locale within a specified time frame, up to 90 days from when the campaign starts. Leverage data from thousands of brands and major chains. Available brands include Starbucks, Home Depot, BMW, and Walmart.
Proximity Targeting: Reach consumers when they are in the defined vicinity of a specific location to impact immediate and future behaviors. Target locations include client storefronts, competitor locales, relevant points of interest, and short-term events targeting.
Neighborhood Targeting: Combine visitation behaviors with residential location patterns to find where a brand's customers live, then target them and their neighbors.
Addressable Geofencing: Target an entire neighborhood or target specific addresses with specific criteria (living in the neighborhood for 4 years, new to the neighborhood, etc.).
Geofencing Can Be a Game Changer
Geofencing is truly a powerful marketing tool that can complement other elements of your advertising mix. It's reasonably priced and readily available through media outlets and marketing firms. When selecting an outlet or firm to use, make sure your contact person is knowledgeable about the product.
As I mentioned earlier, I'm working with a digital sales manager for a nearby television station. Henika truly knows how this technology can help libraries achieve their marketing objectives. He has the ability to set up geofencing in any market in the country, so if you have any questions, you can contact him at jordan.henika@wxyz.com.
I realize that some of you might feel that geofencing is intrusive and a little bit creepy; however, this type of technology is a "game changer" regarding how libraries advertise themselves and their services. Libraries should no longer accept being the community's hidden treasure or having a large percentage of the population commenting, "I didn't know the library had that."