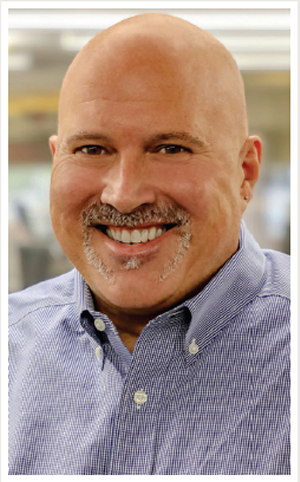 Name: Patrick Zinn
Title: Director of Marketing and Communications
Library: Texas A&M University Libraries
Location: College Station, Texas
Type: Academic
Population Served: 70,000 students, 15,000 faculty and staff, plus the local community
Email: pzinn@tamu.edu
Website: library.tamu.edu
Facebook, Twitter, Instagram: @tamulibraries
Patrick Zinn, director of marketing and communications at Texas A&M University Libraries, discusses the development of "easy and entertaining" content as a benchmark for today's marketing professionals. He highlights the "You, Me, All Welcome" library campaign focusing on the diversity of the university community at the core of campus life. An extra factoid: Zinn served on ALA's John Cotton Dana Library Public Relations Award Committee from 2015 to 2017, then chaired it from 2018 to 2020.
Patrick, tell us about your educational background and your marketing background. Do you have formal training, or are you an accidental marketer?
My journey to marketing was unusual, and, in some ways, I did begin as an accidental marketer. However, once I knew marketing was something I wanted to do, I worked on creating a path for myself. That included pursuing the best marketing job my credentials would allow and then learning as much as I could on the job. I would also do my homework by engaging in professional development opportunities, whether it was a workshop, a lecture, or reading a book or newsletter. Eventually, I would add continuing education to the mix to create better credentials so that my next job was even better. I have done this my entire career no matter my title or role.
My path started at Texas A&M University, where I happen to now work. During my sophomore year in the early '80s, I was elected to be the head of marketing for Aggie Cinema, a large student organization that showed movies 5 nights a week. Doing "marketing" meant that I was responsible for doing newspaper ads and other graphics projects (before the personal computer). Eventually, I also became responsible for creating physical displays as teasers for future showings. An example: The week before we showed Alfred Hitchcock's Psycho , I took a shower curtain and painted the details of the showing on the curtain, then splattered it with "blood" and made knife holes. I was able to quickly see that the movies that had been teased had better attendance, and I was hooked on the possibilities.
At this time, I saw my path to advertising/marketing through graphic design and worked on increasing that knowledge. I eventually wormed my way into a job at a campus print shop because the person who would be my supervisor was a trained graphic designer. I did lots of grunt work in the beginning, and, eventually, my supervisor took me under her wing and taught me a lot about design and printing, including how both could play an important role in marketing. Through this job, I had the opportunity to design many posters and other projects for different student organizations, and I was able to create a humble portfolio that I used to start my professional life.
I eventually graduated from Texas A&M in 1986 with a degree in modern languages and moved to New York City a year later to start a career in advertising and marketing.
How large is your department?
My department is four people: myself, two graphic designers, and a social media specialist/writer. As a team, we work hard to stay creative, inspired, and passionate. We always discuss our projects among ourselves to share perspectives and to help us stay loose, rather than just functioning in our own heads before creating a solution. We also hold lots of brainstorming sessions with others to gain new perspectives.
How many staffers are at your library?
We have about 250 faculty and staff working in the University Libraries as well as about 75 student workers. That's in five libraries on campus, including a medical library that has five satellite branches across Texas.
What percentage of the total organizational budget is dedicated to marketing?
We have a small operational budget, around 1%, compared to the overall budget of the University Libraries, but we see that as an opportunity because limited budgets foster creativity and there is so much more to gain from being creative than spending money.
The one area that the Libraries does invest in significantly is by funding a team of four people to do the marketing here. From a budgeting perspective, we are lucky because when we tackle new areas, such as taking over responsibilities for wayfinding signage, we are often able to tap into additional funds to sustain these additional efforts.
What was your most successful library campaign?
I would say our most successful was our "You, Me, All Welcome" campaign in 2017 and 2018. At the University Libraries, we see ourselves as that unique space between home and class/work available to all students, staff, and faculty from across the campus. We wanted to remind everyone that they are welcome in any of the Libraries regardless of how they identify themselves, where they were born, or how others see and identify them. It was also a moment to remind everyone, including ourselves, that diversity is a genuine part of our brand.
The struggle when creating the campaign was to represent various identities without further exploiting them or making any one person be a representative of an entire community. We quickly decided that photos of individuals were not appropriate, so we created nine non-specific shapes of people to use on the posters. We hoped viewers would look at the images and not be able to definitely describe the gender, age, or background of the person represented. Each shape has a word cloud around it to represent the many, many labels people use when identifying themselves. The cloud represents the freedom for each person to choose the words, in the order preferred, that they would use to describe themselves.
We used giant vinyls on the windows and other spaces of the Libraries to launch the campaign. We got immediate traction from our patrons and were able to do a video campaign, using our smartphones, asking students to describe themselves. We got amazing results that helped to drive the campaign even deeper.
"You, Me, All Welcome" was recognized as a co-winner for Best Public Relations Campaign from the Texas Library Association.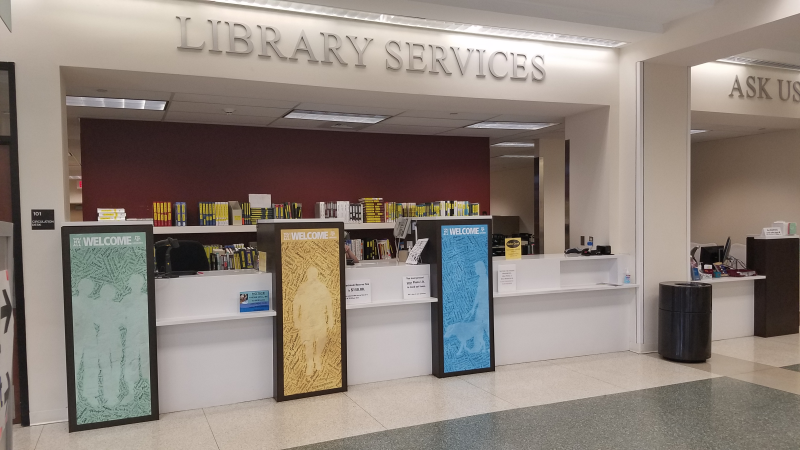 What was your biggest challenge? What did you learn from it?
My biggest challenge was creating trust. When I started at the Libraries, my position was relatively new, and the only other person who had held it was a librarian. Not only was I not a librarian, but this was also my first job in higher education. Some people thought I had been hired simply because I had graduated from Texas A&M, and others didn't trust that I knew enough about libraries to do the job. My former corporate achievements did not impress anyone, and instead created a deeper sense that I would not be able to be successful in a higher education environment.
I quickly learned that I needed mentors to help me navigate my new environment and to also help me learn more about libraries. I also learned to ask lots of questions when working directly with people or units and to take the time to learn as much about a topic as possible to show people that the marketing team was listening before creating our marketing plans. I often would share my immediate thoughts about how to move forward with a project, and that gave people a chance to weigh in up front, which also fostered trust.
What technology has helped you reach new audiences?
I think smartphones will continue to be the technology that helps us reach new audiences. Smartphones keep evolving and now connect seamlessly to social media platforms. Currently, one member of my team has a cellphone that takes better- quality video than our professional Canon camera. This is important because video has been the "wave of the future" for many years, but right now is the most critical time for video that I have seen since the digital marketing revolution in 2007.
Current students have been using smartphones almost their entire lives, and they consume content all day long and look for easy and entertaining ways to get information, such as videos. But now it is not only them—we are currently creating video content for all audiences, including our donors, who have not always been receptive to video in the past. As more and more content is presented to everyone from everywhere, audiences are looking for the easiest and most engaging content to consume, and smartly made videos fit that bill nicely.
How will future library marketing be impacted by the COVID-19 closures?
COVID-19 measures will require library marketing teams to be even more agile and able to pivot as priorities and strategies change quickly and often. In the future, we may not always have all of our traditional channels available during closures or disruptions, so we will all need to explore new ways to reach our audiences as they become distracted or displaced.
And with or without COVID-19, we all may simply need to reprioritize the channels, making digital first, if we haven't already. We will also need to be thoughtful about our messaging and be cognizant of our audiences' priorities and respect those shifts in thinking. We will need to put our customers in the center and demonstrate our empathy and compassion by sharing pertinent and responsible information rather than indulging in frivolous or fun marketing.
Discuss some of your productive partnerships.
We have been partnering with as many marketing peers, colleges, departments, and student organizations as possible across campus. Often, when we create these partnerships, the Libraries is the only group that has any marketing bandwidth, and we happily provide that support, whether it is utilizing our channels or skillsets or, sometimes, some budget. We also participate in peer councils on campus; for example, the graphic designers regularly attend Brand Council, an open group for any designer on campus. These meetings allow us to see synergies and help us coordinate our own marketing plans by knowing what is happening across the campus.
What guidance would you give a fledgling marketer?
Be a sponge and absorb as much information as you possibly can. Read, read, and read all you can about marketing and, especially, creativity. Creativity is the lifeblood of a marketing professional, so understanding the science of creativity is important. (Yes, there is a science to it.) Remember, creativity will trump budget any day.
Attend workshops, webinars, and conferences as often as you possibly can. Keep your skills current, which will allow you to pivot and be agile as you seek solutions. Connect with your peers to compare notes, learn from each other, and share ideas. Always be curious—look at what other libraries, organizations, or companies are doing, and consider whether what they have done would work in your environment. Do the same litmus tests—would the idea work for you as is, or would it work if tweaked? Lastly, be brave—try new ways of doing things, experiment, and don't be afraid of failure.