During a time when I was hearing truly wonderful comments about the Champaign Public Library in Illinois, our local paper ran a negative story that focused on a downturn in the number of cardholders. It really made me question how I could change the conversation and flip the script to be positive. With some creativity and determination, I developed a social media campaign that did just that.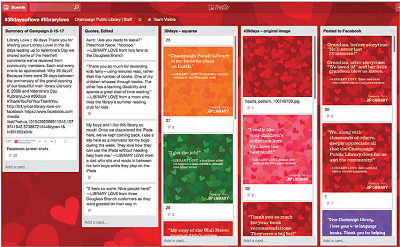 A screenshot of the Trello board used for planning.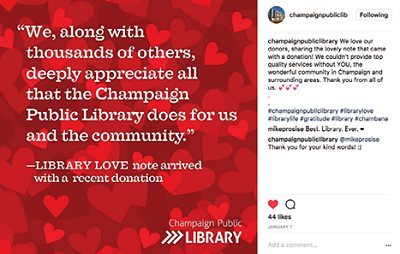 One of the Facebook posts.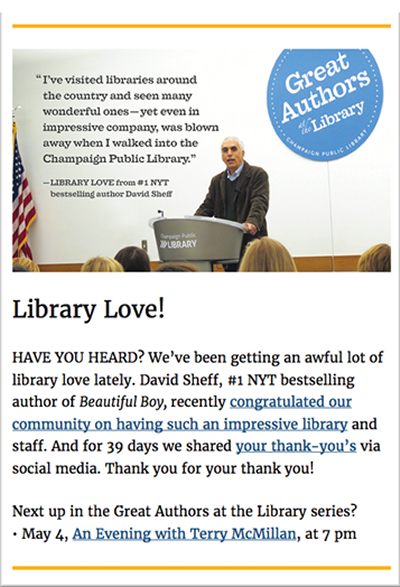 A note from The New York Times bestselling author David Sheff reached 4,300 people, including 1,000 reached by spending $5 to boost the post.
Show Some Library Love
This campaign had its roots in the Champaign Public Library Foundation's fall 2016 donor campaign, which asked supporters to "Show some library love!" Following that, in the first days of 2017, our director, Donna Pittman, shared lovely compliments she'd heard about our staff and the work we do, along with notes that were received with recent donations.
The Valentine's Day Library Love campaign I created grew out of notes like that, plus TripAdvisor reviews and compliments passed along by frontline staff members. As the promotions manager, I wanted to share those sentiments with the rest of our community, and I knew social media could allow me to do that.
Getting It Together Quickly
The campaign came together very quickly, in just a few days. I focused on the essentials: a theme, a repeating graphic, stellar quotes, a recognizable hashtag (#LibraryLove), and an element of mystery or quirkiness (#39days). I timed the series to start on the anniversary of the opening of the new main library and end on Valentine's Day—from Jan. 6 to Feb. 14, 2017—a total of 39 days.
I launched the project by building a Trello board (www.trello.com) to park my ideas, edit text, and sort the quotes I gathered. The board was also an effective way to organize in-progress and completed content, assign numbers, and create a meaningful sequence.
I designed 39 "love notes" using our signature fonts and a stock illustration of hearts as the background. In curating the series, I balanced the age and tone of the person speaking with the topics and services highlighted, ensuring that the main library and Douglass Branch were both mentioned. Here are some examples:
"My daughter signed up for the Teen Summer Reading Game, found some books she really liked, and decided that being a tween wasn't so bad."

—from a parent at pickup time

"This is one of the most impressive libraries I've been to. It is well staffed, well maintained, and the choices are outstanding. It is a real pleasure to visit."

—from TripAdvisor

"Access to Lynda.com?! That alone makes it worth getting a library card."

—from a new cardholder
Each day, our social media team posted a different quote. We used the hashtags #LibraryLove, #39days, and #ThankYouforYourThankYou. I scheduled and monitored the posts on Facebook; other staffers posted on Twitter and Instagram.
In addition to the daily posts, I scheduled a "Library Love :: 39 Days" Facebook event for Valentine's Day. This gave me a place to publish a "why we are doing this" message and to post a thank you the following day. At the close of the campaign, I set up a photo album on Facebook with all 39 quotes in one place (http://bit.ly/cpl-library-love-on-facebook). The album is public and visible even without a Facebook account, which helped drive its popularity.
A Resounding Success
By Feb. 17, the campaign had reached 75,000 exposures on Facebook, with 2,400 Likes or comments. Longtime fans and our own employees especially enjoyed seeing the series. And each exposure was its own moment of library love. Our simple campaign was a resounding success.
The best-performing Facebook post turned out to be a handwritten letter from a parent about the great job our staffers do with teens. The post reached 4,700 people in just 48 hours and garnered more than 430 clicks, Likes, and comments, including these:
"It's great that you're getting feedback like this. Indeed, the library is a great place thanks to the great people that make it so! I'm very glad we have a channel to express that!!"
"You have created a space where teens and tweens feel wanted and that they belong. I remember walking through the children's section [in the old building] after school let out and there were bunches of noisy middle schoolers disrupting the small ones and their families. It is so awesome they have their own cool space now with computers and activities just for them. Thank you so much!"
Our library champions in the community and our own staffers relished having a shared space to enjoy the compliments. And I know the campaign helped my colleagues feel appreciated because they told me so:
"It looks amazing to see so many quotes in one place!"
"Loving all the library love postings."
"Thanks for sharing! Makes you realize how important libraries are to so many people in the community!"
"This is awesome, thanks a million for sharing. Made my whole day."
Sharing the Love
I shared the campaign's success in a monthly newsletter I send to 15,000 library lovers and in the Director's Report to the board of trustees. We've easily reached an additional 25,000 exposures since February. Certainly, there are new followers of our social media streams by now, and no one gets tired of seeing sweet comments about the library and being reminded what a great resource this is for our community.
The campaign was fun, inexpensive, and effective. Staff members enjoyed publishing and promoting the quotes. In a climate where improving quality of life and building community are key, a campaign such as this reminds people about the good that happens here all the time.