The Librarianís Nitty-Gritty Guide to Content Marketing
By Laura Solomon
Chicago: ALA Editions, 2016. 120 pp.
Paperback: $50, 978-0838914328.
http://bit.ly/2ypOZBp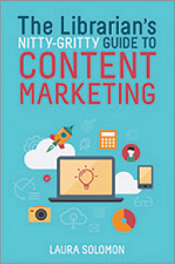 I have to admit, I'm instantly intrigued by any book that begins with a chapter called "Get Over Yourself." It's usually good advice.
In the case of The Librarian's Nitty-Gritty Guide to Content Marketing, author Laura Solomon explains on page 3 why she recommends this action: "A library is only effective online when it realizes that the people reading the content matter more than the people creating it."
Before delving into actual content marketing, Solomon urges all readers to make this "cognitive leap" of putting patrons before the library. (I think this leap is vital for any type of successful marketing.) She warns, "Stop thinking that everything your library does online is purely about promoting itself, and at least begin to understand that you need to have the benefit for the reader in mind first and foremost."
In Chapter 2, on page 16, is a section called What Is Content Marketing, Anyway? Finally, the big question is answered on page 18, with both simple and complex definitions. Simply, Solomon says, "It's anything you create that helps tell the story of your business or organization." Of course, there's more to it than that. The author continues with a five-point explanation (shortened here for space):
It's strategic.
It's relevant.
It's focused on a particular audience.
It's consistent.
It's got a goal.
The main idea of content marketing is to create content that's not simply information, but rather info that's truly useful and valuable to a particular target audience.
Other areas of this brief, breezy book outline the differences between content marketing and promotion, explain how to identify audiences by creating personas, discuss planning with editorial calendars, and list common mistakes to avoid.
Long sidebars titled Words of Wisdom From the Field are sprinkled throughout the book. Each is a contribution from a marketing expert; these offer extra viewpoints and insights.
In the interest of full disclosure, I must say that I contributed one of those sidebars. However, that's not why I'm giving this book a positive review. I've read and appreciated two earlier titles from Laura Solomon (The Librarian's Nitty-Gritty Guide to Social Media, ALA, 2013 and Doing Social Media So It Matters: A Librarian's Guide, ALA, 2011), and I've listened to more than one of her webinars. Solomon's points have always been clear and well-made, and her knowledge has always been fresh and relevant. This latest book is no exception.
If you want to understand content marketing and begin to take advantage of its power, I recommend this nitty-gritty guide. The writing style is casual and pleasant to read; it's decidedly not academic or stuffy. To me, this makes learning more palatable. If Laura Solomon writes another book, I'll read that one too.