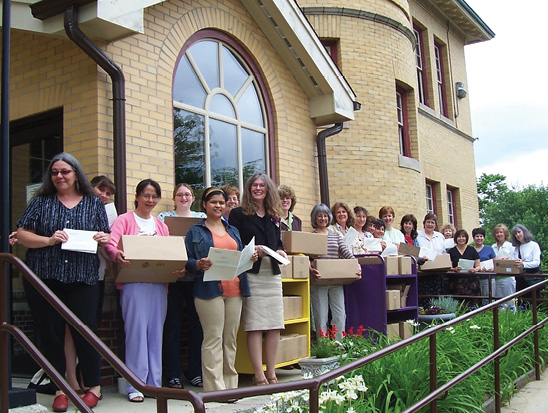 Staffers from a public library the author worked with posed with
all of the surveys they were about to send to the masses.

I've been studying people who don't use libraries for about 10 years. While consulting for various public libraries, I've learned many lessons that I want to share to help others increase their numbers of cardholders and active users. It takes time, but it's so worthwhile to find residents who've never learned what public libraries provide or that they're free. Let's begin by taking the mystique away from the elusive creature known as the non-user.

Who are these people who don't use libraries? There are many kinds. Some have never gone to a library. Why? They might not live near one, aren't interested in books, or don't know about newer services (e.g., computers, classes, ebooks, or STEM programs). Others no longer visit because they use digital services or buy their own books and movies. Some feel that they shouldn't go to the library because they speak limited English. Others visit the library, but only to bring their children, so when those children are older, the parents may no longer go.
Attracting Elusive Non-Users
Librarians want more patrons, but the problem is how to attract non-users. The best solution is to go where the non-users are. Here's how the Pikes Peak Library District in Colorado handled it with 15 libraries. As the managers thought about strategic planning, they realized their data showed that only one in eight residents had a library card. They set a goal to determine why people didn't use the services. Pikes Peak had 40 staff members disseminate a short survey. Each person went to five locations and had 10 residents at each complete a 10-question survey. They did this in places such as coffee shops, feed stores, churches, movie theaters, malls, sporting events, and day care centers. They learned three main things: 1) residents were woefully ignorant about many library services, 2) hours were not convenient for residents at some branches, and 3) many residents did not have cards. What did the organization do with that knowledge?
It offered library cards at the survey locations. Consequently, 80% of those who got new cards used them.
It changed some branch hours and saw a 20% jump in traffic.
It put signs and posters about unknown services in unexpected parts of the library: by the door, circulation desk, and bathrooms.
Effectively Interviewing Non-Users
Another technique, conducting phone interviews, allows you to talk to people when and where it's convenient for them—at home, at work, or in a car. The interviews can happen almost any time, and allowing people to choose when and where they want to be interviewed significantly increases their willingness to participate. The interviews should last only about 10 minutes.
You can find people to interview in two ways. One is to include a question on your initial survey that asks if the person would be willing to participate in a short interview to share more of his or her opinions. In that case, you can request his or her contact info and follow up with phone calls.
Alternatively, consider hiring a recruiting service. Most of these companies are located in midsize or large metropolitan areas and, therefore, probably can't cover rural areas, although there are exceptions. You decide on the types of people you want to interview and tell the firm. For the firm to find your targets, you will need to create a screening questionnaire with your specifications for respondents. That would include questions about age, gender, where they live (to make sure they are in your service area), whether they've visited the library in the past year, and their reasons for not using the library. The recruiters will schedule and confirm the appointments.
Here's an example. A library director and I hired a recruiter and completed 20 telephone interviews of non-users and infrequent users in Forest Park, Ill. The study included reasons for not visiting the library, experiences with the library, knowledge of its services, and interest in new services. Many were surprised about all the services the library provided and immediately started using them. Many liked the dedicated children's area. One family had moved from Chicago and had never seen such a facility. And many did not know about free downloadable ebooks. The respondents were also very enthusiastic about the job and career services that the library offered. Many were unaware of these services and needed this assistance (several respondents were unemployed, others desired a better job, and another wanted to find a second career). Even employed respondents endorsed the offering: "You never know when you might need this help. And it's free."
To further investigate new ideas, we also showed our Pikes Peak clients how to learn what would be of interest and why. Here's an example of one tactic we used, which highlights the importance of telling people how new purchases might benefit them:
The library is considering purchasing some equipment such as video cameras and microphones that would allow you to create videos and podcasts. You could borrow this equipment from the library. There will also be software in the library for public use that will allow you to edit video and still photos.
This concept was appealing to younger non-users (those in their early to mid-20s) and parents of teens. Many of the young people thought they would use the equipment to create a video blog (e.g., progress of skateboarding), YouTube shows, and podcasts. The appeal to parents was quite different. They saw the equipment and software as useful and desirable for their children's school projects (many of the schools did not offer video or audio equipment), recording family events, and editing digital photos.
Based on the results of the interviews, the library's staffers added several initiatives. They realized they didn't seem to be meeting the needs of Hispanic children. They collaborated with ESL programs and the school district and learned that there were even more Spanish speakers than the census indicated. This library now offers bilingual story times and regularly has 20 or more people attending each session. To add more to its training and job assistance offerings, staffers created a package of computer skills and certificates that might be helpful in seeking employment.
Creating Surveys for Non-Users
Non-users will participate in a survey if it's very convenient for them. We have learned that the best way to reach them is to go where they are with a short paper questionnaire they can finish in 5 minutes. Local library staffers can help identify good places to field a survey. Locations might include community centers, recreation centers, parks, farmers markets, Laundromats, sidewalk sales, commuter stations, movie theaters, gyms, senior centers, grocery stores that serve specific populations, and school events.
Quick tips: Be sure to get permission from whomever is in charge of the place you want to use. Remember to bring clipboards and pencils to make it easy to complete the surveys. Do not leave the questionnaires in a pile on a counter; people are likely to ignore them. If you approach people and ask them if they'd like to participate, they'll be much more willing to complete the questionnaire. Stress that you really want and value their opinions.
These are typical questions for a short non-user survey:
Have you visited the library in the past 12 months?
Why don't you use the library?
What about the library discourages you from going there?
What's your overall opinion of the library?
Basic demographic questions that cover gender, children in the household, the level of schooling completed, and languages other than English spoken at home.
Recently, my team worked with librarians to field a non-user study for the Elkhart Public Library in Indiana, and we learned that people's main reason for not visiting the library was a lack of time. Other reasons included not having a library card and getting materials from other places (e.g., renting/downloading/streaming movies and purchasing music from iTunes, YouTube, and other internet services). We also found that the non-users often spoke a language other than English at home, had children younger than 18, and had lower levels of education. So the issue was how to position the library to these people. What would make their lives better? What didn't they know about the library? What would attract them? Did they realize the services are free? To learn more, the library's staff members are going to off-site places to meet with non-users, to talk about their needs, to acquaint them with services that could help them, and to issue library cards at the site.
I've worked with librarians to develop strategic plans, and they often want to know how many non-users are in their area. In one situation, we developed a telephone survey of 225 residents to get this information. As it turned out, only 13% of the sample were non-users. To avoid wasting precious resources on unnecessary surveys, I suggest you find out how many households are in the area and how many already have library cards. If 80% or more have cards, your survey will return limited information.
How Not to Survey Non-Users
I've told you what has worked well for me over the years, but it's important to understand what doesn't work too. There are many impractical methods that won't get the results you need. I recommend against using things such as this:
An in-library paper survey: Non-users don't come to the library.
An online community survey that requires respondents to enter a domain name and password: They're unlikely to take the time to find the survey and complete it.
An online survey on the library website: Non-users won't see it.
Talking to People in Your Buildings
There are patrons who have cards but do not use the resources themselves. In one library, we learned that 90% of patrons visit with children, but 32% rarely or never used the library for themselves.
One library we worked with, in Lincolnwood, Ill., had its shortcomings, and they proved to be the barriers to usage. Our study revealed that its limited space, small selection, and difficult parking turned out to be the major reasons why people were not using it. To remedy this, the director and staff focused on addressing many points, such as rethinking collections, reconfiguring spaces, communicating what the library offers, and adding a marketing position. In 2 years, the percentage of residents with library cards went from 29% to 48%. Now, the library district is renovating the building, which will likely attract more patrons.
Interviews with folks inside the library are one of the richest sources of information about perceptions and usage. I set off one day to interview patrons (users!) in a suburban library. As it turned out, a number of the so-called patrons were parents who brought their children to the library, but did not avail themselves of any services. Why? Here's a sampling of their answers:
"There's nothing for me." (In this case, that was code for "I don't read English that well, and there are very few foreign language titles.")
"I can't leave my kids in the children's section while I go to the adult section."
"I don't think my sometimes-noisy children will be welcome in the adult section."
"Put parts of some desirable collections in the children's area!" (Yes, it works.)
Waukegan Public Library in Illinois wanted to attract Latino non-users. To accomplish this, first, librarians had to find Latino non-users and research their needs. Next, they solicited and trained trusted bilingual volunteers to work with the target audience. The volunteers went to areas where many Latinos lived and worked with them on a survey that focused on what would make their lives better. Using this information, the librarians created databases and programs for the Latinos. The results were amazing. In 9 months, the library had more than 900 new Latino patrons. Staffers also created five new programs based on the non-users' needs and survey results (Conversational ESL, Spanish Pre-GED, Leamos, Little Learners, and Functional Health Literacy). Close to 400 individuals participated in the programs, and 50% of new cardholders used their cards.
Final Pieces of Advice
Please keep in mind that you need to publicize even your most basic services. You cannot assume that people know what you do, how you do it, and how they can benefit from it. You can't promote only your programs and events; you absolutely need to promote what's possible—the higher-level benefits. Explain that librarians are online research experts, that you have vetted information that's not available for free on the open web, and that your resources and services allow people to find better info, faster and easier than going it alone.
When you want to bring non-users to the library, ask what's the best thing to bring them in. If you find out why people don't visit the library, you're sure to identify improvements that will increase usage.