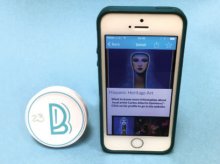 A BluuBeam beacon sits next to a smartphone that's displaying a
beamed message.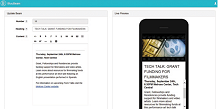 The BluuBeam Admin Console webpage makes it easy to create and edit iBeacon messages.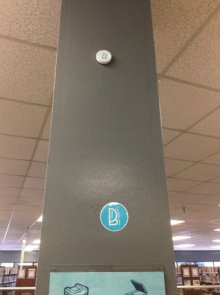 This iBeacon hardware is placed high up to prevent tampering. The BluuBeam logo sticker is placed closer to eye level to inform visitors that a message is available nearby.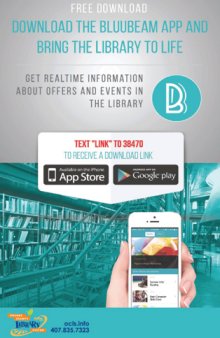 Our vendor supplies customizable templates for promotional materials.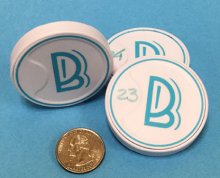 You can judge the size of the beacons when they sit next to a quarter.

When Apple launched iBeacon technology in December 2013, it was described as something that would revolutionize the retail industry. It was touted as taking targeted marketing to a new level, or as "precision marketing," or even as "shopping 3.0."

iBeacon technology offered the ability to engage customers with interactive, customized content. Rather than trying to get customers' attention with a poster on a wall, you could send the promotional info directly to their smartphones, where their attention is.

A typical scenario of its proposed retail usage went something like this: A customer walks into a retail outlet's jeans section. If he has the appropriate app on his phone, he would automatically get a location-triggered message with related sales information, as well as useful coupons and other products of interest. The message would be transmitted via a small device called an iBeacon, which had been programmed remotely and installed somewhere in the store.

The question for my colleagues and me was, "How could something like this be used in a library setting?" (There are some answers at www.tinyurl.com/ocfzl2l.)

I'm currently the manager of a busy branch of the Orange County Library System (OCLS) in Florida. OCLS serves more than 1 million people in the Orlando area with a main library and 15 branches (www.ocls.info). As with most libraries nationwide, we're always trying to find new ways of promoting our offerings and informing patrons about services that match their interests. Implementing iBeacon technology is one such innovative effort that we've undertaken.
Understanding iBeacon Technology
The terms "iBeacon" and "beacon" are used interchangeably. An iBeacon is a small device that broadcasts a Bluetooth radio signal, which triggers alerts or messages to be sent. Specific smartphone apps listen for the signals that the beacons will transmit when a phone comes into range.
iBeacon is Apple's implementation of Bluetooth low-energy (BLE) wireless technology, and it offers a way to provide location-based information and services to iPhones and other iOS devices. The beacons themselves are usually small and unobtrusive devices (size and shape vary by vendor), and you can attach them to walls with double-sided tape or Velcro, so you can move them around.
Here are seven points that will help you understand how iBeacon can work for your library:
1. iBeacon technology is compatible with most modern smartphones. iBeacon arrived with iOS 7, which means it works with the iPhone 4s and newer versions, iPads (third generation or later), iPad minis, and iPod touches (fifth generation or later). iBeacons are also compatible with Android devices, version 4.3 and above (ones that run on Jelly Bean, KitKat, and Lollipop).
2. You don't need an internet connection. iBeacon uses Bluetooth technology. A device with Bluetooth switched on can detect iBeacons even if there is no internet connection. If an internet connection is available, the app can do more advanced things, such as pull live content from a website.
3. Users need to activate Bluetooth and location services on their phones in order to get the signals.
4. iBeacon transmissions can only be picked up with an app. People need to download specific apps to receive iBeacon transmissions, so this is very much an opt-in service. The app you use depends on the beacon vendor. (Many retail stores use the shopkick app to push their messages.)
5.iBeacons can transmit up to 200 feet away. However, they can be programmed to transmit at closer ranges.
6. They work with the types of batteries that watches use, which last up to a year. They do not require maintenance.
7. Many iBeacons allow their messages to be easily shared on social media. For example, if a library patron sees an iBeacon message about an upcoming parenting workshop while she's in the library, she can tell all of her friends by easily sharing the message on Facebook, Twitter, or email. This can potentially help your promotion go viral.
Although iBeacons were first used by companies, BluuBeam and Capira Technologies soon began using the technology to help libraries innovate. My library system uses BluuBeam (www.bluubeam.com), an Orlando-based vendor that focuses on providing iBeacon services to cultural institutions such as libraries and museums. Capira Technologies is based in New York and develops apps for libraries, which can include iBeacon services (www.capiratech.com).
Here's a 2-minute video about how BluuBeam works in libraries: www.tinyurl.com/ncomwyv.
The OCLS Experience With iBeacons
The idea to have the Orange County Library System try iBeacon to promote events and materials came from our assistant director, Debbie Moss.
She was approached by the owner of BluuBeam, which is nearby. The library wanted an innovative way to inform patrons about services that matched their interests, so, naturally, this new technology piqued our curiosity.
In September 2014, we obtained 25 iBeacons and selected three locations to test-drive them: the main library, the Southeast Branch (where I work), and the Alafaya Branch (www.ocls.info/Locations). Four beacons were assigned to each of the two participating branches, and the rest were distributed throughout the main library on multiple floors.
The location managers were put in charge of the rollout in each building.
BluuBeam's iBeacons currently come in packs of five; each pack costs $750 (www.bluubeam.com/products/bluubeam). Each lightweight, hockey-puck-size beacon is about 2 inches wide. They arrive pre-programmed and ready to use. Our account gives us access to the BluuBeam Admin Console webpage. This is where we can remotely create and edit messages on each iBeacon.
Each beacon came with an assigned number. The managers, or designated staff, only needed to create the messages that would be transmitted via each numbered beacon. They are quite easy to use. We can upload pictures and include links in messages. Each building's manager decided where to place the beacons and what kind of message to transmit. We set up an email distribution list among participating managers so that we could discuss ideas and experiences.
In my case, I met with staff at my branch to discuss which services to start promoting and to decide where we would strategically place the beacons. We agreed to promote new movie releases on DVD, a popular service. Additionally, we selected upcoming children's programs and our Spanish-language-learners club, as well as a librarywide promotion of the month we were running, in which patrons could check out five children's books and get a prize.
Once we selected the services to promote, choosing the right locations for the beacons was easy. Since the patrons who ask about our new movies are usually lined up outside the building on Tuesday mornings, we placed the beacon that would transmit the appropriate message near our entrance. We placed
the beacon with the message about our upcoming children's programs where our most interested patrons would be: in the children's room. Of course, we put the Spanish-language-learners' club beacon near our section of Spanish-learning books. And the promotion-of-the-month beacon was near the customer service desk.
We physically mounted the beacons high up on walls or under shelves so they weren't too noticeable or accessible, to avoid any possible tampering by curious visitors. Although the beacons themselves are inaccessible, we use BluuBeam stickers to mark the areas that have an iBeacon presence. The vendor provides stickers with its logo in order to draw attention to the fact that a beacon is in the vicinity transmitting a message. These stickers help interested patrons discover that they can get iBeacon notifications on their smartphones.
My colleagues at other OCLS branches set up beacons for these promotions:
Info on upcoming cooking programs at our demonstration kitchen was transmitted to patrons perusing the cookbook section.
Info on music programs was transmitted to patrons browsing the CDs.
Info on a branch's art display, including some about the artist and the meaning of the artwork, was placed near the gallery space.
Info on a book club meeting was placed outside the fiction section.
Info on technology classes was placed in the public computers area.
Info on meeting rooms that can be reserved, with cost per hour and related policies, was placed just outside available meeting rooms.
After all of this preparation, we went live with iBeacon in November 2014. In a Fast Company article about the early stages of this implementation (www.tinyurl.com/pg4llb4), our assistant director described the use of iBeacon technology as being "like a little virtual tap on the shoulder." I can't think of a better analogy.
The Promotion Process
As we approached the launch time, we needed to encourage patrons to download the BluuBeam app. Given the newness of iBeacon technology, we had to have some kind of hook to get their interest. Luckily, BluuBeam offers templates for promotional fliers and banners. We adapted them for our needs and used additional fliers and bookmarks.
For more than a month, the participating locations promoted the new service with colorful posters, informing patrons that they would get free reusable shopping bags if they downloaded the app and showed it to a staff member. At my branch, since we have a regular crowd of patrons who are interested in our new movie releases on DVD, we displayed another sign telling them that if they wanted to know which DVDs were coming out next, they could download the BluuBeam app. We also included an ad for BluuBeam in our printed systemwide newsletter and on our library website.
One of the great tools that comes with BluuBeam's iBeacons is the ability to run detailed reports about all of the beams. Measuring usage is easy via the BluuBeam Admin Console: You can run specific reports by location, date, and beacon. This made it easy to measure our results. During the first month of the promotion, my branch reported an average of 37 pings (messages sent to phones) per day. The Alafaya Branch had 19, and the main library had 48. Administrators deemed the project worthy enough to try at other locations, so, in May 2015, we expanded the iBeacon program to six other branches.
Another service we procured separately from the vendor is an upgrade called the Scheduler. It lets you preload messages and control when they change. This is a great help when you need to change messages regularly (i.e., the weekly release dates and titles of the new-movie DVDs). The cost for adding Scheduler to one's account is currently $275 per five-pack of beacons (www.tinyurl.com/p8smwff).
Lessons Learned
As with any new service implementation, we learned lessons along the way. The first was that we needed to find more ways to encourage patrons to download the app and to communicate with them about what's easier to do with our iBeacon service and why it is unique.
Interestingly, many patrons were hesitant to download the BluuBeam app; they claimed they already had too many apps on their smartphones. Some patrons who did download it to get a free bag used it once for that incentive and then deleted it.
Time taught us that rather than using simple static messages, we needed to make them more interactive and make tasks easier for patrons to complete. So, for example, instead of simply showing a list of upcoming technology classes in a transmitted message, we added links so recipients could conveniently get more information and register to attend. Beams promoting our meeting rooms had links to the meeting room policies, along with payment and registration options. The fact that using BluuBeam would make it easier to get more info and to register for services automatically was a strong selling point in convincing patrons to try it.
Patrons who were accustomed to using iBeacon technology in the retail realm asked what kinds of specials or discounts they would receive via the beamed messages. We responded by creating coupons for our seasonal book sales.
Measuring Usage and Responses
As I write this in September 2015, we have 39 active beams across the system. Over the last 6 months, from March through August, we've had a total of 3,913 pings. This is an average of 652 pings a month. On average, each beacon message would have been viewed 17 times a month. Overall, the more relevant and engaging the beams are, the more they are viewed. For example, beams with no graphics or links are viewed less than beams with catchy headings, graphics, and links.
Patron feedback has been positive. A few people with older smartphones were not able to download or use the app. One such patron contacted the BluuBeam email service desk and commented that he was planning to get an updated phone so he could keep up with the new DVD releases beam at my branch.
In May and June, the locations hosting this new technology conducted a survey of BluuBeam users. The results from about 30 respondents showed that most (80%) found the technology easy to use. More than 67% indicated that they learned about a service they hadn't been aware of. More than 77% indicated they were unaware that a beam could be shared on social networks, and 62% indicated that they learned of the product via a staff member rather than printed signs. The data from the last two indicators proves that staff involvement is still crucial to inform library customers about this service and its features.
I compiled statistics at my branch to track attendance at programs 6 months before and 6 months after the iBeacon promotion. Of the promoted children's storytime programs, attendance increased by 22%. Adult programs saw an increase of 10%.
Plans for the Future
We plan to continue finding ways to promote iBeacon technology. We intend to ask staffers to wear vendor-provided T-shirts or buttons to help increase awareness. Also, my branch is currently designing a scavenger hunt to get patrons to explore lesser-known parts of the collection, as well as products and services beyond books, by having them discover and report on specific beams.
We plan to partner with local museums and schools that currently use the BluuBeam app so we can cross-promote programs and services. For example, if you see a museum exhibit on a particular topic, you might get a corresponding beam suggesting that you visit the library for more materials and programs on that topic. Rollins College, a liberal arts school in Winter Park, Fla., and two other public library systems in central Florida have all started to use BluuBeam.
Overall, this project to use iBeacon technology for targeted marketing has been a success. However, using the product effectively still requires staff involvement and traditional word-of-mouth marketing. The BluuBeam service has proven to be an innovative way of promoting what we offer in an engaging manner. We can say that "it's a virtual tap on the shoulder" to inform patrons of entertaining and educational opportunities that might otherwise go unnoticed during their library visits.