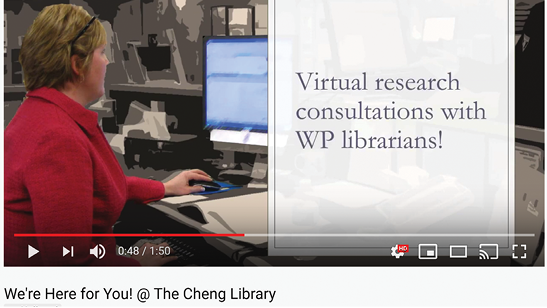 Academics at William Paterson University made a video to show students the services they could access from off campus (https://youtu.be/9NBP7ZhXvYY).
Most libraries have closed during the worldwide coronavirus pandemic, although their circumstances differ. As I write this in mid-April, some public libraries are still offering curbside handoffs of requested items, some academic librarians are still in their buildings (sans students), and other libraries have shuttered their buildings completely. Some employees are still being paid, some have been furloughed, and some have lost their jobs. All that I know of, however, are still providing their usual online resources, and many have increased their virtual offerings.
Even in this upside-down world, our patrons, students, and employees still need library services. Those who haven't historically used libraries also need us, as much as or more than ever. So it's vital that you continue to promote your many offerings even while your buildings are closed.
The organizations that have been ramping up virtual services (like online storytimes) definitely need to publicize them. Why work so hard to provide just what people seek, but then not bother to tell them you have what they need? Why let your heroic service efforts go to waste? Your offerings should be used for all they're worth.
This doesn't mean you should work 10 times harder and stress yourselves even more than you likely already are. Rather, this article is meant as a reminder of the importance of publicity and promotion. I also invite you to share it with administrators who may not understand why they need to ensure that all staffers are helping spread the news about your good works.
Librarians' expertise has great value. Now is the time to shine a light on it.
Why to Continue Publicity and Promotion
With that in mind, let's start with the many reasons your library should be continuing—maybe even increasing—its publicity and promotion. Remember, publicity is about getting the word out via standard outlets (radio and TV, etc.), while promotion is about encouraging people to use the services they hear about. Both are part of marketing, and they form a powerful one-two punch.
Instead of starting with the obvious reasons why you should promote and building up to the biggest one, I'm going to shout out my main warning from the start: Your budget is very likely in danger. Think about your stakeholders and funders—the towns, cities, and counties; the school districts; the nonprofit and for-profit organizations; the colleges and universities; the state and federal governments; the donors, leaders, and economic engines. Many of them will be taking in less money than they'd normally get from taxes, fees, gifts, tuition, and bequests. So they'll probably need to cut your library funding simply because they won't have the money to give you. (I'm not alone in this concern: https://bit.ly/lose-lib-funds and https://bit.ly/higher-ed-cuts.)
There are other reasons to continue or increase your marketing. You want to maintain your mindshare with current users. (Conversely, this is a great time to reach out to non-users and show them what they've been missing.) It's important to continue proving your value as your communities change. Our industry cannot afford to have any more people believe that "libraries are just about books" or that "we don't need libraries now that we have the internet."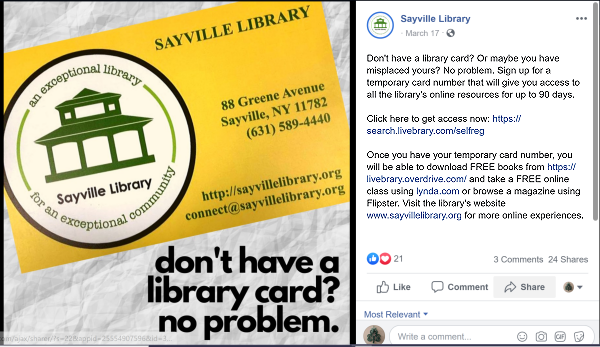 Sayville Library made a perfect Facebook post explaining the benefits of its temporary library cards.
Obviously, in-building posters, fliers, rack cards, and on-screen promotion are now useless. The best you can do with printed collateral is to get it into grocery stores and the few other places that citizens may be allowed to go. If you have outdoor signage and your building is in an area that still gets some vehicle or foot traffic, use those signs for all they're worth. You can still employ social media, and although people are spending more time there, remember that algorithms ensure that followers see only some of your posts.
And as we know, the vast majority of people don't start their searches for information or services on library websites. Instead, they start on Google. So if you're not reaching out to your communities in new ways, start now.
We need to get back to the foundations of marketing strategy:
Segmenting your audience into small groups and learning what each needs
Telling members of each group what you have for them and how to access it
Knowing your stakeholders and maintaining cooperative relationships with them
Partnering with well-respected individuals and organizations
Setting measurable goals and noting benchmark data
Planning effective ways to promote and publicize your offerings
Giving great customer experiences so people come back
Gathering hard data as well as anecdotal data so you can prove your value
What to Promote While People Are in Quarantine
As for just what to promote, most libraries are already messaging people about the obvious things like downloadable books and magazines as well as streaming movies and music. Academics who still have students learning will continue to push out reminders about databases, LibGuides, and other research portals, along with contact info for live assistance. All sorts of librarians are trying to tell the world about their extra edutainment resources, including online storytimes or craft programs for the kids at home, videos revealing back-room processes, virtual tours, and even online escape rooms (one has gone worldwide: www.msn.com/en-us/news/world/peters-library-s-hogwarts-escape-room-a-big-hit-around-the-world/ar-BB127DM8).
All of the library websites I've visited prominently display their own organization's information, including updated hours and due dates (two things people might actually go directly to a library website for) and postponed events. Many also feature links to vetted coronavirus information. The ones that are supporting the medical community (donating masks meant for archivers, using 3D printers to manufacture supplies, etc.) are getting good press and sharing their stories.
There are two other virtual services that some of your peers have been wisely marketing: open Wi-Fi and online library cards. If you're not already keeping your Wi-Fi on 24/7 or are not already offering temporary cards for online services, please start, stat. If you do have those options available, make sure you're trying to tell people who need them. You could make a world of difference in people's lives and garner new supporters at the same time.
One more point about what to promote: Don't assume "everyone already knows all the basic stuff we offer." Because they truly do not. Even super-users can't list your full array of items and services, and non-users may not realize you have more than print reading materials and a handful of free ebooks.
How to Promote in an All-Online World
If you subscribe to MLS or have some marketing know-how, then you already know the basic strategies for pushing out news. You're already using standard digital tools like email, social media, attention-getting video, and maybe podcasts or vodcasts.
While you're unable to rely on print, you need to ramp up your cross-promotion with partners and to increase your direct communication with stakeholders (remember, your funding may depend on them viewing your services as essential).
As you rely more heavily on social media, keep in mind that just a fraction of your followers will see your posts. So you'll want to start sharing more news with those in your personal networks and also with those in your staffers' and partners' networks. Consider making mini marketing plans to guide your staff members in sharing library posts in their personal accounts.
Ask all of your employees to check your organizational accounts each day and to share posts on their own specialties. For instance, children's services staffers should all be sharing announcements about online storytimes and other events for the little ones. Reference librarians should be shouting about your curated information pages. You get the idea. Of course, any employee can share anything with their own friends, but if you want a quick and easy strategy to get them going, asking each person to promote the things that relate to their own departments and interests makes sense. Do explain to them why it matters (to get their buy-in), and express how important they are to your efforts.
It's time to increase your social promotion with your partners too. If local businesses aren't already sharing information on your workforce-development resources, approach them about doing so or simply share it to their accounts. Parent organizations should be telling their members about any tutoring or educational tools you offer. Library announcements should be included in universitywide emails and e-learning platforms. Local religious organizations, health departments, emergency management offices, and social-service groups should all be sharing your info and vice versa. In other words, do all your normal outreach, add new partners, and then put it all on steroids.
However, be aware that citizens of the world are feeling overwhelmed by the current deluge of digital information. But that's where librarians can shine! As experts at vetting, organizing, and sharing information, this is your opportunity to turn that fire hose of data into a friendly drinking fountain. Offer to be the one-stop shop for posting updates for the area or company you serve. Be the expert organizers that you are.
In other words: Get out there and librarian this crisis!
Try New Tools and Tactics
It's time to ramp up publicity and outreach by meeting people where they are. When you cannot do that physically, do it digitally.
Knowing that most people start looking for answers on Google, learn how to appear there. You know that Google search results always show advertisements at the top, but did you realize that nonprofits can place ads there for free? There's an initiative called Google Ad Grants (www.google.com/grants) that many library marketers aren't aware of. Unlike other grants, these are easy to apply for, and there's no deadline and no competition.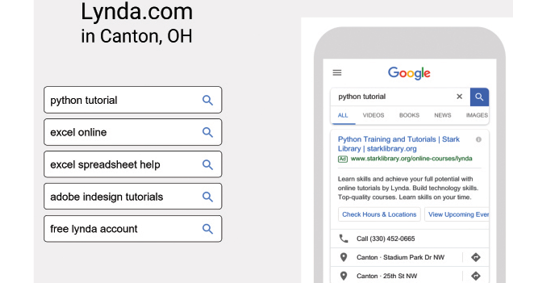 In Google Ads campaigns, many different search terms (left) can lead to targeted ads for the same resource.
Here's the scoop, briefly: Every qualifying nonprofit can win an Ad Grant that gives it up to $10,000/month of advertising credit. So public libraries, Friends groups, foundations, or other support organizations can get these grants. Then staffers can create their own digital ad campaigns to highlight any product or service (ebooks, events, homework help, etc.). Google shows the ads to local residents who are searching for related keywords.
All of that is free and runs for as long as you want to use the grant. If you don't have any staffers who understand digital ad campaigns, you can hire a nearby advertising firm to do all of that for you. Google itself has a cadre of Certified Professionals (www.google.com/grants/certification-program) you can choose from. There's one named Koios that actually specializes in libraries (www.koios.co).
Some proactive public librarians are trying new activities. I read about one that's collecting patron stories about living through the quarantine to create a local archive. Another is gathering recipes for a cookbook. These projects make personal connections.
This is also a good time to try new messaging, especially if your library's "voice" has been somewhat stuffy or impersonal. In the current climate, everyone is looking for support, comfort, and friendship. So it's OK to use a more personal tone. People will be drawn to simple messages that say, "We're still here for you" and "We have what you need."
Plan for the Future
Speaking of messaging, try to carve out some time to think ahead. What will you need to do, say, and publicize when reopening time draws near? How will you reassure your customers that it's safe to come back to your buildings?
I recommend that marketers and other staffers collaborate in preparing messages around these topics:
When and how to return books and other materials
Reopening announcements and events
Changes in processes or new rules for health and safety
News about staff members who became ill or passed away
How you've cleaned and why it's safe to come back to the library
How to upgrade the online temporary library cards to permanent
Publicizing usage data to prove your value
Sharing testimonials on how you helped people
One day, life will become more predictable. We must have hope and plan for that time. Until then, unfortunately, it's not safe for library marketers to simply take a few weeks or months off from work to relax. To ensure that our libraries will indeed reopen in the future, we need to stay top of mind, to keep our current supporters, and to cultivate many new ones.