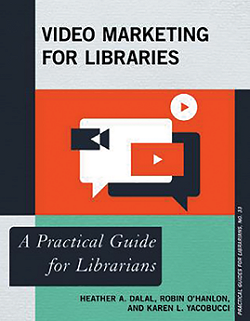 By Heather A. Dalal, Robin O'Hanlon, and Karen L. Yacobucci.
Lanham, Md.: Rowman & Littlefield, 2017. 194 pp. Paperback: $65, 978-1442269491. bit.ly/2HBEJrM

My spouse saw this book and said, "Did you write a book and not tell me?" Ha! I've been writing, presenting, and giving workshops around the country teaching librarians about video for several years. I've also written about video tools and tips in my column for this newsletter. I told him, "Nope! Three fine librarians beat me to it. I can't wait to see if we agree on video marketing for libraries."

That trio of Heather A. Dalal, Robin O'Hanlon, and Karen L. Yacobucci know what I do—video is a hot marketing topic and a powerful marketing tool. They cite a Cisco study that predicts that by 2019, "80% of all internet traffic will be streaming video content" (p. 7), as well as other studies that show videos capture our attention more effectively and are easier to process than text, all to make the case in Chapter 1 that libraries of all types should use video for marketing.

The authors come from academic and medical libraries and have made a variety of videos for them; the book is based on their experiences. Like me, they're firm believers we should be "shouting from the rooftops" about what libraries are doing (p. 5), and we agree that video is a great tool to do so.

The book's stated audience is libraries of all types and people with all levels of marketing experience. However, since all three authors come from an academic/special library background, their experiences and thoughts on budgets, finding crews to assist, and using students as "talent," as well as on the availability of gear and software, may not match with those from more cash-strapped libraries (e.g., I disagree with the assertion that Final Cut Pro X for Mac is "relatively inexpensive at $300"). Suggestions on live-action video assume a small team or crew and a budget for video resources that some libraries won't have. Some tips in Chapters 5 and 6 could intimidate a librarian who's not ready to tackle larger video projects. But please don't get scared away from video! There are more than enough tips in this book to prove that librarians can create videos for marketing.

The book is a well-researched, densely packed, text-heavy 10 chapters. Its organization roughly mirrors the sequential stages of video creation, starting with making the case for video (Chapter 1), then prep and planning (Chapters 2 and 3), pre-production items like scripts and storyboards (Chapter 4), the action of production (Chapter 5), and postproduction (Chapter 6), and it eventually goes on to cover promoting the video (Chapter 9) you spent so much time creating. Don't neglect these last steps and chapters. The middle chapters could stand alone as a reference during the video-making process. It's a testament to librarians' concerns for patron needs that there is a chapter devoted to accessibility (Chapter 8); that's something frequently left out of video guides. Each chapter cites its sources and lists additional recommended reading. Camera and software recommendations come via simple comparison charts. I was happy to see a mix of citations and suggestions from across the marketing spectrum as well as from the library field.

Chapters 2 and 3 ask you to ascertain why you're using video, determine your strategy, and make sure your marketing message translates to this format. Personally, I wish the discussion of alternatives to live-action video occurred here, in the strategy chapters, rather than in Chapter 7. I believe that deciding what type of video suits your library's goals must come first and that video often isn't a big live-action production.

Chapters 4–6 are the strongest, breaking down the whole video process, giving shot lists (p. 52), detailing narrative structure (p. 35), and providing a sample production schedule (p. 54). The included examples and templates can make video less intimidating, and I wish more templates were included. I think librarians who have never attempted a live-action video shoot will highlight and bookmark these chapters.

It's hard to learn a visual medium and hands-on skills from text and black-and-white screenshots. Video is better learned from tutorials and a lot of practice. The authors readily acknowledge that this book is not a guide to filmmaking, story creation, or non-linear video editing. I would add this book to demos and practice, as a resource to return to and reread. I have a few philosophical disagreements on its organization and the authors' view of the merits of parody videos, and I would've liked to have seen more case studies, but I wholeheartedly recommend that librarians involved in marketing communications have this book on their desks. I'll be toting it to my video workshops and recommending it to my students. It's quite nearly the book on video marketing for libraries that I might have written myself.