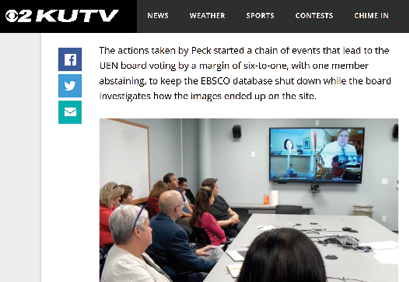 This screenshot from a KUTV article shows one of the board meetings in progress.

On Sept. 21, 2018, the Utah Education and Telehealth Network (UETN; https://uetn.org) board members made a controversial decision: They canceled Utah schools' access to EBSCO K–12 databases due to a single complaint that the databases contained pornography.

However, that complaint was unsubstantiated, and the self-described "concerned parent" who had made it was not investigated before UETN pulled the plug on database access for more than 650,000 students. Notably, the UETN board decided to cancel access to the EBSCO K–12 databases without taking any other official action first and without regard to any stated policy or agreed-upon process for addressing content challenges. The board was never clear about who actually made the decision to cut EBSCO, nor did it specify who, if anyone, actually had the authority to make that decision.

Furthermore, the decision was made after a local news source, KUTV, ran the story under the headline, "Utah Mom Finds Pornographic Pics on Utah Education Network Database" (http://bit.ly/utah-mom). The article began by stating, "A Utah mom says she found some pretty 'raunchy' pictures on a website that is supposed to protect kids from questionable material."

In a later article (http://bit.ly/KUTV-offending), KUTV described the alleged offending material this way:
a picture of a two women kissing
a picture of a woman in her underwear showing her buttocks to the camera
a picture of two men kissing and touching a woman on a bed. The woman's breasts are exposed but covered by pasties.
Not long after the Sept. 21 decision, the UETN board moved to fulfill its legal responsibility to hold open, public meetings, and it hastily organized an emergency board meeting for Oct. 1. There were approximately 15 people present to offer public comment, and nearly all of them told harrowing stories of children finding porn in school library databases. Yet, no one offering public comment defined pornography or actually provided any detail about which databases had yielded such troubling results.
Following the public comment session, the board members voted 6–1, with one abstention, to maintain the ban on EBSCO's content. They even discussed whether they might need to expand the ban to other databases that could also contain problematic content. The board vote determined this "for the immediate future pending additional discussion and investigation of EBSCO and all other similar periodical services provided by UETN to public education students."
Utah state librarian Colleen Eggett was the sole UETN board member to vote to reinstate access to EBSCO.
Strategy: Coalition and Rapid Response
I learned of the blocking of EBSCO K–12 databases through an email from Eggett on Sept. 21. In my capacity as advocacy chair of the Utah Library Association, I reached out to ULA president Rebekah Cummings, and we quickly began strategizing about how we could influence the UETN board to reverse its decision.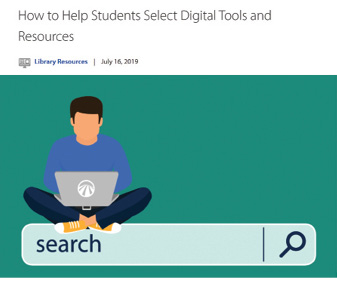 EBSCO routinely helps librarians, teachers, and
end users make the most of the company's vetted
database content.
Our initial strategy included the following tactics:
Offering public comment at the Oct. 4 Utah State Board of Education (BOE) meeting, with a goal of convincing the BOE (which controlled one vote on the UETN board) to flip its vote and support a reinstatement of access to the databases.
Reframing the negative narrative in the media, highlighting the value of EBSCO's content as a safe and valuable research tool for students. In support of this goal, we contacted education reporters at KUTV (the news channel that had broken the story) and reporters at the Deseret News and The Salt Lake Tribune. We also reached out to a popular local political radio show, KRCL's "Radioactive," which listed our call to action on its website. We were able to line up interviews and media coverage prior to my attendance at the state BOE meeting, which led to my comments (such as the one below) being picked up by a number outlets. The resulting coverage reframed the debate —instead of "kids accessing porn," the reporting was now referring to my comment, which stated that censorship has a "sweeping and negative impact on students and teachers across this state" (http://bit.ly/negative-censorship).
Working with partners around a clear, shared message and goal. To that end, we developed, refined, and distributed consistent messaging with coalition partners and iterated it through a shared Google Doc. This allowed us to quickly get the word out through partners such as EveryLibrary, the Utah Education Association (UEA), the Utah Educational Library Media Association (UELMA), members of the state BOE, the Alliance for a Better Utah, and the local chapter of the American Civil Liberties Union. (ALA's Office of Intellectual Freedom offered limited support but regrettably declined to participate in this coalition.)
Activating supporters and allies to put political pressure directly on UETN board members. Strategically, the coalition's goal was to generate emails from Utah residents directly to UETN board members, asking them to reverse their vote and to reinstate access to EBSCO. While it would not have been difficult to generate thousands of emails from librarians across the country by posting in social media channels, we believed that bringing pressure from non-Utah residents would be counterproductive. To target only Utah residents, ULA worked with EveryLibrary to host a petition on the NationBuilder action platform. Additionally, EveryLibrary offered pro bono assistance in running a paid Facebook ad that targeted Utah residents whose Facebook profiles indicated prior support of libraries and/or education. In addition to the targeted Facebook ads, ULA promoted the petition directly to our own membership and worked with coalition partners to promote the petition to their respective memberships, as well as to individuals in our personal networks who we felt would be inclined to support our position. Coalition partners also invited supporters to visit UETN's comment page and to leave comments that would be included in the official board packet.
The petition was highly effective, garnering more than 530 signatures and generating almost 7,000 total emails to the UETN board in under 2 weeks. (We later learned that email contacts to the board ran 20:1 in favor of reinstating database access.) EveryLibrary specializes in this type of "rapid response"—the ability to quickly build a coalition, engage supporters, and activate them to take action—and the PAC's expertise and petition-hosting infrastructure were key to ULA's success in this fight.
Without a doubt, this clear and voluminous expression of support from Utah residents was a significant factor in the board's eventual decision to reinstate access to the databases.
Getting the Whole Backstory
In the days that followed, while researching all we could about how this original complaint had come about, we learned that the "Utah mom" who had instigated the ban by alerting the media to her story had heard that the National Center on Sexual Exploitation (NCOSE; formerly known as Morality in Media) had been involved with a complaint against EBSCO in Colorado and that NCOSE had also reached out to Utah's senior senator Orrin Hatch.
The "Utah mom" turned out to be a conservative activist and blogger with connections to NCOSE and to Family Watch International in Colorado. Both groups had been actively working to ban EBSCO from schools in Colorado following a similar modus operandi.
The "Utah mom," writing about the so-called "international database scandal" for Meridian Magazine, said, "[S]chools and libraries have been categorized by the United States as 'safe places' for children. Sadly, the majority of these 'safe places' are exploiting children by spoon feeding them pornographic images, videos, and illicit sexual articles through databases. ..." (http://bit.ly/LDS-safe). In the article, she also called on readers to look at school library databases. She implored them to investigate public libraries and colleges because it "is a lie" that the databases are safe.
Given the coordinated attacks on school libraries in Colorado and the alarmist calls to action against other types of libraries, it is clear that there is an agenda at play that poses a significant threat to the principles of intellectual freedom, access, and libraries across the country.
In fact, a representative from Family Watch International, which is designated as an anti-LGBT+ extremist group by the Southern Poverty Law Center, belying the narrative of the "concerned mom," admitted to KUTV that she is "organizing with dozens of conservative organizations to shame Utah into ending their contract with EBSCO" and went on to say, "We're hitting it nationwide within the next week. In fact, I just talked to our lobbying firm today and they are trying to have a congressional hearing on it within a couple of weeks" (http://bit.ly/KUTV-offending). This same representative was in attendance at the UETN board meeting and threatened the board that if it dared to restore access to EBSCO it would be "intentionally and knowingly" distributing pornography to minors in violation of state and federal law.
Refining Key Messaging as a Team
As mentioned earlier, another simple but highly effective tool in our toolbox was good old Google Docs, which allowed all coalition partners to share and refine messaging and FAQs as the situation developed. We updated the key messaging document continually over a period of 3 weeks leading up to the final UETN board vote. Coalition partners, including teachers, librarians, and activists, contributed many comments on the document, which led to a continually improved, crowdsourced set of effective talking points.
Here are examples of key points that we stressed in our communications to members, supporters, and media outlets:
One person's (or group's) standards should not restrict others' access to learning. We stressed that it was unacceptable for one person's unverified complaint to dictate the immediate loss of access to a vital research tool for all students and teachers in the state of Utah. We also argued that the decision to ban EBSCO was not in accordance with UETN's duty, mission, and policy to provide access to these extremely safe research tools.
Blocking EBSCO was a sweeping overreach that had serious negative consequences. The board's decision was not based in fact. The ban created an immediate and serious impediment for students and teachers across the state. The UETN board acknowledged (during its Oct. 1 meeting) that it was, in fact, unable to replicate the results reported by the individual who initially complained about problematic content in the database.
EBSCO databases are very safe. The EBSCO K–12 suite of databases is a curated and filtered walled garden that is extremely safe and delivers vital access to research information for our students. It is also highly customizable, providing extremely granular administrative control that can be used to create limited age-appropriate access to specific periodicals. These more-targeted solutions had not been considered by UETN.
UETN should support its own stated policies. UETN's acceptable use policy states, "UETN encourages the pursuit of higher knowledge and recognizes that such pursuit may result in Network users accessing potentially controversial material that may not be considered of educational value in the context of a school setting."
The decision to block EBSCO was made without any basis in a stated policy or transparent process. Public libraries frequently receive content-based challenges—but when they do, the staffers don't immediately lock the doors to the libraries and refuse entry until they have searched every shelf for anything that someone might be offended by. Instead, they have in place transparent policies that are thoughtfully applied with regard to patrons' concerns.
Students, in reality, rarely bring up materials in EBSCO that anyone would find problematic. At the Oct. 1 UETN board meeting, one teacher reported that in her 17 years on the job, she had only experienced a single incidence of a student finding inappropriate content through a database search. Students are taught that if they access anything inappropriate, they should immediately turn off the monitor and alert a teacher, who can then review the keystroke log and adjust the filter accordingly to prevent a future occurrence.
The words "pornography" and "harmful to minors" have actual legal definitions, and UETN must look to those definitions, not to anyone's personal definitions. Key to the legal definition of pornography is the concept of "taken as a whole," and clearly the EBSCO suite "taken as a whole" does not meet the legal standard of "harmful to minors" as set out in Utah State Law—Utah Code section 76–10–1201(5)(a)—and in federal law (Children's Internet Protection Act).
On Oct. 19, 2018, the UETN board members unanimously voted to reinstate access to EBSCO databases that had been blocked for more than 650,000 students in Utah.
What We Learned From This Experience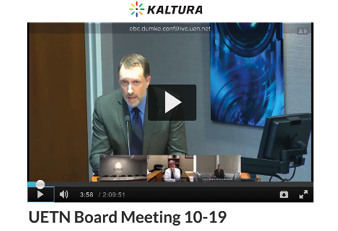 A video of the Oct. 19, 2018, board meeting is online. Peter Bromberg made comments during the first few minutes; access the video at http://bit.ly/Bromberg-comments.
Rapid response is key: Librarians are increasingly facing well-organized challenges from political groups with agendas, so we need to be well-prepared to quickly activate supporters who will speak up in support of our position. To this end, library associations need to grow their own robust databases of local supporters they can reach out to.
Coalition work is key: If we want to effectively advocate for libraries and be well-positioned to offer rapid response to attacks, we do not have the luxury of going it alone. When seeking to move political opinion, many voices are exponentially more powerful than one voice, and developing many communication channels to potential supporters is invaluable in amplifying our message and leveraging the exponential value of the network effect.
This is isn't over: Given the October 2018 lawsuit filed against EBSCO and the Colorado Library Consortium (CLiC), along with statements from individuals and organizations that are inclined to see databases as portals to porn (and teachers and librarians as willful enablers), we can expect these coordinated attacks on intellectual freedom to continue. While EBSCO and CLiC prevailed in that lawsuit (http://bit.ly/ebsco-wins-lawsuit), defending themselves still consumed significant time and resources. If we are to prevail, we need to understand the beliefs, talking points, and methods of those who would ban and to activate our coalitions to raise their voices and take political action on behalf of libraries.