Vol. 20 No. 2 — Mar/Apr 2006

Special Report
Promoting Gaming Programs in Libraries
By Michael Stephens
---
"Let's dance!" was the cry for many participants in the Dance Dance Revolution video game tournament that evening. Excitement was everywhere as both attendees and speakers took to the dance mats.

That wave of excitement is sweeping some of the nation's public libraries too: Video gaming tournaments are becoming a vibrant programming option. As I learned at the Gaming in Libraries Symposium held in Chicago in December 2005, these programs can bring young people to the library to game and socialize, and to learn as well. The Metropolitan Library System sponsored these 2 interactive days, which included break times spent at gaming stations in the back of the meeting room. Throughout the symposium, marketing was a key element in many of the presentations as attendees learned how to promote events and bring young adults to their libraries.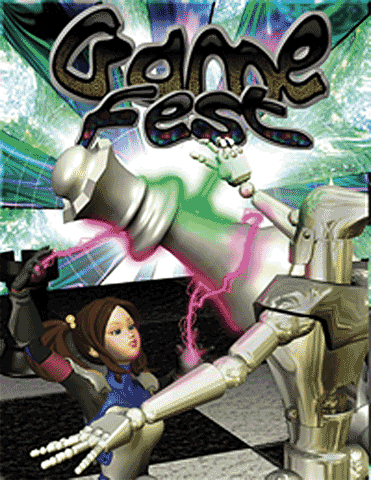 Offering food and drink is one way to bring them in. Pizza and water is a popular choice for the Game Fests at Bloomington Public Library in Bloomington, Ill. "We used soda once, they get all hopped up on it," said Matt Gullett in a presentation with Kelly Czarnecki. Gullet is the library's IT manager and Czarnecki is young adult librarian. Their talk, "Supporting a Culture," offered some pointers about beginning a program and some unique marketing ideas: Posters and art are themed to look like comic book covers; a staffer creates a mini-documentary about the Fests; and Fests are promoted at high schools by running game sessions at lunch time.
Eli Neiburger, information access & systems manager at Ann Arbor (Mich.) District Library (AADL), wowed the crowd with his unique humor and his insight. Snazzy, well-branded gaming programs fit the bill to attract young people and to keep them interested in the library, hopefully for life. "If you do not offer them something of value now, you will be irrelevant to them for the rest of their lives," he said.
"Establish a brand," he advised. "The AADL Gaming Tour­naments have a logo that is its own product brand and iden­tity." Other tips: Tournaments are labeled as "seasons," each season highlights a different game (Super Smash Brothers, Mario Kart, Dance Dance Revolution) or a different age level, and each season concludes with a champion.
Neiburger highlighted other promotional strategies that may cost a bit but can be most effective—a movie theater pre-show video ("You may be surprised how inexpensive it can be, especially in smaller markets."), T-shirts and wristbands with sponsors' logos to reduce cost, and direct mail ("It's expensive, but it really reaches the parents.").
Promotional Do's and Don'ts
What shouldn't librarians do to market these programs? Neiburger urged the crowd not to hand out bibliographies and other library material, a definite turnoff to teens. What might the most important marketing consideration be? "Make it an activity that is enjoyable for the youth—word of mouth is and should be your key promotional strategy in promoting activities/events for youth," Gullet said.
Bloomington PL is also establishing partnerships with other local libraries, the parks department, and game stores to promote its Game Fests. The branded items are used in these places to point gamers to the Fests. Online venues can be helpful as well. Neiburger and Gullet both urged librarians who are marketing Dance Dance Revolution programs to post at http://www.ddrfreak.com.
What We Attendees Took Home
Symposium attendee Julie Hill, project manager for the St. Joseph County (Ind.) Public Library's gaming program, took another online marketing gem home—blogging! "One of the best marketing tools I came away with at the gaming symposium was reaching out to kids on a GameBlog. They won't find you in a library program flier," she explained. "You have to reach out to them using the tools they embrace."
Chris DeWeese, Webmaster for the Lewis & Clark Library System in southern Illinois, took away some good ideas for planning as well: "The biggest one is letting the kids drive the event. There isn't a great need to exert total control over the kids and micromanage every minute of the event. Just sit back and let them enjoy the games and the social atmosphere."
To read extensive Weblog coverage of the gaming sym­posium, you can visit Chad Haefele's Hidden Peanuts blog at http://www.hiddenpeanuts.com and click on Gaming.