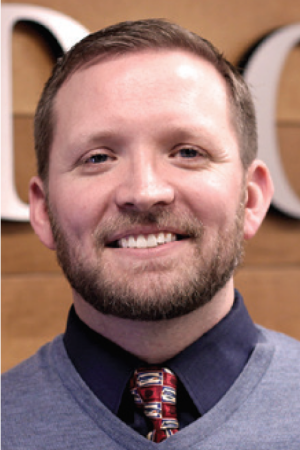 Name: Jim Staley
Title: Community Relations and Planning Director
Library: Mid-Continent Public Library
Location: Kansas City, Mo.
Type: Consolidated public library
Population Served: 800,000
Email: jstaley@mymcpl.org
Website: www.mymcpl.org
Facebook: www.facebook.com/mymcpl
Twitter: @mcplmo
Jim Staley built the marketing department from the ground up at the Mid-Continent Public Library (MCPL) in Missouri. It took time to change staffers' habits and to build trust, but that hard work and persistence have led the library system to success. Learn more about the transformation from this marketing master.
Jim, tell us about your educational background.
I have a Bachelor of Arts in communications with an emphasis in advertising from Drury University and a Master of Public Administration from the University of Missouri–Kansas City.
What is your marketing background? Do you have formal training, or are you an accidental marketer?
I began my career in marketing working in an advertising agency until I decided I really belonged in the nonprofit sector. I moved into fundraising and marketing for nonprofits for several years before coming to the library in 2007 to launch the system's first formal marketing effort. I value my time on both sides of the for-profit/nonprofit divide. Libraries have the mission-focus of the nonprofit side, but in certain aspects function like a retail operation. Library marketers have to wear both hats, primarily being advocates for the value libraries build in communities, but also sometimes just ensuring the transaction numbers are trending in the right direction.
How large is your department?
We have grown from one and a half in 2007 to a department of eight.
How many staffers are at your library?
We have about 550 FTEs in the system.
What percentage of the total organization's budget is dedicated to marketing?
Just under 1%. It would be higher than that if not for the services of our in-house print shop, which are not included in our budget.
What was your most successful library campaign?
We've had many campaigns that I really loved, but the one that has to be deemed the most successful was our levy campaign in 2016. It was certainly the most important campaign to the future of the system, and it was pretty easy to measure since we held a vote at the end of it. I loved the fact that we were able to put the whole organizational focus behind it in a way that can be difficult to do with many campaigns.
In addition, we were able to take a fully integrated approach by mobilizing all of our assets, from social media and public relations to staff outreach, for the campaign and layer our message to a focused audience. The messaging for the campaign had to be careful not to advocate for the tax. That gave us the opportunity to really build the messaging around the value the library creates in our community. We did a lot of "Did you know that your library X?" content that surprised people and inspired them to share. We highlighted programs from tax help to early literacy to our small business program.
On social, we reached over 230,000 people with a minimal number of posts about the campaign. We were able to generate a lot of media interest as well, partially because in a contentious election cycle, we were an issue on the ballot that seemed less controversial. When you add in email, signage, fliers, staff buttons, etc., we had pretty high confidence we reached a majority of our voting public with knowledge about the levy issue. In the end, more than 62% of people in our district voted "yes" on our proposition, which increased the library's funding for the first time in over 3 decades.
What was your biggest challenge? What did you learn from it?
The biggest challenge of my career was building a marketing effort from the ground up at MCPL. The early days were spent evaluating all of the homegrown efforts around the system, and then the long slog of shutting down many of those efforts while building new tools. It took some time to build trust with deeply committed people who believed in what they had created and were mistrustful of the idea that a system approach ― as opposed to individual branch efforts ― would be an improvement.
It was also tough at that time because as I mentioned, when I started, it was a half-time assistant and myself. In that scenario, there are always going to be things you just don't have the bandwidth to achieve. As we built the department, capacity grew and success followed.
There are two critical lessons that came from this time period. The first is that implementing any major change takes time if you want it to stick. A marketing office can't succeed without the buy-in of the staff we rely on to carry ― and often embody ― the messages we are trying to deliver. We got that buy-in over time by doing a lot of listening and a lot of explaining. Much of the initial pushback we received to change receded when staff saw the logic (and results) of the changes. Because library staff are so personally invested in their work, it just required a lot of personal interaction to convince them that the marketing group shared their passion and were making changes for the right reasons.
The second lesson is that building a great team is the most important single thing anyone can do to succeed. I was very fortunate in having excellent people apply for positions as we created them, and my proudest achievement is hiring people who bring new skills and passion to their work, which in turn grows our effectiveness exponentially.
I'd like to say something about what makes marketing libraries uniquely challenging. One of the most basic marketing concepts is that you can't market to everybody. And yet, one of our critical values in libraries is that we are here to serve everyone. These two ideas can create conflict in the marketing efforts of libraries. This seems to be mostly self-inflicted. In my time in libraries, I've heard several variations on the argument that targeting is equivalent to excluding. I think this sets up a false choice.
Libraries can be here for everyone, and our marketing efforts can be specifically for someone. In fact, the idea that we have something for nearly everyone makes our targeted messages all the more important. We simply have too much to offer to expect our public to take it all in and sort through it. Targeted marketing is just another form of curation, and a form of curation that is necessary for libraries to matter. Our services only have value if they are used, and they are only used if people know they exist. To help connect people with the services they want and need requires effective segmentation and messaging.
What technology has helped you reach new audiences?
Email marketing, and more specifically, the ability to do truly targeted email marketing has raised the ceiling for what we can accomplish. The ability to communicate with people at various points along the customer lifecycle, as well as the ability to differentiate messages, is a different level of customer-centered marketing than we've had previously.
Perhaps as importantly, we can easily measure email efforts and determine what works and what needs to be tweaked. And we can do it all pretty quickly. Those abilities are not present in much of what we do as library marketers, so they give email a serious advantage.
Social media is obviously another tool that has greatly expanded our ability to communicate. It's a little bit more of a mixed bag than email because it can sometimes cause as much disruption as it does benefit. We have been able to build a very robust social community, and I think the interaction we can have there really can't be replicated by other marketing tools. It also creates more opportunity for communication to get out of our control if we aren't constantly attentive to it. I would say it is ultimately a net good, but it also involves the most heartburn.
Discuss some of your productive partnerships.
Over the last 10 years or so, we have really begun to place a very significant focus on partnerships. Today, we probably do more cooperatively than we do on our own.
Sometimes our partnerships are programmatic, such as working with our local PBS station to offer a high-profile genealogy event that shines a light on their offerings as well as our Midwest Genealogy Center, or our annual Access Art festival, which brings the expertise of our local art museum and art school to our customers. Sometimes the partnerships are about building community, such as our community-wide read, which brings together no less than six library systems in the metro to create a truly regional opportunity. And sometimes, these partnerships are simply about elevating the visibility of the library by leveraging our partners' reputations, as in the case of our partnership with the Kansas City Royals for our annual Library Night at one of their games.
Our promotional partnerships have become even more effective since we brought on a marketing manager who has a long history of partnership-building and a great depth of experience in managing sponsorships. With her background, she excels at selling the reasons why the library is a great partner and why organizations should want to join with us.
What guidance would you give a fledgling marketer?
Besides what I said earlier about surrounding yourself with great people, I think the most important thing is being willing to be vocal about the whole marketing process. Too often, when people talk about marketing, they are just talking about promotion. As we all know, there are more "P's" involved. Particularly, library marketers have to be ready to challenge others in the organization when the product doesn't work. No amount of promotion can fix a product that no one wants. Libraries have too few resources and too many opportunities to work and work at getting a few more people to use or attend a flawed service or program. Marketers are often the people best positioned to ask the hard questions, and we must be willing to do that.