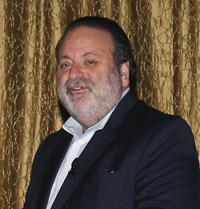 Shel Holtz talked about dealing with crises at LMCC 2017.
[Photo by Chris Rogers]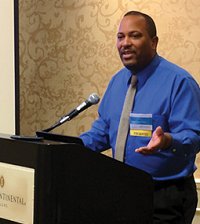 Trenton Smiley explained how to build media alliances.
[Photo by Kathy Dempsey]
I spent much of my time in 2017 planning the third annual Library Marketing and Communications Conference (LMCC; www.librarymarketingconference.org). It was an honor to chair the event again and to work with a dozen other dedicated, passionate volunteers from across North America. As marketing professionals, we can measure our success both quantitatively and qualitatively; here's my report on both.
All three LMCC events have taken place in the Dallas suburb of Addison, Texas, since our invaluable conference facilitator, Amigos Library Services (www.amigos.org), is located there. In 2015, we hosted 220 attendees in a Crowne Plaza hotel. In 2016, 330 packed the same space. To accommodate the growing interest, we moved to a larger hotel, the InterContinental Dallas, for 2017. This space held the 356 attendees nicely, via a huge theater with tiered seating for keynotes plus session rooms that could each fit 100 people.
Crisis Communication Keynote by International Expert Shel Holtz
As great event planners do, we began arranging the 2017 conference based on feedback and lessons learned from 2016. This informed many decisions, and chief among them was what topics to cover via our two morning keynote addresses. The keynotes are the only presentations that all registrants attend together before splitting up for their choice of breakout sessions, so we felt it would be smart to use them to cover the topics that most attendees sought info about.
The conference kicked off with a keynote called "Libraries, Crises, and Social Media," delivered by Shel Holtz (www.holtz.com). An award-winning nonprofit communications expert, Holtz has worked at Fortune 400 companies and has long been a member and board member of the International Association of Business Communicators.
Holtz's take on crises was eye-opening in two ways. First, he defines a "crisis" as something you could not expect to happen. Therefore, much of what we might think of as a "crisis," he views as a "PR crisis"—it's really a problem because word got out.
What I found most interesting about his keynote relates to this point. We conference planners had sent Holtz some major media stories about library problems to help him tailor his talk to our audience. Holtz said that, by his definition, such events weren't really crises, because they could have been anticipated. In fact, he said, librarians could have either prevented the problems by using better communication early on or at least mitigated the media blitz by expecting it and addressing it more professionally.
For instance, one story was about high school students who were banned from their prom because they had overdue library items and fines. Parents were furious, and a local news station covered the bans (bit.ly/2BEMlt8). Holtz wondered why it even got to that point. Librarians knew about this rule and knew students had fines; how could they not have addressed it earlier in the year so nobody was blindsided by being denied prom privileges?
His second eye-opener was all about preparation. He drew that nervous sort of laughter from the crowd when he quipped that there are only two kinds of organizations—those that have experienced a crisis and those that will. So not only do you need to have a crisis communication plan ahead of time, but "you have to drill the plan," he advised. It can't simply be a document in a folder; it must be known to all and practiced ahead of time so you can put it into play quickly and effectively when necessary.
Holtz is very media-savvy, and he shared stories of some of his own experiences. I can boil down much of his advice to these points:
Be reachable, transparent, and accessible; act like a human, not a corporation.
When members of the media contact you, first, acknowledge that you're aware of the situation. Then, know how to hold them off until you have more info or a carefully prepared statement.
Treat perceptions as facts (because they are to those who hold them). Acknowledge mistakes; don't deflect.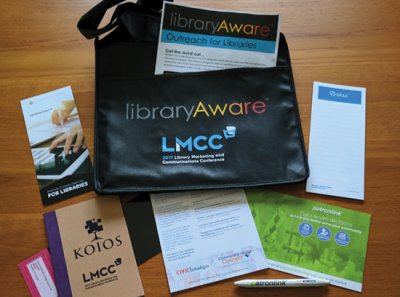 Attendees were welcomed with tote bags, collateral materials, and goodies from LMCC's sponsors.
[Photo by Kathy Dempsey]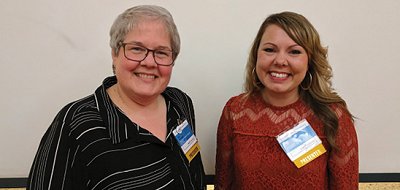 Librarian Lizz Roberts (L) and marketing agency director Sherri Huleatt partnered on a JCD award and an LMCC presentation.
[Photo by Kathy Dempsey]
Top Takeaways From the First Day
After the keynote, the day continued with four tracks full of sessions. The tracks were The Marketing Cycle, Engaging Your Audience, All Things Media, and Public Relations Campaigns. I tried to sit in on one or two talks in each timeslot (five concurrent sessions on Thursday and four on Friday) so I'd get a good feel for how the conference was going. However, in the very first set of sessions, I was trapped in one room the whole time, since I was giving my own presentation, What They Didn't Teach in Library School: The Cycle of True Marketing.
I scheduled this session in the first timeslot because I wanted any fledging library marketers to be able to get an overview of the concepts right away in order to help them make the most of the rest of the conference. My talk was based on my book and the cycle I created when writing it (see www.librariesareessential.com/library-marketing-resources/cycle-of-true-marketing ). My audience members' top takeaways, given their reactions, questions, and social media posts afterward, seemed to be these:
The terms "marketing," "promotion," and "public relations" don't mean what they thought.
You need to research and understand your target audience before planning any activities or writing a marketing plan to reach it effectively.
As I visited various sessions throughout the rest of the day, I gleaned numerous reminders and tips for all of you MLS readers:
From April Hines and Maria Atilano during How to Post So Others Will Listen: Engaging Your Audience Through Social Media: "So many students and faculty don't know what a library does in the digital age." Also, post about plenty of things that aren't library-related, which builds engagement and makes your social interactions more human and fun.
From Nancy Dowd during The Great Email Marketing Experiment: To foster good user experience, ensure that any provider you use for email blasts has a real, working "unsubscribe" button at the bottom. Also, remember that an immediate boost in interest of whatever you've emailed about is nice to see, but it doesn't "change people's habits," so think ahead about how to drive continued engagement to achieve true success.
From Nicole Fowles during Right Time, Right Message: A New Approach to Engaging Patrons: There are often too many steps to go through to get a library card. People don't want to bother, since "We live in an immediate-access world." Try to allow online card registration that's coupled with email opt-ins. Doing so "changed the world for us," she claimed.
From Sherri Huleatt and Lizz Roberts during Marketing the Modern Library: How to Launch an Effective Digital Marketing Campaign: Huleatt said very few public libraries have forms on their websites where people can sign up for email lists. Why, when this is such an easy way to build engagement? You can even set it up for "double opt-in," meaning that after people opt to complete the form, you automatically email them a link and ask them to click it to confirm that they want to be on the list. Roberts followed up with advice for anyone whose library won't allow online library card sign-ups: "Stop being afraid." (The crowd applauded.)
Keynote Two: Advice on Building Buy-In From Award-Winner Gina Millsap
During our past two conferences and in the surveys we did after them, one of the pain points that clearly emerged was the fact that many library marketers have trouble working effectively within their own institutions. Peers question the value of marketing and claim "It's not my job" to help with it. Even directors and administrators don't always value it, allowing little staff time for it and assigning it little, if any, money in the budget. Too many degreed librarians see marketing, PR, and promotion as "extras" that are much less important than collections and programming. They don't seem to understand that marcom activities are what drive people to use collections and attend programs.
We heard questions such as these from attendees over and over:
"How can I convince my boss to support real marketing activities?"
"How can I get staff on board?"
"How do I convince everyone not to make their own posters?"
In response to the cries for help for gaining more respect and influence, we chose a powerful keynote speaker who has accomplished all of this and more over the years. The planning team asked Gina Millsap to tell our group how she's managed to get her whole staff into the mindset of providing great customer service and amazing user experiences. Millsap is CEO of the Topeka & Shawnee County Public Library (TSCPL), the 2016 Gale/Library Journal Library of the Year. She currently serves as chair of the ALA Committee on Library Advocacy and on the board of the Public Library Association, in addition to holding other library and community posts. She graciously worked with us to prepare a new talk to address our group's specific needs, and the resulting keynote, "Building Buy-In for Marketing at Your Library," was very well-received.
Millsap began by explaining a bit about TSCPL and how it serves a huge area of Kansas with just one building, some buses, a mobile classroom, and embedded librarians. "We have a stronger focus on people than on buildings," she explained. Therefore, marketing becomes a "mission-critical activity," (although she thinks that's true for all library systems).
After impressing the crowd with tales of accomplishments, Millsap admitted, "We're far from perfect. Our marketing journey has taken some time." She said TSCPL used to be like many other public libraries, with people guarding ownership of "their" programs and fliers while resisting change. Staff members didn't understand why branding and consistency are so important. "We were a hot mess," she said, to audience chuckles.
So she hired an agency and worked through a process for 9 months, doing focus groups, getting input from everyone, and more. Ultimately, however, the agency's recommendations showed that its consultants didn't "get" the library, so Millsap boldly fired them and decided to go DIY with the info TSCPL staff had gleaned from the work. One major epiphany, she shared, was that the brand is not about books, but rather about "the experiences people have" and how they feel.
With their knowledge and determination, the staffers created ambitious, long-term goals. One key to success, Millsap said, is having all staffers be part of such processes. While she acknowledged that "not everyone should design a flier" (cuing laughter and applause), she stressed that everyone does have ideas and talents to tap into. Her bottom line was that people buy in when they understand a concept and why it matters to them.
After this positive, inspiring keynote and a welcome coffee break, the attendees split up into their chosen sessions for the day's four concurrent tracks: The Marketing Cycle, User-Centered Design, Data-Driven Decision-Making, and Strategic Partnerships.
Here are my top takeaways from some of the sessions I checked out that day:
From Karen Robinson during The Creation, Care, and Feeding of a Marketing Plan: It's essential to do a needs assessment before writing a plan. Two types of analyses should impact your plan and decisions: SWOT (strengths, weaknesses, opportunities, and threats) and PEST (political, economic, social, and technological).
From Abby Annala during What Your Data Is (and Isn't!) Telling You: People can glean more information from less data, depending on how it's gathered. Data doesn't always indicate what you think at first glance. Always look at statistics three ways: geographically, demographically, and logically.
From Trenton Smiley during How to Build Strategic Media Alliances: To gain valuable media partners, create a single-sheet list of all the library has to offer. Selling points include your location(s), reach to thousands of people, trusted brand, number of in-person and web visits, etc. Speak in business terms, not library terms. Don't be afraid to ask for in-kind ads or actions or to mention to one TV or radio station executive that you've already spoken to or worked with another one.
Assessing the Success
So, back to those measurements I referenced in the beginning. Qualitatively, we heard many lovely comments. While the conference was happening, many attendees stopped planning team members in the halls and rooms to thank us for our hard work and for an amazing event. At lunch on the first day, a woman at my table said this was the best event ever, and she was going to request time and funds for next year as soon as she got home. Near the end of the second day, a returning attendee pulled me aside specifically to say the sessions this year were a cut above last year's. See the sidebar (left) for anonymous comments, quoted directly from our post-conference survey.
Quantitatively, the results of our email survey proved again that we're on the right track. Here are just a few of those numbers:
If you're interested in seeing more photos, check my blog post at The M Word (bit.ly/LMCC17HatTrick).
Saving the Best for Last
We made an important announcement as we opened the conference, which I've saved for the end of this report. The conference planning team realized a longtime dream a few months ago: We've formed an official nonprofit entity! The Library Marketing Conference Group is a 501(3)c with a four-woman board of directors headed by president Jennifer Burke, who's played a major role in our conference planning since the beginning.
What's exciting about this is we will now be in charge of our own destiny. It also means that we're confident enough in this conference that we plan to grow it and its educational offerings. The sky's the limit!
Want to keep track of what we're doing and offering? Go to www.librarymarketingconference.org/contact and sign up for our email list. While you're there, click the links to our social media accounts and get in on the action that way too.
Whether you're an "accidental" marketer or a professional who's working for a library, we welcome you to our LMCC tribe. We're committed to your marcom education. Join us!