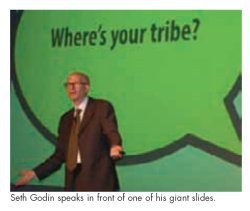 Anyone who has studied marketing over the past few years has likely heard the name Seth Godin. And if you hadn't before, well, you have now. Remember the name; get to know the man, the myth, the marketer.
Godin has written a number of attention-getting books that encourage readers to look at marketing in new ways. There was Purple Cow: Transform Your Business by Being Remarkable (2003), The Big Moo: Stop Trying to Be Perfect and Start Being Remarkable (2005), and Meatball Sundae: Is Your Marketing Out of Sync? (2007), to name a few. His latest, just out in fall 2008, is Tribes:We Need You to Lead Us. It's not surprising that this guy really knows how to promote his own books, and he does lots of speaking tours in support of them. And although he's a much sought after, dynamic (read: expensive) speaker, Nancy Dowd, director of marketing at the New Jersey State Library, was able to arrange for him to do a free presentation for librarians. Of course, I had to be there for the big event at Ramapo College in Mahwah, N.J., on Oct. 28.
Tribes and Word-of-Mouth Marketing
Godin explained his concept of "tribes" as groups of people who share common goals, languages, leaders, etc. Looking back to the days when people had to work together to survive, he said, "We evolve to want to be in tribes" and "We're programmed to do what other people are doing." The three main tribes that most people belong to today are work, church, and community. But you can look around and see all sorts of tribes that people flock to: Fans of sports teams are tribes, Harley- Davidson riders are a tribe, dance troupes are tribes. He used the Grateful Dead as an extremely successful example. The band's tribe was so strong, Godin said, not necessarily because of the music, but because every concert was a big party for the tribe, where likeminded people could get together and let loose.
He drew a connection between tribes and word-of-mouth (WOM) marketing. What WOM needs to work well is, in fact, a tribe. Tribes of people who have strong ties will spread information among themselves. To do successful WOM marketing, according to Godin, you should find people who want to be connected and take them where they want to go. Marketing management, he continued, is now really tribal leadership. If you don't have 1,000 true fans, he said, you've got nothing.
But the good news is that the tribal thing is very doable. As librarians, you can find tribes that already exist, truly become part of them, find out what they want, and lead them to it. Along the way, be passionate about showing people the joy and usefulness of libraries. "If you care about what you're doing, you will cause it to spread," said Godin. However, he emphasized, you need to have what people really want if you expect them to form a tribe around you. Ideas spread because people want them to, he pointed out, not because companies want them to.
Thoughts and Concepts That Lingered
Godin's speech that day in October was short, but it really packed a punch. I could practically see the wheels turning inside the heads of the librarians in the auditorium. And there was lots of buzz outside afterward as they gathered to chat and to get in line to have Godin sign the free copies of his book that his publisher generously provided to all attendees. To increase the usefulness of this article, I queried some of my colleagues who were there. A week or so after the event, I asked them what stuck in their heads the most; what was the biggest thing they had taken away from the presentation. Here are their thoughts.
Steven Bell, associate university librarian for research and instructional services at Temple University in Philadelphia, said: "An idea that really resonated with me was Godin's observations about a major societal and cultural shift that is happening, brought on to an extent by the global financial meltdown. We are placing less emphasis on the accumulation of material goods—stuff—and more importance on establishing meaningful experiences in our lives. I think this could create real opportunities for libraries." Bell also said, in a Nov. 4 post on his blog Designing Better Libraries (http://dbl.lishost.org/blog), that "what we learn from Godin is that we need to pay attention to the different segments of the library community and not take a 'one service fits all approach.' Rather we need to think of our community as different tribe members—and then develop the tribes where we could provide leadership."
Carolyn Wood, adult services and technology librarian at the West Deptford (N.J.) Free Public Library, liked Godin's quote: "You can't manage without knowledge. You can't lead without imagination." She added: "Libraries need both to move forward. Perceived value increases with the latter, in my opinion."
Peter Bromberg, assistant director of the South Jersey Regional Library Cooperative, chose a quote from the presentation that also stood out for me: "What I found most striking was Seth's comment that '98% of libraries have never made an attempt to create an experience for me.' What experiences are we creating for our customers, what experiences are we allowing them to create for themselves, and are we allowing them to build experiences together?"
When Godin mentioned "experiences," he talked about how going to a Disney Store or an Apple Store is an experience. Visiting many libraries, he lamented, is like going to a "book warehouse."We need to make libraries more of a destination, a place people really long to go to because of its atmosphere. (And you don't need to have the fortune of Steve Jobs to achieve that—start with the imagination of Walt Disney, plus user input, and go from there.)
One of the marketing guru's last lines has stuck in my own brain, and it serendipitously pulls many of these audience thoughts together. Discussing the personal relationships that build tribes, Godin made an off-handed comment that actually got to the heart of why most libraries don't have tribes. "Amazon knows what I like—why doesn't my librarian? I'd tell her." Apparently, we're not asking the most simple, tribeforming questions. But it's never too late to start.