FEATURE

Engaging Children in Anti-Racism Work at Your Library
by Tasha Nins and Tamara Lee
---
Library workers and administrators often mistakenly believe that libraries are neutral spaces, but this is an untrue narrative that can stunt anti-racist initiatives.

The push for social justice in the last year-and-a-half following the murder of George Floyd may feel new, but the work to make the world better and safer for all people (especially Black and brown people) has been happening for generations. No matter when in their life people join this work, many have expressed that they wish they had started earlier. Social justice work, particularly anti-racism work, can begin at any age—but the earlier a person starts, the better, and the less harm they knowingly or unknowingly inflict on their community. Children are often aware of race long before we think they are. Starting open and honest conversations with them about race early on can prepare them to be anti-racism practitioners their whole lives.

In a guide from the National Museum of African American History & Culture, being anti-racist is defined as fighting against racism. Anti-racism scholar Ibram X. Kendi describes the practice of anti-racism as being in opposition to racism. At the Aspen Ideas Fest in 2019, he said, "If racism means both racist action and inaction in the face of racism, then antiracism means active participation in combating racism in all forms."

In the same ways that adults teach children social, emotional, and ecological literacy and other life skills, we also have an opportunity and obligation to teach them anti-racist practices. We teach that some actions and words can hurt, but that others can uplift. We teach family, local, and global history to better understand where we are today. We teach how to care for the earth and each other to ensure that we can all be better together going forward. All of these lessons can be taught through an anti-racist lens. The ways in which we, as adults, engage the children in our lives and workplaces in anti-racist practice will differ from person to person, but before any adult begins to work on anti-racism with children, they must first work on it for themselves.
GETTING STARTED WITH ANTI-RACISM WORK
The following are some ways to promote anti-racism in your library:
Educate yourself about anti-racism.
Advocate for anti-racism to be a formal part of your organization's mission and values.
Model your commitment to anti-racism through representation in collection development, in library spaces (staff, design of the building, scheduling, etc.), and in programming, as well as through access in your library.
Hold regular community conversations around anti-racism.
Include anti-racism education in every aspect of library work.
There are anti-racism experts, but many of us working in libraries—where we interact with children—are not. This is not to discount the fantastic work being done by those who are experts, but as with many aspects of librarianship, we must keep working on our own education. Getting a library degree or position does not exempt us from learning more about how to best do our job. We are information professionals with the access and skills to engage in the conversations and actions relevant to our work, no matter our race or how involved we might think we need to be. Growth from ongoing learning not only helps us as individuals, but it also helps us to better serve our patrons and communities.
This learning takes time, and, sometimes, resources may be difficult to advocate for at your place of work, but stagnation leads to deterioration. We can­not offer our patrons the service and services they need without continuous learning. This is especially true when it comes to anti-racism. Starting your own journey into anti-racism can begin at a child's level. Find picture books or other children's resources to give yourself a way to ease into this new work. Check out the Anti-Racism Resources for All Ages project from Nicole A. Cooke, the Augusta Baker Endowed Chair at the University of South Carolina, for a variety of anti-racism learning tools in multiple formats. [See page 20 of the April 2021 issue of Information Today for an interview with Cooke. —Ed.]
While we cannot all be experts in anti-racism, the work we do before engaging in anti-racist practices with children (or anyone) is very important. Because anti-racism is a practice and not something to achieve, there will always be opportunities for continued learning. It's imperative to know how to approach situations with children in which you won't have an answer. The way that adults think about anti-racism is not the same as the way children think about it. And since anti-racist practices don't always have concrete answers, a simple, "I don't know, but we can find out" is a very useful phrase to ensure that adults and children alike keep themselves open to ongoing learning. Anti-racism is not a checklist to be completed, and our work as a society will never be "done"—it will constantly evolve and change.
INTENTIONALITY AND 'NEUTRAL' SPACES
There is an intentionality to anti-racism that children and adults need to understand. Young children are not racist or anti-racist by default. Both must be learned. Engaging children in anti-racist practice helps to set the groundwork for them to be aware of the inequities and harm in the world that impact them and their communities. Give them tools to rectify these issues when they can. Anti-racism must also be about more than tolerance. In the same ways that we ask children to be helpful and purposefully caring toward others, we can also ask for and model intentional anti-racism. This shows up in the ways that we treat our patrons of all ages, how we encourage conversations about concepts we are unfamiliar with, how we look for information, how we have fun, and, of course, in libraries, what we read and share.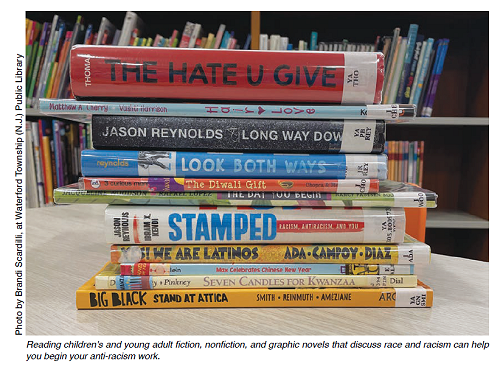 In the same vein of intentionality, we as library workers must also resist the urge to avoid anti-racism out of fear of doing it wrong or feeling that it is in itself racist. Avoiding talk of race or trying to provide a false sense of shelter from race only serves to create an uninformed child who can unintentionally hurt others (and themselves) out of ignorance. Of course, as adults, we must recognize our own issues around this avoidance and seek to examine why we feel uncomfortable or scared discussing issues that exacerbate racial inequalities. Library workers may avoid discussions of race or any other differences out of a well-meaning—but poorly executed—wish to treat everyone the same. People should not all be treated the same, but they should be treated in ways that are respectful to them. Library workers and administrators often mistakenly believe that libraries are neutral spaces, but this is an untrue narrative that can stunt anti-racist initiatives. (For more information, read the 2018 article "Are Libraries Neutral?" from American Libraries.)
THE DANGERS OF NICENESS
As Black children's librarians and as parents, we, the authors, have noticed and been negatively impacted by the idea of niceness as a way to try to avoid the topic of race or racism. Niceness on the surface is another tool of the well-meaning, but it rarely serves as a useful anti-racism strategy, as it is also a tool of white supremacy. This is not to say that being nice is a bad thing, but niceness can be used as a cover to try to absolve one of wrongdoing. Many instances of racism in the library are brushed aside because the perpetrator is seen as a nice person (or was just trying to be nice). Being nice is not anti-racist. It is instead an insulating layer that protects everyone but the victim. This harms all children in the library by giving them a false sense of what being nice is, but it particularly harms Black and brown children by centering the perceived niceness of whiteness over the actual impact of racism.
Colorblindness is an example of weaponized niceness in that it makes the person wielding it as an ideology feel good, but it completely erases the complex existence of those they claim to be showing care for. We have witnessed many instances of white caregivers rushing into the library desperately seeking out resources for their Black and brown children that they were raising—they were cared for alongside white children in the family and were now suffering from self-hatred of their physical and cultural differences from their white surroundings. This eviscerates the child's identity and negates their experience in subjugation to whiteness. Encouraging a wide swath of representation in the books and resources we highlight in library programming can help to demonstrate inclusionary play and learning for all types of families and patrons of all ages.
What is an alternative to niceness? Humility. We are all out here trying to be good people who don't harm others, and one way to stay on top of that is to avoid trying to be nice for our own sake and instead to work on being open to learning and growth outside of where we might be comfortable. Anti-racist practice can be hard, especially if you are coming into it later in life. Again, this is why it is important to model anti-racist behavior to all of the children in our lives, including at the library.