REPORT FROM THE FIELD
RAILS Conference Embraces Diversity
Text and photo by Ray Lewis
---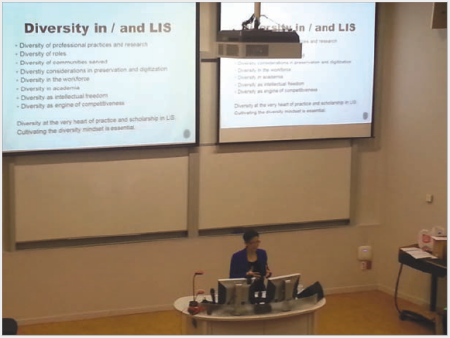 Nadia Caidi gives her keynote address, "Diversity by Design: The Way Forward," at the 2016 RAILS conference.

With nationalistic fervor across Western cultures reaching a zenith not seen for many decades and overt xenophobia providing the cornerstones of democratic elections and referenda in the U.S. and across Europe, the issue of diversity was an intriguing focal point of a recent New Zealand conference.

Energized attendees gathered Dec. 6–8, 2016, in Wellington for the RAILS (Research Applications in Information and Library Studies) conference. They enjoyed presentations and participated in robust discussions across a variety of topics.
Diversity and Librarianship
The diversity theme surfaced on the second day of the conference around an excellent keynote presentation from Nadia Caidi (University of Toronto). Along with some fascinating broader societal references that included global refugee crises, Caidi specifically covered diversity as it pertains to librarianship and the information industry with a presentation titled "Diversity by Design: The Way Forward." She focused on how libraries and their staffers should embrace cultural diversity to enhance many things, not least, intercultural learning. She advocated doing so proactively and more by social inclusion than with traditional integration attempts. Behind this subtle semantic difference lies important distinctions; she cited many immigrants' views from her research. They said, for example:
"Please stop wanting to take me to a mosque!"
"I didn't want to be called a refugee."
"I cried when I arrived at the airport and so many people were there that we never knew and they welcomed us. They were smiling and warm, and seemed happy to see you. I just cried."
Caidi commenced her presentation by reviewing a decade of research on diversity as it is broadly construed and by delving into how it impacts library teaching and practice. She explained how diversity as a topic has largely been in the background, but is currently running hot, as evidenced by regular front-page coverage in The Chronicle of Higher Education.
Empathy for Others
She went on to strike a strong note of empathy with the audience (constituted largely of librarians) with her description of how today's information professional has incredibly broad-based requirements that encompass a constantly evolving set of skills and competencies. Based on these requirements, Caidi noted how a librarian has an opportunity, perhaps even an obligation, to participate in educating the next generation while encouraging open-minded tolerance for people of other nationalities, backgrounds, or orientations—in a way "beyond token diversity."
Caidi also described her own multicultural heritage. Having been born in North Africa, then residing for many years in France before moving to North America, she explained how she encompasses strong elements of what people generally view as within the realms of "diversity," and yet, she gets frustrated whenever pigeonholed as such.
Her presentation looked at broaching the issues associated with diversity and what elements need to be addressed for the titular "Diversity by Design" to be achieved. She specifically focused on creating a diversity mindset:
Diversity is not a mere add-on, it is integral to who we are and the work we do.
Diversity is a reality of life, not a problem to solve or an issue to address.
Diversity is everybody's business.
Digging Deeper
I took the opportunity to catch up with Caidi directly after her presentation. I asked her if the strong current media interest in diversity is hitting the right broad notes. She said, "I think these discussions are important and representative of this interest in moving the diversity debate forward. I think however that they are not going far enough or in the right direction necessarily, still very much focusing on the usual indicators of race, gender, ethnicity, and the like. With new modes of learning, and millennials' changing attitudes and values, we need to think about diversity beyond these parameters."
I cited Caidi's background of living in many corners of the globe and her declared aversion to being pigeonholed in a diversity context, and she told me, "I believe in intersectionality, or the idea that we all hold diverse identities within us, and that no single label does the trick when it comes to defining an individual. I find it more interesting to think about lived experiences, and similarities that we share with others rather than what sets us apart from a group, a community, or a nation."
I then pointed out that questions from the audience after her presentation represented deep concerns that recent political elections in the U.S. and Europe appear to heavily reflect a tide of voter opinion against growing diversity. I shared my view that such current societal trends might be against the majority liberal librarian perspectives that would more likely promote tolerance and inclusiveness. She replied:
I think librarians and other information professionals are uniquely suited to serve and cater to diverse audiences. Our mission statements and our core ethics and values embrace such inclusivity and universality. However, where we need to do more work is to look at what we take for granted in our existing apparatus: Who do we attract to the profession? Are we doing a good job at reflecting the stories and values of the folks we engage with? Are we being honest about what our intellectual tools convey about us and our institutions? Do our knowledge systems and our institutions render invisible other knowledges and ways of knowing (Aboriginal, newcomers, vulnerable communities)? Are we still willing and able to stand up for those values we believe in when the political scene changes and new tensions arise? How do we measure the ability to effect change?
Clearly, then, lots of questions and required actions remain.
I found Caidi to be a thoroughly engaging speaker who grasped a thorny subject intelligently and relayed the salient issues eloquently. And for me—someone viewing the world as veering toward intolerance to levels not seen in my lifetime—I hold out some hope that librarians at least may be willing to broaden the minds of the next generation to include more enlightened views toward other cultures. So, to Caidi and all librarians: I wish you well and sincerely hope "Diversity by Design" hits home.