FEATURE
Embedded Librarians in Special Libraries
by David Shumaker
---
We are pleased to present an excerpt from David Shumaker's latest book, The Embedded Librarian: Innovative Strategies for Taking Knowledge Where It's Needed (Information Today, Inc., 2012), which will be released to the public in mid-July, just in time for the Special Libraries Association conference in Chicago. The book covers a wealth of material as it defines the embedded librarian's role in today's landscape, explores some of the trends in the space, and offers case studies in higher education, health sciences, school and public libraries, and other specialties. For this issue, we've selected Chapter 5, "Embedded Librarians in Corporations, Nonprofits, and Government," which has been lightly edited for style and length. —Ed.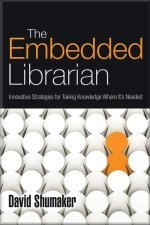 Enter the code ITEL at checkout for a 20% discount!
"Embedded librarianship is a distinctive innovation that moves the librarians out of libraries and creates a new model of library and information work. It emphasizes the importance of forming a strong working relationship between the librarian and a group or team of people who need the librarian's information expertise."
— David Shumaker, The Embedded Librarian
The literature on embedded librarianship in corporations, nonprofits, and government agencies is not as extensive as the literature pertaining to higher education; nor is it as systematic and analytical as that related to health sciences and healthcare. A contributed paper for the Special Libraries Association (SLA) noted the paucity of published examples.
The problem didn't seem to stem from a failure of librarians in these organizations to adopt the embedded model, however. The paper reported on a survey, which was conducted with a convenience sample of subscribers to several professional email lists, that found that more than 80% of those listing an affiliation by organization type were in a for-profit (43%), nonprofit (21%), or government (20%) entity. Only 17% of respondents identified themselves as working in an institution of higher education.
A subsequent 2009 survey that I conducted with Mary Talley found similar results. This survey, administered to a random sample of SLA members, once again found that 43% of embedded respondents reported working in the for-profit sector, while 16% were in government and 11% in not-for-profit organizations. The percentage of respondents in higher education was somewhat higher than in the earlier survey, at 28%.
Regardless of actual adoption, the available information about patterns of embedded librarianship in this sector is far sparser than in the other sectors. In these pages, we're exploring the origins of embedded librarianship in corporations, nonprofits, and government, and will mine the recent literature for indications of the nature of embedded librarians' work, how their contributions are evaluated, organizational patterns, the overall health of the embedded model in this sector, and the outlook for the future.
Origins
It would be strange indeed if librarians in the corporate sector had not adopted the embedded model. In Chapter 1, we saw that Tom Davenport and Larry Prusak issued their clarion call to "Blow Up the Corporate Library" almost 20 years ago. By then, the weaknesses of the traditional corporate library were clear. Libraries had become just-in-case warehouses of mostly textual published material. In some corporations, the warehouse of texts was augmented by a warehouse of experts—subject specialists who could respond to specific questions.
Meanwhile, librarians missed opportunities to integrate their resources with the computer-based quantitative internal performance data generated by the new generation of management information specialists. Mistakenly, the librarians concentrated on achieving functional efficiency in library operations, not strategic value. They failed to deliver visible contributions in an environment becoming increasingly performance- and measurement-oriented.
Davenport and Prusak offered a concrete course correction for corporate librarians in 1993. They advocated that "librarians, or rather information managers, must view themselves not as warehouse custodians, or even as providers of centralized expertise, but rather as overseers of a multi-media network." They concluded with an eight-point plan. The first two are foundations for the embedded model:
1. "Get out of the library, and into the business."
2. "Actively assess who needs information, and who has it—then help them to connect."
Also in 1993, Michel Bauwens, a Belgian corporate librarian, published a personal account that we can read with 20/20 hindsight as a prophecy of 2 decades of corporate librarianship. He recounted the reduction of the Business Intelligence Unit from 15 employees to one—himself. He envisioned the new corporate librarian as being "in the middle of a concentric circle of cyberspace (i.e., the electronic information space or ocean)." He advocated that the corporation that takes information seriously should create "a network of cybrarians (i.e., librarians able to navigate in 'cyberspace'), strategically located throughout the company." He foresaw that "[t]hese well-trained, IT literate individuals will be integrated into management teams."
In the ensuing years, as the surveys cited at the beginning of this article indicate, corporate librarians began to adopt new models that approximated the visions of Davenport, Prusak, and Bauwens. That model conforms to embedded librarianship. In 2007, Laura Ann Tyler and I found little literature to document this evolution, but change was happening, although corporate librarians didn't write about it very much.
The evolution of embedded librarianship was often confused with the internet revolution and the shift to virtual or digital library services and collections. In a 2002 article, "A Traditional Library Goes Virtual," Stephanie Boyd discussed the creation of a library call center to take reference questions quickly and efficiently, and inserted the following observation, almost as an aside:
To date, only a small percentage of requests come in via our call center, since the majority of our clients choose to direct their questions to a researcher they know. We have encouraged this close relationship between our researchers and their clients, and in fact we aim to develop subject matter expertise within our team for the different client groups.
Also in 2002, Kathy Dempsey, a library marketing specialist, began to supply the ingredient of relationship building but only in a very limited way. Among her recommended tactics to raise the visibility of librarians: "Make friends," "Become personal researchers," and hold face-to-face meetings with potential information users to explain capabilities and offer services.
By 2004, the first attempt to assess the success of embedded librarianship was published, although the term "embedded" wasn't used. "The New Information Professional," an article in Information Outlook, reported the results of a project funded by SLA in 2002. The study focused on newspaper publishers. It compared the recognition accorded to librarians embedded in reporting teams with the recognition accorded to librarians working in traditionally organized, centralized libraries. The researcher, Deborah Barreau, concluded that "organizations with [a] researcher assigned to editorial teams acknowledged contributions more often, but the correlation is slight and the results are inconclusive."
The inconclusive results of Barreau's investigation notwithstanding, descriptions of embedded librarianship began to pick up a bit in the succeeding years. The annual SLA conferences regularly featured presentations on the subject, beginning in 2005 with a panel discussion. A presentation by John Peverley of Bain & Co., titled "Embedding Embedded Librarians in Corporations, Nonprofits, and Government Researchers in Case Teams: The Bain & Company Experience," described how Bain's larger offices had projects large enough to require the services of researchers on case teams. Those researchers would develop expertise, attend consultant staffing calls, and interact in real time with customers.
Each researcher was considered an integral part of the small working groups, acting as a "trusted advisor" to the team. The next year, I discussed management of embedded library services at the MITRE Corp. in a presentation titled "Moving to Client-Embedded Services: Building and Sustaining Embedded Information Services." Also in 2006, Michael Moore published a description of his experiences as an embedded librarian at MITRE. The SLA presentation that Tyler and I did in 2007 represented the first attempt to describe the characteristics and extent of embedded librarianship in corporations, as well as other types of organizations. A steady trickle of publications about embedded librarianship in corporations, nonprofits, and government agencies continues. Even though librarians in this sector still are not publishing very much, some evidence exists from which to infer roles, functions, and other characteristics of embedded librarianship.
Roles and Functions
Successful embedded librarians provide sophisticated contributions to the teams they work with. However, the available evidence indicates that the nature of the work varies among different organizational sectors. Academic librarians focus on embedded instruction, contributing to the pedagogical mission of their institutions. The emphasis in the health sciences community is on research—providing evidence from the literature to help clinicians make decisions about patient treatment and care. Other themes also surface, such as embedded instruction, especially in teaching hospitals and other academic institutions, and an emerging role in managing the large volumes of data generated by biomedical research projects.
The corporate and government sector is clearly different from the academic sector. The Models of Embedded Librarianship research project, funded by the SLA, found that corporate and government embedded librarians were much more likely than librarians in other types of organizations to perform a number of research and information delivery tasks, including the following:
Competitive intelligence

Evaluating, synthesizing, and summarizing the literature

Current awareness and news alerting

Interlibrary loan and document delivery
Similarly, the project found that in the corporate and government sectors, embedded librarians were more likely than in other sectors to participate in the management and analysis of internal knowledge and information. The kinds of tasks in which the study found differences included structured database development and management, information architecture, and management of document repositories. …
Several articles have documented the research role of embedded librarians at Ziba Design, a design consulting firm. Reece Dano, one of Ziba's embedded librarians, described his primary role as "secondary research," which includes identifying consumer and market trends, analyzing popular sentiment, and helping to "generate hypotheses about consumers by analyzing relevant secondary market and consumer research." In a subsequent article, Dano and his colleague Gretchen McNeely noted that for an embedded librarian, "discovering information gaps is the meat of every project"; to do this entails "auditing and assessing available information … as well as determining how to retrieve information not currently at hand."
In 2010, Jill Stover Heinze emphasized the importance of her research skills and ability to monitor the external environment—skills complementary to the skills of the marketing communications group in which she was embedded. The pairing of her research with their marketing knowledge led to opportunities such as co-authoring a corporate white paper and industry articles on legislative impacts that demonstrated the firm's thought leadership position among peers and potential clients.
At an unnamed law firm, the range of work done by embedded librarians included research and analysis for the firm's marketing department and its mergers and acquisitions practice. For its company representation practice, the embedded librarians began by stewarding an intranet-based repository related to regulatory filings. They were then called on for research tasks as their subject domain knowledge grew. When I revisited the firm in 2011, I found further examples of content and repository management combined with research and analysis. For a time, an embedded librarian had been assigned to work with another staff member to create a news- and issue-tracking database for the firm's benefits and compensation practice group.
The pattern of combining research and analysis with content and knowledge management has a great appeal. Many corporate and government settings emphasize the ability to make well-informed decisions and take action in a timely and effective manner—not on the skills of information retrieval and management. Information expertise, like expertise in other areas, is valued when it is clearly linked to effective decision making and timely action. Smart marketers, attorneys, engineers, and other professionals are willing to delegate information-related tasks to embedded librarians, just as they delegate other tasks, when they see that delegating is the most effective way to accomplish their objectives. By taking ownership of the full range of information-related tasks, the librarian in turn becomes the knowledge expert on the team. And, as the knowledge expert, the librarian is positioned to fulfill a key aspect of the vision that Bauwens advanced in his Cybrarians Manifesto.
In 1993, Bauwens advocated that cybrarians think of themselves not as traditional intermediaries but as network nodes in three dimensions: "first of all amongst each other, second with the teams [with which they are embedded], third to a network of outside information providers (other cybrarians and experts on the internet, information brokers)." …
Finally, as the information expert on the team, the embedded librarian has a natural affinity with other embedded information experts. By cultivating their own network, embedded librarians not only develop common methods to address needs and solve problems they share; they can also facilitate the sharing of knowledge across the organization. In recognition of this benefit, leading information services in corporations are establishing formal mechanisms to build and sustain these networks. One such initiative has taken place at the MITRE Corp., where "clusters" of embedded librarians "serve as vehicles for mentoring and sharing expertise, enhancing collaboration, identifying and connecting [cross-organizational] projects, and linking research and knowledge management needs across the corporation." This realizes Bauwens' vision of embedded librarians networking with each other.
Evaluation
The previous two chapters demonstrated that evaluation of the embedded librarian's contribution is very important in both the higher education and the medical settings. Academic librarians are working to establish formal learning goals related to information literacy and exploring ways to connect embedded instruction to student academic success. Medical librarians have conducted a variety of studies, even including at least one controlled, randomized trial, to assess the value of clinical medical librarians and informationists to healthcare practice and patient outcomes.
The corporate and government sectors are different. Over the years, specialized librarians and information professionals in these sectors have repeatedly been exhorted to measure their value in return on investment, time saved, costs saved, and similar measures.
Barreau's research contributed to this approach. Kaplan and Norton's Balanced Scorecard has been recommended as a framework for developing goals and measuring outcomes. However, in the reports from practitioners of embedded librarianship in this sector, formal evaluation plays a very limited role.
Evaluation practices were part of the discussions in two separate research visits, in 2009 and 2011, at a large, international law firm. In the first visit, only librarians and the library manager (the chief library and records officer of the firm) were interviewed. The researchers reported the following: The chief noted that the firm does not require ROI [return on investment] or other success measurements, maintenance of statistics or other data to justify the continuation of the programs. Accordingly, there are no formal evaluations of the programs. The chief does collect and acknowledge kudos received for work well done. Growth in the demand for services within the programs and demand for new programs are proof of success.
In the second visit, managers of information user groups were interviewed, in addition to the embedded librarians and the chief library and records officer. The situation had not changed. Feedback was still informal and anecdotal. The information user-group managers reinforced the previous findings. They felt that they were in a position to assess the nature of the librarians' contributions firsthand. They had high praise for the librarians' expertise and contributions to the work. They felt that if there were ever a need to address a performance problem or the value of the librarians' work, they could approach the chief library and records officer directly and be sure of an effective response. Both noted that the management culture of the firm encouraged informal collaboration among executives, rather than formal reporting mechanisms, and that the management and evaluation of embedded librarians was consistent with this culture. One summed up her assessment of librarians' value by saying that the librarian "makes everybody do such a better job."
Echoing that assessment, Heinze commented that one of her company's top executives refers to her as "the person who helps make everyone in the company smarter." In describing her role at Affinion Loyalty Group, she highlighted the importance of collaboration, relationships, and informal interactions in making awareness of her skills and her value immediately apparent to her colleagues and company executives. ...
Organizational Patterns
Another challenge of assessing embedded librarianship in this sector is that the embedded librarians don't always work in a library or information services unit. Sometimes they are directly employed by information user groups, whether or not an identifiable library organization exists. Heinze was hired as a solo research analyst in the marketing department at her firm. In the U.S. government, there are agencies in which librarians are embedded in specific offices to perform research, analysis, and knowledge management functions independent of the agency's library. In some cases, they are categorized as librarians, but in others, they may be labeled program analysts, information specialists, intelligence analysts, or information technology staff. This phenomenon is difficult to quantify, and there is no known comprehensive assessment of it.
Challenges and Opportunities
To assess the outlook for the future of the embedded model in these organizations, it helps to pull in literature from a related, yet quite different, object of study: the literature of corporate library closings.
Similar to the perception that the embedded librarianship model is growing, the perception that there is a trend toward the closure of specialized libraries, especially in the for-profit sector, has been prevalent in the literature in the first decade of the 21st century. Since no comprehensive documentation exists, it's difficult to understand both trends fully. Yet two researchers, James Matarazzo and Toby Pearlstein, have attempted an analysis. Their insights are also instructive in considering the prospects for embedded librarianship.
Matarazzo and Pearlstein published a series of articles during 2009 and 2010 in Searcher magazine under the heading "Survival Lessons for Libraries." Two of the articles documented actual experiences in the closure of libraries, in the U.S. Environmental Protection Agency and in American newspaper libraries. Others dealt with questions of outsourcing and the use of scenario planning as a strategic management tool for librarians.
Throughout the series, the authors referred to a predictive model of library closures, which associates the threat with five conditions:
• Decision made by senior management, without consulting those who used the library
• Library experiencing a reduction in the number of its users
• The availability of outside resources to substitute for the library
• A lack of library evaluation
• Evidence of a financial crisis in the parent organization …
The series barely mentioned embedded librarianship. It is the thesis of this book that the conditions for successful embedded librarianship are different from Matarazzo and Pearlstein's scenario and that embedded librarianship offers a very different definition and set of recommendations for success. ...
The successful embedded librarian has a broad view of the librarian's role. It is not to provide just expert research service, or information literacy instruction, or the management of internal content. The embedded librarian's role is to help the team use information most effectively in its operations, and the manager's role is to help the organization optimize its use of information—by the most appropriate means available. That means that embedded librarians are constantly trying to work themselves out of a job. It also means that they are change leaders, not change followers. And it means that they are in a position to experience sustained success.
If the preceding seems a bit farfetched—a rhetorical flight of fancy—perhaps two real-world examples will provide the necessary grounding. Both come from my report of site visits to successful embedded librarians. A librarian at a nonprofit corporation spent a great deal of time selecting and analyzing new technical articles and reports for a news alerting service. The librarian, and the information services management, became aware of a new outsourcing option that could substitute for much of this labor.
Upon testing the new option, they recommended it to the manager of the information user group, and it was adopted. The embedded librarian was freed from this work—but not laid off. Instead, new, higher-value tasks were assigned. In the second example, a librarian at a law firm was assigned to manage a database relating to a new regulatory issue being tracked by the firm. For a period, the librarian devoted a substantial amount of time to this responsibility and, as a result, made an important contribution to the firm's efforts to establish its position as a leader in this new area. Eventually, however, an information vendor started to provide an acceptable alternative. Although the activity was outsourced, the librarian in this example was not laid off either but continued with other high-value contributions to the work of the firm.
One other point, sometimes missed, needs to be emphasized—the importance of relationships. An increasing body of evidence, largely based on the groundbreaking work of Amos Tversky and Daniel Kahneman, demonstrates that decision making—in management, just as in everyday life—is at best only partly rational. It follows that all the objective justifications in the world may not matter if there are no personal relationships that establish credibility with decision makers.
Summing up, the outlook for embedded librarianship in corporate and specialized organizations depends on the ability of library managers and embedded librarians to do several things. Turning a different light on Matarazzo and Pearlstein's predictive model, here are five conditions for the sustainment and growth of embedded librarianship:
Establish relationships with key decision makers at all levels.

Ensure that the quality and value of the embedded librarians' contribution to the organization continues to increase.

Lead the drive to perform necessary functions by the most cost-effective means available, whether in-house or by outside providers.

Adopt evaluation practices that are consistent with the parent organization's management culture.

In a financial crisis, seek to be part of the solution, not part of the problem.
Note: The full list of references and sources are available at the end of Chapter 5 in the book, which is available at https://books.infotoday.com/books/Embedded-Librarian.shtml. For those who are attending SLA in Chicago, stop by the ITI booth (#554).