FEATURE
Adding Library-Licensed Ebooks to Your LMS
by Victoria Raish

---
Penn State University has a large online student population; 15,000 students are taking their classes through World Campus, our portal for serving fully online learners. These students have the right to equivalent levels of access to library resources, services, and learning opportunities as residential students, in accordance with ACRL's Distance Learning Standards definition of access entitlement.

However, Penn State was falling short in providing a realistic course reserves model to support these online students. Residential students can use physical course reserves when their instructors place materials on reserve, but online students could not, due to limitations in checking out these materials. Considering the cost of course materials and our focus on open and affordable content, it was not acceptable that some of our students were lacking in access to materials. This was especially true for students who depended on loans to purchase course materials or for students located in a place where shipping is difficult.

As the online learning librarian, I knew it was part of my mission to ensure that World Campus students had equivalent access to course materials. I quickly zeroed in on finding a way to increase their ability to access ebooks. Our program started with a pilot of 18 courses offered through two instructional design departments in summer 2017. Fall 2018 saw a full launch of the ebook program, which continues today. To date, this initiative has resulted in $383,000–$450,000 in potential cost-savings for students each semester.

This article will first review the process of adding ebooks to student courses in the learning management system, transition to looking at results of the program, and conclude with a set of tips for emulating what we have done.
Process for Adding Ebooks to Your Learning Management System
The process of placing ebooks in the learning management system—we use Canvas—has to be a team effort. The first step of the process was to form a team that—and this was essential—was diverse and representative of various perspectives. It consisted of the online learning librarian, the assistant head of acquisitions, the course reserves manager, an IT trainer, a learning designer, and a quality-assurance professional.
The second step was to identify funding sources for the program. Initial funding came from a budget that was focused on the goal of expanding digital collections in general. The preliminary estimate for program costs was $25,000 per semester, with reduced costs going forward. In reality, the cost after the first semester decreased much more rapidly than expected. After 3 years, the funding source has transitioned to a budget earmarked for providing open and affordable content for students.
The third step ensured that the existing contract with the bookstore provider—in this case, MBS Direct—did not limit in any way the acquisition and/or online use of library-licensed ebooks. The copyright librarian reviewed this contract and ensured we were in compliance.
The fourth step created a workflow process and an overarching project plan. Individual units involved on the team were free to develop their own more in-depth plans. Everyone on the team contributed the perspective of their stakeholders—faculty members, students, and staffers—in the workflow process. This process is followed every semester.
The fifth step involved communication and training. Several instructional design units at Penn State worked with faculty members across several campuses. An IT trainer gathered all instructional design units for a large-scale training session to help everyone understand what the ebook list means and how it should be communicated to faculty.
The sixth step provided a time window for faculty to opt-out. There is minimal work required on the part of faculty members, but we wanted to make sure that they actually wanted an electronic version of their book available to students. Obviously, if students were savvy, they could check in the library catalog for the ebook, but if a faculty member said no, then the book was not added to Canvas.
The timeline in Figure 1 illustrates the order and timing of steps that are taken to complete full implementation. Numbers in the chart represent the number of weeks before the start of the next semester, beginning 12 weeks in advance. Once completed, the process starts again 2 weeks into the next semester.


Results: Cost/Benefit Computations
As noted previously, this program was first funded under the umbrella of a broader initiative to increase digital collections and electronic resources in general. The initial expenditure estimate was $25,000 per semester for a year, with lowered costs in the following years. As illustrated in the table above and Figure 2 and Figure 3, we experienced a much more rapid drop-off in cost than initially projected. At the time of this writing, the overall investment in the program has been $40,418 spread over seven semesters. The first semester saw a cost of $23,476, with an average investment of $3,442 for each subsequent semester.
To estimate the benefit for students, the potential savings for this affordable content effort were calculated using the average cost of the book for students, the average enrollment number, and the total number of ebooks. The estimated potential savings students have seen has ranged from $378,900 to $631,453. The potential savings is what would occur if every student chose to use only the ebook. It is acknowledged that in practice this is not the case, and that is why the word "potential" is stressed.
Figure 2 and Figure 3 illustrate the findings from the table. It's important to note that both the potential cost-savings and the number of available ebooks have been trending upward. Since this program does not directly attempt to change the materials that faculty members are selecting, this is a somewhat unexpected, but positive, result.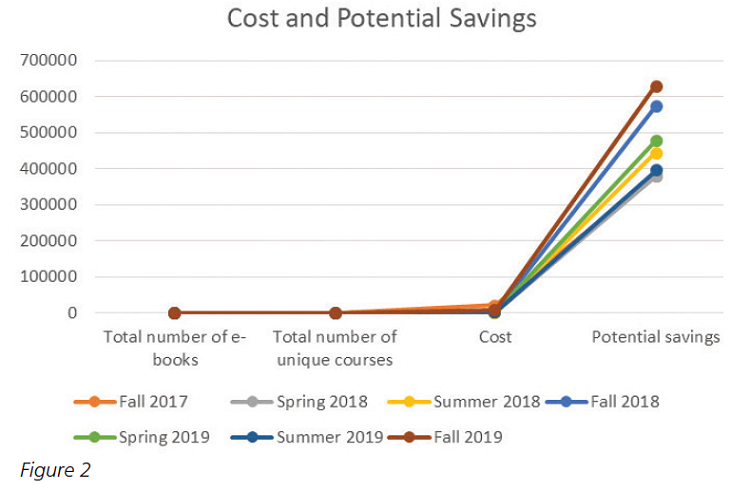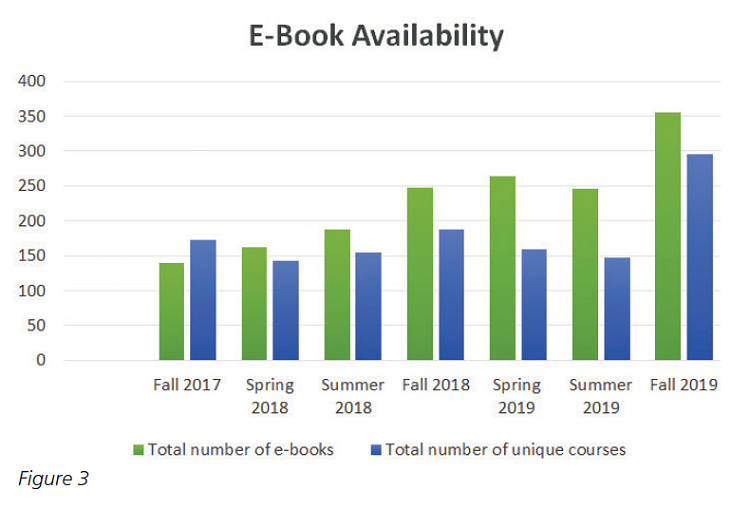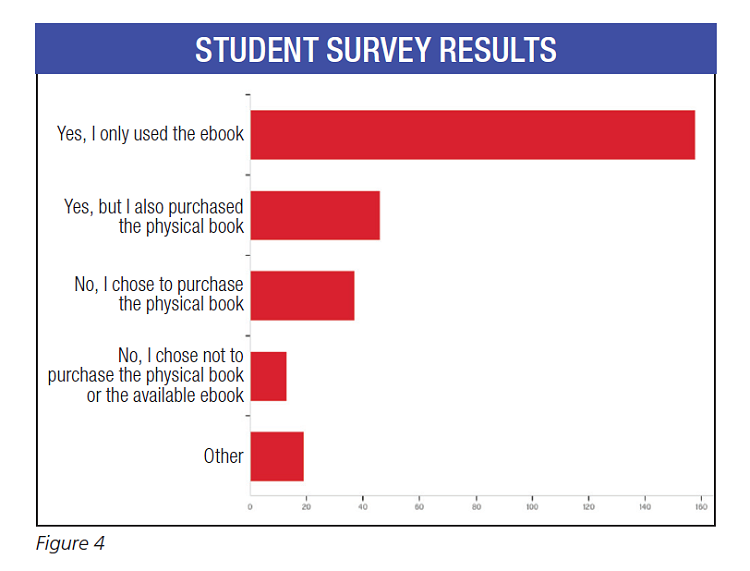 The amount of required course materials that are currently covered through this program represents 16%–20% of total course materials. This number is in line with research showing general ebook availability from various publishers and considering how available ebooks align with curriculum. 1
Results: Measuring Student Satisfaction
Feedback about the program has been gathered primarily from two surveys. We developed a survey for students and a survey for faculty members participating in the program. The student survey is located in the learning management system (Canvas) within the library Resources Tab in the navigation menu. These surveys are also distributed via email toward the end of the semester, but prior to the last week of class. The survey has been used since fall 2018; 273 students have completed it.
The student survey questions focus on adoption and use of the ebook for the course, with the option for providing open-ended comments. The vast majority reported they only used the ebook. The most common reason cited for students not using the ebook was lack of awareness that they could have an ebook.
Students were also asked what they would have done if the ebook were not available for their class. Most said they would have purchased the physical book, but some also said they would pursue other options, such as renting the book or borrowing it from a friend.
More than 80% of students mentioned having no or minimal issues accessing the ebook. However, the team was seeing repeated technical questions from students, and an FAQ was created to address those common inquiries. It was placed in the same folder as the ebook in Canvas for user self-troubleshooting.
The biggest challenge with the program has been effectively communicating to students that an ebook is available to them prior to the start of the semester. Ebook availability is promoted to students through a website, and information is included in their course catalog. Instructors and academic advisors are given a list of available ebooks and courses, and they are encouraged to let their students know that an ebook is available. That being said, the majority of students in our survey reported that they did not know an ebook was going to be available until the first day of class. Even with this challenge, more than 94% of students surveyed said they wanted to see ebooks available for their other courses.
Results: Faculty Program Satisfaction
Faculty members also have the opportunity to complete a survey toward the end of each semester. All of those who replied said they were satisfied with the inclusion of the ebook option within their courses. The biggest drawback for some was—even though it's a rare instance—the concern that an ebook would hit access limits in the middle of the semester or would otherwise become inaccessible. In the few cases in which that happened, the team worked to provide temporary access to the current course material. The clear reason why faculty members chose to participate in the program was to save their students money and to make sure they had access to the material on the first day of class.
An extremely interesting finding from the faculty survey is that more than 38% of those surveyed said they want to increase the ebooks in their courses and have either searched the library themselves for ebooks and/or worked with their subject librarian to identify possible materials. While another 28% said they want more ebooks, they note that they have not taken the initiative to help make it happen. Other feedback suggests that possibly it's because they don't know how, since several noted the library should provide instruction on how to search for available ebooks, perhaps by hosting a webinar or in some other way offering a presentation to faculty.
Tips
If you would like to explore a similar project, here are a few tips.
1. Communicate with stakeholders. While your process may vary from ours—depending on your institutional context—open and early communication is key to the success of such an initiative. There are many stakeholders affected by launching an ebook program, and it is critical to consider their needs and perspectives throughout your journey. I cannot stress enough how important communication was to our entire process.
2. Communicate with students. The need to communicate does not end with the internal university employees affected by the process. It is also critical to consider how to let students know that the program exists and how it will directly benefit them and their wallets.
3. Consider the user experience. Consider utilizing customer journey mapping or adopting design thinking during development. This is important early in the process to ensure that you are thinking the way your users do and not how you think they should.
4. Provide an opt-out option for faculty. This is very important, because you should not attempt to mandate adoption by faculty. Very few of our faculty members have elected to opt out, but it's both prudent and courteous to give them the choice.
5. Create user documentation. Provide basic information about library-licensed ebooks, along with system use instructions and troubleshooting tips. For example, we found questions often arose around the user design of the hosting platforms and the variance in the amount of material that can be downloaded. While librarians understand that this is relatively out of the control of libraries, the answers to these questions can be simply documented and shared efficiently.
Future Direction and Expansion
The program has been operationalized for World Campus since fall 2017. It is well-received and has garnered interest from faculty members who teach in-residence as well. Since its launch, the adoption of ebook course materials has expanded to the College of Information Sciences and Technology (which has been offering ebooks since fall 2018) and the College of Engineering (in-residence), starting with a small pilot and expanding to all of its courses since spring 2019.
There is definitely interest to expand further, but also issues that need to be resolved. They include managing the manual part of the workflow (especially capacity), gaining easy access to course material lists, and adjusting the timeline to account for differences in course material selection. The most labor-intensive part of the process is performed by the course reserves team, which has to add the books into all of the courses. For World Campus, the course material lists are easy to obtain, but for residential programs, there is not a centralized location. The timeline for residence courses also has to be adjusted. While there is a shared understanding that course materials have to be identified 12 weeks from the start of the semester for World Campus, residence courses often do not have listed course materials until right before the semester begins.
Overall, the program has been hugely successful and has potentially saved students hundreds of thousands of dollars while simultaneously making faculty aware of affordable content options for their courses and the idea that the library can be an instructional and resource partner.
---
Resource
1. Filion, S., and Wallace, N. (2017). "Textbook or Not: How Ebook Purchasing Power Aligns With Curricular Content Trends." In Jensen, K. and Nackerud, S. (Ed.) The Evolution of Affordable Content Efforts in the Higher Education Environment: Programs, Case Studies, and Examples. DOI: 10.24926/86666.0101.
---