FEATURE
Technology Planning: Using an IT Road Map to Build the Library of the Future
by Candelaria Mendoza and Caitlin Cowart
All photos courtesy of the San Antonio Public Library

---
What's a Road Map?
"A road map is a strategic plan that defines a goal or desired outcome, and includes the major steps or milestones needed to reach it. It also serves as a communication tool, a high-level document that helps articulate the strategic thinking—the why—behind both [the] goal and the plan for getting there." (productplan.com/roadmap-basics)

"A technology road map (also known as an IT road map) is a document which outlines the plan to reach short-term and long-term goals through the use of technology solutions." (huffingtonpost.com/brian-de-haaff/8-key-components-of-techn_b_9413856.html)

The San Antonio Public Library (SAPL) serves a diverse community of 1.9 million people, with 30 library locations throughout San Antonio and Bexar County, Texas. Technology is changing. SAPL, like most other agencies, must harness these new technologies to more efficiently perform and transform how it does business, while also adopting industry best practices that will position the library for success in the future. This is especially important since the area is experiencing exponential growth, with forecasts anticipating 1.1 million more residents by 2040.

In our ongoing efforts to serve this diverse and expanding community, our library director (Ramiro Salazar) is constantly encouraging us to look forward and try new things that will have a positive impact on as many lives as possible. Our collective vision is to improve digital literacy and narrow the digital divide. But who, what, where, when, and how to make this happen? A few years ago, we started talking about developing an IT road map to show us where we need to go and how to get there.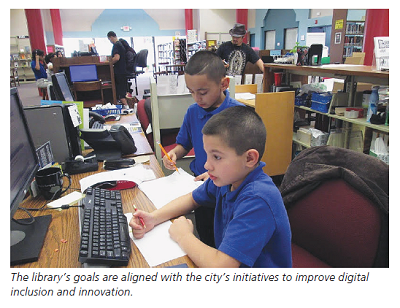 Our initial discussions about the possibility of developing an IT road map involved the IT services department in determining the rationale. We concluded there were several benefits to this approach that would not only support the library's infrastructural goals, but also could help us contribute to major city and county strategic planning initiatives, such as SmartSA and SA Tomorrow. These local initiatives have substantial impacts on community outcomes, including conveniences, quality of life, personalization, ease of use, equity, digital inclusion, and innovation. For these reasons, SAPL's investment in a diverse technology platform has been and will continue to be a priority for many years to come. The road map would show us what to do and where to focus to achieve desired outcomes, but first we needed a consultant.
Due to its close alignment with municipal priorities, we were able to move our IT road map proposal forward, but not without challenges along the way. As a city department, the library is required to follow a formal process in any procurement endeavor. This was true as well in finding a technology consulting firm that would partner with us on the project. For our first challenge, there were no responses to the initial request for proposal. To our knowledge, technology consulting firms had not previously worked with a public library on an IT road map. We took the opportunity to reset and rework our proposal to be clearer about our objectives. We tried again, and on our second attempt, we selected Gartner Consulting as our partner in this venture.
DEVELOPING OUR ROAD MAP

ROAD MAP PROCESS CHART
To create our road map, we blended traditional input and data collection mechanisms (such as customer, non-user, and staff surveys; demographic information; and industry research) with customer-centered design tactics (such as proto-personas and journey maps). By combining traditional and customer-centered methodologies, the resulting road map is focused on the individual customer experience, as well as the needs of the San Antonio community as a whole. The work to produce the road map also included an IT assessment conducted under the guidance of the IT services department to evaluate existing library technology infrastructure. Here is a condensed version of the process that led to our final product.
Data Collection and Research
Customer survey (English and Spanish)
Non-user survey (English and Spanish)
Staff survey
High-level conceptual interviews with


Key city leaders
Designated technology visionaries in the community
Library's board of trustees

Industry-specific best practice research (library and education)
National trend analysis
Demographic and market segmentation analysis
Emerging technology review
Assessment and Analysis
Development of themes from survey, interviews, and research
Process check with key stakeholders on resulting themes
Focus groups based on themes
Development of customer proto-personas (fictional customer profiles)
Development of journey maps (customer experience at the library)
Development of prioritization matrix
Development of future state and final plan
Short list of initiatives
Development of concept project charters
Draft report and road map, including phased resource requests
Governance plan for finalization and acceptance of report
Communication plan
Methodology: How We Made It Happen
Once the selection of the technology consulting firm was official, we were ready to build the team, which included members from SAPL, the IT services department of the city, and Gartner Consulting. Our second challenge was an expedited timeline, so we needed to have an established structure to help us make decisions and stay on task. We created two meeting types. The first was for the project team, and it entailed having reoccurring weekly meetings with core project team members from each department and author Candelaria Mendoza, who was then the SAPL lead. We handled all of the logistics to implement the strategies from the proposal as well as identify items that needed final approval or acceptance that we would take to the second meeting. The second meeting occurred biweekly and included our executive sponsors, Kathy Donellan (assistant director from SAPL) and Kevin Goodwin (CTO for the IT services department). We would brief them quickly on the status of the project and go through the items that needed final approval or acceptance.
Those two reoccurring meetings were imperative to the success of the project and its completion on an ambitious timeline. The team approach allowed us to successfully develop the IT road map.
The thoroughness of the process gave us access to enlightening information about our community and our staff, such as the community's desire for SAPL to focus on its core services and a general positive, supportive perception of SAPL. We were able to use that insight to identify common themes that arose to become our key findings as well as our technology mission and final projects that were included in the IT road map.
KEY FINDINGS AND PRIORITIES
Better inform the public about services and events
Improve the ease-of-use of technology
Offer a more personalized experience
Help residents overcome barriers to access
Play a leading role in community and in local business
Redefine responsibilities of librarians and other customer-facing staffers
Build the library's digital DNA, including talent development, recruitment, and organizational structure
Resulting Library IT Road Map (2018–2023)
The final IT road map categorizes and prioritizes projects and initiatives over the course of 5 years with a focus on outcomes that will support our new technology mission: to help library patrons realize the transformative value of information, imagination, and ideas by connecting them with information sources, with community services, and with each other.
The outcome categories are Community Engagement (CE), Customer Experience (CX), and Talent Modernization (TM). By focusing on outcomes, the IT road map is results-centric and strategic. This plan will be used to make project requests, with commensurate resources, and to track progress against the three outcome areas to ensure the efficacy and efficiency of our technology efforts.
Success Stories
The library has already seen several results from the IT road map. The following are some big and small wins that have occurred after the completion of the project:
Approved 5-year proactive plan that begins with improving the SAPL technology foundation and building from there
Full buy-in from key stakeholders, including the library's board of trustees
Several IT road map projects already funded
Customer-centric design model being used by other city departments
Lessons Learned and Tips
In reflecting on the IT road map project and process, the biggest lessons learned were connected to scheduling, final deliverables, and communication. The methodology we used was ideal, but it was our first time creating a technology strategic plan. The process was very complex. It allowed us to gather input from various groups, but each stage did require more time than we had originally anticipated. So the first tip would be to ensure your timeline has some flexibility to allow you to complete all the steps you want and need.
Another lesson learned was related to final deliverables. We knew we wanted a final report and presentation; we learned that we needed to be more specific in the beginning about the report's format and contents (i.e., we needed a cited written report as well as a visual PowerPoint). These seem like small details, but with a project of this size, it's important to be clear about this from the beginning. It took some internal time and resources to make changes to components of the deliverables, and we ended up compromising to keep the project on track. We would urge you to spend more time on the details and format of the final deliverables to ensure you end up with the products you need.
The last lesson learned was related to communication. It was vital for us to have constant communication. We were working and collaborating with the project team, consultants, partners, employees, community members, and the library's board of trustees. There were many moving pieces, and it was imperative that we kept everyone informed of the process. We ended up embedding additional opportunities for us to share information to various groups. Along with updates by the project team to staff, we presented to the board of trustees several times to ensure we gave updated information and also created an opportunity for us to receive feedback.
Next Steps
The IT road map is an amazing accomplishment for SAPL. It has helped define the technology projects and initiatives that we will implement for the next 5 years. It is helping us articulate the need and the vision to our library's board of trustees as well as to city leadership. We know that we are going to have to be flexible with the plan as unforeseen opportunities arise, but the IT road map will help remind us of our vision as well as continue to transform us into a more innovative and resilient library. We are excited about the possibility to continue to work with more partners and other city departments as San Antonio continues to grow and prosper.