FEATURE
Welcome Online Searcher: Evolution of an Industry Through the Online Lens

by Marydee Ojala
---
What hasn't changed is the desire of information professionals to share what they've learned about searching and to experiment with new search technologies.

The first issue of ONLINE was published in January 1977 by a then-new company, Online, Inc. The brainchild of Jeff Pemberton—who quit his job at The New York Times' Information Bank to enter into the risky business of starting a magazine—ONLINE was intended to explain the new online search technology to librarians, who were almost the only people who could afford subscriptions to search services such as Dialog, ORBIT, Lexis, or Information Bank. The notion of online research was novel and exciting, but a bit intimidating. Not only did librarians need to master the technology, but they also needed to convince management that it was worth the money to subscribe to online services and search bibliographic databases. In 1977, there were no personal computers, no mobile devices, and no internet. The "line" in online referred to the telephone line. Librarians accessed bibliographic databases mounted on mainframe computers using dial-up connections running at very slow speeds—300 baud usually and 1200 if you were lucky.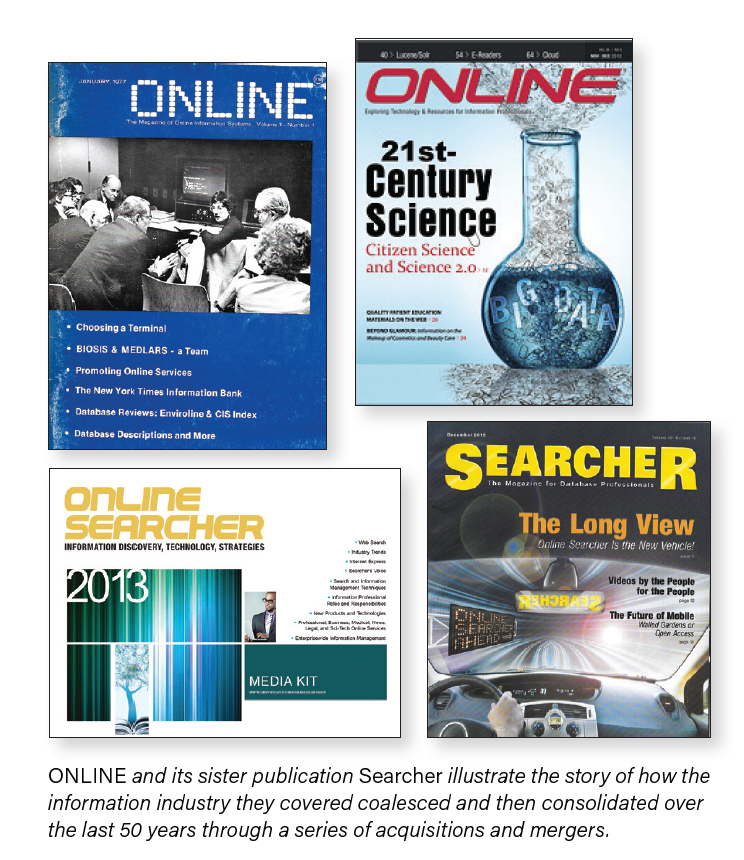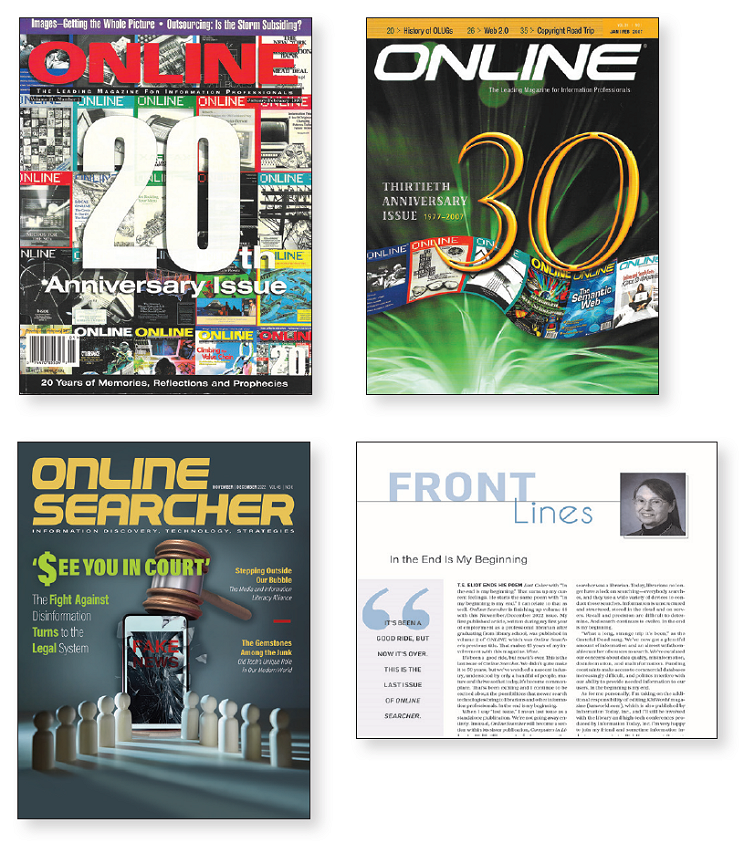 Database Producers, Aggregators, and Industry Publishers
Bibliographic databases did not suddenly arrive in 1977. Government databases (such as ERIC, MEDLARS, and AGRICOLA) existed but were not widely accessible online. Traditional secondary publishers saw online as a viable avenue to expand their reach. They already had articles in machine-readable form for internal publishing purposes, but needed to be persuaded to make them available online via these newfangled aggregators of information.

Meanwhile, a company known as Learned Information was chronicling the emergence of online vendors, database producers, and the information industry these enterprises comprised in its newspapers Information World Review and Information Today. When Learned Information was acquired by VNU in 1995, the U.S. company adopted the flagship name Information Today, Inc. (ITI). ITI acquired ONLINE in 2001. It had been publishing Searcher since 1993. The two magazines merged in 2013, relaunching as Online Searcher. This issue, Online Searcher has become part of ITI's Computers in Libraries.

As the online information industry matured, the magazines continued to help researchers make sense of changes in technology, structure, and strategy. Database companies were bought and sold; some (NewsNet comes to mind) simply ceased to exist. What early ONLINE authors thought of as "end-user searching" or "consumer search services" became the dominant mode, since web search engines made Google synonymous with search. In the academic context, librarians' roles shifted from intermediary searcher to teacher/trainer. OA changed search dynamics as well.

ONLINE, Searcher, and Online Searcher documented, explained, and ranted about the online information industry for almost 50 years. They carried interviews with CEOs such as Dialog's Roger Summit, Information Access' Morris Goldstein, Predicasts' Dick Harris, Marty Kahn (BRS in 1988 and ProQuest in 2007), Chemical Abstracts Service's Harry Boyle, and Google's Larry Page (in 2000, when Google had only 85 employees). The Online Command Chart detailed all of the intricacies of field searching on a number of different search systems. Columnists explored medical research (Bonnie Snow), business research (Marydee Ojala), patent searching (Nancy Lambert), document delivery (Antoinette Colbert), and the evolution of the internet (Greg Notess). Many other columnists and feature writers contributed their search expertise gleaned from practical experience, documenting increased availability and affordability of online information.

Today's online world looks very different from what was portrayed in the first few issues of ONLINE. What hasn't changed is the desire of information professionals to share what they've learned about searching and to experiment with new search technologies. So now, combined into the pages of Computers in Libraries, we continue to search on.
A Short History of Searcher
An important aspect of early online searching was the formation of online user groups (OUGs). ONLINE regularly ran a list of the names, locations, and contact information for these OUGs worldwide. Of particular interest was the Southern California Online User Group (SCOUG) and its newsletter, which contained cutting-edge articles by Barbara Quint (bq), a RAND Corp. librarian. One who noticed the edgy nature of bq's writing was Alan Meckler, owner of Meckler Publishing, the original publisher of Computers in Libraries. He invited bq to become the editor of a new publication, Database Searcher.
After only a few years, Meckler decided that the magazine wasn't as profitable as he wished, so he pulled the plug. But bq was not about to give up. She approached Information Today, Inc., and Searcher was born as a new title, debuting in 1993. With bq's inimitable style, Searcher broke stories about pricing issues, database search debacles, intricacies of search systems, and even, in 2001 (!), misinformation online. Searcher and ONLINE combined in 2013 to form Online Searcher. Always the advocate for information professionals, bq believed strongly in holding companies accountable to their library customers.
---

Marydee Ojala is a career information professional and editor of Online Searcher.
[photo from the April 1987 issue]

---