FEATURE
2014 Library of the Future Award
EMERGENCY!
How Queens Library Came to Patrons' Rescue After Hurricane Sandy

by Lisa Epps and Kelvin Watson
---
The opportunity to bring badly needed resources and skills to the community was irresistible

In fall of 2012, unexpected tragedy begat an unexpected gift for the information-hungry people of Queens, N.Y. In 2013, Queens Library received a donation from Google of 5,000 Nexus tablets to be circulated free to the community via library card. This donation was facilitated by Governor Andrew Cuomo and New York's Department of State. With the tablets came the challenge of how to manage, safeguard, and distribute valuable electronic devices without adding significantly to the workload of the library's staff members. It also presented the opportunity to shape the experience of new users with limited digital literacy.

Hurricane Sandy devastated the shorefront communities in Queens in late October 2012. The worst-hit area was the barrier beach known as the Rockaways (or Rockaway Beach). The narrow peninsula is only accessible by two causeways. It is barely half a football field wide from ocean to bay. Four feet of storm surge breached much of the peninsula. Homes and businesses were destroyed. Food and drinking water were not being delivered to the area. Retail stores, healthcare facilities, banks, and schools were all gone. Transportation, electricity, and basic services took weeks to be restored. Telecommunications were almost nonexistent. Families had to relocate. Those who were able to stay suffered physically and emotionally. Four public libraries—among many other buildings—were destroyed.

Aside from first responders, Queens Library was the first back on the scene when the sun came out. Within 2 days of the storm, the library in Far Rockaway, N.Y., opened without electricity to distribute emergency supplies. Within 3 days of the storm, the mobile library parked in another location 2 miles away, armed with outreach staff members and information sheets to help residents access emergency resources.

The Rockaways were largely economically disadvantaged before the storm. As is common in low-income communities, educational attainment, digital literacy, and technology access were low. Aggravating the situation after Hurricane Sandy, some of the telecom providers did not rebuild quickly, looking for more weather-resistant alternatives to damage-prone cell towers and aboveground cables.

The challenges — Tablets require Wi-Fi for full functionality. Wi-Fi was not easy to find or afford in the storm-damaged communities. Additionally, such a large number of tablets had the potential to be an enormous maintenance burden on the staff members who circulate them, as well as for the IT staff members who maintain them.

The opportunities — The opportunity to bring badly needed resources and skills to the community was irresistible to Queens Library. The library had long wished to circulate tech devices via library card, but could not have afforded to purchase so many or to support and maintain them if it had to be done one device at a time.

Queens Library innovated its Mobile Discovery and Delivery Platform. It is a customized interface for computer tablets that has a simplified customer interface to make the tablets useful with or without Wi-Fi access. It is easy for experienced users or those with little or no digital literacy to use. The platform provides curated information on select topics (education, job-search information, healthcare resources, and information for people who have newly immigrated to America). On the library-facing side, it is standardized so library staff members are always working with a similar device. It makes mobile desktop management secure and manageable for staff.

When news arrived about the donation of the tablets, library staff members began discussions of what, philosophically, was going to be lent. Most buyers of mobile technology are purchasing a device's potential. They have a gadget that is capable of doing thousands of things. They load it with whatever apps will serve what they expect to do and will reshape the experience as time goes on, based on changing needs and changing technology. However, Queens Library assumed that borrowers of the library's tablets were often experiencing the mobile technology for the first time. They did not have the tech knowledge to design what they wanted the tablet to do. Most often, they did not have Wi-Fi access, which had the potential to frustrate the user. And one of the goals of the donation was to get important information into peoples' hands quickly.

For those reasons, Queens Library chose a "guided experience," rather than a blank slate, in setting up the tablets. Queens Library created a customized interface for the tablets that is easy and intuitive to use, even for beginners. The design is simple, clean, and icon-driven. Customers are encouraged to explore and discover. The tablets have downloaded, curated content with resources in key areas (job readiness, health, immigrant resources, and library programs and services, which were the topics most in demand in the storm-ravaged Rockaways). The downloaded content makes the tablets useful with or without Wi-Fi. Richer content is available when the devices are within Wi-Fi range (such as at the library); they automatically update with fresh content whenever they are connected. The tablet content includes magazine-style feature material with micro-local interest.

Concurrently, the library customized a secure mobile management device solution that makes lending large quantities of mobile devices possible. It began with a commercially available software package. The library worked with the provider to customize and build more restrictions into its solution to make it easier to maintain and less likely that a user would accidentally do something to make the device unusable and/or require expensive support. In this way, the library controls the user experience and the cost of ownership.

Through Queens Library's customized mobile management solution, the tablet's OS and settings are locked down so users cannot alter them. It is easy to add or update new applications remotely, which can all be done at once through a managed console (imagine the alternative—having to update thousands of units, one piece at a time!). The units are easily reset when they are returned, and any personal data or personalization that a previous borrower included is removed. If units go missing, it is possible to remotely turn on a geolocator (to protect patron privacy, tablets are lent with the geolocators turned off). To avoid tampering, some functions are turned off (such as the ability to download apps), similar to what most libraries do with their OPAC computers. Controls keep customers from accidentally locking themselves out of the units or unintentionally creating a condition that would make the tablets unusable. The customized mobile management software also keeps all the tablets uniform, so staff members can be trained, allowing them to train customers.
The library designed a simple main menu to support novice technology users.
The interface supports mobile discovery and delivery of
e-resources and vital information.
The tablet interface makes it friendly to even the most tech-resistant customer. There is no intimidating external keyboard. There are no parts to break. All customers need to do is poke at it to discover useful information. Perceived barriers are eroded and customers gain a measure of digital literacy.
For experienced users, these are fully capable internet devices. Knowledgeable customers are able to benefit from the full experience, using them as e-readers, internet access points, and much more. The partner apps through which Queens Library delivers downloadable resources (Blio, Acoustik, and the OverDrive console, etc.) have been pre-installed, and all the authentication and "handshake" processes have been preconfigured. Even users who are familiar with downloadable media find the Mobile Discovery and Delivery Platform experience to be simpler, with fewer clicks and fewer frustrations.
The library upgraded its Wi-Fi at locations that lend tablets. For many users, the library is the only/best source of Wi-Fi. So a library needs to have sufficient bandwidth capable of supporting many devices working simultaneously to make the experience a useful one, with minimal delays or frustrations.
A lot of thought went into the customer service aspects of lending tablets. Queens Library had to find a balance between ensuring that the tablets would be returned, without erecting too many barriers; the point, after all, was to lend them out freely. The solution was to ask each user to sign a one-time borrower's consent form, acknowledging that the borrower would be responsible for returning the tablet in good condition and with all its parts. The stated replacement cost on the agreement is full retail value. The thinking was that by setting the charge high for lost items, it would discourage borrowers from "doing their shopping" at the library. A young adult may borrow a tablet as long as a parent/guardian co-signs the agreement.
In community libraries, tablets are stored in freestanding, locking laptop carts that have built-in charging stations and surge protectors. They have 10–24 laptop bays, depending on the size of the library. While there are carts available specifically to store tablets, Queens Library wanted a more versatile storage configuration. Multiple tablets will fit in one laptop storage space, but not the other way around.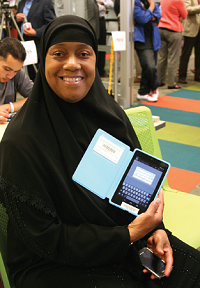 Khadijah Rasheed was able
to complete her courses.

Tablet lending has been an enormous surprise and a delight to library users. Khadijah Rasheed, from Far Rockaway, N.Y., borrowed one of Google's tablets and kept it through the fall 2013. At a press conference on June 7, she said, "I just graduated from the College of New Rochelle, School of Human Resources in Brooklyn. With the help of the Nexus tablet and Queens Library, I was able to do my research, my papers, read books on the train and I really enjoyed it. Thank you to Google and to the Queens Library. It helped me get the A's and the B's that I got."
Once a customer returns the device, a staff member resets it so it can be lent out again. It is usually done in less than 90 seconds, depending on the Wi-Fi speed. The staff member accesses the settings and clears the cache. If the tablet was used to download ebooks (Queens Library uses Axis 360), then the procedure disassociates the device from the customer's account. The tablets are then plugged in to the cart to recharge. Each library location has a "par" level of tablets on hand. When they are down to approximately half, the community library contacts the Central Library to send additional units. Having a readily available supply is essential to successful circulation. Unlike books or DVDs, the tablets take a few hours to recharge and cannot be sent back out immediately.
Training staff members is an essential component of a successful device-lending initiative. Library users are invited to digital literacy programs to learn. Queens Library staff members are trained when the devices first arrive. Technical staff members stay on-site for the first few days to give staff a comfort level of being able to handle the device transactions and to be able to answer operational questions confidently. Additionally, ongoing in-service programs are available for all staff members regarding how to get the most out of a tablet.
From the November 2013 launch through Sept. 10, 2014, Queens Library lent tablets to 2,700 users in eight locations. At the Central Library, it is lending approximately 40 tablets per week. Since each tablet may be borrowed for a month with three renewals, it adds up to a lot of tablet hours. With the permission of the donor, the tablets are being rolled out slowly throughout the borough so users outside of the Hurricane Sandy-affected areas can benefit.
To date, Queens Library's Mobile Discovery and Delivery Platform has been awarded the ALA/Information Today, Inc.'s Library of the Future Award; the New York Library Association Public Libraries Section's 2014 Best Practices Award, and a 2014 New York State Broadband Champion Award for Most Innovative Broadband Project.
---
Lisa Epps
has served in various positions with Queens Library for more than 35 years, with an extensive background in SAP ERP, finance, and IT implementations and development. This makes her uniquely qualified to serve as Queens Library's CIO.


Kelvin Watson
serves as the VP of digital services at Queens Library. Watson has held leadership roles in library management and corporate management, with experience in public services, collection development, information services, marketing, media services, library technical services, and technology support.
---