FEATURE
Help Patrons Find Their Way With Indoor Google Maps

by Chad Mairn
---
Indoor Google Maps allows users to quickly and efficiently navigate through indoor spaces, picking up where GPS leaves off.

After learning how Google shot the indoor Street View imagery of WIRED's office, making it one of the first newsrooms to be included in Google's Street View, this author became excited and wanted to do exactly that for his library and other college campus buildings. When contacting Google to get more information on this project, the company offered to work directly with St. Petersburg College–Seminole to get interior buildings mapped with indoor Google Maps. Trusted photographers, however, do go to various cities and offer businesses the opportunity to put indoor Street View images on Google Maps. Google is not directly involved with the collection process. Coincidentally, a few days after contacting Google, a message was posted to a library listserv that introduced the process of having Google map the interior of buildings and provided the necessary contacts. In November 2011, it was a natural transition to start offering directions inside buildings, so Google Maps released an indoor navigation tool as part of its Google Maps for Android smartphone and tablet applications. Google has partnered with many airports, casinos, convention centers, hotels, hospitals, landmarks, libraries, religious centers, restaurants, large retailers, museums, sports venues, transit stations, and universities throughout the world.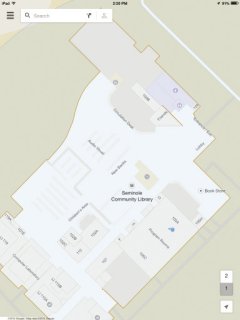 The level switcher is located in the lower right-hand corner (click for larger image)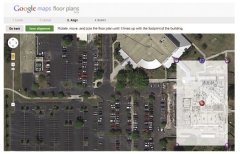 Floor plan PDF file aligned over satellite imagery of the library building (click for larger image)
A partner development coordinator from Google explained that indoor imagery uses Street View technology, whereas indoor maps does not include photo imagery but focuses instead on mapping and navigation. Indoor Google Maps allows users to quickly and efficiently navigate through indoor spaces, picking up where GPS leaves off. Indoor Google Maps is a continuation of Google Maps and goes within the building to provide users with the same blue-dot technology that is used in Google Maps. This blue-dot technology is what connects users who are driving, walking, biking, or using public transportation and guides them from Point A to Point B. Indoor Google Maps can guide a library visitor with point-by-point navigation on his smartphone or tablet who wants, for example, to get from the library's main entrance to a certain reference desk, computer lab, reading or study area, restroom, or even a labeled bookshelf. Indoor Google Maps is supported on Android and iOS devices, and the desktop and web app versions now also incorporate multiple floors via a level switcher, which allows users to switch floors and to see their respective floor plans.
After getting the necessary information, a meeting was scheduled with St. Petersburg College–Seminole's provost and security officials to go over map-labeling details and to discuss any security concerns. There were not too many security concerns primarily because physical maps are displayed all over the campus. Plus, having the ability to get step-by-step navigation to certain places on campus via a user's mobile device seemed to be beneficial since most everyone now has access to a mobile device. Furthermore, having the interior of campus buildings mapped will not stop a user from simply walking into a building and creating her own map. Google has also communicated with a number of public safety governing bodies, which alleviated security concerns. The project was approved, and the campus provost electronically signed an online agreement with Google. The agreement basically stated that St. Petersburg College was permitting Google to enter publically accessible areas to collect location information including Wi-Fi access point MAC addresses, Wi-Fi signal strength, and mobile handset-generated compass, gyroscope, and accelerometer measurements. Google coordinated with local leadership to ensure that it had permission to display the provided maps and also to add its blue-dot functionality via its Wi-Fi survey.
There were not too many security concerns primarily because physical maps are displayed all over the campus. Plus, having the ability to get step-by-step navigation to certain places on campus via a user's mobile device seemed to be beneficial.
The next step was to gather campus floor plans for all the buildings to be included in the mapping project. Maps.google.com/floorplans provides the interface to locate the buildings on the satellite map and subsequently uploads the floor plan files. Any computer-aided design (CAD) quality, PDF, JPG, PNG, BMP, and GIF file of a building's floor plan can be uploaded and then aligned over existing Google Map satellite imagery. The indoor map eventually includes boundaries of all rooms, walls, columns, doors, windows, room names and numbers, any auxiliary services (such as ATMs, vending machines, and restrooms and telephone services), clear markings of where people can and cannot walk, clear markings of the private and public areas of the map, and clear markings of open air areas. The indoor map does not contain conduits, piping information, electrical cabling, or any lines solely used for architectural purposes.
A unique hashtag was issued by Google so that the company would be able to identify St. Petersburg College–Seminole as a trusted source. Once the PDF files were uploaded and then lined up over the satellite map, it was as simple as hitting the "Submit for Processing" button to push those files to Google where the company would then perfect the alignment of the floor plans. It took a few weeks to get confirmation that this was completed. Once this phase was done, five people from Google operations visited the campus in order to collect walks, which are files created with a proprietary application to help improve location accuracy by walking through a building and collecting relevant location information along the way. A point of interest survey also added notes to the map. It took about 4 hours for the team to finish the work.
Once the indoor maps were perfected, Google worked with St. Petersburg College to customize the level of map detail (labeling the bookstore, circulation/reference desks, restrooms, and computer labs, etc.) while focusing exclusively on public areas. Icons for restrooms and color coding were also applied. Private areas, such as storage areas, were excluded from the scope of the indoor mapping project. Once the indoor maps were live within Google Maps, a few errors did occur, but it was fairly simple to submit changes. On an Android device, a user does a long press on the screen where the error is on the map to select that location and then selects "Report a Problem." On an iOS device, the user selects the bottom left tab on the map and selects "Settings," and then selects "Send Feedback." An email confirmation is sent when the report is received and finished by Google.
Once indoor Google Maps went live, it was time to promote the new service. The campus provost asked for one slide that outlined the entire process so he could present it to St. Petersburg College's board of trustees. They were impressed. Physical maps across campus now have an announcement that includes a QR code directing users to download the Google Map application. Contact information was provided to help users use the application as well as report errors. Before one of our blog posts showcasing the indoor Google Maps service was published, it was forwarded to Google's press team to confirm that the terminology was in alignment with Google's. At the time of this writing, indoor Google Map usage statistics are not publicly accessible, but as the research shows mobile device ownership will continue to rise and more people will use mobile services just like indoor Google Maps to find their way around. Partnering with Google was a great experience; it did most of the complicated behind-the-scenes work gratis in order to get St. Petersburg College–Seminole on the map.