FEATURE
Tears of the Kingdom and Public Libraries

by Justin Hoenke
---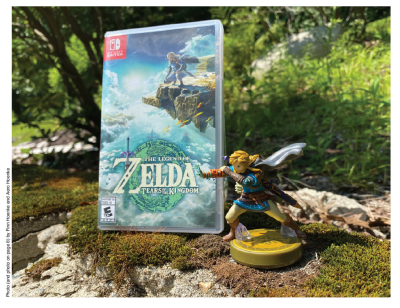 We are living in a golden age of video games. Take a moment and think about today's popular culture, and what you'll see are elements of video games everywhere. The characters, stories, and play experience dominate movies (massive box office success The Super Mario Bros. Movie), TV (the popular HBO series The Last of Us), and even sports (the rapid growth of esports). We are living in a video game world, and we are a video game girl.

Over the last 6 years, famous video game company Nintendo has developed and released two video game titles that have captured people's imaginations: Breath of the Wild and Tears of the Kingdom, which are both installments in The Legend of Zelda video game series. Breath of the Wild, from 2017, was the first open-world game in the series, which means the player can make any choice they'd like to progress the story (or not), set to an idyllic scene reminiscent of those described by Henry David Thoreau in Walden. In 2023, the official sequel to this game, Tears of the Kingdom, was released to widespread praise for not only continuing the story, but also greatly expanding the scope and mechanics of the gameplay. It is the first truly open-world game in the series. The progress-the-story-at-your-own-pace elements of Breath of the Wild remained at the core of Tears of the Kingdom's gameplay, but the series went in a whole new direction by giving the player the chance to dream big, modify and improve weapons, create mechs (aka robots) and vehicles, and explore the sky and underground of the land of Hyrule (the fictional world where The Legend of Zelda series takes place).

Modern public libraries are places of exploration and curiosity, so it makes sense for them to be a part of the video gaming zeitgeist and promote Tears of the Kingdom to their communities. After all, it wasn't many years ago that public libraries were doing just this with a now-legendary game called Minecraft. Tears of the Kingdom "is reminiscent of Minecraft, and as we all know, public libraries were (and still are) huge adopters of that platform as a learning and creativity tool. I like that librarians and educators are/were using Minecraft to excite kids about creativity and thinking about how to use the things around us as tools, and this game takes that even further," says Karen Miller, president of Bradbury Miller Associates, a library recruiting firm. Think of Tears of the Kingdom not as a video game for a moment, but instead as another opportunity to use a very specific moment in popular culture to reconnect with your community.
THE MECHANICS
Any sequel to a video game must have something new at its core to encourage gamers to play it, and Tears of the Kingdom doesn't disappoint with its new features. Starting with the new gameplay technique called Ultrahand, it's clear that the video game developers are handing over the keys to the gamers and encouraging them to experiment in groundbreaking ways. Not only does Ultrahand give the player the ability to grab hold of nearly any object in the game, but it also expands the usefulness of this gameplay mechanic by allowing the player to combine items to create vehicles, mechs, and other simple machines. These creations can range from a simple vehicle used to get from point A to point B to a giant mech that could assist the player in fighting battles and completing quests. The act of developing tools and resources in the game dovetails nicely with public libraries' makerspaces, creative spaces, and connection with those pursuing creative endeavors. Even better, this gameplay mechanic could also be a library program waiting to happen. Imagine an event using Ultrahand to teach community members about engineering and design. The game's current widespread popularity would no doubt draw a crowd, and the chance to connect with those in the community who value video games would go a long way for the library.
The other new addition to Tears of the Kingdom is the Fuse ability. Before, in The Legend of Zelda series, you got weapons and shields as you came upon them, and there was no way to modify them. With Tears of the Kingdom, players can attach the many objects they find in the world to their swords, shields, and arrows. Want to attach a piece of diamond to your sword to make it stronger? Go for it. Want to be silly and attach a mushroom to your shield? You can do that too. The options are nearly endless, and the results of these unique fuses may surprise you.
Gamers playing Tears of the Kingdom are experimenting with these new gameplay elements and are finding out new things about how they play video games. Miller says, "Fuse is still something I'm getting used to—just because of the sheer possibilities. You can fuse so many things together, and it took me a while to do something other than just keep fusing rocks. I tend to be a fairly linear thinker when playing a game, and I think that is the result of having played much more linear games over the years, plus having been a ravenous fiction reader my entire life. And the enjoyment of video games for me is the story, more than anything else."
The mechanics are just one element of Tears of the Kingdom that could be used as a way for public libraries to connect with their communities. Miller sees the game's many customization aspects as a platform for self-expression and creativity: "Imagine the game's costumes being used as a kid's version of cosplaying—dressing up as our favorite characters in game." And using elements of the story, such as helping the characters known as Koroks find their friends, can emphasize the importance of "working together as a team and using our individual strengths to do better as a team than we would on our own" to youths visiting our libraries. "I love how libraries make learning and solving problems fun, and this could be an excellent vehicle for fun and learning," says Miller. This game gives the librarian a great tool in their utility belt that they can use to engage their community. It's a beautiful thing.
THE EXPERIENCE
Tears of the Kingdom isn't the kind of game that you pick up and dabble in for a few hours. Instead, it presents the player with the opportunity to completely immerse themselves in a world where adventure, story, creativity, and, most importantly, fun rule the day. Miller says she has "already played more than 100 hours, according to my Switch. I have probably made it through most of the main storyline, but I do tend to move slower in video games than many other people. There is still plenty to do according to my 'task list.' " She notes that she spends a lot of time "wandering around" the game.

The experience of playing Tears of the Kingdom is different for every player. In my house, my wife Haley, our oldest son Finn (age 14), and I play the game in three very different ways. Finn goes hard into following the story first and foremost, and to date has been the only person in our house to complete the main story. Haley focuses on exploration and seeks to cover as much of the game's vast map as possible. I jump around from side quest to side quest, helping the various citizens of Hyrule with their small tasks. I guess that no matter where I go, there will be an element of the community-focused librarian in me.

Lexie Melo, a student at Wake Tech Community College, spent a lot of time at the beginning of the game getting sidetracked during their goal to unlock all of the towers because "there is just so much to do. I did a lot of exploring in order to find more shrines and also completed a lot of smaller side quests and side adventures during the time where I was searching for the towers to unlock the full map."

There's no right or wrong way to play Tears of the Kingdom, and that's one of the most beautiful things about the game. Instead of being yet another video game that tells you what to do, this one wants you to follow your heart, go on an adventure, and experience as much of the gameplay as you desire. Isn't that what public libraries have been doing for so many years now? Be it with the written word, the programs and events that libraries offer, or makerspaces, the public library has been encouraging the creativity and heart of their community members from the beginning. Tears of the Kingdom is another chance for librarians to do what they do best.