DATABASE REVIEW
Searchable Museum Illuminates the African American Experience
by Mick O'Leary
---
The Searchable Museum
SYNOPSIS
The Searchable Museum is the virtual wing of the National Museum of African American History and Culture (searchablemuseum.com). It uses a rich content set and several digital formats to tell a compelling and uplifting story of the African American experience.

If there is an unalloyed internet treasure, it's the virtual museum. Thousands of museums have virtual versions. They range from world-renowned institutions such as the Smithsonian National Museum of Natural History and the Uffizi Gallery to small museums of local interest. Their holdings can include something as simple as digital photos as well as elaborate interactive and close-up effects. The digitization of the world's museums has been significantly advanced by Google Arts & Culture, which has applied cutting-edge digital curation technologies to display holdings from thousands of museums in dazzling style. [For more on Google Arts & Culture, see the April 2019 Database Review. —Ed.]

Virtual museums are a revolutionary advance in access. Few of us can personally visit more than a handful of the world's great museums, but their virtual versions are available at a click. Furthermore, in-person museum visits can themselves be a mixed blessing. Many of the world's most popular museums are a frustration of timed entries, dense crowds, and swiftly moving lines that allow only a quick and distant glance at the objects themselves. Advanced digital curation technologies allow intimate engagement with a painting or artifact that is impossible in an on-site scrum of museum-goers.

The Searchable Museum of the National Museum of African American History and Culture (NMAAHC) is a recent and major addition to the world's roster of virtual museums. NMAAHC opened in 2016, and it was at once a handsome addition to the National Mall and a major resource for the African American experience. The Searchable Museum, launched in November 2021, gathers and superbly curates hundreds of items from throughout the entire NMAAHC collection.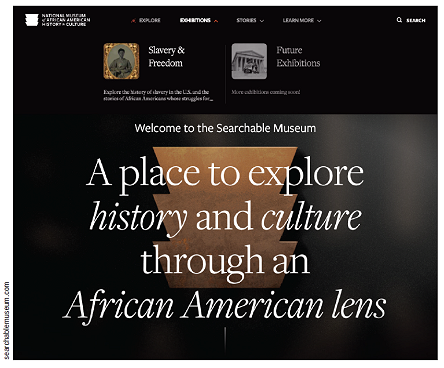 THE START
The Searchable Museum's flagship exhibit is Slavery and Freedom 1400–1877. It is based on a large permanent exhibit at NMAAHC and traces the African American experience from the beginning of European exploration of West Africa to the collapse of Reconstruction in 1877.
The exhibit balances the many threads of its complex subject. It gives full and detailed attention to the brutality and degradation of enslaved Africans, from the Middle Passage to generations of bondage in America. It deftly explains intertwining contexts: the early Portuguese voyages along the coasts of West Africa; the first contact between European and African peoples; the complex economic patterns of which the slave trade was a part; the social and economic systems of the American colonies; and the wrenching changes of the Civil War, Reconstruction, and the approaching Jim Crow era.
The exhibit skillfully combines narrative with a rich array of items: photos, paintings, documents, maps, videos, and digital representations. Short videos from museum curators help explain the transitions from one period to the next. The main presentation is supplemented by short biographical vignettes of Africans and African Americans who played pivotal roles in the period.
The exhibition is a superb example of historical exposition. The stark realities of the enslaved experience are presented with a somber dignity that avoids polemics. Complex economic and political contexts suddenly become clear. It's a tour de force of historical writing, equally accessible and engaging for middle schoolers and adults alike. NMAAHC has a strong educational mission, and Slavery and Freedom 1400–1877 admirably fulfills it.
OTHER RICHES
The Searchable Museum has several smaller exhibits that deploy an intriguing variety of formats and content:
The Constellation selects five seemingly ordinary objects and uses them as platforms to explore their deeper layers of importance and meaning. For example, Richard Allen's Money Box is a small, well-worn chest, but it exemplifies a foundational period in African American history. Allen was a prominent clergyman and community leader. In 1787, he co-founded the Free African Society, a benevolent organization that served the spiritual, financial, and practical needs of community members. In 1794, he founded the African Methodist Episcopal Church, the first independent Black denomination in the U.S.
Present to Past uses timelines to trace the course of major themes: Land and Housing, Health, Education, Military, and Law. In each, a timeline starts in the 18th century or earlier and continues to 2021. Each timeline highlights several key events with a short historical essay and illustrations.
Lesser-Known Stories features seven stories of fascinating but obscure individuals and events. For example, who knew that an African American expert distiller led in the development of a favorite American adult beverage? Nathan Nearest Green drew on West African charcoal distillation techniques to create Jack Daniel's Tennessee Whiskey.
How We Know What We Know delves into the painstaking, yearlong work of creating the Searchable Museum. It has short videos from the curators and describes how disciplines of history—oral history, archaeology, archives, genealogy, statistical data, material culture, and conservation—contributed to the museum's historical accuracy and breadth of topics.
DIGITAL RESOURCES
NMAAHC has numerous learning-oriented digital resources outside of the Searchable Museum portal. They use objects from the NMAAHC collections to investigate periods and themes in African American history. The Talking About Race web portal is an exploration of racism that is designed to encourage informed discussion. It has short explanations, videos, and discussion points on some of the most volatile aspects of racism, including white privilege, whiteness, institutional racism, and the anti-racist movement. As elsewhere in NMAAHC, the portal provides clear and cogent analysis while avoiding accusatory and inflammatory language. It includes an extensive webography of resources—essays, videos, learning materials, and scholarly research—on many aspects of racism.
THE MUSEUM'S NECESSARY MISSION
As previously mentioned, the Searchable Museum opened in fall 2021, reflecting and extending NMAAHC's purpose to bring accurate and inspiring information to everyone. That same fall—in an ironic and twisted coincidence—something else that mixes race and education erupted into public attention: the critical race theory (CRT) wars. While the Searchable Museum and the CRT wars deal with education and race, the two otherwise could not be more different.
For decades, CRT—a cross-disciplinary investigation of systemic racism in American society—was discussed only in rarified academic circles and was virtually unknown to the average person. In 2021, Republican politicians seized on it as a race-baiting campaign weapon, claiming, without foundation, that CRT was infiltrating the nation's schools and spreading anti-white propaganda. School boards across the country engaged in heated and seriously underinformed discussions about the supposed "threats" of CRT. Google Trends metrics for CRT (which had flatlined since 2004) skyrocketed.
The Searchable Museum, in stark and welcome contrast, presents an accurate and humane message that seeks to bridge the racial divide rather than widening it. The CRT hysteria is just a recent episode in the nation's long history of fear-driven racial division. The Searchable Museum, along with all of the other work of NMAAHC, is a responsible and resolute counterforce.