FEATURE
Hansen: Charting a Course for Elsevier Health Sciences

by Barbara Brynko
---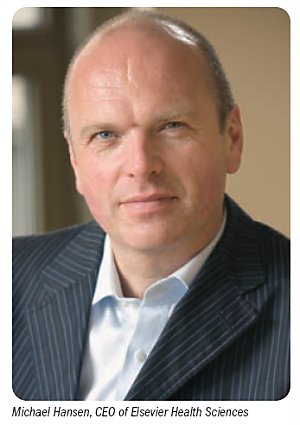 If you have a lot of history, people always equate you with it, says Michael Hansen, CEO of Elsevier Health Sciences. Indeed, Elsevier is the world's leading publisher of STM information and products, "but we're so much more than just a publisher," he says.

Elsevier's rich publishing heritage dates from its founding in 1880 as a small Dutch family-owned publishing house with a few titles for scholars. Since then, it has morphed into a global multimedia publisher with more than 20,000 products ranging from education to healthcare. But its roots go back even farther to the original House of Elzevir in 1580. Among its published landmark titles in 1632 were those of Galileo Galilei, who shook the very foundations of contemporary conventional thought. Hansen shares a bit of that unconventional edge too.

Today, the reality of Elsevier's business healthcare, says Hansen. "We're doing a very good job staying close to our users, staying close to our customers, and actually using the transition from print to electronic and the digital age bringing more value to them."

Hansen was appointed CEO of Elsevier Health Sciences in June 2008. "It was a tough time to come on board," he says in retrospect. "But they never tell you that at the time. No one thought the economy would be this bad for this long." Despite the economic ebbs and flows, the attention to the corporate mission stays true.
Staying the Course
"Our mission hasn't changed in the last 100 years, or 400 for that matter, but what has changed is our ability to become part of the daily workflow," says Hansen. Elsevier has long included students as an integral part of the daily workflow. In school, they opened a book from Elsevier and studied it from cover to cover. But once healthcare professionals went into practice, that daily engagement with Elsevier decreased; the books remained on the shelf but still in view. Hansen is determined to change that.
As a whole, Elsevier serves more than 30 million scientists, students, and health and information professionals worldwide. The healthcare division serves 20 million health professionals and researchers in research institutions with products, services, and publications ranging from The Lancet and MD Consult to Gray's Anatomy and Netter's Atlas of Human Anatomy. The healthcare division represents about 50% of Elsevier's revenues and about 20% for Reed Elsevier, and it's growing.
Hansen draws on years of solid experience to advance Elsevier's products and services for a changing audience. After earning a law degree from the University of Bonn in Germany and a master's degree in business administration from Columbia University in New York, he worked at The Boston Consulting Group in New York, eventually becoming a partner and chairman of the global media convergence practice and a senior member of the firm's healthcare practice. From there, he went to Bertelsmann as executive vice president of operational excellence, before becoming CEO of Harcourt Assessment, formerly owned by Reed Elsevier, from 2006 to 2008.
"As I said at SIIA [in a keynote titled What I Learned from Galileo Galilei, Jan. 26, 2010], we have sharpened the focus of our mission" trying to improve the decisions of the healthcare professional, "bringing insights to the world and have those insights as a basis for better decisions," says Hansen.
"Given our size and our breadth, our offering, we're helping every healthcare professional from the highly specialized physician to a very low-level health professional," he says. "We're helping from the moment they develop an interest in healthcare, from the time they go to school to the time they ultimately retire. We have a lifelong relationship with healthcare professionals."
Hansen focuses on the critical distinction between healthcare professionals (the people, the decision makers to whom Elsevier targets its information) and customers, which may be the hospital or the institute that buys a product or service. Yet these two groups are mutually dependent upon each other. "If we don't improve the process of decision making for the healthcare professionals, the customers won't buy the products and services either," he says.
Universal Challenges
Healthcare professionals around the world universally share the same problems, says Hansen. One is time and the other is information quality, both of which are actually driving the business model. "The pressure is on healthcare professionals to do more with less," he says, noting that face-to-face time between physicians and patients has been reduced dramatically to about 6 minutes.
"When physicians make a decision in the span of 6 minutes, what kind of information do they have at their fingertips? It's mostly what is already stored in the back of their brains," says Hansen. "Physicians are good at diagnosing common illnesses that they see frequently, but with an odd symptom or diagnosis, it's more of a challenge." Accelerating access to quality information translates to diagnosing more patients accurately within that limited face time between patient and healthcare professional.
To keep pace with the changing needs of Elsevier's customers and users, Hansen watches the innovation emerging on all fronts at the company. Hansen deals with a "rigorous process of prioritizing" the constant flow of ideas that are generated within the company and from customers as well. When Hansen talks to customers at user conferences, on advisory boards, and in the marketplace, he is attentive to any pain points he hears. "You have to listen to them about the problem and build the solution around it," he says. "They aren't going to be the ones who say, 'I have a problem, build something for me.'"
That's one of the reasons Elsevier is creating a state-of-the-art clinical resource that is now in alpha using Elsevier's Smart Content.
With taxonomies and ontologies in place, Smart Content is designed to make content (journals, videos, books, and references) more discoverable. It connects the words and meanings semantically so the user can get to the right answer quickly, says Hansen. If a user types in the search query "heart attack," the system serves as a guide: Do you mean diagnosis or treatment? Do you want the latest research or recommended pharmaceuticals for prevention? It will guide you to the right set of questions and to the compilation of all we know across these books, says Hansen.
Tools for the Trade
Developing products is a collaborative process between users and Elsevier, says Hansen, adding that "it's a combination of real-world observation and very significant statistical analysis." Product development focuses of three major factors in user behavior: accessibility, engagement, and results.

"We encourage people to use a prototype," he says. "We want them to really stress-test it and see whether it is really meeting their needs, and we observe them in the process." Usage and engagement statistics hinge on how much time the user spends on this product and how engaged they are. Finally, it depends on the product's accuracy and whether the process produced the right answer. "If they didn't find the right answer, where did they go from there?" says Hansen, which helps build a better product.

As one of the premier publishing houses for many years, Elsevier values the many prestigious authors whose significant contributions add value to the user experience. "We are always looking for ways to improve the author experience, particularly since we are aware of the increasing number of demands on their time," according to Hansen. Many of Elsevier's journals have a high rejection rate, which means that many high-quality manuscripts can be redirected to more relevant journals. "We apply a waterfall concept," says Hansen. "While it may not be the right fit for The Lancet, it actually may be good for another specialized society journal instead."

Hansen remains focused on the corporate mission, taking the lead and worrying less about the noise in the marketplace from other players. "It's more about our philosophy than anything else," he says. "If you focus on your users and customers, you really don't need to worry about the competition. You need to lead the way. We're in the fortunate position of prominent and long-standing position in the marketplace, we are the leader." But that doesn't translate to being complacent, he says. While there is intense competition in healthcare these days as companies try to add products and services to the workflow, the results are often a matter of collaboration or divide and conquer through mergers and acquisitions.

And Elsevier is intent on keeping up with change, especially with the patient as the consumer, which hasn't been a focal point historically for Elsevier, says Hansen. More and more medical decisions are being offloaded to consumers, who bear a lot of the cost, he says. So it's important to make content actionable for the consumer too. "We want to add value, whether it's for the consumer or the medical librarian," he says, "and that has been true for hundreds of years."

Elsevier's signature icon depicts a tree with the Latin phrase non solus ("not alone"), which reflects the corporate mindset of collaboration and innovation rooted in tradition. For Hansen, that icon is a snapshot of Elsevier's philosophy. "We want to have a long-term collaboration with our users, our customers," he says. "We want to become a daily habit. That's what I want Elsevier to be."