Business Statistics on the Web

New Book Shows Readers How to Use the Internet to Find Company and Industry Data at Little or No Cost
---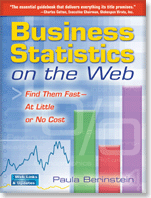 Click Here for more info

May 30, 2003, Medford, New Jersey—Information Today, Inc. (ITI) has announced the publication of Business Statistics on the Web: Find Them Fast—At Little or No Cost, by Paula Berinstein. The announcement was made at Book Expo America (BEA), held at the Los Angeles Convention Center from May 28-June 2, 2003.

In this practical guide, statistics guru Paula Berinstein shows readers how to use the Net to find statistics about companies, markets, and industries; how to organize and present statistics; and how to evaluate them for reliability. Organized by topic, both general and specific, and by country/region, Business Statistics on the Web features easy-to-use tips and techniques for finding and using free and low-cost statistics. In addition, dozens of extended and short case studies demonstrate the ins and outs of searching for specific numbers and maneuvering around obstacles to find the data you need.

"In business, time is money, and having access to efficient strategies for finding important statistics saves time, saves money, and may just make or save the company or institution," says Charles Cotton, former Executive Chairman of GlobespanVirata, in the book's foreword. Cotton adds, "Whether it is a business plan for startup, a marketing plan for a successful company, economic analysis by government and think tanks, or company financials for competitor analysis, sound numbers are critical to our success."

Business Statistics on the Web features the following chapters:
· Quick Start
· Statistics Basics
· Who Generates and Publishes Statistics?
· General Search Tips
· U.S. Industry Sources
· Non-U.S. Industry Sources
· Market Research Sources
· Economic and Financial Statistics
· Company Information
· Demographics and Population Statistics
· Special Tips and Tricks
· Your Competitive Advantage: Estimating Company Numbers You Can't Get
The book, which is international in scope, includes numerous sidebars and case studies, a glossary, and a comprehensive index. A Web page features regularly updated links to the online resources recommended by the author.
Paula Berinstein is the co-founder and executive vice president of product strategy for Paula Hollywood, Inc., a software company specializing in 3D character animation products. Her six previous books are Finding Statistics Online; Finding Images Online; The Statistical Handbook on Technology; Alternative Energy: Facts, Statistics and Issues; Communicating with Library Users; and Making Space Happen.
Business Statistics on the Web (240 pp/softbound/$29.95/ISBN: 0-910965-65-X) is a CyberAge Book from Information Today, Inc. It is available in better bookstores everywhere through Chicago-based trade distributor Independent Publishers Group (IPG) or by calling the publisher at (800) 300-9868 [outside the U.S. call (609) 654-6266]; faxing (609) 654-4309; e-mailing custserv@infotoday.com; or logging on to the ITI Web site at www.infotoday.com.
---