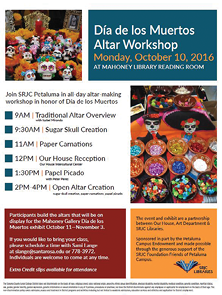 This flier promoted the workshop.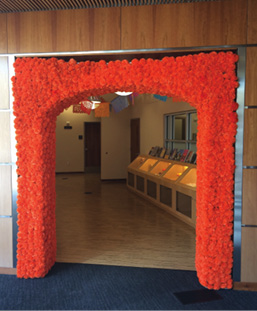 Library staff members created this archway using PVC pipe, wire, zip ties, and 1,800 paper flowers.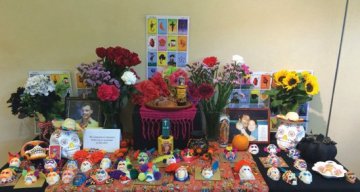 Connections Learning Community created this altar.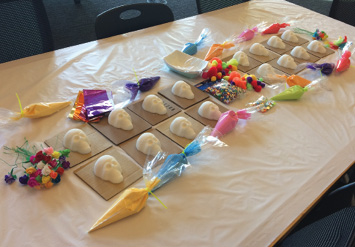 Table set for sugar-skull decorating

Santa Rosa Junior College (SRJC) in California has approximately 17,500 full-time-equivalent students across five teaching locations and two main campuses. We are a Hispanic-Serving Institution with a student population that's more than 25 percent Hispanic. Each autumn, at the smaller campus' Mahoney Library, where we have a gallery space, we host an exhibit related to Día de los Muertos, the Day of the Dead. This religious, multi-day holiday is recognized all over the world. It is held at the end of October/beginning of November and celebrates loved ones who have passed away. Participants support the spiritual journeys of the deceased by creating offerings in the form of altars on which they place special items.

In the past, we have highlighted Day of the Dead juried exhibits, as well as artwork relating to the holiday, and have created altars in both libraries. In 2016, we transformed the entire Mahoney Library gallery into an altar exhibition space, showcasing five different altars made by different campus groups. We also hosted an all-day workshop for students, staff, and faculty. The goal of the program was to educate students and the campus community on the Día de los Muertos traditions and to have them participate. To do so, we invited them to create sugar skulls and paper marigolds (representing the cempasúchil flower, the flower of the dead) and to bring objects to honor loved ones and add them to our altars.
Beginning Planning and Partnerships
This workshop-and-exhibit combination was successful because of the campus partnerships involved. The original idea to host a workshop came from an art faculty member, Claudia McCain, who explained key concepts, provided background knowledge of the traditions of the holiday, suggested guest speaker contacts, and played a significant role in brainstorming and supplying ideas for materials.
SRJC's libraries, art department, and Petaluma Intercultural Center partnered with us on this event. McCain and I applied for money through a campus speaker fund to hire an educator and professional altar creator, Isabel Miranda, from Los Angeles.
As the outreach and exhibits librarian and gallery coordinator, I worked with representatives from three SRJC learning communities: Puente Learning Community, the Connections Learning Community, and Gateway to College. Each agreed to build its own altar to enrich our event.
Additionally, the art department created an altar, and we organizers made an open campus altar so anyone could add their material, sugar skulls, and photos. Miranda also constructed one of the altars in the gallery, which became an example. It included seven levels, created by using two of each item on each side to add structure and create focal points in height.
Arches and Altars
Two of us constructed an arch as an entryway into the gallery space (an arch symbolizes the entry to the world of the dead). The lead circulation staffer, who also assists with gallery installations, helped me create it from PVC pipe, wire, and zip ties. We wanted to cover the arch with orange paper
flowers, and making those took a huge group effort. We had about 15 helpers total (mostly students, staffers, and faculty from the library) who crafted more than 1,800 flowers. We attached them to the arch with pipe cleaners. The completed arch was an incredible addition to the gallery space, and it set the tone for visitors.
There was even more prep work: We had to make the sugar skulls—about 150 of them—in advance so they would be dry for the day of the workshop (see the notes in the Options and Resources sidebar on page 8).
We planned to have two different skills demonstrated in the workshop: creating orange paper marigolds and decorating sugar skulls. When we put a call out to instructors on campus to ask if they'd like to bring in students, we'd originally envisioned classes coming during designated time slots for certain demonstrations. However, the response was very positive, and instructors wanted their students to experience everything, so we ended up creating 1-hour time slots so faculty members could bring entire classes. The room comfortably seats 48 participants, which allowed us to have individual drop-in students join in if they showed up during a "registered" class visit.
We gave each registered class three things: 1) an introduction to the altar and traditions, made by our guest speaker Isabel Miranda, 2) instructions on how to create paper marigolds, and 3) a demonstration on how to decorate the sugar skulls. Students had time to decorate a sugar skull and add it to an altar during each 1-hour period.
We had 123 students, staffers, and faculty members attend during the workshop. Five classes (including anthropology, counseling, art, and Spanish classes) booked spots for instruction. All of the students spent considerable time and energy creating the sugar skulls. At times, the entire room of 40-plus college students was totally silent; they were so focused on their decorating. We saw a trend throughout the day in which the sugar skulls became more and more elaborate because students were looking at others' skull ideas.
Lessons Learned for Next Year
While the paper marigolds were popular, and we used some of them to finish up the back of the archway as students completed them in the workshop, making them took time away from the sugar skulls and the Day of the Dead overview. So this autumn, we will focus on giving a brief altar overview and then allowing students time to create their sugar skulls. We'll only include the paper marigold instruction if professors ask for it, but there will be a drop-in marigold table set up throughout the day.
We will take reservations for 1-hour time slots between 9 a.m. and 4 p.m. We will still be able to support drop-in students, which worked extremely well last year, as they could mix right in with scheduled groups of students from other classes.
To be honest, this project was a bit overwhelming the first time around. I found myself making icing late into the night the weekend before the workshop and creating paper marigolds until my hands just refused to crinkle any more. However, the rewards for the work and collaboration heavily outweighed the learning curve and the stress of the last few days of prep. The look of wonder and amazement from students and faculty members was uplifting. We were repeatedly asked if we would do this again. We were so energized by the project, I held a small party for the students and librarians where we tasted pan de muertos (bread of the dead) and had traditional Mexican hot chocolate to celebrate.
Options and Resources for Creating Your Own Día de los Muertos Celebration
A lot of supplies were needed for both the workshop and the altars. Some of the altar materials take a bit of hunting down but can be re-used year after year. The workshop materials get entirely used each year.
The first year doing this program was the most expensive. I recommend deciding on budgeting, then breaking out the needs into three main categories: 1) permanent supplies for the altars, 2) yearly supplies for the altars, and 3) yearly supplies for the workshop. Below are the supplies we purchased within each of the three main categories and some information on each.
Permanent Supplies for Altars
Black cloth tablecloths (two for each table to drape down around all edges)
Real or flameless candles
Vases (two per altar)
Boxes covered in black paper or black tablecloths (to represent the seven levels a soul must travel through; there are often two, three, or seven levels in an altar)
Faux food and materials (papier-mache peppers, breads, desserts, flowers, etc.)
Papel picado banners (intricate cut-out paper banners to hang behind altars)
Paper marigolds (fresh may be used as well, and we did both)
Yearly Supplies for Altars
Pan de muertos (bread of the dead)
Food and drink (favorite foods such as chocolate and fruit, plus water and favorite drinks; they are said to nourish the souls for their journey)
Fresh marigolds
Yearly Supplies for Workshop
General Supplies:
Throwaway tablecloths (a solid color is preferred so students can easily see the supplies)
Paper cups, bowls, or plates to spread out the materials
Scissors (1 or more per table)
Stapler (1 or more per table)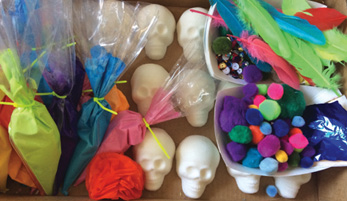 Sugar Skull Kit
Sugar Skull Supplies:
Sugar (a lot; see Background Info sidebar on page 9 for links to recipes)
Powdered sugar
Meringue powder (Not all brands will work. CK Products is a brand that will hold the skulls together. The meringue powder will be used not only in sugar skulls but also in the royal icing, which serves as decoration and glue.)
Paste colors, eight or more (Be sure to include a dark red, yellow, orange, and purple.)
Plastic sugar skull molds (Medium-sized works well because they can be made flat, and students will be able to complete the decorations within a 1-hour workshop.)
Plastic bags or pastry icing bags
Colored foil (specifically for the skulls, for the forehead and eye coverings)
5 x 5" cardboard squares (for drying and moving each sugar skull)
Small and medium paper flowers on floral wire
Feathers, gems, sequins, pompoms, paper butterflies, etc., for decoration (This is the one category I would buy more of for next year, since everything goes.)
Paper Marigold Supplies:
Orange tissue paper (We chose bright orange to represent the traditional flower.)
Round template (such as a coffee mug) for tracing
Pencils (1 or more for each table)
Pipe cleaners (to attach them to other things)
I tems Students Should Bring:
Personal objects in remembrance of loved ones (letters, etc.)
Framed photos of loved ones
Favorite foods and desserts
Flameless candles
Vases or bouquets of flowers
Bottled drinks or boxed hot chocolate
If you would like to hold such an event but don't have a gallery or large space, you could easily scale it down. The most important needs are simply a table sitting against a wall for an altar, boxes wrapped in black paper to create the different levels, flowers, favorite foods, and photos of deceased loved ones. Banners on the wall can create visual interest, or large pieces of art set on the table can help lead the viewers' eyes around the altar. The workshop could also be scaled down by inviting select classes without offering a full-campus, drop-in option.