2018 John Cotton Dana Award Winners
The eight winners of ALA's 2018 John Cotton Dana Library Public Relations Awards have been announced. The JCD Awards recognize the best in PR and marketing, and each winning library receives $10,000 from the H.W. Wilson Foundation at a gala sponsored by EBSCO Information Services during the ALA Annual Conference. (Watch for coverage of the event in the next issue of MLS.) After reading this brief listing, learn more at bit.ly/JCD-2018.
Here are the winners:
Milwaukee Public Library for its stereotype-breaking Library Loud Days
Rochester Public Library for its Summer Playlist reading program
San José Public Library for its 2-Step Fine Forgiveness Program
DC Public Library for its goDigital campaign highlighting an easy-to-use portal
California State University–San Marcos' University Library for its Brewchive special collection and awareness campaign
Arlington Heights Memorial Library for its One Book, One Village community-reading selection of The Circle and the #beinthecircle communications campaign
Kitsap Regional Library for its 5-year plan that resulted in winning a public vote for increased funding*
INFOhio Digital Library for its #INFOhioWorks initiative to educate legislators and increase funding
*[MLS profiled Kitsap's marketing manager in its March/April 2018 Interviews With Marketing Masters column; see http://www.infotoday.com/mls/mar18/Gibbons--Interviews-with-Marketing-Masters-Jeannie-Allen.shtml. —Ed.]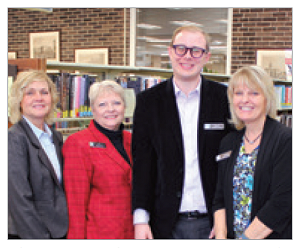 The outreach team, L–R:
Steck, Spraner, Kelsey, and Hintz
St. Charles PL's Outreach Team Takes ASCLA's Exceptional Service Award
St. Charles Public Library's Outreach Services Department has received the 2018 ASCLA Exceptional Service Award, administered by the Association of Specialized and Cooperative Library Agencies.
This Illinois team has used replicable components to reach nontraditional library users. Through "engagement, social interaction, good collaboration, community awareness, and community partnerships," ALA reports, the team has expanded its library's services to a hospital, a local homeless shelter, Meals on Wheels, and senior facilities; established eight new community book exchanges; and increased services to patrons with Alzheimer's disease and dementia.
The Outreach Services team—David Kelsey, Dana Hintz, Lynda Spraner, and Christine Steck—has gone from serving 79 patrons in April 2015 to serving more than 250 patrons per month, a 316% increase. They were honored at the ASCLA Achievement Awards Ceremony during the ALA Annual Conference in June.
2018's PR Xchange Award Winners
A total of 411 entries were submitted from more than 100 institutions for this year's PR Xchange Awards Competition. They came from public, academic, school, state, and special libraries, according to the PR Xchange Committee, part of the Marketing and Communications Community of Practice, a section of ALA's Library Leadership and Management Association.
This year's 25 electronic winners and 30 print winners were chosen by a jury of 25 volunteers (marcom professionals, graphic designers, outreach librarians, and a library marketing consultant) who assessed submissions based on the quality of their content, format, design, creativity, and originality.
Find the complete list of winning entries at tinyurl.com/2018-PRXchangeAwards. They were displayed at the PR Xchange event during the ALA Annual Conference, where winning librarians also received their certificates of recognition.
The Incredibles Will Power Library Card Sign-Up Month
The Incredibles, cartoon superheroes, will be honorary chairs of Library Card Sign-Up Month this September.
Library Card Sign-Up Month, held each fall as schools get back into session, aims to highlight the supportive role librarians play in transforming lives through education. Studies show that children who are read to at home and who use a library perform better in school and are more likely to continue to use libraries as a source of lifelong learning.
The Incredibles are featured in free Library Card Sign-Up Month print and digital public service announcements. ALA also provides free media tools and artwork for library cards. Posters, stickers, and bookmarks are sold at www.alastore.ala.org/content/incredibles-set. A new picture book, Incredibles 2: Sweet Dreams, Jack-Jack, was released in May, and the movie Incredibles 2 is in theaters this summer.