Small Business and the Public Library:

Strategies for a Successful Partnership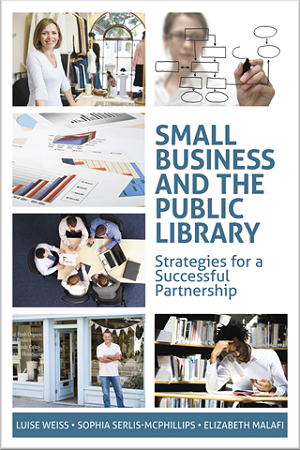 The concept of libraries partnering with businesses has been discussed a lot over the last 5 years or so. I think it's sort of common knowledge at this point that public librarians should contact local business owners to explain how they can help by sharing knowledge, training employees to use databases, and answering research questions. That brings in new users and grows new (sometimes powerful) advocates. And it's not rocket science; it's really all about building relationships and explaining what you do.

Reading Small Business and the Public Library: Strategies for a Successful Partnership reinforces that belief. It was written by three colleagues who helped create the Miller Business Resource Center in the Middle Country Public Library in Centereach, N.Y., which now serves 12,000 patrons a year. As they explain in the Preface, "[W]e seek to identify the key elements of a public library's business and career services and suggest ways of marketing them to the business community through innovative programming, active networking, and mutually beneficial partnerships." The author trio also spoke to others from around the U.S. to include some of their experiences and advice in the book.

We're all familiar with today's difficult economic situation: America's economy is slow, people are looking for jobs, and small business is one of the few sectors that is providing them. As the book says on page 3, "The time is right for the public library to recognize that the business community should be an integral part of the library's marketing focus." The public sometimes overlooks the fact that "Librarians are experts at searching for and locating information, and businesses can profit greatly from this expertise." (p. 5), but of course in this book, that's preaching to the choir.

To encourage businesspeople to use your resources and skills, you have to not only educate them about what you have, but also remove any barriers to usage. One story the authors share in their first chapter is how Miller Business Resource Center staffers built a relationship with the Hauppauge Industrial Association (HIA). The staff joined HIA committees, provided one-on-one research help, and made presentations to members. Interestingly, they also took a booth at the HIA Annual Trade Show. In 2000, the authors explained, many trade show attendees asked why a library had a display there. Personal contacts and database demos intrigued and enlightened visitors. Now, the authors claim, they're on a first-name basis with show visitors. That is admirable, and back in 2000 that was a more innovative move. It's rather common today for librarians to have stands at outside events where their potential users are.

After building a core business collection (the subject of the second chapter), the authors recommend finding out what sorts of programs this target audience wants and needs. One way to do that is by asking, of course; another is by seeing which topics people request info about most often (accounting, tax preparation, etc.). To ensure successful programs, it's also vital to know what time of day works for potential attendees and what locations are convenient for them (at their office, at the library, or at a community location). Chapter 3 also discusses where to find worthy (and affordable) speakers, how to build networking into your programs, and how to find people who could benefit from these events.

Chapter 4, called "Marketing: Getting the Word Out," was not quite as long or substantial as I would've liked it to be. It briefly touches on using fliers and posters, placing advertising, making promotional materials, having a website, making a calendar of events, and getting media coverage. One good tip was to get a separate phone number for a business center that resides within a public library so calls can always be answered directly by someone who's qualified to help. It also reminded readers that "librarians who wear 'business dress' are more easily accepted in the business community. ... [T]o be taken seriously, you have to 'dress the part,' carry and distribute business cards, and understand the business culture." (p. 69).

Chapter 6, "The Power of Partnerships," covers some very basic concepts (partnerships work best when the organizations have similar missions and understand each other) then mentions more-important possibilities, such as applying for grants together. It contains many examples of brochures, fliers, and forms. This is followed by a very short chapter on funding. It's mostly about grants, and it ends with one paragraph about philanthropy and one on fundraising. The final chapter, called "The Future," is really just a few summary paragraphs.

All in all, this slim, soft-back volume (just 125 pages before the Index) would be useful to someone who's new to the concepts and practices of library/business partnerships. The longest chapter by far is the one on collection development. Much of the rest is common sense and common knowledge to those who already understand the value of joining forces and already know the basics of building relationships over time. While a few of the specific examples are helpful, I think this short, simple, pricey book wouldn't give most readers a good return on their investments.