FEATURE
NAU's Cline Library:
How We Launched Our MakerBot Innovation Center in No Time

by Janet A. Crum, Jeff Hillock, Bryan Jeffrey Johnson, and Kathleen L. Schmand
---
Whether you are planning a makerspace or another large technology project, you may find a few lessons from our experience useful.

In fall 2016, Cline Library at Northern Arizona University (NAU) opened its MakerLab, a makerspace focused on 3D printing, scanning, and electronic prototyping. Designated as the first MakerBot Innovation Center in the western U.S., the MakerLab includes 20 3D printers, plus 3D scanners and electronic prototyping kits. It is the first large-scale, public 3D printing service in northern Arizona. We will share why and how we built the MakerLab. More importantly, we will show how we built partnerships to make the project successful and convey some lessons we learned that can help you launch a successful technology project in your library.

NAU serves more than 30,000 undergraduate and graduate students, with 22,000-plus on the Flagstaff campus and the rest served via a variety of distance and online programs. Recognized as a technology leader on campus, Cline Library is a hub of learning and collaboration. Our building and online services are heavily used by students and faculty. The MakerLab is the latest of many projects to transform library spaces; other recent projects include creating a graphic design and media production area and the learning studio, which is a highly configurable and technology-rich classroom.
Building a Foundation
Planning for the MakerLab started with a fall 2015 staff visioning exercise to identify potential projects for targeted fundraising. Staff members selected a makerspace as a high-priority project, so we drafted a funding impact statement for the potential new program. While we had not (yet) found a donor, developing this statement got us excited about the project, so we searched for other funding sources. Through our research, we determined that the Arizona State Library's priorities for Library Services and Technology Act (LSTA) funding were a good match for our project. For our grant application to be successful, we had to identify a clear purpose and goals for the program. In a nutshell, those goals were to do the following:
Create a culture of innovation in which students can discover, innovate, and develop skills needed by employers
Enable all NAU students, faculty members, and staffers—and the surrounding community—to access a variety of maker tools
Support student success and position NAU as a national leader in interdisciplinary innovation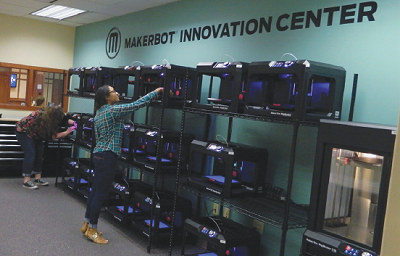 Two library student employees checking 3D printers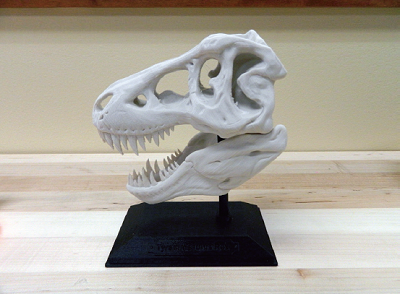 This Tyrannosaurus Rex skull is just one example of what can be 3D printed. The software to print it came from thingiverse.com (thingiverse.com/thing:308335).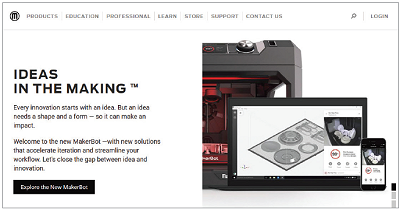 For more information on MakerBot and its Innovation Center package, visit makerbot.com.
We also had to show why a makerspace was needed and why the library was the right place for it. NAU has strong programs in engineering, health sciences, earth sciences, and the arts—all disciplines for which 3D printing and other maker technologies are useful and relevant. Access to 3D printing was available on campus, but it was restricted to students and faculty members in specific courses or programs. A library makerspace would be available to everyone, regardless of major, program, or course enrollment. It would be in a space that's already heavily used by students. We also had an existing technology support model—the tech desk—that could be expanded to support the new makerspace. Our previous experience creating a multimedia production area and high-tech classroom demonstrated our ability to create a new technology-rich program.
Cline Library serves northern Arizona residents as well as the university community. Flagstaff is a center for scientific and cultural research in the region. At the same time, it is surrounded by large rural areas that are typically underserved by technology resources such as the MakerLab. Unlike many university libraries, we decided to open our makerspace to the general public.
Nailing Down the Details
After submitting the grant application in March 2016, we identified a space and selected equipment. The LSTA grant funds could not be used for construction, and the existing library budget would allow for only minimal facilities upgrades. Fortunately, we had a former photocopy room, about the size of a small conference room, that had Ethernet and plenty of power already built in. Without funding for a remodel, we were limited in the equipment we could consider. Many types of makerspace equipment—such as laser cutters and industrial sewing machines—require ventilation and/or noise management, neither of which we could install with the space and funds available. Instead, we focused on 3D printing and electronic prototyping.
As we researched other makerspaces, and specifically 3D printers, we discovered that the printers often pose a significant challenge. Many 3D printers require a great deal of training, configuration, and maintenance to function well. A new staff position to manage the MakerLab was not an option, and existing staff members had no experience with 3D printing. We needed a product that we could get up and running in time for the fall semester and that would perform reliably without excessive staff intervention. We also wanted to deliver enough printers to meet current and anticipated demand, so that users could get objects printed quickly. With all of that in mind, we chose to purchase a MakerBot Innovation Center. This product is an all-in-one package—including printers, scanners, management software, installation, training, high-level support, extended warranties, and a year's worth of filament and other supplies. This nearly turnkey model seemed to be the best choice to ensure that we could open on time and deliver a quality service with the resources we had.
Putting It All Together—In a Hurry
We received partial funding of $69,415 from the LSTA in May. Working with MakerBot, we scaled back the size of the Innovation Center to fit our more limited budget and completed the purchase in June. At that point, we had a little more than 2 months to select additional equipment, receive everything, have MakerBot do on-site installation and training, develop workflows for user requests and payment, test everything, and develop policies and procedures. For the latter, we worked closely with NAU's general counsel and risk management staffers to ensure safety, limit liability, and prevent people from printing things that violated laws or university policies.
MakerBot installed the Innovation Center and trained us the week of Aug. 1. During the next 3 weeks, we hired and trained student workers and finalized our processes and policies. To further complicate matters, after receiving access to the Innovation Center Management Platform, MakerBot's print management software, we realized that it would not fully meet our needs. It offered no way to authenticate users who are unaffiliated with the university, and the job input form could not be modified to include the copyright and intellectual property language our general counsel required. A week before launch, library technology services staffers designed, built, and tested a new Print Queue Management web application that we continue to use today. We were still testing it the night before the launch.
Opening the Door
We introduced the MakerLab on the first day of classes, Aug. 29, 2016. We promoted the new program via social media and the library's website, but we did not do a big publicity push until our official grand opening celebration on Sept. 29. MakerBot and NAU collaborated on a press release that was sent to local and national media outlets. Invitations to the grand opening were sent out, and the event was highlighted on the campus television station and NAU social media. Usage took off after that and is steadily increasing. From Aug. 29 through Nov 30, we processed 1,128 3D print requests and offered 14 workshops and lectures.
In conjunction with the launch, we planned a variety of outreach events—in addition to the grand opening—to make sure that faculty members, students, and the surrounding community knew what the MakerLab could offer them. Library staffers attended and participated in Arizona SciTech's conference—a statewide gathering of entrepreneurs, technologists, and K–12 teachers and students—and NAU's Science and Engineering Day, which is part of the Flagstaff Festival of Science. Future plans include participating in the Southwest Maker Fest and other relevant science and technology events across the state of Arizona.
Key Takeaways
Whether you are planning a makerspace or another large technology project, you may find a few lessons from our experience useful. They are as follows:
Confirm the capabilities of software before deploying it. The shortcomings of the Innovation Center Management Platform web application forced us to divert valuable testing and training time just before launch to building and testing a whole new management platform. We have been debugging that solution ever since.
Test, test, and test your workflows until they become second nature to the people who will be using them on a day-to-day basis. We are still training our frontline staffers on a complicated request/processing/payment workflow that touches at least four applications and requires multiple steps and manual processes. If we had student workers in place during the install, they would have been more familiar with these processes, resulting in a smoother launch.
Allow adequate lead time—if you can. Overestimate how much time the project and each stage will consume. With more time, we would have recognized and corrected problems and ensured that staffers and students were fully trained. Unfortunately, our timelines were largely driven by deadlines over which we had little control, primarily the LSTA funding cycle and the fall semester's start date.
Despite our many challenges, we made some good decisions that contributed significantly to the success of the program. These decisions fall into two general categories: research and partnerships. We received great input and advice by reaching out to other makerspaces across the U.S., including other MakerBot Innovation Centers. One of our most valuable activities was a field trip to the University of Arizona Libraries, which had opened a 3D printing service and makerspace the previous year. The library shared its detailed research, which saved us a great deal of time.
Partnerships were key to our success. We worked with faculty members from several departments and areas—notably sculpture, mechanical engineering, and University College—to identify important components of a maker program and learn more about what students were likely to need. These relationships have led to additional collaborations and stronger relationships with those departments. We are even partnering with admissions; one of its staffers will attend maker festivals with us to talk with prospective students.
We built our implementation team using a collaborative model, including staff members from every library department rather than just technology staffers. Doing so built support for the program internally, provided perspectives and insights that we likely would have missed with a more technology-focused team, and ensured that we had staffers with a variety of skills and roles to support the program. In particular, including subject librarians has helped with faculty outreach. These librarians are introducing the MakerLab to the NAU community in meetings and through instruction. We also reached faculty members by partnering with faculty professional development to create a workshop on incorporating making into coursework.
To fulfill our mission to serve the surrounding community, we collaborated with the Coconino County Small Business Development Center and NACET, which are publicly funded organizations whose mission is to support small businesses and local startups. They are promoting the MakerLab in the community and have offered to teach seminars on topics related to it. Local K–12 schools are interested in bringing their classes to see the MakerLab; the first K–12 group we hosted was a high school robotics team. As of this writing, we are working with the Arizona State Library and Flagstaff Public Library on ways the MakerLab could support their annual summer reading programs. The MakerLab has facilitated opportunities to build new relationships and strengthen existing ones, allowing us to increase the positive impact of the library within and beyond the campus.
Looking Ahead
Because of limited funding, we had many ideas that could not be implemented immediately. We plan to add ventilation systems and offer different types of printers and filament, plus additional making equipment (e.g., CNC routers, sewing machines, and laser cutters). We hope to create student internships, partner with faculty members on grants and fundraising opportunities, and look for new ways that the MakerLab can enhance research and creative pursuits across disciplines. We will continue to assess user and community needs to ensure that our services support the campus and community.
Libraries have a long history of democratizing innovation by helping creative, innovative people access the resources they need. The fundamental premise of the MakerLab is that anyone can create, anyone can invent, and anyone can solve difficult problems in new ways—if they have access to the knowledge and tools necessary to bring their ideas to fruition. We hope our experiences help you provide these opportunities to your library's users.