FEATURE
Staying Connected After a Layoff

by Dee Richardson
Principal, D-R Info LLC

---
This is not your grandfather's recession. Today, laid-off workers have myriad resources available to help them stay in touch with former colleagues. Online communities are popping up all over the internet. Networking and alumni organizations are industry-specific, company-specific, regional, and/or international. News about skilled and talented alumni/ae looking for work is widely available to potential employers.

"Rolodex n. (obs.) a rotating file device used to store business contact information"

– Wikipedia
In this downturn, whether having lost their jobs because their company downsized, their government positions were RIF'd, or their organizations were overextended and had to make cutbacks, laid-off workers are using new and innovative tools creatively and successfully to stay connected with their former colleagues and to energize their job searches.
In his article in CIO Magazine 1, David Ramel points out that electronic social networking tools allow one to get more targeted more quickly. He also points out:
• The closer you are to the IT industry, the more likely you can take advantage of the newer electronic social networking tools, and
• Younger laid-off workers are much more likely to use the newer electronic social networking tools.
Writers for The New York Times and The Wall Street Journal, however, warn the newly jobless to be careful with their online presence and their in-person social attributes. Jenna Wortham 2 (NYT) wants her readers to tidy up their Facebook profiles because potential employers are researching applicants' content for provocative photos, references to drinking and drugs, poor communication skills, and other "alarming" behavior. Christina Binkley 3 (WSJ) learned through interviews with high-level human resources executives that in the aftermath of a layoff, style is critical. She cautions job candidates to: give themselves time to cool off, prepare to present themselves as physically and mentally upbeat, rein in resentment, be careful what they post to the internet, and update their wardrobes.
Shining Examples
Rachel Resnick – Librarian
I met Rachel Resnick at a local SLA meeting. She had written "Hire Me" on her name badge, and guess what? A couple of attendees provided leads for her. Rachel had been working for a gerontology research institute in the Philadelphia area when her job was cut because the endowment and other investments supporting the institute suffered deep losses.
Rachel is a born networker. She networks the old-fashioned way by keeping her membership in such organizations as MLA and SLA. She stays active on their discussion lists and attends their local meetings, but she has also tapped into newer innovative electronic social networking tools such as LinkedIn. She checks into internet job sites, including monster.com and idealist.org, regularly. She attends free or inexpensive networking events and career fairs in her community that are sponsored by organizations such as local banks and chambers of commerce.
Scott Timberg – Journalist
As a staff writer at the Los Angeles Times, Scott mostly wrote reviews of music, food, books, and other cultural activities. He was part of the third layoff at the company in 2008, when about one-third of the staff was let go. The reasons have been documented — missteps by The Tribune Company and the transition of consumers to the internet.
Since email had been his main form of communication and since his email address was at latimes.com, Scott immediately opened a personal email account and continues to communicate primarily through that medium. He commented on the way we have become dependent on the perks at work like email and phone. "You get dependent on the stuff your job provides you. It's who you are!"
In re-establishing himself, Scott has stayed in direct contact with his journalist friends. He is also finding Facebook useful for professional reasons — that's where the other writers, editors, and publishers are. He posts a note if a new article of his is published. It's not the same as being in a busy newsroom, but close enough. He has also been invited to join a group of ex-LA Times people in an informal email discussion group. He will probably join Twitter.
Scott considers himself a "late adopter" but realized he needed to have a centralized place where his work would appear, so he started a blog. All these efforts to keep himself in the forefront have helped him get freelance assignments. He feels he was forced into being an entrepreneur. By actively pursuing all the options at a variety of electronic sites, Scott feels that he's as connected to former colleagues and potential new assignments as necessary.
Craig Logan – Sales Manager
Craig Logan was the national sales manager for a company based in Seattle that imported wood products for the home building industry. The drop in new home sales caused the company to fold in August 2008. From its high in June 2006, Craig had seen the dominos beginning to fall at companies based in the Northwest. Boeing, Microsoft, the Port of Seattle, mortgage brokers, bankers, all began having cutbacks and layoffs.
Currently unemployed, Craig spends a few hours a day staying in touch by phone and email with former suppliers and colleagues; he makes one-on-one contact with potential employers. He feels that Facebook and LinkedIn are too impersonal and that there are too many other similar resources. He is riding things out knowing that the industry is focusing now on stabilization. They must reduce inventory and people costs. He is optimistic that his efforts will succeed when the economy of the region begins to build again.
Chris Bigelow – Senior Industrial/Manufacturing Engineer
Chris worked for a midsize manufacturing company that supports the auto, RV, marine, computers, telecommunications, and machine tools industries, among others. Because of the severe recession affecting those industries, Chris's job was cut in February, ending his 14-year career with the company. He felt that the package offered him by his company was fair, and he still keeps in touch with former colleagues. His new job is finding a job, and he has approached it in a methodical and thorough manner.
He meets exceptional people at networking events sponsored by The August Group, a nonprofit organization "committed to retain local talent in the Greater Rochester area." He also belongs to Digital Rochester, made up mostly of IT folks focused on networking, and PeernetRoch, a virtual organization that meets at Yahoo! groups. Peernet has salary, experience, and education criteria requirements in order to join.
Chris has posted his resume on http://www.visualcv.com. Though he feels that visualcv, Facebook, and Twitter may not be a natural "fit" for him, he's trying to raise his visibility. He sees value in LinkedIn and has had interviews set up by recruiters who found him there.
Paulette M. Terry – Recruiter
Paulette specializes in the sourcing and screening of consultants, managers, directors, and other professional candidates. In mid-April she was laid off from her job at a global consultancy in the IT sector. Her job in the San Francisco area was cut because "there was no business case" to keep her. Having hired nearly half of the staff at her facility, Paulette commented, "It takes longer to get back in the game if you've had to leave a company you are particularly fond of." The separation package her employer provided includes outplacement services, which she considers a great benefit.
She uses LinkedIn (352 connections) for professional connectedness and Facebook for connecting with friends. She feels that Facebook provides updates on former colleagues much more frequently than LinkedIn.
As a recruiter, Paulette has a keen perspective on the job market. "There are jobs," she says, "but they are not being broadcast. Everything is word-of-mouth. Employers don't want to have to sift through hundreds of resumes to find the right candidate." Personal recommendations carry more value, and that is why it is so important to stay connected.
Hannah West – Corporate Librarian/CI Professional
Hannah is a corporate librarian whose work for an automotive supplier was terminated in mid-January. As the sole librarian and CI professional, Hannah provided market research for her company for 25 years. She left the firm on excellent terms and plans to preserve those relationships for future development.
In an interesting angle, Hannah vowed to be able to say, 1 year later, "It was the best thing that ever happened to me!" She decided to start her own research business, bought a new computer, joined the Association of Independent Information Professionals (AIIP), attended the AIIP conference, built up her LinkedIn connections, and picked up a couple of subcontract projects.
As soon as that decision was made, though, she saw a posting on her local SLA jobline, which she's applied for and is likely to get. Always a networker, Hannah suspects that several colleagues in her professional association have gone to bat for her and recommended her for this new position.
Hannah says she's "feeling pretty good right now, whatever the outcome is!"
One common theme with these interviewees is the importance of getting your name "out there." As Chris said, "Publicity begets publicity." He was recently interviewed by a reporter for a local newspaper who found him on the Yahoo! Peernet.
Alumni and Regional Group Examples
LinkedIn [http://www.linkedin.com] has many alumni groups. At the top of the home page, a drop-down menu defaults to "SEARCH PEOPLE," but it can be reset to "SEARCH GROUPS." Enter the keyword "alumni" and get dozens of pages of hits (including, of course, school alumni), or add the company name to get a targeted list. Click on the group name and it will bring up members from that alumni group in your own network. Only one hit appeared when the keyword "disgruntled" was added. Many hits (with company names) appeared with "laid off." Simply entering "ex" delivered more than 5,000 hits. The ex-Oracle club has nearly 12,000 members. Most of the "alumni" and "ex" listings were for current and former employees.
Tribune Company "ex-pats" site: http://www.tribunealumni.com.
Scott Paper "died" in the 1990s, but "ex-scotties" continue to keep in touch and network. They meet at least annually to learn the state of Kimberly Clark, Scott's new owner; they meet periodically for business card exchanges; they golf together; and they hire each other. ScottNet [http://www.embossingtechnologies.com/ScottNet/index.htm] is a loose collection of groups, networks, and address lists created by various people to help former employees of Scott Paper Company keep in touch with each other.
SPE, the Society of Petroleum Engineers has a webpage [http://www.spe.org/spe-app/spe/groups/alumni/index.htm] inviting members to stay in touch with former colleagues at companies that have merged or otherwise disappeared by joining Alumni in Touch, a networking service organized by former ARCO employees.
Maureen Waddington is the administrator of Greater Philadelphia Senior Executives Group (GPSEG). The group has seen a definite upsurge in membership applications in the past several months. In order to accommodate the newer group of those unemployed, GPSEG has added a second Power Breakfast each month. Most of the breakfast attendees are folks in transition, but the group is salted with five or six "fully landed" members. Each attendee is expected to bring a lead to share. Other events have a more even blend of looking and landed members. Maureen regularly hears exclamations of discovery as members run into colleagues from their last job or from three or more jobs ago.
Activity has picked up at Rochester Professional Consultants Network (RPCN) [http://www.rochesterconsultants.org] of late, according to Carol McManus, RPCN's president, with more visitors attending their meetings and forum presentations. Most attendees are interested in starting their own consultancies. Many have left companies they've been with for a long time and find they have a bundle of (separation) money. They are looking for the best way to invest the funds. They want to know what the latest technologies are and how to start a business.
McManus, a consultant herself, feels that it is important to encourage laid off workers to keep in contact with former colleagues. She advises everyone to stay connected by being proactive! LinkedIn, she says, is clearly the professional social medium.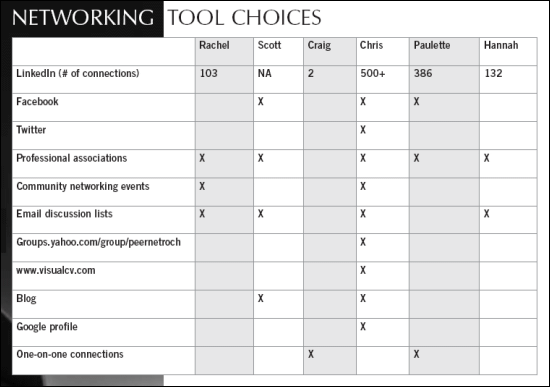 Lessons Learned
Stephen Abram in SLA's Information Outlook and Sumitra Dutta and Matthew Fraser in the McKinsey Quarterly write about the increasing use of online social networks by those who might get laid off.
SLA's March 2009 Information Outlook 4 lists 30 things to consider before you are laid off, including the following:
• Update and back up your resume, your list of achievements, your browser bookmarks/favorites.
• Polish up your social networking profiles.
• Go to professional and industry events.
• Enhance your skills and competencies.
Duttra and Fraser conclude their March 2009 5 article this way:
It's a safe bet that if the economic downturn grinds on, we will witness further conflict between the nonrational instinct to connect socially and the rational calculation to build social capital for professional reasons … We may find ourselves asking more frequently that age-old question, "What are friends for?"