FEATURE
Collins: EBSCO's Mission of Growth

by Barbara Brynko
---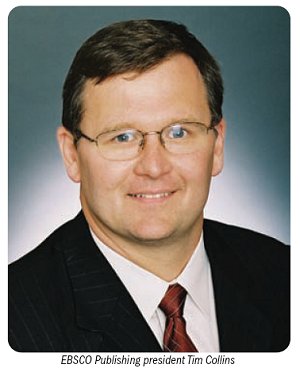 In 1944, Elton B. Stephens started a company at the height of World War II. In this entrepreneurial venture, he teamed up with his wife, Alys Robinson Stephens, to sell magazine subscriptions, personalized binders, and magazine racks to the U.S. Armed Forces. The firm, then known as the Military Service Company, continued to grow and acquire other companies one by one. By 1958, Stephens renamed the company the Elton B. Stephens Company, better known as EBSCO Industries.

Today, EBSCO Industries, with a worldwide work force of 4,800 employees, has more than 40 businesses, including real estate development, fishing lures (the world's largest producer), and even steel joist and metal roof deck manufacturing. But it's the publishing side that the information technology industry knows the best.

Tim Collins, current president of EBSCO Publishing, has been with the company nearly 25 years, working his way up the ranks as division general manager, vice president, and now president. In fact, Collins initially garnered attention by displaying the same entrepreneurial spirit that EBSCO founder Stephens leveraged decades earlier. In 1984, Collins, along with his stepfather Gerald Seaman, created a print publication called Popular Magazine Review, featuring article abstracts from more than 300 magazines. It was an innovative business concept that worked well with EBSCO's corporate strategy. By 1987, EBSCO acquired Collins' company, bringing Collins—and his business savvy—on board.
New Level of Search
"I would say that our mission has broadened in recent years," says Collins. "We still have the mission of being an online research service serving institutions, but we've expanded it to encompass additional types and sources of content." With EBSCO Discovery Service (EDS) and EBSCOhost integrated search, users have access to a new level of search: Users can search library catalogs for content from multiple platforms instead of just searching databases through EBSCOhost, with its suite of more than 300 full-text and secondary research databases for the corporate, government, academic, medical, and library markets. Collins admits that EBSCO is still primarily a research service, but its offerings now include different types of content in areas where EBSCO had never searched before. And then, there are ebooks. With the acquisition of NetLibrary in 2010, EBSCOhost is adding a full range of ebooks and audiobooks to its offerings.
One of the other products that sets EBSCO Publishing apart is its point of care, or evidence-based, content, such as DynaMed, which is used by doctors, nurses, and other medical practitioners. "It's still online content," says Collins, "but a little more actionable point of care."
Extending the Product Line
Collins calls EBSCO's business strategy "consistent and methodical in expanding its footprint," as it has been for a long time. "We are very fundamental in our approach," he says. "We look to improve our products and then we methodically try to grow by adding new product lines that are extensions of our EBSCOhost platform." The company's M&As have extended its core offerings, along with "a robust methodology internally to create new products," he says. It's a commitment to sustaining long-term growth that keeps EBSCO's eye on the horizon, blending the acquisitions of new products with its own, based on customer- and employee-generated ideas.
"I learned a long time ago that it's really more important how you're perceived and viewed by your customers than how you view yourself," says Collins. "Customers sometimes tell us that they see us as a candidate to provide a new type of service where we may not see ourselves that way." The company keeps the lines of communication open with its customers through a sizable customer satisfaction team that includes field trainers who talk to customers on a daily basis. In addition, a large sales team keeps tabs on customer needs and insights. The 16 advisory boards—some defined by sector, others by market line—also provide feedback on these products and how they fare in the marketplace. Surveys and emails to customers are additional avenues into understanding market needs, along with individual input. Collins says that libraries have also agreed to share ideas about the company's emerging ebook product lines. "It's great because you can get a lot of feedback quickly and inexpensively," he says, "and we can listen and get back to our customers depending on the type of feedback we're getting."
With the launch of EDS in 2010, EBSCO's role as the world's premier database aggregator has shifted into new territory. What's more, EDS has become a way to get users back into libraries in the Google age. For Collins, EDS is a critical component of EBSCO's services. "Its fundamental goal is to make users aware of the quality content that their libraries can make available to them," he says, "and we see this as a very important role for our customers, and therefore, [it] becomes a very important goal for us." He says the company is devoting significant resources to expanding the amount of content by EDS as well as adding functionality for the user. (See the related article on EDS on page 33.)
Keeping Pace With a Changing Market
The acquisition of NetLibrary helped EBSCO Publishing lead the transition from print books to ebooks, according to Collins, noting the company's most recent activity in the digital arena. "We've already released a full version of EBSCOhost on mobile," he says, along with a mobile version of DynaMed. Plus, EBSCOhost is continuing to offer enhancements for ebooks to fit the multitude of available e-readers.

"A big part of what we're doing right now is our work behind the scenes that will culminate in releasing ebooks and audiobooks for delivery via EBSCOhost," he says, adding that the goal is to make content readable for all the prominent devices. The opportunities in the ebook product line are many, including new products in particular subject areas and in particular markets. "We have a very robust plan to expand our ebook offerings over time," he says.

As libraries weathered the economic downturn during the past few years, EBSCO Publishing looked for creative ways to provide content and add value. "We've been working with librarians and information professionals in making content available to users within their current budgets," says Collins. With the extensive range of products and services available via EBSCO, Collins says bundling products succeeded in offering more content for less money. While significant attention was focused on helping libraries cope with budget cuts, EBSCO also looked at the bigger picture. It made a conscious decision to invest in quality as a means to add value. "We feel strongly that quality of product will pay off in a long run," he says. "So we expanded our service offerings and our product lines during the past couple of years when everyone else was cutting back."

With EBSCO's disparate suite of products, competition in the marketplace extends across any number of sectors. "There's really not one that offers the full product line that we offer," says Collins, "so we see ourselves as having competitors in many different areas." Since EBSCO is still privately held, "we're interested in long-term growth," he says … however long that takes. "You just don't see press releases from us on private equity partnerships or quarterly results or share price. The press releases from us are on new products."

But this broad range of offerings is, at times, a blessing and a curse. "It's hard to know how everyone perceives you, but sometimes I wonder if customers know that in addition to our position as a full-text aggregator, we also own a number of leading databases," says Collins, from nursing and historical abstracts to American history and sports. "We started as a full-text aggregator, and we still have a very big business presence there, but sometimes I wonder if we get pigeon-holed in that area when actually we have much more than that available for customers."

And sometimes those added extras make a big difference. At EBSCO's offices in Ipswich, Mass., being green is an important part of the corporate culture, from solar panels to hybrid company cars and from recycling bins to LED lights in the parking garage. Collins says every little bit helps. "Changing behavior is the key," he says. "I've heard many arguments for being green, but really, there are no compelling arguments not to be." And that practical, pragmatic approach works its way from the top down, whether it's using paper versus plastic or meeting the needs of library patrons.

"We're not satisfied with the status quo," says Collins. "We're really pushing to grow and to realize our potential. There's a lot of opportunity out there."