THE 51st STATE: THE STATE OF ONLINE
Tech Tools for the American Voter and the 2008 Congressional Elections
The Tutorial
by Laura Gordon-Murnane, Information Consultant

---
Chapter V: Challengers
---
Finding information about incumbents is pretty easy with a wide-ranging wealth of useful information available. However, learning more about challengers can be — well challenging — but not impossible. Politcs1.com provides both incumbents and challengers running for Senate and House seats. Pick your state and then your district to find out who is running for office.
Ohio – Incumbents and Challengers running for the 111th Congress:
www.politics1.com/oh.htm
---
Many challengers have campaign Web sites that provide biographical information, endorsements, key positions, press releases; some may have a blog and, of course, ways to contribute money to their campaigns.
One of the best ways to learn about a challenger is find out what the local press is saying about the candidate. Politics1.com provides a listing (complete with links) of state news sources (print, broadcast media, and blogs) at the bottom of the each state's page.
Ohio News Sources (scroll down):
www.politics1.com/oh.htm
Pick your source and search the site for information on the challenger of interest.
---
Columbus-Post Dispatch
Search on Steve Austria
www.dispatch.com/live/contentbe/shared/pdSearch/BM_SearchEngine.php?
keywords=%2522steve+austria%2522&SearchSelect=dispatch&story=&aff=6&
sec=search&q=&tp=&sb=&en=&combo=0&adsec=search
---
You can also do a search in Google News or Yahoo! News to see what the press, including out-of-area sources, might be saying or reporting on a candidate.

Google News:
Ohio – 7 th District
Steve Austria running
news.google.com/news?rls=com.microsoft%3Aen-us%3A
IE-SearchBox&oe=UTF-&sourceid=ie7&rlz=1I7GGLD
&um=1&tab=wn&hl=en&q=%22Steve+Austria%22

Note: Make sure you do a phrase search on the challenger's name. Use quotation marks around the name.
---
Yahoo! News:
Ohio – 7 th District
Steve Austria running
news.search.yahoo.com/news/search;_ylt=
A0WTTkicOJNHt9YAsA2y87UF;_ylu=X3oDMTBhNjRqazhxBHNlYwNzZWFyY2g-?
fr=sfp&ei=UTF-8&p=%22steve+austria%22
---
Another terrific source for local news is Topix.com (www.topix.com). Local news is the key feature of this news search engine. It usually picks up news sources that Yahoo! News and Google News might miss.
Topix.com:
Search on "Steve Austria"
www.topix.com/search/article?q=%22steve+austria%22
Topix.com searches news sites and blog sites as well.
---
Blogs can be another useful way to learn more about a challenger.
Technorati:
Blog search for Steve Austria
www.technorati.com/search/
%22steve+austria%22?language=n&authority=n
---
Google Blog Search is another way to search blogs for political news on challengers
Google Blog search for "Steve Austria"
http://blogsearch.google.com/blogsearch?
hl=en&tab=wb&q=%22steve+austria%22
---
Download the companion article [PDF]:

Tech Tools for the American Voter and the 2008 Congressional Elections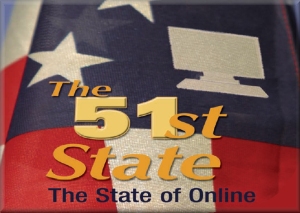 ---
---
---
Laura Gordon-Murnane, an information consultant (Knowledge Net Unlimited), has an M.L.S. and works in Washington, D.C. She writes frequently on government information for Searcher. Her e-mail address is lgmurnane@yahoo.com.
---