---

Vol.8, No. 3 • March 2000

• THE SIDEBAR •
Disclaiming Liability

by Carol Ebbinghouse
Professor and Library Director • Western State University College of Law
---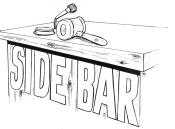 Malpractice lawsuits can happen to you! It can happen to independent information professionals, like information brokers or consultants, and it can happen to librarians working in traditional settings. I know, because it happened to a friend of mine already.

"Carol, Barbara told me I should call you about this. I think I may be in trouble…. A guy for whom I did a search is threatening to sue me." (What? Someone suing a friend of mine for a database search?) "He wanted me to search for some prior art and wanted me to do it for $100. I told him that I am a chemistry specialist — not a patent searcher — and that he can't get a patent search for just $100, but, he begged me to help him out, and he was referred by a friend. So I did a quick title search, and I went over the titles with him, then he and I discussed which titles looked good enough to justify printing abstracts. It came to $129, and he begrudgingly paid it." (So? He got what he asked for, right?) "Well, Carol, now he claims that he spent several thousand dollars on a patent attorney and the idea can't be patented because it has already been patented, so he wants me to pay him the several thousands of dollars he says the search cost him."

Oh my gosh. A librarian threatened with a lawsuit because she didn't have a disclaimer, because she had nothing in writing that said, in 10-point type, "This Is Not a FULL-Patent Search." Or, perhaps she should have had a billing statement, listing minimum prices for patent searches, literature searches, specialized chemical searches, etc. But wait, she doesn't do patent searches, so that won't help. How should a disclaimer be written? What could or should she have done to make sure that this never happened?


What Steps Can Protect Us?
Advance planning, for one thing, can help prevent these types of problems. Prepare the patron/client for the search results. Describe what you can and will do, how you will do it, and when you present the results — especially to a paying client — describe what you were asked to do, what you did, and how you did it. Describe any limits the client placed on your discretion: time limits, rush requests, cost limits, types of sources, geographical limitations, or restricting the format (full text only, abstracts, downloadable data files in a certain spreadsheet format), etc. As my friend with the chemical search that she "told him" was not a patent search learned, you should put things in writing where the patron can't miss them. Your limit statements are as important as the results.

Disclaimers of Warranty
No warranties, express, implied, or actual, are granted for any use of the information or for the accuracy of the information.
The information service grants no warranties of any kind, express, implied, or statutory, in any communication or otherwise with respect to service, accuracy of the information, or results.
The information is believed accurate, but is not warranted and is subject to verification.
The information service disclaims any implied warranties of accuracy, merchantability, fitness for a particular purpose, or noninfringement.
The information service will not be liable in any way for the accuracy of any information content, including but not limited to any errors or omissions in any information content; or for any loss or damage of any kind incurred as the result of the use of any information uploaded, copied or printed by the information service.
There is no warranty that this information or efforts will fulfill any of your particular purposes or needs.2
Except for express warranties stated in this contract, if any, this information is provided with all faults, and the entire risk as to satisfactory quality, performance, accuracy, and the effort is with the user.3
Special Warnings for Special Searches: Medical, Legal, Etc.
The librarians (or information professionals) are not medical, legal, engineering (be specific) professionals, and consumers should consult a physician, lawyer, engineer … to assist in interpreting the information.
The search results are provided for information and educational purposes only. For ________ advice, you should see a ______ professional.
General Limitations on Liability
The information has been obtained from sources believed to be reliable and accurate.
We have made every effort to supply current and accurate information, but assume no responsibility or liability for any decisions based upon the information presented.
We are not the source of the information, and therefore cannot guarantee the accuracy of the information, which may be incomplete or condensed.
We are not responsible for any damages from inaccuracies in the data, either consequential or incidental, direct, indirect, special, or exemplary, including but not limited to damages for loss of profits, goodwill, use, data or other intangible losses (even if the information service has been advised of the possibility of such damages).
The information service is not responsible for any damages with respect to the accuracy or use of the information.
The information service will not be liable to you for any incidental, consequential, or indirect damages arising from the accuracy of the information or use of the service, even if the information service or its agents or representatives know or have been advised of the possibility of such damages or to any person other than you.
This information is provided "as is" and should be used with caution as inaccuracies may occur.
Notwithstanding anything to the contrary, liability to you for inaccuracies in the data or any cause whatsoever, and regardless of the form of the action, will at all times be limited to the amount paid, if any, by you to the information service.
You agree that you must evaluate and bear all risks associated with the use of this information, including any reliance on the accuracy, completeness, or usefulness of such information content.
Exclusions and Limitations
Certain jurisdictions limit the availability of warranty disclaimers, and some limitations of liability may not apply to you.
Some jurisdictions do not allow the exclusion of certain warranties or the limitation or exclusion of liability for incidental or consequential damages; accordingly, some of the above "disclaimer of warranties" and "limitation of liability" may not apply to you.
The Uniform Computer Information Transactions Act (UCITA)
Those that have followed the issue in this column will know that UCITA was originally created by the joint effort of the American Law Institute (ALI) and the National Conference of Commissioners of Uniform State Laws (NCCUSL). Their work in creating a UCC (Uniform Commercial Code) statute that would cover information licensing (UCC-2b) has been extensively covered on the Internet4 and in the library and information literature. Early in 1999, the American Law Institute voted to table the draft, but NCCUSL decided to pass their final version in July of 1999. The text is now available to the states, to introduce in the legislature, and if successful, to pass one state at a time.

In states that pass UCITA, librarians and information searchers can be considered "merchants."5 Merchants are held to high standards. Consumers, under UCITA, could hold information professionals as liable as merchants. This is arguably a significantly higher standard than current today. It makes it even more important to educate the patron/client on the extent of our expertise and the problems that can arise, even with a competent search in the most logical database.

What is the information equivalent of "informed consent"? It is a disclaimer that explains what the searcher will do, what can go wrong, what you will do to avoid it. In short, it explains the risks that the information you provide may turn out to be of less value than you (or the patron/client) would like. It also means not making promises you cannot keep, or advertising that clients will get certain results from coming to you for information.6 You know the consent forms you sign before any medical procedure? They outline the risks, possible repercussions, and limit the liability of the medical professional performing the procedure. You are a professional, under UCITA, and you will need much the same thing.
Warranties: Express and Implied Under UCITA
Please be aware that under UCITA, if your state adopts it, express warranties can emanate from advertising of the service (on your Web site, in promotional materials, by providing samples or models of searches done for others, or any description of the information or promise made to the client). According to the Reporter's Notes in UCITA's final draft as presented in July 1999, "[n]o specific intent to make a warranty is necessary."7 Once an express warranty has been established from the ads, Web site statements, testimonials or promotional materials (more than mere puffery), no disclaimers will protect you from an action based on the client's reliance upon these representations, if found to be an express warranty under §402 of UCITA. "If an express warranty is proven to exist, the obligations thus created ordinarily cannot be materially deleted. A general contract term disclaiming 'all warranties, express or implied,' is not given literal effect as to express warranties."8

Under UCITA, certain warranties relating to informational content will be implied.9 These include implied warranties that the information content provided by a "merchant" contains no inaccuracy — or no inaccuracy caused by the merchant's failure to perform with reasonable care. There is wording to the effect that one who "acts as a conduit or provides only editorial services in collecting, compiling, or distributing informational content identified as that of a third person" will not be liable for the errors or omissions in the information of the third person (e.g., commercial database). As stated in the reporter's notes, the "warranty focuses on the accuracy of data, but does not create absolute liability or an absolute assurance of complete accuracy. Rather, it creates a protected assurance in such contracts that no inaccuracies are caused by a failure of reasonable care."10 For this reason I advise including a list of the databases, their producer and vendors, and even their online scope notes, so the patron/client knows that you are not responsible for the errors or omissions in the informational content. It will also indicate to the patron who is responsible — the information or database producer.11

Another warranty implied in UCITA is the provision of §405 that the information is fit for the client's particular purpose.12 The reporter's notes state that the "warranty does not exist if there is no reliance in fact or if the particular purposes are not made known to the licensor. For this warranty to arise the needs of the licensee must have been particularized and the licensor must implicitly undertake to fulfill them."13 Therefore, when you have learned from the client that they intend to use the information you provide for a particular purpose, you are presumed to warrant the information as fit for that purpose unless you specifically disclaim such an implied warranty. According to the Reporters' notes, "Disclaimer or non-existence of the implied warranty should have a strong bearing on existence of the tort claim in the same transaction. In cases involving economic loss, a disclaimer of this warranty in most cases forecloses a tort claim based on the same facts."14

Before the Search: Promotional Materials
Promotional material — flyers, pamphlets, yellow pages ads, Web site, and other marketing tools — provide your first opportunity to make a professional impression. This is not the place for a traditional disclaimer of liability or warranty. However, it is a great opportunity to establish what you can do and within what constraints you can do it. Here you can explain the credentials that you and your staff members have amassed, the years of experience, the educational background, and the array of databases and other resources at your disposal.
You may also want to note that you follow the code(s) of ethics of the professional organization(s) to which you belong. These ethical rules relate to honesty, competence, confidentiality, and your commitment to providing the most current, complete, and accurate information possible within the budget, time, and other constraints of the clients. You are selling your expertise and experience in selecting the best, most reliable, and reasonably priced databases, print, and/or other resources and executing search strategies that will efficiently bring out the desired information, in the format requested.
You do not want to promise that all information will be correct, complete, or accurate — since the database provider is responsible for that — and it is out of your control. Nor do you want to promise to keep the information up-to-date, other than to use the same expertise to set up current awareness protocols in the most appropriate systems. You dare not promise what you cannot guarantee that you can deliver. Promises can be treated as guarantees — the exact opposite of disclaimers. Promises are an invitation to a lawsuit if you fail to deliver on your guarantee (or warranty, assurance, or whatever it sounded like to the patron/client). (Later in this article I will discuss the implications of UCITA — the Uniform Computer Transactions in Information Act — and the consequences if your state legislature passes it into law.)

Just Before the Search
Before the search, you have an opportunity to develop reasonable expectations on the part of your patron/client. In a busy library, or at an information brokers' office or your Web site, you might have an intake form that details costs, delivery time (which might directly affect costs, in the case of a rush request), flat prices, and hourly rates. The form may detail the types of information provided (e.g., "scientific, engineering, technical research is available, but not patent searches") and other pieces of information that will shape the expectations the patron will have of you and your output. A Web-based information service can put this information right on the page that clients fill out and in the terms and conditions page (see samples later in this article).
Whether this form only appears on the Web site or follows a one-on-one conversation or reference interview, either the Web form, you, or a member of your staff should prompt the patron regarding the type of information needed, deadlines, cost limitations, the reason for the inquiry in the first place, any full-text requirements, scope, or other specifications (for instance the patron who wants you to build a database of information for use with a particular spreadsheet program).
At this point, you may consider it unnecessary to state that you obtain information from sources believed to be reliable and accurate, but that you do not warrant the information, the data in the database(s), nor the currency or completeness of the information in any database. You only warrant that you will use the sources that you deem best, based on your education and experience, and that you will follow the best of professional practice.1 Some information professionals might also want the document to note their commitment to competence, confidentiality, continuing education, accuracy (within the budget and time frame provided by the client), respect for intellectual property rights, licensing agreements, etc. I consider the latter to be more marketing than a customer information/intake form can facilitate.
Whether you conduct the reference interview by phone, fax, or e-mail, you should send the completed intake form to the client for review and approval. This verification of your understanding of the information request can eliminate any confusion, errors, or other failures to communicate and nip potential problems in the bud. Much like the intake form at the car repair shop, it gives the specialist the information s/he needs to solve the problem and the contact information, in case of any questions. Furthermore, the copy in the customer's hands has the contact information (phone, fax, e-mail) in case the patron needs to reach the specialist if their question changes. As with the auto mechanic, the estimate may change because unexpected problems have arisen or expensive new parts/databases are now needed. The specialist should call the client, keep him or her informed, get permission to exceed the original budget, etc.
What do you do when you realize that the system you use has gone down and the search won't be ready on time? What happens when you realize, as deadlines loom, that the client has omitted information essential for the search? The same thing that happens when the car mechanic realizes that he will need to exceed the original estimate. You call the client, alert them to the newly discovered problems, ask them if/how they want you to proceed, and get some information (mother's maiden name, date of birth, whatever) to prove the existence of the phone conversation. As an information professional, try communicating the problems that have arisen by e-mail or fax and ask the patron/client to respond with the procedures or decisions to close the effort in the same medium. The client gets the opportunity to rephrase the question, provide additional facts or vocabulary, authorize further expenses and effort, extend deadlines, or determine that the information culled so far will have to do. And in e-mail or fax, you get a record of those decisions.
Always memorialize client conversations by date and time of day, questions and answers, client instructions, and your next step on the project. If the client makes significant changes in cost, time, or effort, or cancels the search, either get this in writing (fax, e-mail), or get some information from the client to which you would not otherwise have access (birth date, first child's birth date, last four digits of the social security number, etc.). This will demonstrate, if needed, that the communication occurred.
For anything other than free and/or quick searches at the reference desk of a busy library, I like the idea of getting this information to the requestor up front. It avoids the "This is not what I wanted" versus "But it is what you asked for" type of problems when the client gets the final search results.
Here's an additional idea for promotional materials, as well as intake forms, that might have particular value to specialists — especially medical and legal searchers. You know that patrons will rely on your search results, often in very critical situations. If a lay patron (not a doctor or lawyer with professional responsibility for double-checking and/or verifying their information) gives you a request, consider adding a caveat that you are not a medical or legal (or other specific) professional. You should encourage consumers to consult a physician, lawyer, engineer, or the appropriate professional to assist in interpreting the information. You may state that the data provided is for educational and information purposes only and is not to be considered as legal, medical, or any other type of advice from a professional in the field. Look at some of the medical and legal Web sites on the Internet for examples of such caveats.

After the Search: Presenting the Results
This is your last chance to disclaim any warranty and the last chance for marketing.
Tell the holder of the search results exactly what they got in that sheaf of papers, or disk full of data, or spreadsheet sortable by any number of fields, or whatever form the results take. Let them know which databases you used, why you selected them based on your experience and education, note the patron's time and/or budget constraints (be specific on this), as well as the database's reputation for currency, comprehensiveness, geographical coverage, etc. Include the scope notes on the databases if you want — after all, you relied on these in selecting the sources.
This is your last chance to impress. It is also your last chance to disclaim liability for bad data, old data, incomplete data, and everything else that can go wrong and yet not be your fault.
Various types of disclaimers follow. Not all will relate directly to your particular situation, but you might consider using some by combining and rewording them as necessary.

And Don't Forget Our Old Friend, Copyright
Finally, unrelated to disclaimers and other steps that will reduce your liability to the client/patron, you should consider adding a copyright statement to protect both you and the client. First, the client does not want to unknowingly run afoul of the copyright law. Second, and even more important for our purposes, you don't want to get into trouble for what the client does with your search results. Sources that I checked recently suggested: "This material is subject to the U.S. Copyright Law; further reproduction in violation of that law is prohibited." If you have had to request and/or pay for permission to copy or print something for your client, you may want to go further and warn the client not to reproduce, distribute, or sell third-party information without the permission of the content provider(s). Ah, but this is a different subject for another column.
And then there's the issue of how much clients need to know about restrictive clauses in our licensing agreements. Yet another column?

Disclaim Before, Disclaim During, or Disclaim After?
For my friend threatened with a lawsuit because the client thought he had a patent search when he only had $129 worth of abstracts, explaining on the phone beforehand that what she was attempting to do for $100 was nowhere near a patent search, proved insufficient. I'll go so far as to say that anything oral is insufficient to protect you, and anything you, or a member of your staff, may say can be used against you as an express warranty. It will be your word against your patron's. Who will a jury believe? You could be sued for thousands of dollars in damages, even though the cost of the search was far less, unless you expressly limit your liability to the cost of the search.

Conclusion
It is a new world of information. In this Information Age the world has come to value timely information in many more ways. People seek information they can rely upon in making decisions — and these decisions may involve millions of dollars as well as life or death. Some work I have done in mergers and acquisitions research certainly involved that much money. People will come to rely upon "your" information as better than what someone else could provide or what they could have found themselves. You must inform them that you are only as good as the information in the databases and other resources that you use — that you cannot be held accountable for anything more than the cost of the search if there is something missing or wrong in the information.
Yes, you need to document everything to protect yourself. If you have a search request form (or intake form of some kind), you need to update it after each conversation with the client as the request is modified, changed, re-worded, etc. You should keep these for as long as the statute of limitations on civil lawsuits in your jurisdiction (2-5 years should suffice). My friend threatened with a lawsuit had all of her notes — from the initial phone conversation, plus the interim search results, scribbled notes on the phone calls discussing which articles the client wanted printed, etc. She instantly recalled the events because of her scrupulous notes. I hope you have the same depth of information at your fingertips should any client call and threaten to sue you over the information you have provided.
Despite the title of this column, the real issue here is more about taking responsibility than disclaiming liability: taking responsibility for that which you can control and creating accountability where it belongs, with the information and/or database producers. It boils down to creating reasonable expectations in library patrons and other information clients. This is accomplished by informing them of what you do and getting informed consent to the risks of using databases, the Internet, and even hard-copy information. Lack of currency, incomplete information, condensed information, transposed characters and other typographical errors, flawed spreadsheets, and so many other errors and omissions too numerous to name occur in today's data sources. We can only take full responsibility for performing a competent search in the most reliable and appropriate databases and other available sources. Clients must learn that we are not personally responsible for the accuracy of the data. The only way to do this is to disclaim particular warranties, limit our liability, and note special warnings that librarians and information brokers only provide information, not professional advice outside the area of information itself.
With information critical to business, health, personal finance, legal, and other decisions, those harmed by information will seek redress from those who provided it. While UCITA does not particularly address "published information content" of traditional books, magazines, and other widely distributed information content, it does purport to cover the types of information transactions performed by information searchers every day. Even without UCITA, traditional concepts of tort law would indicate that lawsuits in the area of information and reasonable reliance on professionals in the field will increase.
Information professionals, whether librarians working in public, special, or academic libraries, or independent information providers (database searchers, specialists in competitive intelligence, prospect researchers, and others) working out of their homes or offices, will all do well to consider how they may reduce or avoid personal or professional liability. They may even want to consider professional errors and omissions (also called malpractice liability) insurance, that librarians in some fields have already.
It's a scary world out there, and with UCITA looming, it's getting scarier.15


Carol Ebbinghouse is a Professor and Library Director for the Western State University College of Law. Her e-mail address is carole@wsulaw.edu.
---
Footnotes
1. See, for example, the "Code of Ethical Business Practice" of the Association of Independent Information Professionals at http://wwwaiip.org/purethics.html.
2. UCITA §406(b)(2)
3. UCITA §406(b)(3)
4. See http://www2bguide.com.
5. UCITA §102(47) provides: "Merchant" means a person that deals in information or informational rights of the kind or that otherwise by the person's occupation holds itself out as having knowledge or skill peculiar to the practices or information involved in the transaction, or a person to which such knowledge or skill may be attributed by the person's employment of an agent or broker or other intermediary that by its occupation holds itself out as having such knowledge or skill.
6. UCITA has some rules for "published informational content" and other rules for "informational content that is: (A) customized for a particular recipient by an individual or group of individuals acting as or on behalf of the licensor, using judgment or expertise; or (B) provided in a special relationship of reliance between the provider and the recipient" as defined in §102(54)." As the Reporter's notes indicate, published information content refers to books, newspapers, etc. It "does not include information provided in a special relationship of reliance…. It excludes transactions in which the provider knows that the particular licensee plans to rely on the particular data that the licensor provides and expects that the licensor will tailor the information to the particular client's business or personal needs. The relationship arises only with respect to persons who possess unique or specialized expertise or who are in a special position of confidence and trust with the licensee such that reliance is justified and the party has a duty to act with care. In a special relationship of reliance the information provider is specifically aware of and personally tailors information to the needs of the particular licensee as an integral part of the provider's primary business of providing such content…."
7. See UCITA Draft, Uniform Computer Information Transactions Act, Meeting July 23-30, 1999, Uniform Computer Information Transactions Act: With Prefatory Note and Reporter's Notes p 193 (National Conference of Commissioners on Uniform State Laws 1999).
8. See UCITA Draft, Uniform Computer Information Transactions Act, Meeting July 23-30, 1999, Uniform Computer Information Transactions Act: With Prefatory Note and Reporter's Notes p 194 (National Conference of Commissioners on Uniform State Laws 1999).
9. See UCITA §404 Implied Warranty: Informational Content. "(a) Unless the warranty is disclaimed or modified, a merchant that in a special relationship of reliance with a licensee, collects, compiles, processes, provides, or transmits informational content, warrants to its licensee that there is no inaccuracy in the informational content caused by the merchant's failure to perform with reasonable care. (b) A warranty does not arise under subsection (a) with respect to: (1) published informational content; or (2) a person that acts as a conduit or provides only editorial services in collecting, compiling, or distributing informational content identified as that of a third person…."
10. See UCITA Draft, Uniform Computer Information Transactions Act, Meeting July 23-30, 1999, Uniform Computer Information Transactions Act: With Prefatory Note and Reporter's Notes p 202 (National Conference of Commissioners on Uniform State Laws 1999).
11. Regarding liability to third parties under UCITA, see UCITA §409.
12. See §405 "(a) Unless the warranty is disclaimed or modified, if a licensor at the time of contracting has reason to know any particular purpose for which the information is required and that the licensee is relying on the licensor's skill or judgment to select, develop, or furnish suitable information, the following rules apply: (1) Except as provided in paragraph (2), there is an implied warranty that the information is fit for that purpose. (2) If from all the circumstances it appears that the licensor was to be paid for the amount of its time or effort regardless of the fitness of the resulting information, the implied warranty is that the information will not fail to achieve the licensee's particular purpose as a result of the licensor's lack of reasonable effort…."
13. See UCITA Draft, Uniform Computer Information Transactions Act, Meeting July 23-30, 1999, Uniform Computer Information Transactions Act: With Prefatory Note and Reporter's Notes p 208 (National Conference of Commissioners on Uniform State Laws 1999).
14. See UCITA Draft, Uniform Computer Information Transactions Act, Meeting July 23-30, 1999, Uniform Computer Information Transactions Act: With Prefatory Note and Reporter's Notes p 205 (National Conference of Commissioners on Uniform State Laws 1999).
15. The librarians in one major county law library already have employer-paid insurance to cover just these types of liability.

---