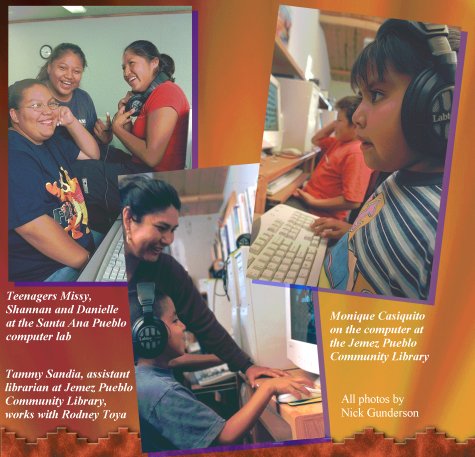 Some days you get up and go to work, you answer the phone, write some e-mails, and sit in meetings. But some days you get up and go to work, and your life changes. January 14 and 15, 1999, were two of those days. As staff members of the Bill & Melinda Gates Foundation, we were given the unique opportunity to travel with some New Mexico State Library staff members on a visit to five Native American libraries to meet tribal librarians, leaders, and community members. During this trip we began a conversation (which has continued to this day) about the special circumstances surrounding library services for Native communities. Much of this discussion has focused on barriers to technology and Internet access for tribal libraries, but we've also heard about ongoing efforts for culture and language preservation, the importance of flexibility and respect when working with tribal communities, and the preparation method that makes Jemez enchiladas simply amazing.

Our first trip was arranged by Ben Wakashige, the New Mexico state librarian, as part of a planning visit in anticipation of implementing the foundation's grant program for public libraries. (For more information on the U.S. Library Program, visit http://www.gatesfoundation.org.) During the 2 days of meetings and site visits, we listened and we learned. Of all the information exchanged, the most important piece was and still is this fact: Tribal libraries serve a vital role for their communities and patrons, and in order for a program from a foundation to make a valuable impact, the design for awarding and implementing grants must be developed with tribal input.

Our initial contact led to a yearlong process of continued listening and learning, extensive meetings with tribal elders and children, community and library leaders, and other key players in the New Mexico library community who were intimately familiar with the particular needs of these tribes. During the year we developed our grant program, we also met with American Indian library leaders and others working with tribes and technology to get advice and to gain perspective on how best to design our grant program. Tribal leaders spoke of their desire to use technology to interest children in their Native language, and artists described creating art with digital tools and marketing their work through the Internet. Educators expressed interest in culturally appropriate software and online resources. Students wanted the opportunity for quality educational experiences without having to leave their reservations. Patrons hoped for hands-on training at a comfortable pace. All this work and the contributions of many voices resulted in the establishment of the Bill & Melinda Gates Foundation's Native American Access to Technology Program (NAATP). We hope this program is as much theirs as it is ours.


Understanding the Need
New Mexico is home to 19 Pueblos and two Apache reservations. In addition, the northwest corner of the state houses more than one-third of the Navajo Nation. As we traveled miles between tribal library sites, we were able to enjoy the expanse of country that makes the American Southwest so spectacular. Once outside Albuquerque, power lines, phone lines, and cell towers ceased to block our view. They also ceased to provide services on Native lands.

Many reservations lack the basic infrastructure—roads, power, water, and communications—that we take for granted in urban areas. According to the 1990 Census of Population, just 53 percent of Native households on reservation and trust lands have telephones, compared to 94 percent for all American homes. And while many Americans consider a home computer a necessity, just 15 percent of all Native households have a computer and only 10 percent have Internet access.

Many tribal schools have computers, but they are few in number and have limited Internet connectivity. Often because of liability reasons, members of the community not affiliated with the schools cannot use the computers, and even students have restricted use during school hours.

By contrast, a White House Report titled Information Technology Research and Development: Information Technology (January 21, 2000) shows nearly half of all American households now use the Internet, with more than 700 new households being connected every hour. More than half of U.S. classrooms are connected to the Internet today, and 62 percent of U.S. children in the 8-to-15-year-old age group are now going online.

"Tribes are not staying abreast of the technological revolution," says Alison Freese, tribal libraries consultant for the New Mexico State Library. "Computers—and libraries for that matter—are not traditional Native American concepts. In addition, it's hard to make a case for libraries and public access to computing when issues such as healthcare, housing, drug and alcohol counseling, even telephone connectivity are pressing."

But increasingly, these libraries are becoming key information centers for tribes, offering book collections and services that support the unique information needs of their communities. In addition, many of the priority issues for tribes are dealt with at tribal libraries. Besides checking out books, library workers often act as counselors, day-care providers, and grant writers. Many host programs for the elderly and offer adult education courses. They agree to stay open late or on weekends if someone requests their help. The strong commitment of tribal librarians to their community makes libraries ideal locales for providing public access to computers.

Amazingly, these libraries provide vital services to communities on shoestring budgets. The tribal librarians that we've met have worked for years providing services with more determination than resources. We've visited tribal libraries located in traditional adobe structures, old Bureau of Indian Affairs buildings, and portable units. Invariably, the library room or building is filled to capacity with collections and patrons jockeying for space. Tribal libraries are brightly decorated with traditional pottery, weavings, and paintings. Conversations, punctuated with much laughter, take place in both English and Native languages. Sometimes artisans will bring jewelry to sell. On a really good day, someone will bring red or green chile and bread or tortillas to share.

These libraries enjoy varying degrees of support from tribal administrations. While the vast majority of tribal councils recognize that tribal libraries are important for the community, not all are able to provide funding at levels adequate to support and sustain a quality library and computer program. Even among those isolated Native American communities that have made significant progress toward self-sufficiency, only limited resources are available for library and information service support. An inconsistent revenue source often leads to position elimination, high turnover of underpaid staff, and grant-driven projects that cannot be sustained once the original grant monies run out. State Senator Leonard Tsosie has been successful in passing legislation for permanent funding for the New Mexico State Library to expand services to tribes. Currently, 47 sites and their staffs are supported with an annual budget of $270,000.

"A yearly budget of $270,000 only goes so far," says Freese. "We're getting there, but most of our sites had only one computer and a dial-up connection. We knew the Bill & Melinda Gates Foundation could provide so much more."

All of the tribal librarians we met with clearly stated they would like to provide their patrons with public access to computers and the Internet. None was satisfied with the current level of service. Few libraries can afford state-of-the-art computers. Instead, many were using donated, pre-owned computers with little or outdated software and failing components. No library had a dedicated Internet connection, and many reported extremely slow speeds and dropped connections with their dial-up accounts.

"At the Jemez Community Library, we had one computer [with Internet access]," says Tamara Sandia, library assistant at the Jemez Pueblo Community Library. "It was common to see 10 or more children crowded around it at a time."


NAATP's Goals and Mission
The Native American Access to Technology Program is designed specifically to empower Native communities through increased access to digital information resources. The program aims to work with tribal leaders, librarians, and educators to preserve local culture and heritage and to provide opportunities for technology training through access to computers and the Internet.

Three major components benefit tribes: equipment, training, and technical support. Each tribe is eligible to receive between two and four computers, a black-and-white laser printer, and Internet connectivity equipment. The computers come with pre-loaded software chosen based on user interviews. In addition, tribes can request additional equipment, such as a scanner, digital camera, headset microphone, color printer, and projector. Each tribe that's awarded a grant will also receive a visit from foundation staff for installation and training. On-site training focuses on both applications and systems administration, and includes classes for both staff and community members. Finally, each site receives technical support for the granted equipment for 3 years through a toll-free number. Technical support will assist tribes with a wide variety of problems from ordering a replacement for a failed network interface card to explaining templates in Microsoft Word. (See sidebar for specific information on hardware and software provided.)

NAATP began installing PCs in New Mexico in spring 2000. To date, 20 tribes have received equipment and training. Training for the 110 chapters of the Navajo Nation was completed in June 2001. Installation and training for tribes in Arizona, Colorado, and Utah began in August. An additional grant phase for Arizona, Colorado, Utah, and New Mexico tribes will begin in the spring of 2002 and will include a competitive grant round for a content server and/or training lab. Additional funding will also be available for nonprofit support organizations that work with tribes for cultural and language preservation and technology training.

To successfully apply for a grant through NAATP, sites have to demonstrate tribal support for the grant. We ask tribal leadership to verify that the computers will be available to all community members, that the technology budget for the tribe will not be reduced, and that the tribe will make its best effort to keep the computers functioning. We also make ourselves available to discuss the program at tribal council meetings. Through these discussions, we've grown to appreciate the complex issues that tribal leaders confront when making decisions about integrating technology into their communities.

Like many others in Native American communities, library staff at Jemez are acutely aware of the need to close the "digital divide"—the growing social and economic gap between those with access to computers and technology and those without—between themselves and the larger U.S. population. "Computers—that's where the world is going. We don't want to have our kids left behind," says Sandia.


The Impact of the Grants
Jean Whitehorse, a training and outreach coordinator for the New Mexico State Library, proved to be invaluable in helping us address issues that led to our credibility and acceptance in Native communities. She told us about the importance of diversity in our approach and staff. "People want to see their own people understanding progress," says Whitehorse. "If we can see our own people mastering something new, we are more likely to accept it and understand how it can benefit us." So our foundation staff now includes Native trainers. In addition, we developed an intern program with New Mexico tribal colleges that taught students to serve as on-call training and technical help for tribes for 1 year.

Initially our program faced questions about the negative aspects of Internet connectivity. "It was my job to go into these communities and explain to the elders and officials the benefits of having computers and an Internet connection," explains Whitehorse. "Many of them felt bringing computers would take children's interest away from their community traditions and families and would expose them to bad things."

Whitehorse says she explained to the elders that there are good things and bad things about everything—including computers. "But if you use the computer in the right way it can be a great tool." She also explained that there would be explicit rules and guidelines for use so children couldn't view inappropriate material.

Still many balked, "We can't read and write; how are we going to use computers?" Whitehorse told them that the computers could help tribal literacy programs, and she reminded them that many Native American elders gamble in the casinos. "I told them if you can use those machines at the casino, you can use the Internet—and you won't lose any money, either," she says with a laugh.

On-site training has proved to be a very valuable aspect of our grant. All New Mexico tribal libraries received a week of training. Because we believe computer users learn best when they have their hands on a keyboard, trainers traveled with a mobile training lab so that up to 10 people could train at a time. In the morning, staff received intensive training on applications so that they could assist patrons with office, reference, and art programs. In the afternoon, community members were invited for applications training. We've worked with students, elders, tribal administrators, teachers, and many other groups all interested in learning more about computers.

Joe Sullivan and Jackie Yabeny were two of the foundation's trainers who were sent to New Mexico. "Most of the people we trained were total beginners," says Sullivan. "In the communities that had computers, people were struggling to use them." Sullivan says he witnessed many "Aha!" moments when users finally realized what certain commands or functions were for.

Yabeny remembers teaching a young woman who became teary as she was learning Microsoft Word. "She was just so happy to be learning new things."

Having spent the last year training certified librarians elsewhere in the country, Sullivan was struck by how attentive his New Mexico audience was. "When I was working with the librarians [in other states], we'd chat and joke around as the training was being conducted. At the reservations everyone was so quiet and focused—sometimes it was hard for me to tell if they understood me—but they did. I learned a lot about the power of listening."

For many communities, these training sessions offered a unique opportunity to discuss what they could do with computers. Ideas included improving community outreach efforts by creating newsletters, creating artist cooperatives, building Web sites or online "trading posts" to sell art, creating college and scholarship search classes for kids, using Excel to do tribal budgets, and designing letterhead to use when applying for government grants. In one area, staff from a cultural center planned to work with students to record the stories of veterans who had served with the U.S. military.

Of course, children had other ideas about how to best put the computers to use. "At the Zuni Pueblo Library, I remember the kids were just exploding. They just went to town using the games and art programs," Sullivan recalls. When working with students, Sullivan taught them how to use other computer tools, including a digital camera, scanner, and graphics programs. Many of them went home from an afternoon session with elaborate cards and artwork to show their families.

As tribal libraries slowly adopt technology, both patrons and staff become excited by the possibilities for learning. Sherry Aragon, an artist from Acoma Pueblo, remembers being recruited to work in the Acoma Learning Center. "I wasn't working at the time, and the library asked me if I'd like a job," says Aragon. "They told me, 'We're going to turn this library into a computer center.' I said 'Are you sure you want me? I can barely do a VCR!'"

Through AmeriCorps, the library enrolled her in computer classes in Albuquerque in 1999 and she was an active participant in the NAATP training last year. Now Aragon is teaching computer classes to adults and seniors at the Acoma Learning Center. She plans to attend New Mexico State University and study library science because she values being able to provide her people with information they need.

Initially, she says, kids seemed to be the only ones interested in using the library. Intrigued by the computers, the kids came in to play games and surf the Internet, but their interests soon expanded to reading groups, story times, and art classes. Aragon says adults would look in the door and think the library was just for young people. Then the library staff started giving away free bookmarks to kids who brought in their parents. Parents got a tour and explanation of services and could sign up for free computer classes. Now, Aragon says, adults regularly stop in to look up information on the Internet, write letters, or do their resumes. In the last 3 months adult computer use has increased by 45 percent. "As more adults realize the value of the computers they tell friends and relatives. It's good for them and they reinforce the importance of using the library and understanding technology in their kids."

With the Gates Foundation providing an increase in technology for tribes, the New Mexico State Library has been able to shift its funding to library services' needs. It has been able to provide tribes with cash grants for collection development, workshops, conferences, and special projects. In addition, the State Library has been instrumental in developing and implementing an online public access catalog project for all New Mexico tribal libraries—the Athena project. This project has greatly increased the services that libraries can provide for their patrons and has increased the libraries' standings in their communities. "As many tribal libraries have been tracking books by hand or not at all, getting Athena [the OPAC] was really a sign that they were becoming a real library," says Freese.

Jean Whitehorse currently conducts Internet training at Navajo chapter houses and libraries throughout the state, showing adults and elders where to find and how to use important information on topics ranging from diabetes care to veterans' benefits. Says Whitehorse, "When people can find information for themselves—and don't have to travel hundreds of miles to do it—they feel empowered."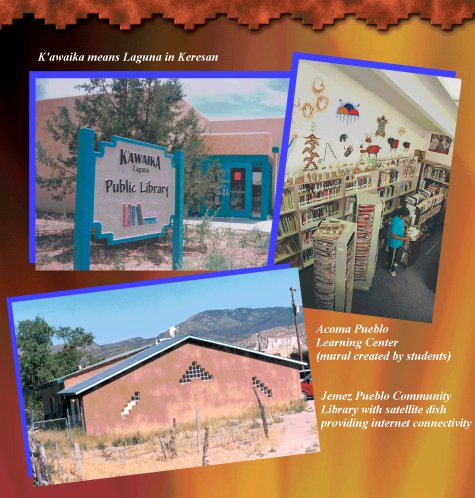 Evaluations Are Underway
In the midst of our fall 2000 installation, the foundation contracted with the Daniel J. Evans School of Public Affairs at the University of Washington to undertake a formal evaluation of the NAATP program efforts. The general purpose of the evaluation process is to assess whether the goals and objectives of the program are being met and to utilize information gathered from the evaluations to improve the program as it is being implemented. The school used a combination of observation visits and interviews with tribal staff and members to create a preliminary report. A more detailed evaluation is underway, including in-person interviews with tribal elders, patrons, and librarians at all NAATP sites.
The findings from the preliminary report show that the NAATP is well-received in Pueblo communities and is having a positive impact on library use, literacy, and computer proficiency. Because of isolation and the state of economic development on most reservations, the full potential of the NAATP will take longer to realize than similar programs in more urban areas. At the same time, the extent of change for these communities promises to be more significant than in other parts of the country.
For most Native lands in New Mexico, Internet connectivity is still the largest obstacle to realizing their new technological potential. Most communities are still limited to a single dial-up connection, which means they can't access many Internet sites. Because most tribes are remote with sparse populations, it's not cost-effective for phone companies to invest in copper wire or fiber lines to connect them.
The NAATP, in conjunction with OnSat Network Telecommunications, is currently installing a two-way satellite setup that will ensure bi-directional, high-speed Internet access to these remote communities that have been awarded a specific NAATP grant. (Choosing a satellite Internet option provided many challenges. When evaluating satellite providers, we worked to find a stable platform that would offer high performance at a reasonable cost.) Now, we're working with organizations that provide content to leverage the Internet connectivity for maximum benefit.
Although all NAATP grant sites have access to the foundation's technical support line, the report shows there is a need for additional on-site technical help. Several tribes have IT staff working in tribal administrative offices that help out from time to time, but consistent support is needed.
Possibly the best news is that the cooperative efforts of the Bill & Melinda Gates Foundation staff, the New Mexico State Library, and the various grant sites have led to high levels of commitment and satisfaction for all individuals involved. New Mexico state librarian Ben Wakashige believes the foundation grants will increase the visibility of this important tribal resource. "I think the Gates' infusion enabled us to pull forward very quickly. Where there was one [computer], there's now five," says Wakashige. "And Gates gives us an opportunity to be the information center for the community."
Others agree. "This working with and for each other is really a part of the Native American tradition," says Alison Freese, the tribal libraries consultant. "It's what makes us strong—we look forward to reaping the benefits of our continued collaboration."

The Program's Next Steps
Currently the foundation does not have any plans to expand NAATP beyond the Four Corners area of Utah, Colorado, Arizona, and New Mexico. We have learned that each tribe needs to be worked with individually and cooperatively over an extended period of time for each side to feel that the collaboration is a success. We know that we still have more to learn, so we are concentrating on the work ahead of us before we decide whether to expand our scope. We do know that the Gates Foundation and those of us who work for it have benefitted greatly from this program. Our perspective and understanding has broadened and deepened. We believe the best way we can honor the inspiring efforts of the tribal libraries and librarians we have met is to share our story and to support their work.
For more information on these libraries and how you can support the Friends of New Mexico Tribal Libraries, please visit http://www.stlib.state.nm.us.

NAATP Equipment and Software
The computers granted by the Bill & Melinda Gates Foundation are custom-built by Gateway from specifications we've provided. Current hardware components include:
Operating System — Windows NT 4.0 Workstation
Processor — 1.4 GHz Pentium 4
Memory — 256 MB RDRAM
Hard Drive — 40 GB
Video Card — NVidia GeForce 2 MX
Sound Card — Creative CT 4870 Sound Blaster Live!
NIC — 3COM PCI 10/100 (3COM Tornado)
CD-ROM — 20/48X DVD-ROM
Floppy Drive — 1.44 MB Standard Floppy Drive and Iomega Zip 250 Internal Drive
In addition, tribes are eligible to apply for the following components:
Black-and-White Laser Printer — HP 4100TN
Color Bubble Jet Printer — HP 932C
Projector — View Sonic PJ875
Digital Camera — Sony Mavica MVC FD92
Headset Microphone — Labtec 8550
Scanner — Image Deck Stand-Alone Scanner
All computers are delivered with substantial software for production and clerical work, reference, art and culture, and children. These include: Microsoft (MS) FrontPage; MS Publisher; MS Image Composer; MS Office including Access, Excel, PowerPoint, and Word; Encarta Encyclopedia; Encarta Africana; World Atlas; World English Dictionary; Internet Explorer; Adobe Photoshop; Adobe Illustrator; GIF Animator; Real Networks RealPlayer and RealProducer; Arthur's Brainteasers; Arthur's Math Carnival; Arthur's Reading Roundup; Creative Writer; The Magic Bus Series; and Success Builder Algebra I and Geometry. In addition, all sites are granted a year's subscription to SoftLine's Ethnic NewsWatch, an online, full-text database that includes Native publications.

NAATP Grants to Date
(as of September 2001)
Grant Activities
Grants in 2001
Life of Program to Date
(2000­2001)

---

Tribes Receiving Grants
12
32
Total Sites Granted
81
147
Total Amount of Equipment Grants
$2,685,389
$4,405,677
Total Amount of Cash Grants
$3,400
$729,053