After a couple of years and a couple of false starts, the number of generic top-level domains (gTLD) has just grown by seven. Together with the familiar .com, .net, and .org as well as .edu, .gov, .mil, and the rare .int, we will probably soon begin to see .aero, .biz, .coop, .info, .museum, .name, and .pro.

The Internet Corporation for Assigned Names and Numbers, or ICANN, announced these seven new gTLDs in mid-November 2000. ICANN is the international non-governmental organization chartered by the U.S. Department of Commerce to regulate numbers and names on the Internet. ICANN's responsibilities include regulation of Internet domain names, IP address numbers, and protocol parameter and port numbers. ICANN also oversees the root server system, described sometimes as managing who "owns the dot."

Subject to ultimate U.S. Department of Commerce approval, the number of gTLDs will increase from seven to 14 sometime in early to mid-2001. These new seven gTLDs represent round four in the emergence of Internet domain names. The first, original round established the original seven gTLDs and the more than 200 country-code, top-level domains (ccTLD) under the expert guidance of Jon Postel and the Internet Assigned Numbers Authority (IANA). IANA was a predecessor to ICANN. The second round saw proposals for perhaps unlimited gTLDs managed in ad hoc fashion by competing registrars. Others suggested the elimination of alphanumeric naming conventions and the exclusive use of IP numbers. The third round saw ICANN staff recommending seven new gTLDs: .web, .shop, .firm, .info, .arts, .rec, and .nom. These seven name proposals were critically received and, in the end, never implemented.

The new seven differ from the "old" seven in the way in which they were proposed. The old seven resulted from staff analysis and recommendations. Internet registrars proposed the new seven as a well as others not adopted. [For a list of those that didn't make it as well as those that did, see http://www.dot-domain-information.com/groups.html.]

Registrars had to post deposits of $50,000 for the privilege of proposing new names. Each of the successful registrars will benefit because it will sell the domain names, the second-level domain names (2LD), within the gTLD it proposed. (Which is which? For example, in ICANN's own URL — www.icann.org — the gTLD is .org, the 2LD is .icann.) ICANN is now negotiating with the registrars. Following approval by the ICANN board, those recommendations will go to the U.S. Department of Commerce for final implementation.


What Are They?
The new gTLDs fall into three groups: .biz and .info are group general, .name is for individuals, and .aero, .coop, .museum, and .pro are reserved for specific interests. All but .museum will help relieve name pressure and competition in the .com domain. The .museum gTLD will affect the .org TLD since most museums, as not-for-profits, register there. ICANN planned to have its approval process completed by the end of 2000. So sometime this year, we should expect to see some or all of these domain names working on the Web.


What Do They Mean?
As the following table shows, the magnificent seven are an eclectic bunch. As ever, everything ICANN does is closely scrutinized and criticized by "icannoclasts." There are problems with the ICANN process, but it would appear that ICANN's staff attempted to bring both subject and regional balance to their decision. Why, it has been asked, was ,aero or ,museum selected over .kid or .xxx?. First, I suspect there was little competition for .aero or .museum, while there is an inherent if perverse interest in .xxx and its variants. Second, ICANN indicated that it did not want to create gTLDs with an inherent subject classification scheme — .xxx would have classified pornographic materials and .kid material appropriate for children.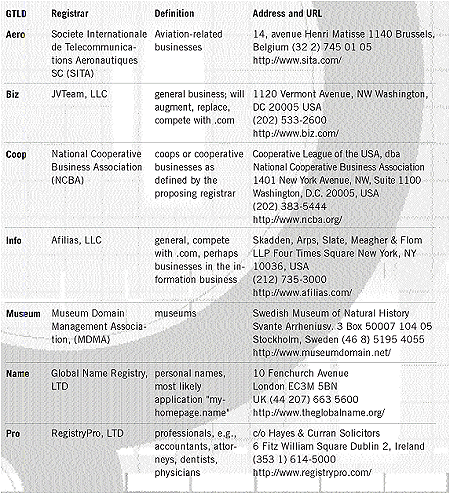 There is already precedent for limiting registrations on certain gTLDs according to membership in a class (.edu, .gov, or .mil). Thus .coop, .museum, and .pro continue this tradition.
Note too the geographic distribution of the registrars for the new gTLDs. Although some of the registrars listed below have partnered with U.S. firms, there is representation from Europe and Australia as well as the U.S. in the group.
As ever, both failed registrars and the icannoclasts have noted these distributions as well as the names selected. If these new seven represented the end of the gTLD naming process, I too would be highly critical of the selection. But, I do not expect that gTLDs will be closed with 14.
To apply for any of these new gTLDs, contact the registrars listed. While the gTLDs have yet to "go live," many are now accepting "reservations."

Why Do We Need Them?
New name potential. In theory the potential combination of letters and numbers and the number of characters that make up a URL exceeds the number of stars in the sky. In practice and according to the Domain Name Handbook, all the good ones are taken. Good ones are trademarks or names. Good ones carry meaning.
Many of us want URLs that can be remembered and that carry some kind of message. We also want to be able to use the same characters to carry different messages. Consider, for example, that until recently the 2LD "delta" was not owned by Delta Airlines. In fact, "delta" is not only a Greek letter or one-third of a sorority, it is also part of the name of many businesses. Dr. Delta can now register as delta.pro, Delta Dawn might register as delta.name, and the Mississippi Delta Museum could take delta.museum. Had the new domain names come along earlier, maybe Delta Airlines would not have wanted delta.com, but preferred delta.aero.
Classification. I have argued in the pages of Searcher magazine that the value of gTLD classification has been eroded. It has eroded because many erstwhile "dot-coms" have been registering their commercial domain names on non-commercial gTLDs. They have registered on the .org and .net gTLDs because all too frequently mnemonic or "good" names have already been taken on the .com domain. This practice may also serve to further protect trade or service marks.
Not too long ago, Logan Barnett and I wrote (again in Searcher's pages) that TLDs and certain 2LDs could be used to facilitate the Web search process. As more dot-coms moved to other domain space, the classification quality of those gTLDs (which only information professionals could understand) evaporated. These seven new gTLDs give rise to a hope that their classification value may be at least partially maintained.

What Are the Implications?
We of the information community should keep an eye on the unsuccessful subject classification gTLDs proposed in this round. As information professionals, we know how hard it is to do these classifications and the complex problems of building consensus — it is, however, the thought that counts. These and other subject classification gTLDs will be proposed again. We might consider our professional and ethical stance on the matter.
Some of the new gTLDs are "closed." Note that it is not ICANN that sets those rules. The proposing registrar establishes the definition and membership qualifications. For example, the National Cooperative Business Association (NCBA) proposes to limit registrants to its members, members that are necessarily co-ops as defined by the NCBA. It is unclear what would constitute an entity qualified to register under .aero — manufacturers of aircraft, flight schools, commercial air carriers, perhaps others?
I consider .info the "unfortunate" new domain. Its registrar has conceived it as yet another general gTLD to compete with .com or .biz. Afilias defines it as unrestricted to improve the Internet marketplace. Information professionals might, however, want to consider registering under that gTLD.
There do not appear to be any negative implications for search engines and other Internet-based services. An informal survey of major search engines (AltaVista, Google, HotBot, and Northern Light) indicated that none of them anticipated difficulties in managing, indexing, and providing search access to the new gTLDs. In addition, whois, finger, and other such services should not be affected.

What Are ccTLDs?
The old seven and the new seven gTLDs are not alone in the world of top-level domains. There is also the country code or ccTLDs. These are represented by the ISO 3166 two-letter codes for countries and some regions, e.g. .ar for Argentina, .cn for China, .fr for France, .ru for Russia, or .ug for Uganda. Two additional root registrars and individual country registrars manage these. In most cases, in order to acquire a URL carrying a ccTLD, one must reside in that country. This is not universally the case and there are a growing but small number of ccTLD registrars — TLDs of convenience — that will accept registrations from anywhere.
Many ccTLDs carry a 2LD code that designates the "functional" purpose of the Web site. These often mimic the gTLD. For example, a commercial site in the United Kingdom carries the following: co.uk, an organizational site in Japan: or.jp, and a government site in Mexico: gob.mx. Is it possible that some ccTLDs will add something like the new seven as 2LDs? Could be.

What's Next?
Domain name prospectors. One of the major controversies with domain names remains the question of trademark and copyright versus the rights associated with the first registrant. A number of first registrants have been individuals who register domain names hoping to profit by subsequently selling those names to third parties. Precedent and practice by ICANN, the World Intellectual Property Organization (WIPO), and various courts seem to indicate that prior trademark or copyright is not absolute in determining who should own a domain name. A number of domain names have as a consequence been transferred from one holder to another.
In order to retain ownership, some reasonable and logical association between the name and the owner must be demonstrated. Will "trademarked" names on the new domains be challenged? If such trademark associated challenges went in favor of the challenger, the value the new gTLDs bring to expanding name space will be limited.
Right names, new names. In this most recent round, ICANN rejected several proposed TLDs, among them .iii and .kids. Others (.xxx, .gay, .k12, fin, health, etc.) have at times been proposed. ICANN and its predecessor also proposed but never implemented a similar set of TLDs. We can probably expect to see many more specialized classifications offered. And we can probably expect that the list of gTLDs will in fact grow over time.


Domain Name Resources
Web Sites
ICANN
http://www.icann.org/
The Domain Name Handbook
http://domainhandbook.com/
The Internet Society
http://www.isoc.org/
World Intellectual Property Organization
http://www.wipo.int/

Reading Material
Wallace Koehler. "I Think ICANN: Climbing the Internet Regulation Mountain," Searcher vol. 8, no. 3, March 2000, pp. 49-53.
Wallace Koehler. "Unraveling the Issues, Actors, and Alphabet Soup of the Great Domain Name Debates," Searcher, vol. 7, no. 5, May 1999, p. 16-17 [http://www.infotoday.com/searcher/may99/koehler.htm].
Wallace Koehler and Logan Barnett, "Domain Name Searching and World Wide Web Search Tactics," Searcher, vol. 6, no. 2, February 1998, pp. 54-62.
Wallace Koehler's e-mail address is wkoehler@ou.edu